Back in 2015, when Pinterest and Slack were still up-and-coming tech darlings, Square's then head of comms published a blog post that I often come back to. 
Aaron Zamost described how the narrative around tech companies fits into a clock. Companies start their journey at midday, moving through hype and praise (day), until sentiment sours (night). Journeys don't have to be linear; companies can get stuck at one time or even go completely around the clock.

I like to do this exercise every once in a while, based on my talks with investors and founders and the tech news, and would also encourage startup founders to think about where their company sits. 
Here's which European tech companies I think sit on the clock right now.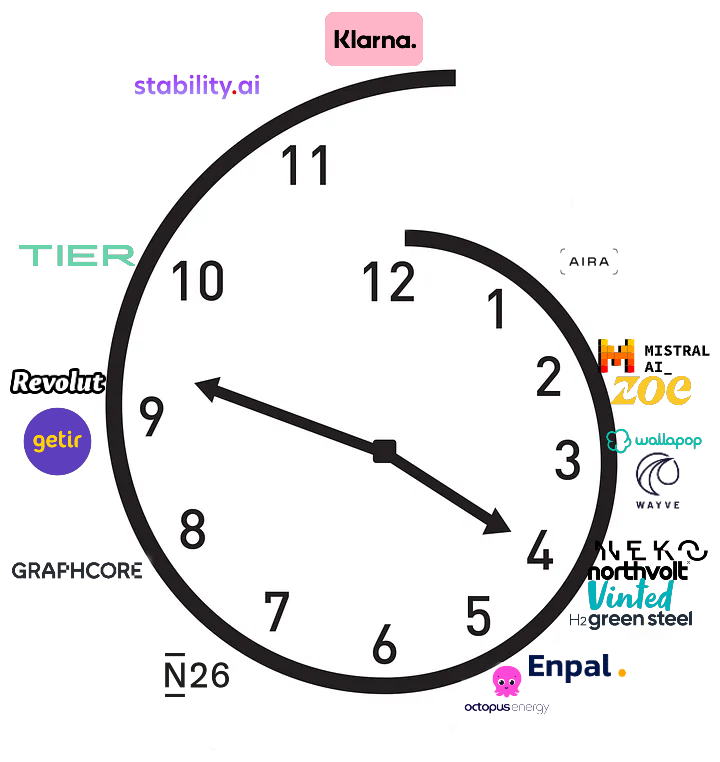 12:00 Birth
1:00 Shiny new toy
Companies start to get attention at 1:00.

Currently, in Europe, a lot of companies building a large language model for X (bakers, grandmas, grave diggers) are here. If you've gone through Sequoia's Arc programme or gotten funding from one of the Tier 1 VC angel programmes, you are here. Aira, the new heat pump company from the man behind many of Europe's leading climate companies, is here.
2:00 Up and coming
Zamost describes 2:00 — "up and coming" — as "a real accomplishment. Many startups never make it this far."
As Europe's GenAI darling, Mistral is sitting here. Zoe Health is also here.  
3:00 Industry disrupter
This is where the true scope of what your company could disrupt becomes clear. I've put Wallapop here, as it transitions from a simple marketplace for secondhand goods to building a marketplace for SMEs that could help it compete with Amazon. Autonomous driving company Wayve is also here. 
4:00 Hottest company in Europe
HYPE HYPE HYPE! Sifted and the NYT are blowing up your phone. Elon or an a16z partner might be dropping into your DMs. People want to know what you eat for breakfast. Daniel Ek's Neko Health is here.

Climate infra startups like Northvolt and H2 Green Steel are also here. This currently seems closely correlated with 'Who is going to IPO/exit big and finally give us some LIQUIDITY.' See Vinted, which says it is "technically IPO ready." 
5:00 Rapid expansion and growth
Expanding into all the markets. Hell yeah. 
Enpal, Octopus Energy, grow! 
Remember when Hopin and Gorillas were here for a hot second? RIP.  
6:01 Greatest company in the world?
This is where the clock turns around and things start to go downhill…
7:00 Their product kind of sucks
N26 is here, for sure. Hampered by continued regulator limits on how many new customers they can onboard + without the same suite of products that other neobanks in Europe have. 
8:00 They are never going to make any money
Poor old Citymapper was here FOR AGES until an acquisition put it out of its misery. Now, Graphcore is chilling here — the company made just $2.7m in revenue in 2022, and posted a $204.6m loss. 
9:00 Fear, uncertainty and doubt
Revolut's investors are all still very bullish on the neobank, but when speaking about sentiment, the neobank falls here. The only way that Revolut can move away from 9:00 will be to get that UK banking licence.

Getir is also here, having pulled out of many European markets this year and laid off staff. 

10:00 The company is a mess
Employees are jumping ship. You might still be stuck with a pesky 2021 valuation. Your business model is no longer hype. Micromobility company Tier — once valued at $2bn by SoftBank, Mubadala and others — is here, as it looks likely to be acquired. RIP e-scooter dream. 
11:00 Are you actually using AI? Did you actually build your own AI? Does your AI work?
11:59 Worst company in the world
Whether or not it is deserved (especially given its progress towards profitability), the media narrative around Klarna is still overall negative. But negative sentiment really started when it announced it was raising funds at a $6.7bn valuation in 2022 — an 85% drop from a year earlier. My bet is that Klarna is coming around the clock sometime soon…
12:00 REBIRTH
Correction: Aaron Zamost is the former head of comms at Square, not Stripe as this article originally stated.