Europe's on-demand grocery battle is getting bloody, and VCs are shovelling money into the sector. Meanwhile, pilots for mobile parcel lockers and drone delivery services for coffee and nappy cream are popping up — and taking flight — across cities and small towns. 
Long story short, last-mile delivery — the startups getting products off the shelves and into consumers' homes — is booming.
In our most recent Sifted Talks, we discussed all things last-mile delivery, from logistics to speedy grocery startups, with our panel of experts, including: Alan Hicks, CTO at drone delivery startup Manna Aero; Cristina Berta Jones, customer team lead at Dutch online supermarket Picnic; Florian Neuhaus, partner at consulting firm McKinsey and Company; and Edith Väli, chief sales and marketing officer at Estonian startup Cleveron, which produces robotic pickup lockers. Here's what we learned.
1. Covid-19 gave last-mile delivery a boost
It's hard to remember a time when you couldn't order coffee to your door in under 30 minutes — and even harder to remember when you couldn't get a coffee pot delivered the next day. But it wasn't until this year that the last-mile delivery sector really took off, especially for groceries.
Before the pandemic, many last-mile startups were spending a huge amount of resources on educating consumers as to why hyper-fast home deliveries were a good idea. But as Covid-19 hit, plunging Europe into lockdown, consumers were scrambling for grocery delivery services. This freed up a huge amount of resources, says Berta Jones. 
We spent more time educating people about online grocery, convincing them that it's simple, easy and — in our case — the same price as the store with no delivery costs. The educational message is no longer needed." –– Cristina Berta Jones,

Picnic
2. Optimising for speed has limitations
A main attraction of last-mile delivery startups, compared to established providers like Amazon or supermarkets like Tesco, is that they can deliver in record time. Fast grocery delivery startups like UK-based Gorillas promise delivery in just 10 minutes. 
But according to Berta Jones, this comes with its drawbacks; hyper-fast delivery startups often can't stock a wide range of items, as they need lots of 'dark stores' in lots of locations. 
For customers, this means products are often sold out or unavailable, so striking the right balance between a range of products and efficiency is critical.
In a quick commerce setup, you have very little depth of stock, so you're much more likely to run out. There's a lot more unavailable items. We can usually avoid this as we're able to plan with depth of stock to make sure that we never run out. There's limitations when you try to optimise for speed." –– Cristina Berta Jones,

Picnic
3. VCs are keeping a close watch
In early June, Getir raised a $555m funding round and Germany's Flink raised $240m, while Dija and Gorillas are currently trying to close fundraisings. It's safe to say Europe's VCs are keeping a close eye on the sector. 
Most of the major players in the last-mile delivery space have only started up this year. Last-mile delivery startups in North America and Europe raised $3.1bn in funding from VCs in the last quarter alone –– and that growth shows no signs of slowing down.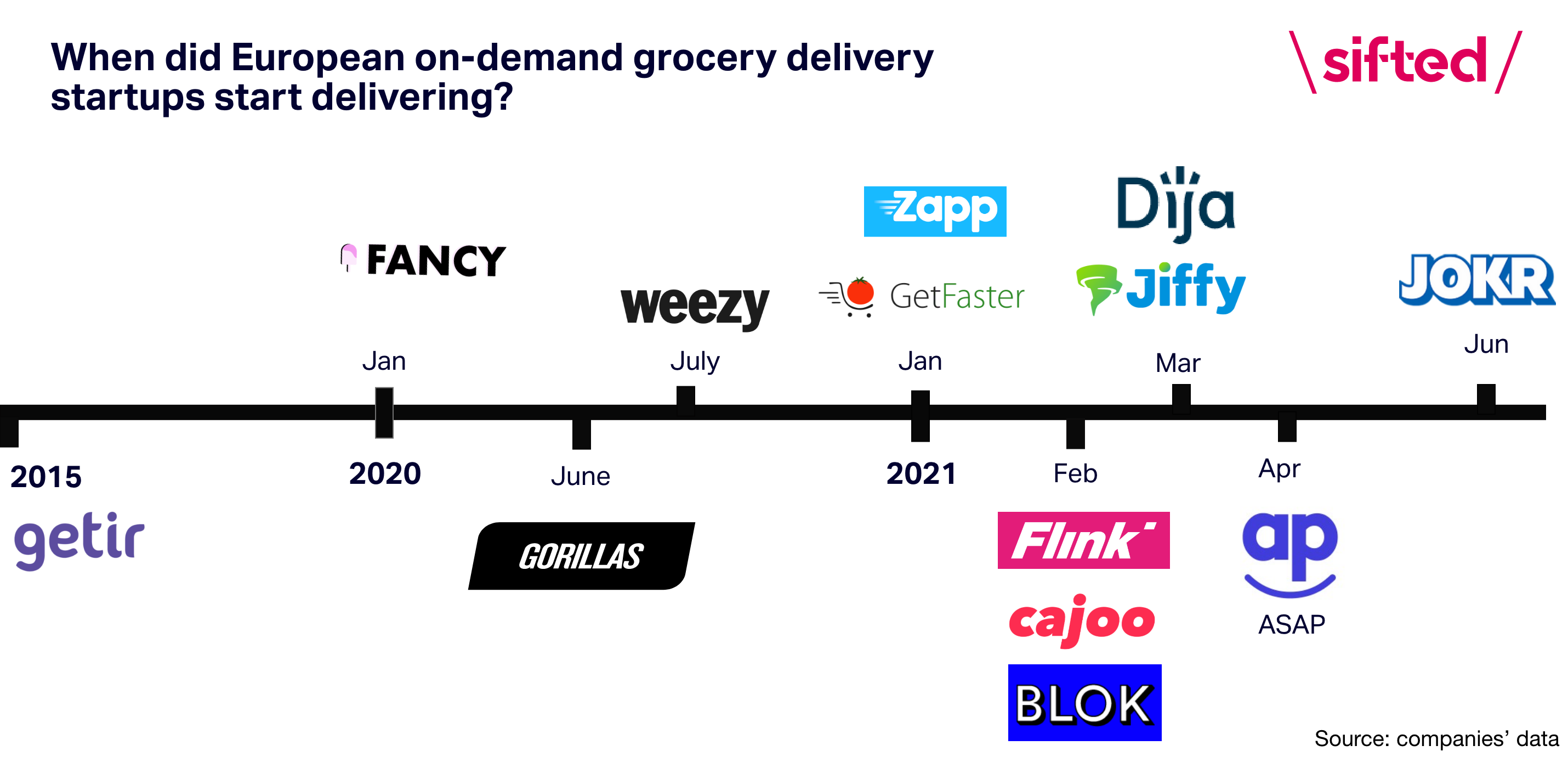 And it's not just speedy grocery deliveries catching investors' eyes; Neuhaus says investment in logistics tech is also seeing rapid growth.
We've seen an investment increase. In 2014 to 2019, investment in startups and logistics grew by 70% a year. And that has just accelerated during 2020 and 2021. Again, so I think this is getting a lot of excitement." –– Florian Neuhaus, McKinsey and

Company 
4. Delivery startups are beating bigger retailers at their own game
In the last year, supermarkets and retailers alike have had to increase their ecommerce and delivery offerings. Does this mean the hyper-fast delivery startup boom will be short-lived, if large retailers are investing and catching up? 
Väli says delivery startups have an edge; bigger organisations often find it hard to keep up the pace, giving smaller and more nimble startups a headstart. 
Everything that comes before last-mile delivery in the supply chain can be difficult to change –– how the work is allocated or how the system works. And if you're a huge company, it's really difficult to change something and even more difficult to test something." –– Edith Väli,

Cleveron 
5. But the sector needs both startups and established players
How worried should established delivery businesses be about the thriving last-mile delivery startup sector? According to Neuhaus, there's room for everyone. 
Our panellists agreed that, as focusing on speed can compromise the range of products in stock, there will always be space for slightly slower, next-day deliveries.
I think there will be space for all these delivery services. There will be a lot more diversity, and there's so much growth in the market that I think we'll need all of them." –– Florian Neuhaus, McKinsey and

Company

6.  Last-mile delivery could help solve Europe's congestion problems
Without street traffic or noise pollution, urban life becomes quieter and more liveable — something many city dwellers found during Covid-19.
Hicks, CTO of drone delivery startup Manna Aero, says urban populations are no longer accepting the pollution and traffic once synonymous with city living, and thinks last-mile delivery could play a key role in decongesting Europe's cities.
I don't think people actually want to go back to busy streets and traffic. Certainly in Dublin, a lot of the county councils widened the paving, and put outside tables and chairs. Pre-pandemic, you couldn't do that, because there was so much traffic on the roads. I think people are just eager to be doing better things with their time, and that's where last-mile delivery solutions really help." –– Alan Hicks, Manna

Aero 
7. What's next for the last-mile delivery sector?
In some ways, Covid-19 gave the perfect conditions for last-mile delivery to capture public attention. But what's next for the sector? Will speedy deliveries become even speedier?
Väli told the panel that, for Cleveron, the future would mean more pickup points so that consumers can get groceries delivered to wherever is most convenient for them –– be it the office, the gym or their homes. 
Hicks predicts drones will become popular in the next few years, and that companies will coordinate in airspace to make drone deliveries safe and effective. 
We know drones are going to be much more popular. We'll see multiple companies working together to coordinate the airspace, and make it safe and reliable for everybody and nearly have a logistics fabric in the sky. It'll get things to people extremely painlessly and conveniently." –– Alan Hicks, Manna

Aero
To find out more about last-mile delivery and what the real hype is, you can watch the full Sifted Talk here: