Embedded finance could transform how we buy goods and services, allowing businesses of all sizes and industries to plug in payment and lending capabilities. 
So how can businesses get in on the action in a way that actually adds value for customers? Should organisations build their own solutions or turn to third-party solutions? And is everyone really a fintech now?
We put these questions to our expert panel during our latest Sifted Talks, which featured experts including: 
Frederick Crosby, CRO at Nium, a fintech that facilitates global business payments
Patrick Andrae, CEO and cofounder of holiday home marketplace HomeToGo
Valerie Konde, head of international growth at business payment card provider Pleo
Alex Mifsud, CEO and cofounder of Weavr, an embedded banking-as-a-service provider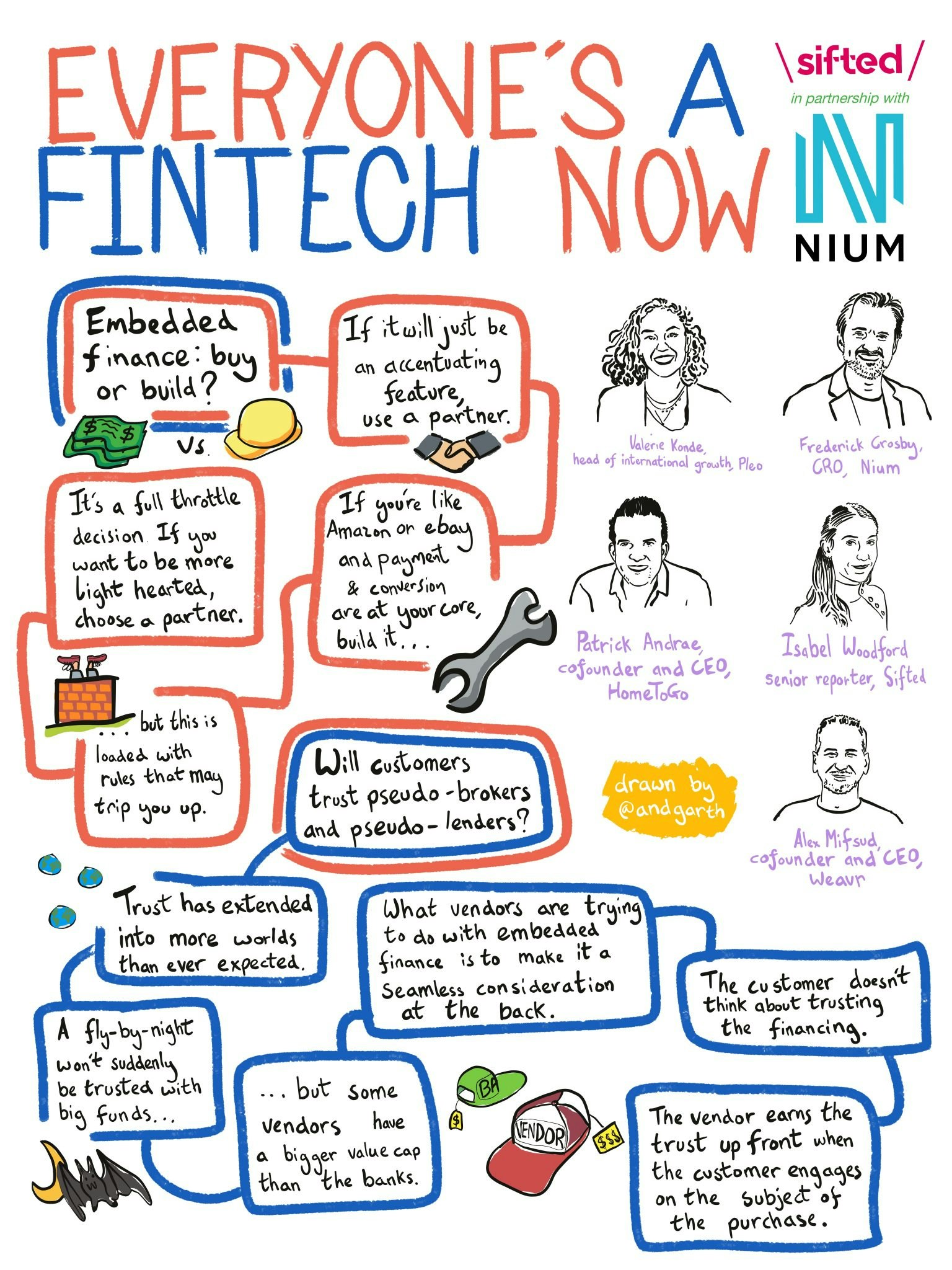 1. Is everyone really becoming a fintech?
With payment solutions like Buy Now Pay Later schemes becoming commonplace, embedded finance is becoming a necessity for most B2C operations. So does this mean everyone's a fintech now?
While Konde says no, embedded finances does not make every business a fintech, and Crosby says everyone is "allowed into the fintech universe" by integrating financial services, Mifsud says this question of whether everyone is becoming a fintech is "slightly misleading."
He says the financial element of embedded finance is merely another way to better serve the customer. He cites patient care as an example, and the possibility for patients to not only finance their treatment or purchase insurance, but also for clinicians to get paid for their services without a lot of administrative overhead.
This customer value is the real power of embedded finance, he says, and is far more important than whether or not a company is becoming a fintech.
If you look at it from the customer value backwards, that's the real power of embedded finance. So 'turning into a fintech' is almost the wrong way to look at it. It's about how do I create outstanding value… Financial services has a real place to play as a value creator" — Alex Mifsud,

Weavr
2. To build or not to build? That is the question
So which is better? Using a third-party provider or building your own solution? 
Crosby believes businesses that only want to improve customer experience in payments can use third party providers at a relatively low cost, helping them get to market quicker. 
For larger businesses in which online transactions are at their core — Crosby cites eBay's early partnership with and acquisition of PayPal as an example — building your own solution makes financial sense. But, he warns, such a process can take years and attracts increased scrutiny from regulators. 
The first consideration is, how much do you want to put into it? And what's your time to market? For some companies that are just looking to add embedded finance as an accentuating element of their experience… you probably want to use a partner… Decide how much you want to get married to this subject." — Frederick Crosby,

Nium

3. Using embedded finance to create trust
When used correctly, embedded finance solutions can create a greater sense of trust between a business and its customers.
Adding insurance at the point of sale, for example, can ease a customer's fears and reduce time shopping around for their own policies. Andrae says this is particularly useful for the travel industry, and for user-to-user platforms like HomeToGo. By embedding Allianz insurance services, HomeToGo has implemented a seamless money-back guarantee if a listing turns out to be fake or fraudulent. 
We see that trust is a very important element especially in an industry where you don't have as much standardisation… It's important for us as a marketplace to bring trust to the consumer." — Patrick Andrae,

HomeToGo 
4. Should banks be worried?
How are incumbent banks viewing embedded finance? Mifsud says, "They're excited and nervous in different degrees. Not all banks will be excited, and not all banks will be nervous."
He says a lot of incumbents "will not play in this space", and that these banks risk losing market share, particularly in lending, but that ultimately the convenience of embedded finance will allow the size of the financial services market to grow.
Embedded finance is very difficult territory for banks by its nature, because banks are used to having end to end control over the user experience. It's a really important part of their risk management, that they control the environment in which they onboard customers, they control the environment where they see what customers are doing. In embedded finance, by definition, they're relinquishing that control." — Alex Mifsud,

Weavr
5. The race to bundle
The panel largely agreed that creating simpler solutions for the end user is the future of embedded finance. But what does this look like? And what does 'one-button finance' mean for the consumer?
Konde predicts fintechs will race to integrate as many different solutions in one package as possible, to provide customers and businesses with a full suite of financial services during a transaction. For example, she mentions Pleo has played around with adding insurance products to their payment offerings. This would mean even more value — and less friction — for customers. 
The next stage will be much more in seeing which of the players are going to be able to put together the right package of financial services and can come up with an appealing offering… It's all going to be a game of: how do you package it? How easy is it to use?" — Valerie Konde,

Pleo
You can watch our full Sifted Talk on how startups can use embedded finance to get ahead here: