An overwhelming variety of plant milks — from oat to coconut, almond to hazelnut — are now ubiquitous on grocery store shelves and in restaurants. One Berlin startup wants to add another less-explored entry to the list of choices for our flat whites: pea milk. 
On the day when Oatly, a vegan milk brand, is set to go public in New York at a $10bn valuation, Vly said it had raised €6.1m from Five Seasons Ventures, Global Founders Capital and Good Seed Ventures. The brand launched its pea milk in Germany, Austria and Switzerland last year.
The company went through 400 iterations of different milks before settling on yellow split pea. They'd tested things like Lupin beans — which cofounder Nicholas Hartmann says were "pretty nasty" — and pumpkin seeds, which turned the milk green.
"We settled quickly on pea," Hartmann explains. "It was best from a taste standpoint, and a commercial standpoint. Pulses we preferred because they have a high protein content and can grow in the Northern hemisphere."
The plant-based milk market is worth an estimated $17bn a year, though that's still a fraction of the $650bn a year dairy market. 
Plant milks like soy have been around for centuries, but demand has taken off in recent years amid concerns about dairy's environmental impact and wellness trends. 
After finding the right legume, Vly's next challenge was perfecting the flavour. It's not about mimicking cow's milk exactly, Hartmann says, but about making something that's versatile and tastes good, in the same way that cow's milk does.
To achieve this, rice is added to the milk, which has similar sugar components to lactose, as well as different minerals that change the milk's pH to get it closer to cow's milk and some natural flavourings to smoothen out the taste.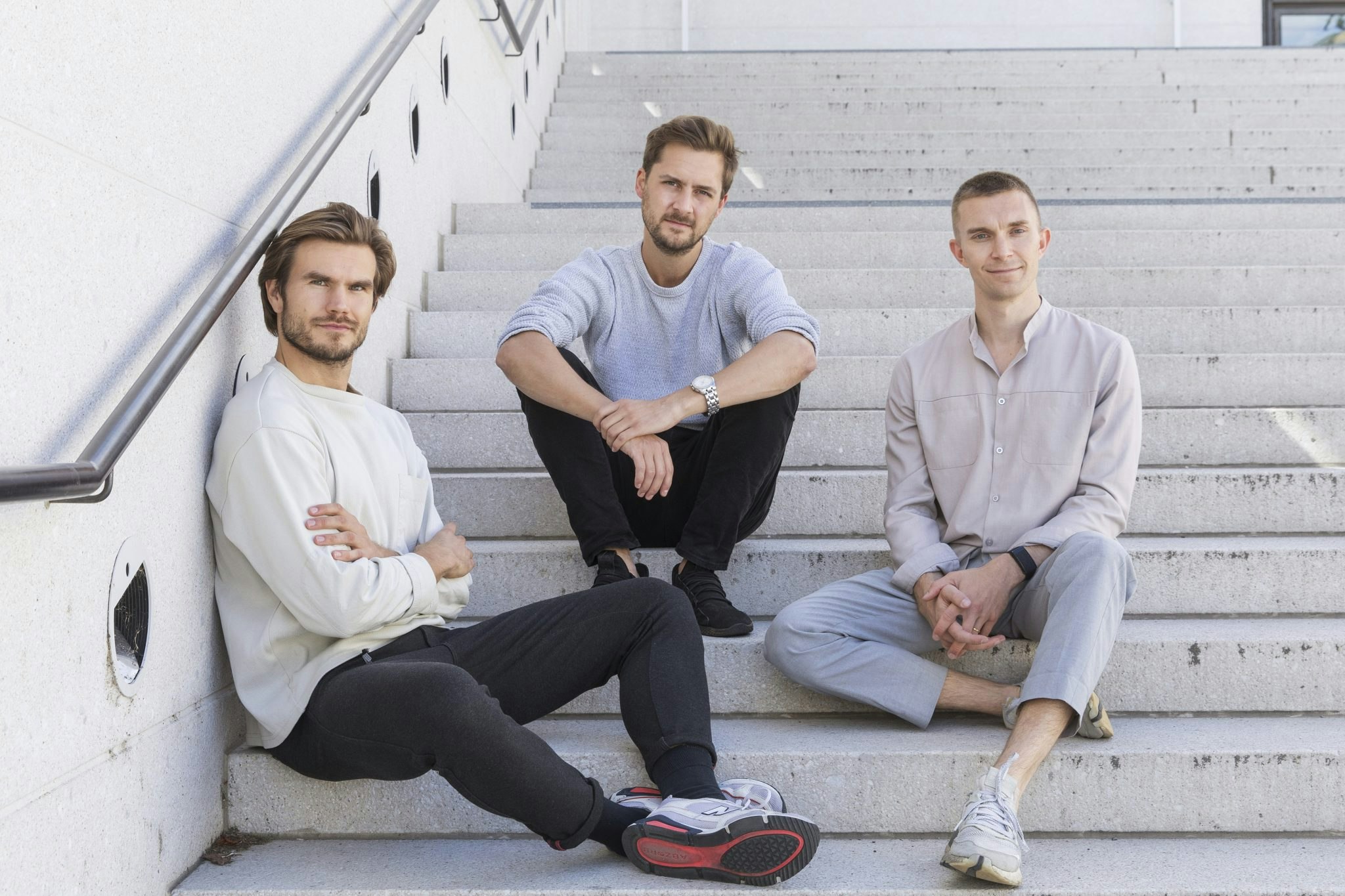 The benefits of pea
Vly isn't the only company working on pea milk. There's Ripple in the US, which has raised €98.7m so far, and Nestle announced earlier this month that it's also venturing into the pea milk market.
The benefits of pea milk, Hartmann says, are both environmental and health based. 
"The peas are grown in northern France," he says, but the environmental impact comes less from a reduction in air miles and more from moving from a crop that's fed to animals to produce protein, to a crop that's a protein in itself.
The company says that producing one litre of Vly milk uses 15x less CO2 than cow milk, 13x less water and five times less land. 
In terms of health, the milk's high in protein but low in sugar and saturated fat. Hartmann says he wanted to create a milk that's not going to spike people's blood sugar — being too sugary is a complaint sometimes levelled at Oatly's milk.
Bringing the price down
It's environmental and health credentials look good but, like a lot of the plant-based milk market, it's more expensive than cow milk. 
"Unfortunately right now our products are more expensive than cow milk but we hope in the future it'll level out," explains Hartmann. 
At €2.50 a litre, it's about three times higher than a litre of cow milk. Vly's cost is similar to that of Oatly, which retails around €2.80 in Germany. 
Plant-based milk companies pay 19% tax in Germany, compared to 7% for cow's milk. Then there's supermarket margins. 
"Cow milk is a basic product where supermarkets need to compete and be super tough on price, so the supermarket margins are low," Hartmann says. "But with milk alternatives, it's a premium category so all of them are more expensive, supermarkets can earn more and hence charge more."
As Vly scales up, its production costs will go down. There's also the fact that the price of pea protein fluctuates - and at the moment, it's high.
The crop is cheap to grow and can be grown almost anywhere, but capacity isn't particularly high at present, especially not in comparison to the demand for the product, which has increased as its dairy alternative credentials have been realised. 
Despite high production costs, Vly is profitable, and Hartmann's convinced that the price will come down. 
"Earlier or later it has to happen. The political goodwill on regulations to protect dairy is getting less and less," he says. "No one's a fan of mass industrial farming and it's got to a point where it's easier for politicians to say that and not lose votes."
For now, Vly's focus is on bringing a chocolate pea milk to market in September this year, and they're also working on yoghurt. 
And when asked which plant-based protein he thinks will win the alternative milk race, in the future, Hartmann says, it won't be about the protein itself.
"I think there'll be many different sources. I don't think it's about sources because I don't think people really care if they drink oat or pea or almond. The product needs to be super healthy and taste amazing, but if it's pea protein or fava bean protein, that's not the main thing."