The revolving door keeps on turning at Revolut. The neobank has lost several key executives in recent months, including the CFO last week. 
Using LinkedIn and company filings, Sifted has identified several more senior leaders whose departures haven't been reported until now — and put together a picture of the thirty-odd senior decision-makers who will be steering the fintech through the crucial months ahead. A Revolut spokesperson confirmed the information is accurate.
With key banking licences in the US and the UK still proving elusive, investors say this bench of talent will be crucial in the coming months. Some may have to step up to fill executive roles. 
It's worth noting that there's a significant lack of women at the top: we've identified just two female senior leaders at Revolut. 
Recent departures 
First, the departures. Based on company announcements and Companies House filings, Sifted has identified five top employee departures this year: 
CFO Mikko Salovaara resigned from the neobank for "personal reasons" last week after just over two years in the role.
Matthew Maher, Revolut's director of people, left the neobank last month, according to his LinkedIn profile, after 17 months in the role and three years at Revolut. Sifted has contacted Maher and has confirmed Maher's departure with Revolut.
Yuval Rechter, who was hired in March 2022 as US general manager to drive the neobank's growth stateside, left the company in February after 11 months in the job, according to LinkedIn. Sifted has contacted Rechter and has confirmed his departure with Revolut.
James Radford, the CEO of Revolut NewCo UK, the UK banking arm that's awaiting its licence, left in March after three years at the bank, according to company documents and his LinkedIn profile.
Michal Laube, the group COO, left the company in February, Revolut confirmed to Sifted. 
Commenting on recent departures, a spokesperson for Revolut said: "It's not uncommon in highly entrepreneurial companies that people join for phases of growth and some decide to move on when the time is right for them." 
These departures follow a string of executive resignations from the company's UK compliance team late last year, as the neobank's struggle for a banking licence in its home country drags on. 
Left with gaps 
A spokesperson said that Revolut would not comment on Salovaara or Radford's successors at this stage. But both the compliance team and these two roles are essential for Revolut's fight to convince regulators that it's trustworthy enough to hold consumer deposits and start lending. 
Whoever does fill their seats will have a hefty in-tray: fraud complaints at the neobank are increasing; it missed several deadlines for filing its financial accounts in Europe and the UK last year; auditors questioned the viability of the revenue figures in its latest overdue financial results; and it's facing fines from EU regulators and the ECB over compliance breaches. 
Revolut is also unusual in that it doesn't have a dedicated chief product officer, which according to insiders is because Storonsky himself is "the product guy".

Revolut's board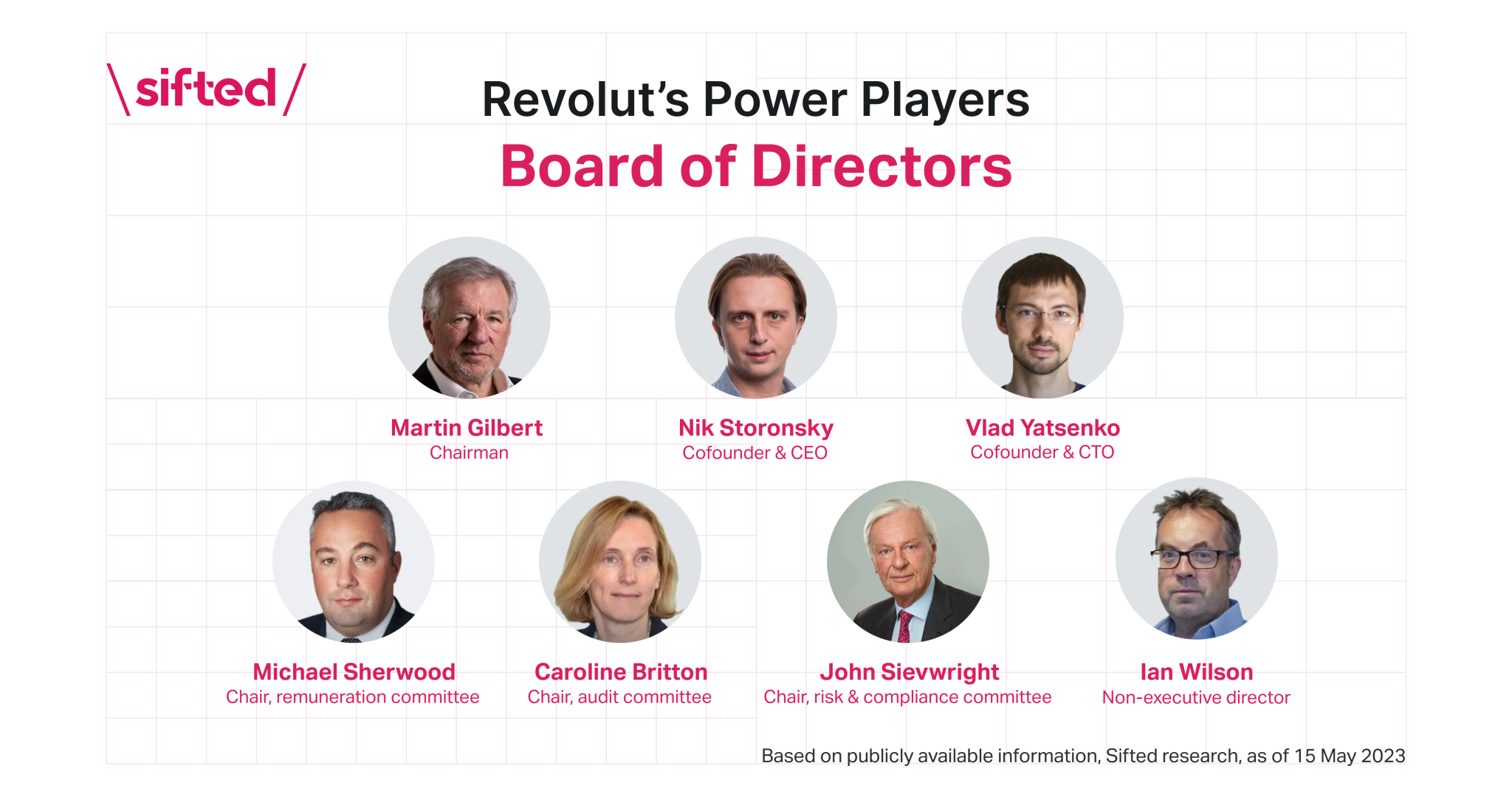 Revolut's board is full of influential figures from the finance world. Martin Gilbert, the cofounder and retired CEO of asset manager abrdn, chairs the board; Michael Sherwood retired as vice chairman and co-CEO of Goldman Sachs in 2016; Caroline Britton spent three decades at auditing giant Deloitte and now sits on several company boards; John Sievwright spent two decades at wealth manager Merrill Lynch; and after a career in banking, Ian Wilson now sits on several banking boards. 
Revolut's exec leaders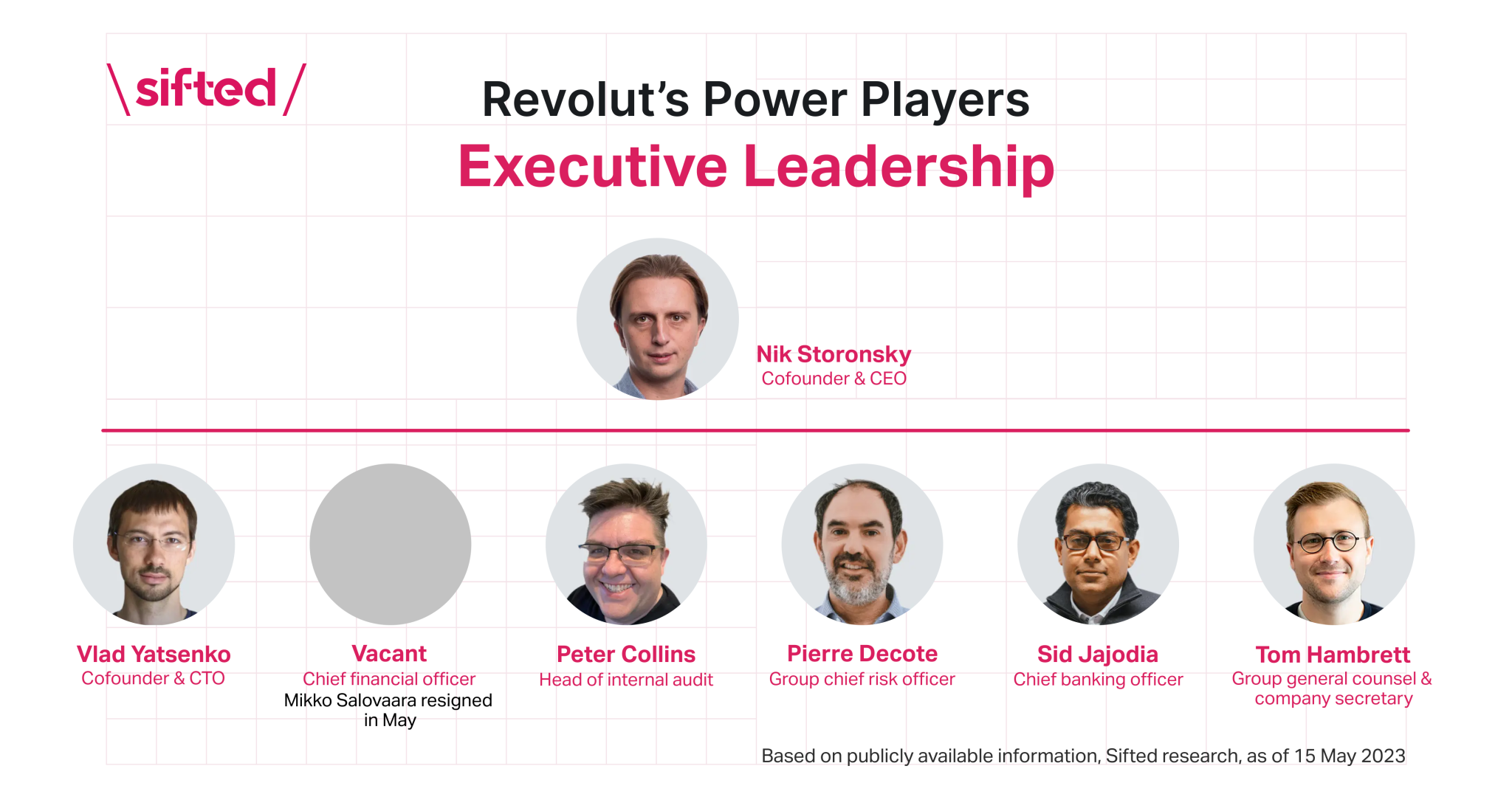 Two of Revolut's C-suite — Pierre Decote, chief risk officer, and Sid Jajodia, chief banking officer and US CEO — started out at US bank Capital One, which many in the fintech industry cite as the first real fintech. 
Meanwhile, like Storonsky, head of internal audit Peter Collins and general counsel Tom Hambrett have corporate backgrounds. Collins spent 22 years at accounting giant EY, while Hambrett spent six years at law firm Herbert Smith Freehills before joining the neobank. 
Revolut's country heads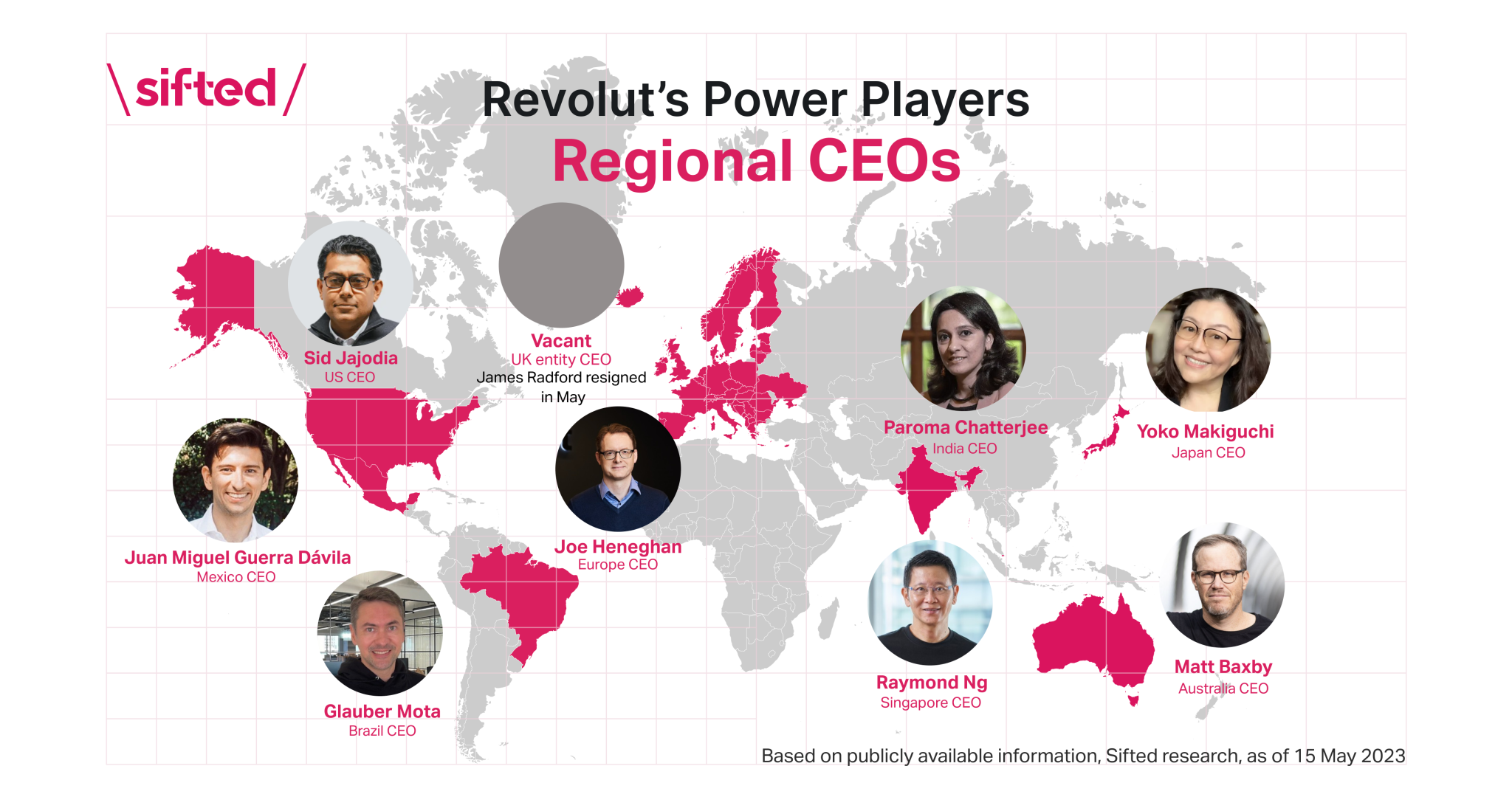 As well as retaining his role as chief banking officer, Jajodia was appointed as US CEO in June last year to accelerate the bank's stateside expansion. Revolut prefers to manage its international growth by appointing CEOs to lead growth in strategically important countries or regions. Joe Heneghan was appointed as European banking CEO in June 2021, shortly before it acquired its European banking licence in Lithuania.
Revolut's long-awaited launch into Latin America via Brazil this month was preceded by two key hires on the ground. Glauber Mota was appointed as Brazil CEO in March 2022, and Juan Miguel Guerra Dávila was appointed as Mexico CEO in October 2021 — where a launch is also in the pipeline.
Further afield, Yoko Makiguchi joined as Japan CEO in 2021; Paroma Chatterjee joined as India CEO in 2021; Matthew Baxby became Australia CEO in 2020; and Raymond Ng joined as Singapore CEO in 2022. 

Revolut's partners
As Revolut has grown, so too have the number of ways it acknowledges seniority within the business.
The neobank launched a partnership programme in 2021 to "recognise employees who have shown extraordinary levels of individual contribution to the company". Revolut would not comment on the financial implications of making someone a company partner.
Right now, Revolut has 24 such partners globally. They're elected by a partnership committee and even include the company's CEO. They are: 
Anshuman Bajoria, strategy and operations director
Matt Baxby, Australia CEO 
Andrius Bičeika, deputy CEO Revolut Europe
Christos Chelmis, general manager, card payments
Peter Collins, head of internal audit 
Pierre Decote, chief risk officer 
James Gibson, general manager, Revolut Business
Aaron Elliott-Gross, group head of financial crime and fraud at Revolut
Tom Hambrett, group general counsel & company secretary
Joe Heneghan, CEO Revolut Europe
Pavel Iukhnevich, head of engineering at Revolut trading
Matthew Acton Davis, VP, Sales
Yaroslav Kravchenko, general manager, wealth and trading 
Antoine Le Nel, VP of growth 
Donato Lucia, director of engineering 
Yoko Makiguchi, CEO Revolut Japan
Tara Massoudi, general manager, premium product
Aleksej Polukarov, general manager, credit
Carlos Santovena, director of operations 
Victor Stinga, CEO office
Nik Storonsky, CEO 
David Tirado, VP of global business development and commercial 
Ivan Vazhnov, head of engineering
Vlad Yatsenko, CTO