Nik Storonsky, founder and CEO of Revolut, is one of the most recognisable faces in European tech.
He's built a $5.5bn fintech, which boasts 15m customers across 30+ countries, and is even slowly edging towards profitability. 
But Storonsky hasn't built Revolut alone over the past 6 years.
Amid his 2000 employees, there is a small team of trusted individuals who Storonsky has entrusted to help scale the business.
We've identified the 15 most senior people at Revolut. These are the people who — according to multiple sources — have Storonsky's 'ear' and have an exceptional level of influence over the business. The list includes those who run key segments like cryptocurrency, revenue, non-consumer products and legal.
This is the map of Revolut's top players, today: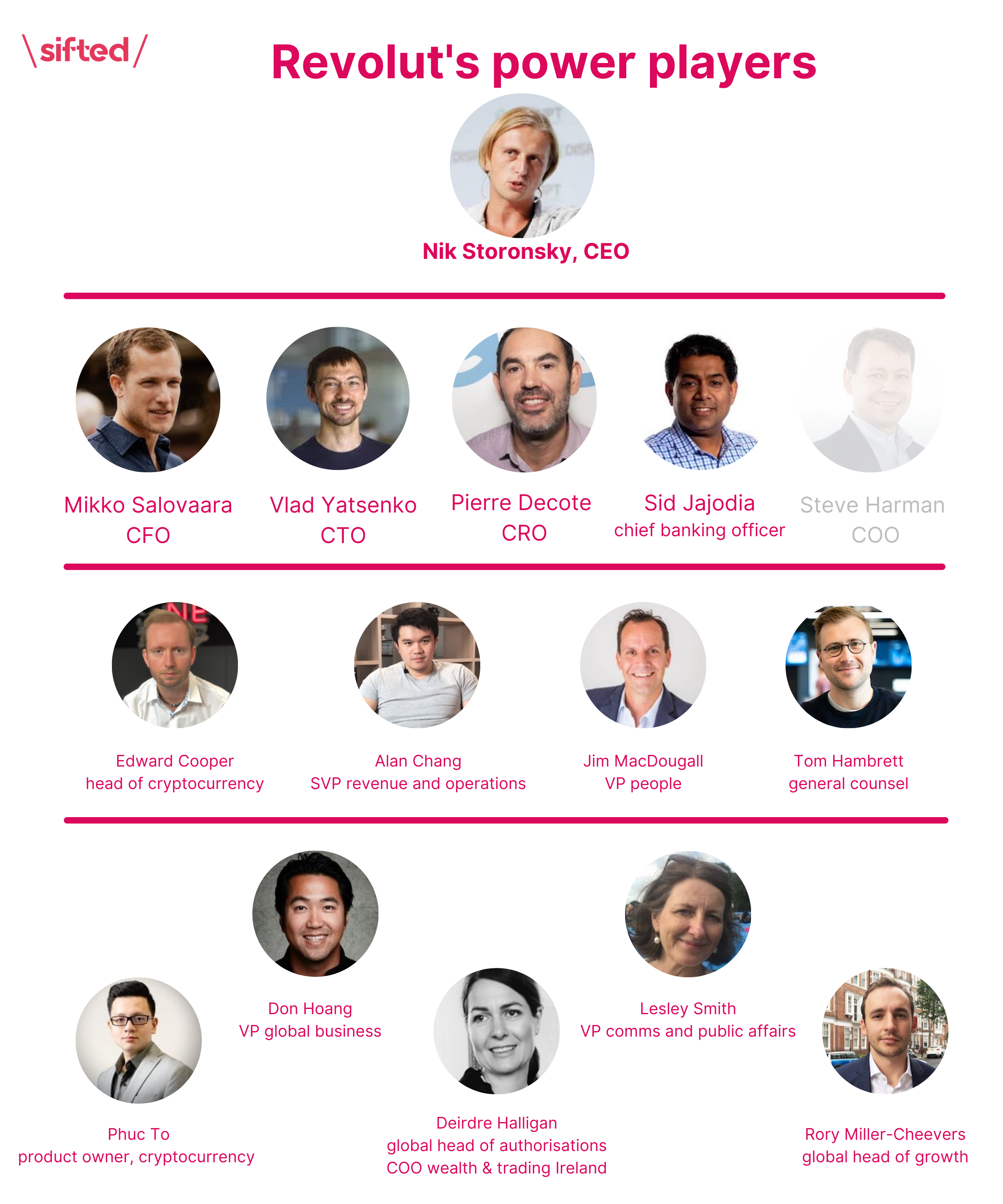 A Revolut spokesperson confirmed the list as being accurate.
All good things come to an end
Revolut's top ranks have changed radically over the past 18 months, meaning some of the power players on the list are relative newcomers.
The digital bank lost eight top employees in quick succession last year, including deputy chief financial officer Stefan Wille and chief banking officer Richard Davies.
"A year is a long time at Revolut," a spokesperson noted, commenting on the turnover of executives.
Talking to Business Insider, cofounder Vlad Yatsenko said: "At the executive level, people maybe didn't stay long enough, but we have a high bar and you have to be at the top of your game."
Excluding the two founders, our list of power players have been at Revolut for an average of 17 months.
The org chart is also continuing to evolve. Chief operating officer Steve Harman has now announced internally he is leaving, having joined just eight months ago from Amazon. (This has not previously been reported).
Aside from finding another COO, Revolut is also recruiting a c-suite for its UK bank, which it's working to get a licence for. These hires are likely to become power players too, given the UK is Revolut's biggest market.
Separately, Revolut is unusual in that it doesn't have a separate chief product officer. This is because Storonsky is "the product guy," according to insiders.
Chief operating officer Steve Harman has announced he is leaving, having joined just eight months ago from

Amazon.
The people with power
The chart includes some obvious names, including the new CFO Mikko Salovaara and the new banking officer, Sid Jajodia.
But there are other influential individuals too.
Among them is Alan Chang, who is said to be Storonsky's 'right hand man' and manages staff efficiency with a firm hand.
Chang is also among the longest-serving power players, having joined Revolut five years ago. With the exception of the c-suite, most senior members report to him.
Another early joiner worth mentioning is Don Hoang, who oversees efforts to diversify Revolut's revenue model. Hoang has helped move Revolut away from being solely a consumer fintech, relying on card usage and trading; exploring new business lines like a merchant acquisition platform.
Overall, Revolut's c-suite includes former military officers, bankers and private equity honchos. Just two of the power players are women.
NB: Sifted will be publishing a full Q&A with each of the power players later in the summer. Sign up to our newsletter for updates.
The international power players
Outside the London HQ, Storonsky has also built up an army of executives to oversee Revolut's international expansion.
Revolut now has half a dozen country-specific CEOs. They all report to Jajodia, the new chief banking officer (replacing Matt Baxby).
Jajodia joins as one the most experienced banking brains at Revolut, having spent 12 years at Capital One.
Another key international appointment is Joe Heneghan, who has been nominated as CEO Europe, to oversee the Lithuanian operation and the broader continent. He has been Revolut's CEO in Ireland for two years, and will replace Virgilijus Mirkė, subject to regulatory approval.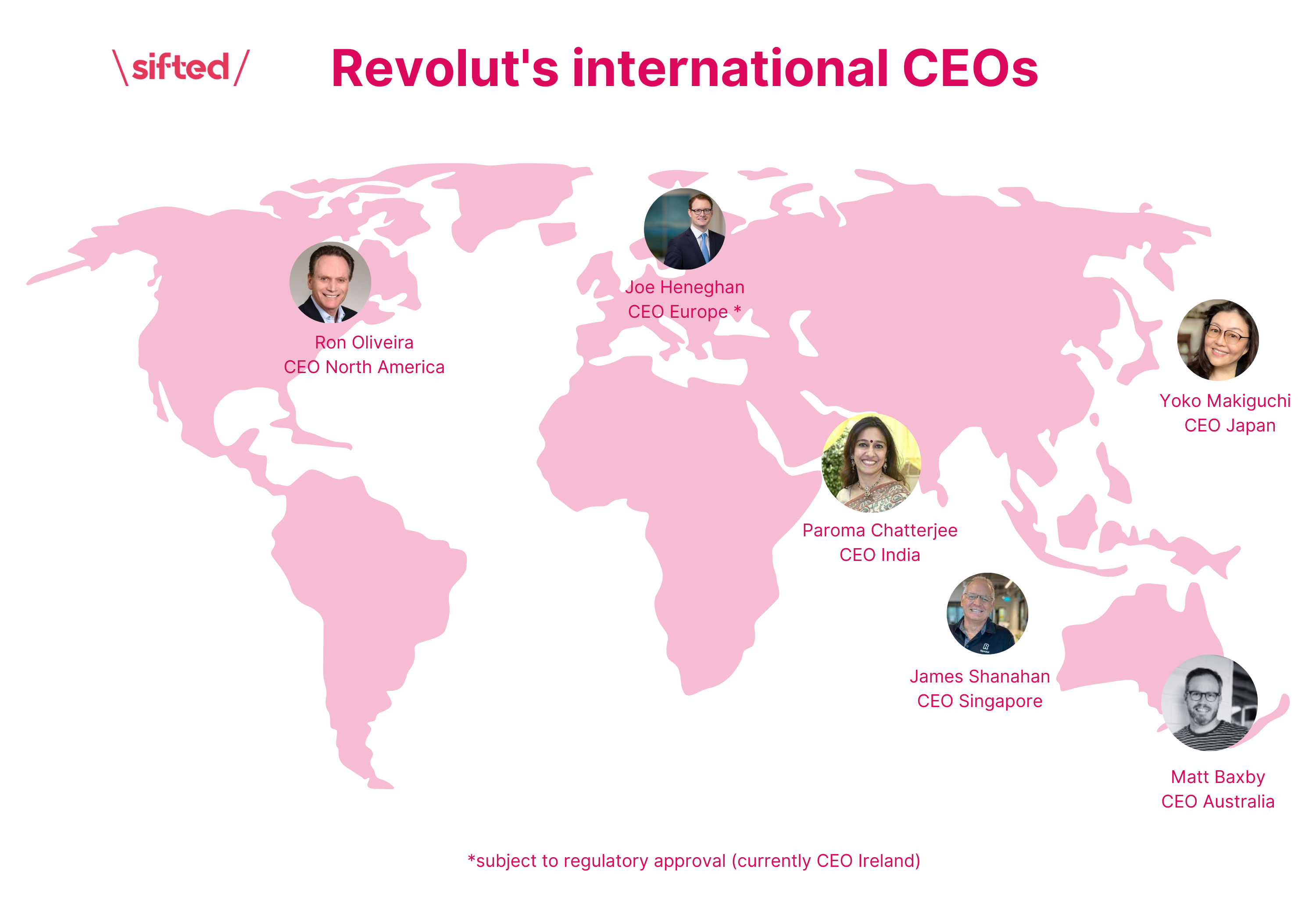 ***