Fraud complaints from customers of three of the UK's biggest neobanks are at a three-year high, according to official UK data seen by Sifted. 
The UK's Financial Ombudsman Service (FOS), an independent body established by the British parliament, deals with complaints against financial businesses. Data collected by the body shows that fraud complaints against Monzo, Revolut and Starling have increased over a three-year period — and at a faster rate than customer growth.
The FOS says that the "vast majority" of these fraud complaints concern authorised push payment (APP) fraud — a type of scam that involves a fraudster persuading someone to transfer funds into another account under false pretences. 
It isn't only neobanks that are seeing increased attacks by scammers. According to fraud prevention organisation CIFAS, fraud has increased by 17% in the UK over the past year, including for traditional bank customers. The country's Office for National Statistics also found that the number of people falling victim to fraud has increased by 25% over the past two years.
Ashley Hart, director of fraud and financial crime at Monzo, tells Sifted that "a significant increase in fraud across the entire banking industry unfortunately means we'll inevitably see an increase in people falling victim to fraudsters".
A spokesperson from Starling Bank says that "financial scams are a scourge and we understand how very distressing they are to customers. Starling works extremely hard to combat them."
Increasing customer numbers
The number of fraud complaints from neobank customers has, in part, increased because the digital banks' customer base has grown. From H2 2019 to H1 2022, Revolut grew from 1.4m to 5.75m account holders in the UK, Monzo from 2m to 7m and Starling from 2.14m to 3.34m. 
A Revolut spokesperson tells Sifted that it's "important to note that, whilst fraud complaints made to the FOS are at a three-year high, customer numbers for neobanks are also the highest they've ever been".
But the FOS numbers also show that, when comparing H2 2019 and H1 2022, the number of complaints per million customers increased at all three of the neobanks.
And, while fraud is going up across the board in the UK, it doesn't account for the drastic increase of fraud complaints per million customers at neobanks: rises of 73% at Monzo, 470% at Revolut and 1019% at Starling over the three-year period.
In response to the FOS data being broken down by complaints per million customers, a spokesperson from Starling tells Sifted: "We think that this research, its methodology, and the conclusions that have been reached are not valid and do not show an accurate representation of how APP attacks are handled by Starling Bank."
Starling says that, to properly compare the neobanks, you would need to compare payment volumes at each of the three organisations.
What's going wrong?
But why are fraud complaints increasing at this rate at neobanks? Eugene Dugaev, CTO at payments provider 3S Money, speculated that the ease of use of neobank apps makes their customers easier targets for scammers.
"Neobanks often have much better UI (user interface) than traditional banks. Therefore, it's much easier to make instant payments. Traditional banks' mobile apps are renowned for having sluggish and poor-performing systems," he argues. "With neobank technology, you can be caught off guard, allowing scammers to take full advantage. They [scammers] are pushing people into making large and impulsive payments."
In response to this criticism, Monzo says: "The better tech and more instant alerts and interactions at neobanks allows you to instantly see and check or confirm payments, whereas at legacy banks a fraud could go unnoticed for days or weeks — limiting the chances to stop it early and recover your money."
A Starling spokesperson says: "When a customer wants to pay someone new, multiple security details are required and in-app warnings about fraud are shared, adding friction to the experience and reducing the success of APP attacks. When high-value payments are made, additional security measures are required that slow down the process."
In-app warnings
The growth in fraud complaints could also be because of processes around "transaction monitoring", according to Stuart McFadden, cofounder of scam support startup Refundee. It says it's worked with more than 1,400 fraud victims in the UK since launching in June 2021.
Transaction monitoring is a security protocol used by banks to monitor suspicious activity and recipient accounts historically associated with fraud. 
McFadden says that traditional banks will try to prevent suspicious payments by blocking the payment, and then requiring the customer to speak with the bank on the phone. Not all digital banks will call up customers; some use in-app warnings instead.
Monzo and Starling both tell Sifted that they call up customers who have attempted to make a suspicious payment, though Revolut didn't mention calling customers when describing its fraud prevention processes.
A Revolut spokesperson tells Sifted it uses "innovative fraud protection techniques, utilising real-time machine learning models coupled with a suite of interactive warning flows".
McFadden thinks that automated in-app warnings are less effective than phone calls at preventing fraud, as scammers know how to game such controls. "These fraudsters know the [digital bank] apps inside out so they can prep people in advance and they say, 'Oh, by the way, when you go to send this payment, you will receive this warning, and you just need to click on that.' It looks like they're trying to automate everything, even when it's not necessarily appropriate."
Will Ayles, McFadden's cofounder at Refundee, tells Sifted that some fraudsters specifically encourage victims to open accounts with neobanks to carry out these transactions.
"It's typically banks like Revolut where fraudsters will tell a victim to open up those accounts in order to make payments through that. I suspect that they feel that the controls in relation to fraud are lesser on those accounts."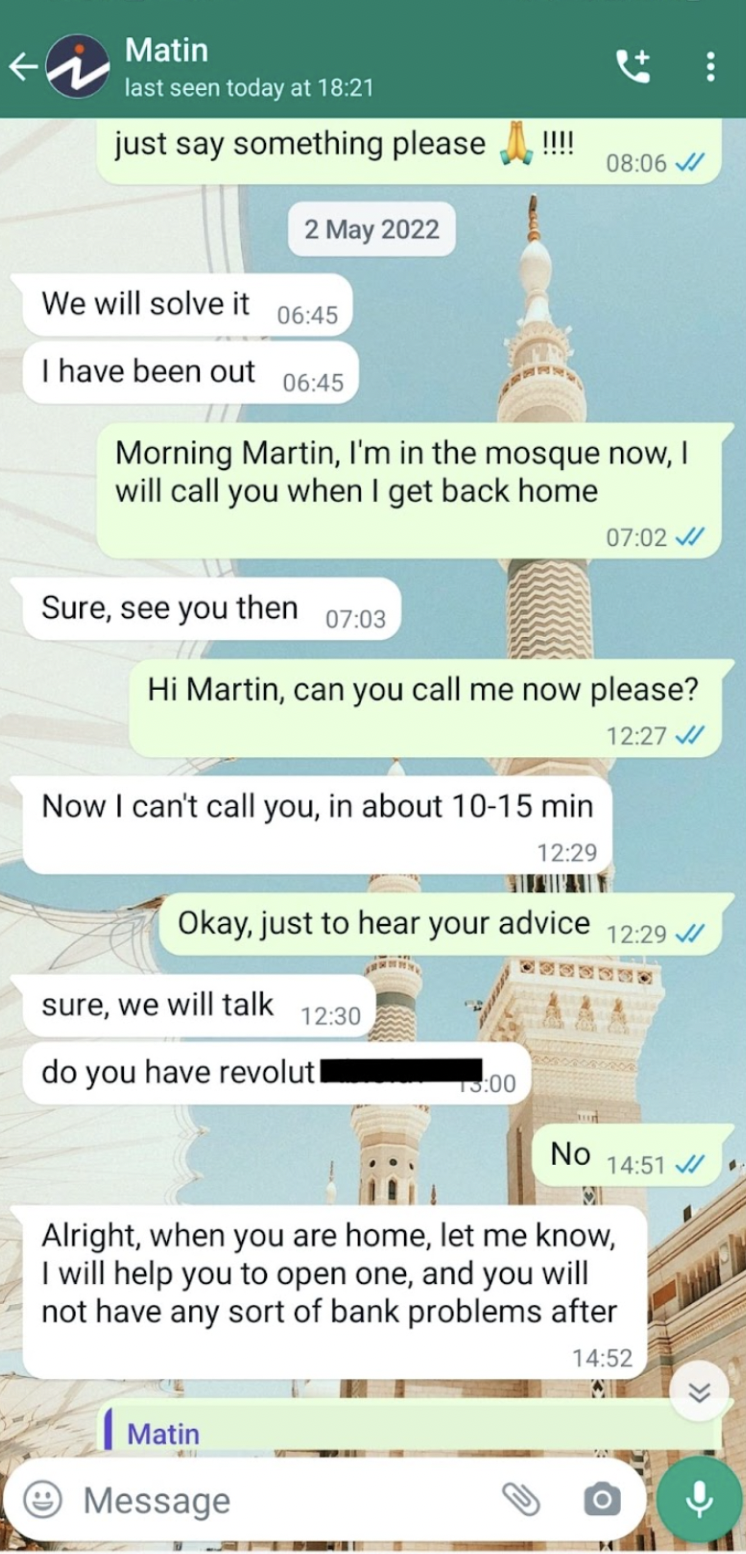 Revolut's spokesperson provided a detailed rundown of its fraud protection system:
Our interactive stories flow, educating customers on the risks of making payments through tailored in-app stories, is 95% effective at preventing customers from falling victim to fraud. Furthermore, for payments we deem at a heightened risk of scam activity, we require the customer to enter a "forced chat" flow with a Revolut agent prior to making a payment. This allows us to gather more information around the payment, helping us determine if the customer is subject to a scam attempt. 
When sending funds to a new recipient, we'll ask you to confirm that you know and trust the recipient of the funds before the transaction can proceed.
If the account name doesn't match, we will warn customers. This is a tell-tale sign of a scam.
If we class the transfer as suspicious, we will provide in-app warnings, which our customers should never ignore, and we sometimes even block transactions in order to keep our customers' money safe.
Compliance crackdown
After focusing on aggressive customer acquisition in their infancy, neobanks are facing a wake-up call as regulators crack down on their compliance failures. 
In September Revolut confirmed that a cyber attack had given hackers access to thousands of customers' personal data.
A Revolut spokesperson told Sifted at the time: "We take incidents such as these incredibly seriously, and we would like to sincerely apologise to any customers who have been affected by this incident as the safety of our customers and their data is our top priority at Revolut."
Meanwhile, in July 2021 the UK's Financial Conduct Authority opened an investigation into Monzo for possible breaches of anti-money laundering regulations.
At the time, Monzo issued a statement saying that "over the past year we have made major investments in our controls in this area as a priority and will continue to invest heavily in this part of the business. The FCA's investigation remains at an early stage. Our operations are unaffected and we remain committed to serving our customers."
Starling has also come under fire for its role in providing UK government-backed Bounce Back business loans during the pandemic, with a former government minister, Lord Agnew, raising concerns over whether Starling had reviewed the recipients of these loans sufficiently.
Starling tells Sifted that "Lord Agnew's allegations are utterly wrong and unfounded".
Tim Smith is Sifted's Iberia correspondent. He tweets from @timmpsmith.
Amy O'Brien is a reporter at Sifted. She tweets from @Amy_EOBrien and writes our fintech newsletter — you can sign up here.