Berlin-based digital bank N26 is in a stand-off with employees, who met on Thursday to organise a 'works council' to voice their discontent with management.
In an open letter released earlier this month, 30 employees leading the charge said that trust and confidence in management was "at an all time low", and an organised effort was needed to "improv[e] working life" at the multi-billion-dollar company.
In particular, grievances are believed to be centred around uneven workers' salaries, triggered by a loophole that meant N26 employees could look up their colleagues' wages. 
Tensions at the startup speak to the culture struggles that companies face as they scale.
Yet N26 seems to have had long-standing employee battles, with Glassdoor approval ratings for its chief executive Valentin Stalf falling off a cliff last year to 47%. N26 also had the lowest Glassdoor score of the four major digital banks — scoring three out of five stars — in an analysis by Sifted in December.
A string of resignations, including their Chief People Officer most recently, have also caused concerns according to one employee Sifted heard from.
N26 has raised close to $800m to date and is backed by the likes of Peter Thiel and serial fintech-investor Ian Osborne.
Crunch time
On Thursday afternoon, employees staged board elections for the first N26 works council, congregating in a large bar in Berlin.
This came despite efforts by N26 to prevent the meeting, citing safety fears around Covid-19 and appealing for an injunction, according to local fintech publication Finance Forward.
A two-day injunction was approved by a court yesterday, but employees were able to circumvent it at the final-hour — meaning the meeting went ahead as planned.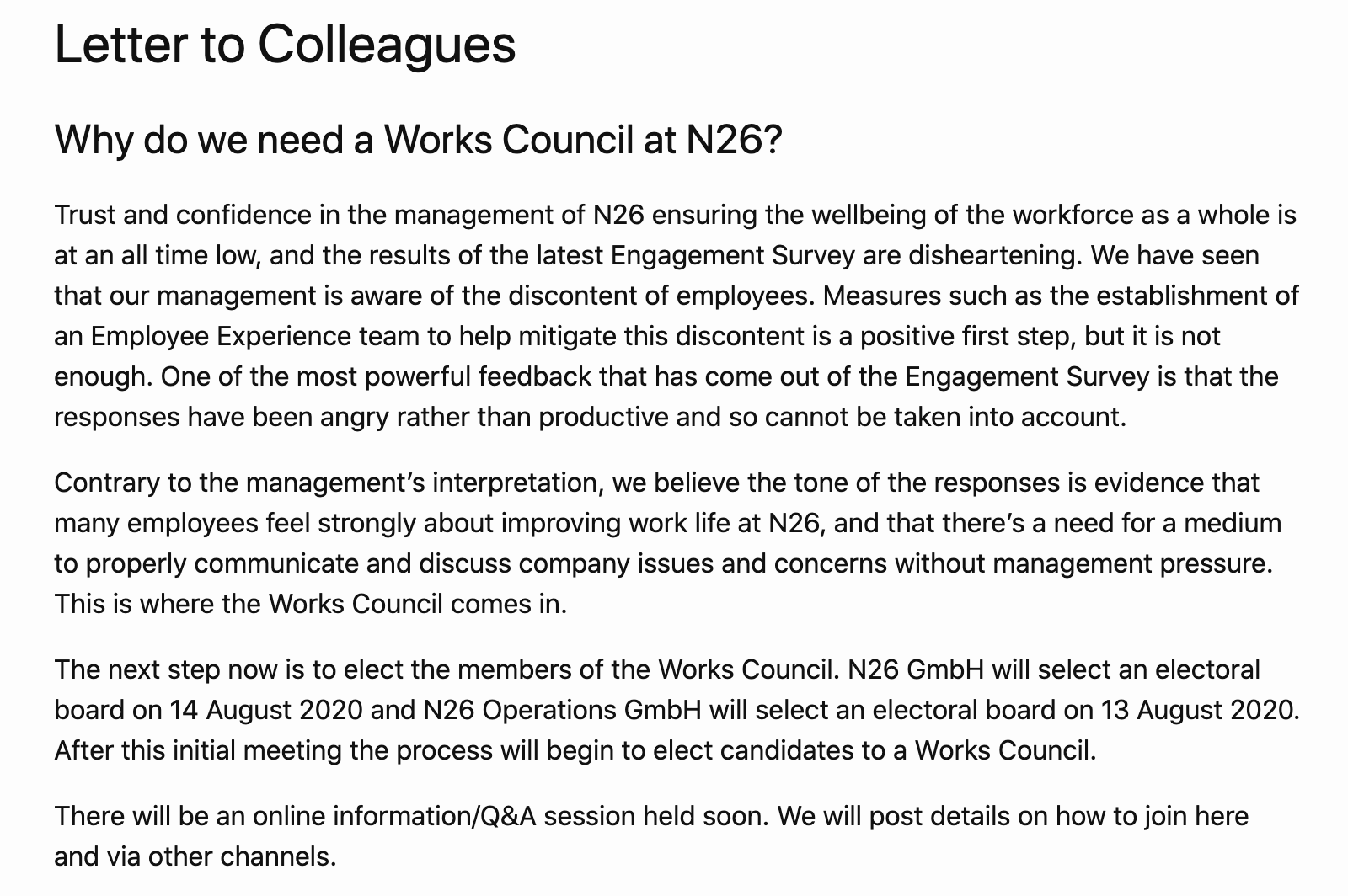 Under German law, staff are entitled to set up a works council to advocate for employee rights with special regulatory protections. Companies are not legally allowed to prevent this, and indeed the company is obliged to pay for the meeting venue under normal conditions.
N26 — which is now valued at $3.5bn and is one of Europe's largest fintechs — argue that a works council would interfere with efforts to innovate.
The company's two founders circulated a letter — seen by Finance Forward — to its 1500-strong staff, saying "a German works council stands against almost all values we believe in at N26; Drive...Simplicity...Integrity...[and] Excellence."
They also raised fears around a works council creating "more complex and hierarchical" structures, and leading to an "increased degree of confrontation."
As an alternative, N26 has proposed creating an internal "Global Employee Representation Board" in Berlin, but this seems to have fallen on deaf ears.
The fintech also scheduled its own staff meeting at the same time as Thursday's works council hearing, to discuss "alternative employee representation."
A Twitter account representing the disgruntled employees confirmed that a board had been elected on Thursday.
"N26 Operations GmbH has selected an Electoral Board. They will now begin the process of organizing a Works Council Election," the tweet read.
Further proceedings and final elections for representatives are scheduled in the coming weeks. Works council members will serve until 2022 and are protected from firing.
N26 did not respond to a request for comment.