For a taste of what's coming from Europe's food delivery sector take a peek inside an industrial kitchen in east London.
The workbenches at Karma Kitchen, a shared kitchen space near London Fields, are home to a handful of startups designing virtual restaurant brands as well as several restaurant operators cooking up meals for delivery. These food businesses make it their mission to cook up the very best takeaway grub — there are no customers anywhere near these kitchens.
Come January Karma Kitchen will also host an accelerator run by Uber Eats for local restaurants trying out these so-called dark kitchens for the first time.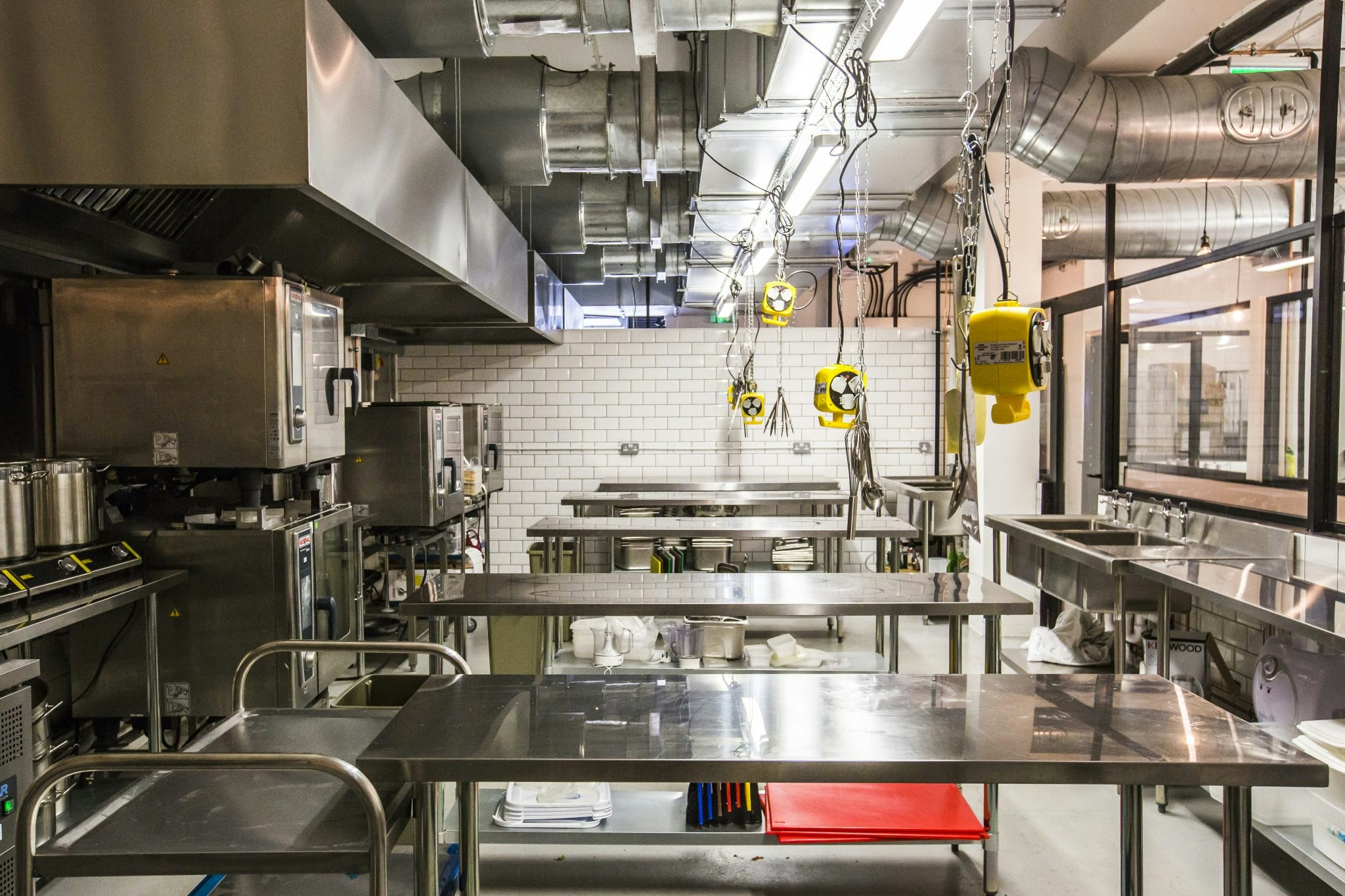 And today Uber Eats is launching a new marketplace, where customers can order not just takeaway food made by tenants of its kitchen space, but also other goodies like granola, gin and desserts via the Uber Eats app. This means that a group of friends could all order dishes from separate producers, throw in some drinks and breakfast items too and have everything delivered at all at once. 
This is what many think the future of food production and delivery looks like.
The investors' thesis
Dark kitchens are in vogue with investors — last week Colombian dark kitchen startup Muy raised $15m to expand across Latin America and earlier this summer Indian dark kitchen company Rebel Foods raised a whopping $125m. 
Food delivery companies have expanded fast across Europe by catering for consumers' seemingly endless appetite for speedily delivered takeaway food — and they don't want to run out of restaurants to pick up from. Dark kitchens — food preparation sites with no customers — could be the solution: with enough dark kitchens spattered around the continent, every neighbourhood can have access to an amazing pizza, burger and sushi takeaway joint (with or without a storefront).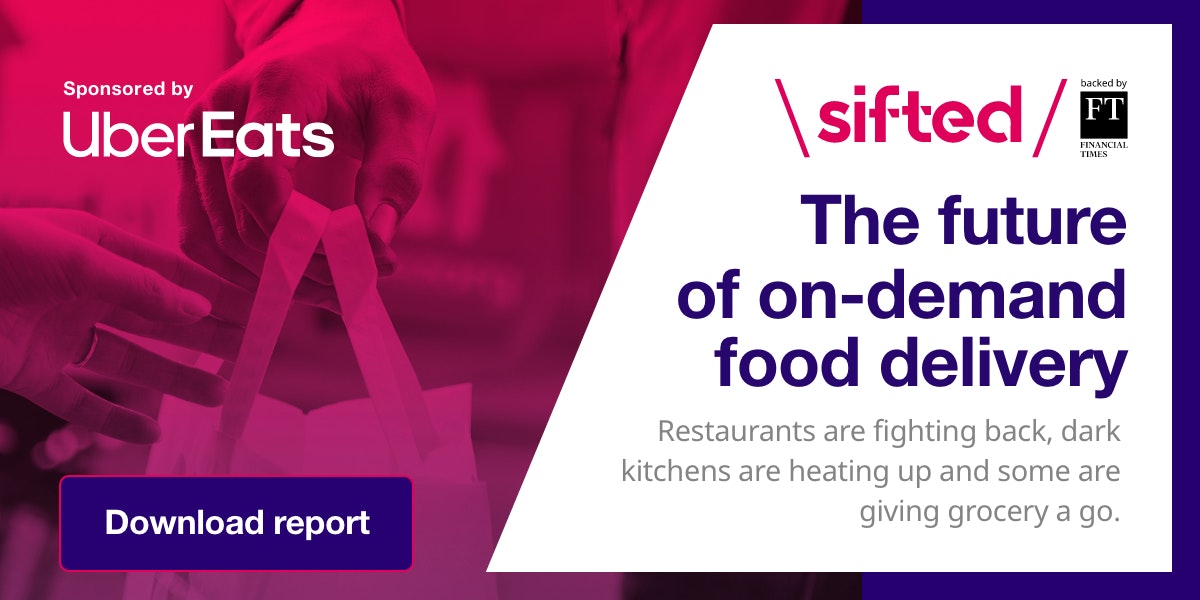 Deliveroo launched its dark kitchen arm, Deliveroo Editions, back in 2017 and now has 31 sites across the world, housing 215 individual food brands. Uber cofounder Travis Kalanick caught the bug in 2018 when he invested in dark kitchen startup Cloud Kitchens, acquiring the business earlier this year. And even McDonald's opened its own dark kitchen in London last week.
The official line is that dark kitchens are going to be a big

industry.
"The official line is that dark kitchens are going to be a big industry," said Johan Svanström, partner at European venture capital fund EQT Ventures and an investor in Finnish food delivery firm Wolt. "But it's going to be bloody hard to do it."
Sifted Newsletters
Sifted Newsletter
3x a week
We tell you what's happening across startup Europe — and why it matters.
Dark kitchens are a real estate play, after all — and food delivery firms are logistics businesses. 
"That's a challenge to negotiate," said Karma Kitchen cofounder Eccie Newton, who runs the business with her sister Gini. "Our key services are quite traditional — and we're focused on that." 
Expansion plans
Early next year Karma Kitchen will open two new sites: a 14,000 sq ft site in east London's Wood Green and a 4,600 sq ft site beneath London's iconic Camden Market. It's also looking at sites in Canning Town and Tooting — two areas of the city where the council has approved lots of new homes, but where food options are currently limited.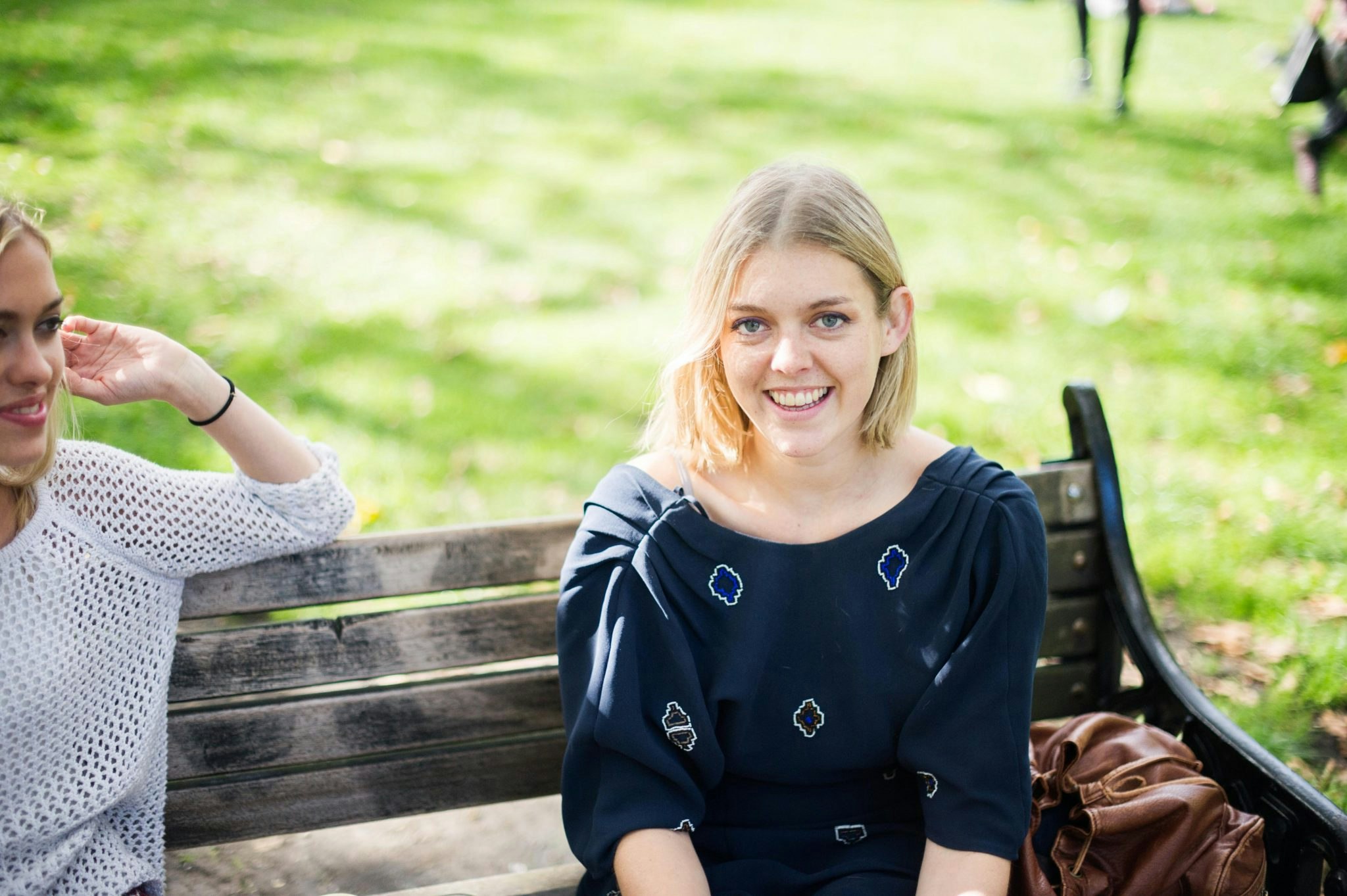 "We'll provide kitchen space for businesses that can't afford the high rent of bricks and mortar," said Newton.
Karma Kitchen's spaces work out cheaper for restaurant businesses than high street sites because real estate is less expensive, front-of-house costs are eliminated and because, quite uniquely, it runs a shift system. Customers can book kitchen space for the early morning, daytime or evening depending on the requirements of the business, making space rental cheaper for everyone.
Virtual restaurants
It's also made Karma Kitchen a magnet for Europe's delivery-only food brands. Honest Food, a startup from Vienna that designs food brands specifically for delivery, is testing its recipes at the site ahead of a planned launch in the UK. Taster, another startup producing delivery-only food, launched in the UK at Karma Kitchen before outgrowing the space. And Karma Kitchen is in discussion with a third virtual restaurant brand, Keatz, ahead of its UK expansion. Between them these three operators have raised tens of millions of euros this year alone. 
Alongside the brands which have chosen Karma Kitchen as their UK launchpad, there are other London-based businesse — like Tinseltown, a small halal American diner chain, which has developed and runs three virtual brands from the site. "They've taken the opportunity to diversify their business and experiment with new concepts," said Newton.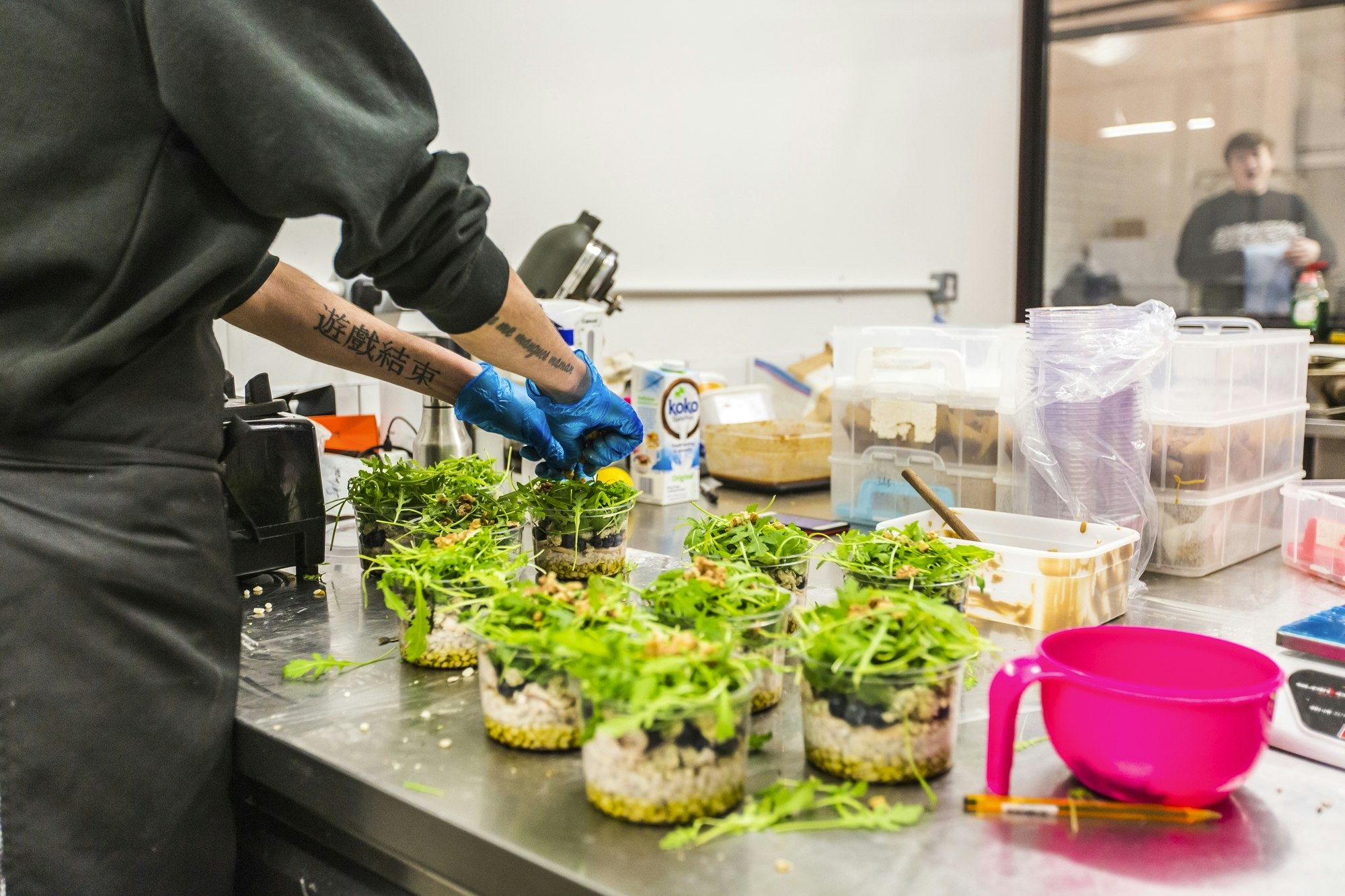 "Restaurants can launch with us for under £4,000 and could get going within three weeks. With their own site it might cost £35,000 and take eight months," she adds.
Karma Kitchen Collective
Not all of Karma Kitchen's residents make takeaway food, however: some are smaller producers who make street food, like social enterprise Kitchenette Karts, or run market stalls, like zero-waste granola maker Nibs etc. But with the new marketplace that is launching today Newton hopes to give a boost to online orders. So when customers order takeaway food from Tinseltown via Uber Eats they'll also be able to throw in a bag of breakfast cereal. "For smaller producers it gives them a much bigger platform," said Newton.  
The idea of combining orders from several restaurants and throwing in extra items isn't new — Deliveroo Editions already offers Mix & Match, where customers can order from several brands based on the same Editions site. "It's efficient: one pick up and drop off is better for the rider and consumer," said Yannis Alivizatos, general manager at Deliveroo Editions. 
What's different about Karma Kitchen Collective is that some of these additional items aren't available anywhere else. Its drinks, for example, aren't available in the average corner shop; they're from small local producers looking for some extra revenue streams. 
In this sense Karma Kitchen is building a brand around the spaces it offers, centred on supporting local businesses — and managing to avoid the negative sentiment attached to dark kitchens run by other operators.
Bad press for dark kitchens
When Deliveroo first launched its dark kitchens in the UK, they met with criticism from several corners. Complaints were made from local residents about the noise and traffic they caused and working conditions were criticised. 
Newton hopes her kitchen spaces are viewed in a different light. 
"These kitchens should be viewed as a massive asset to the council," said Newton. "We design the perfect space to get a five-star rating and take the pressure off the businesses themselves."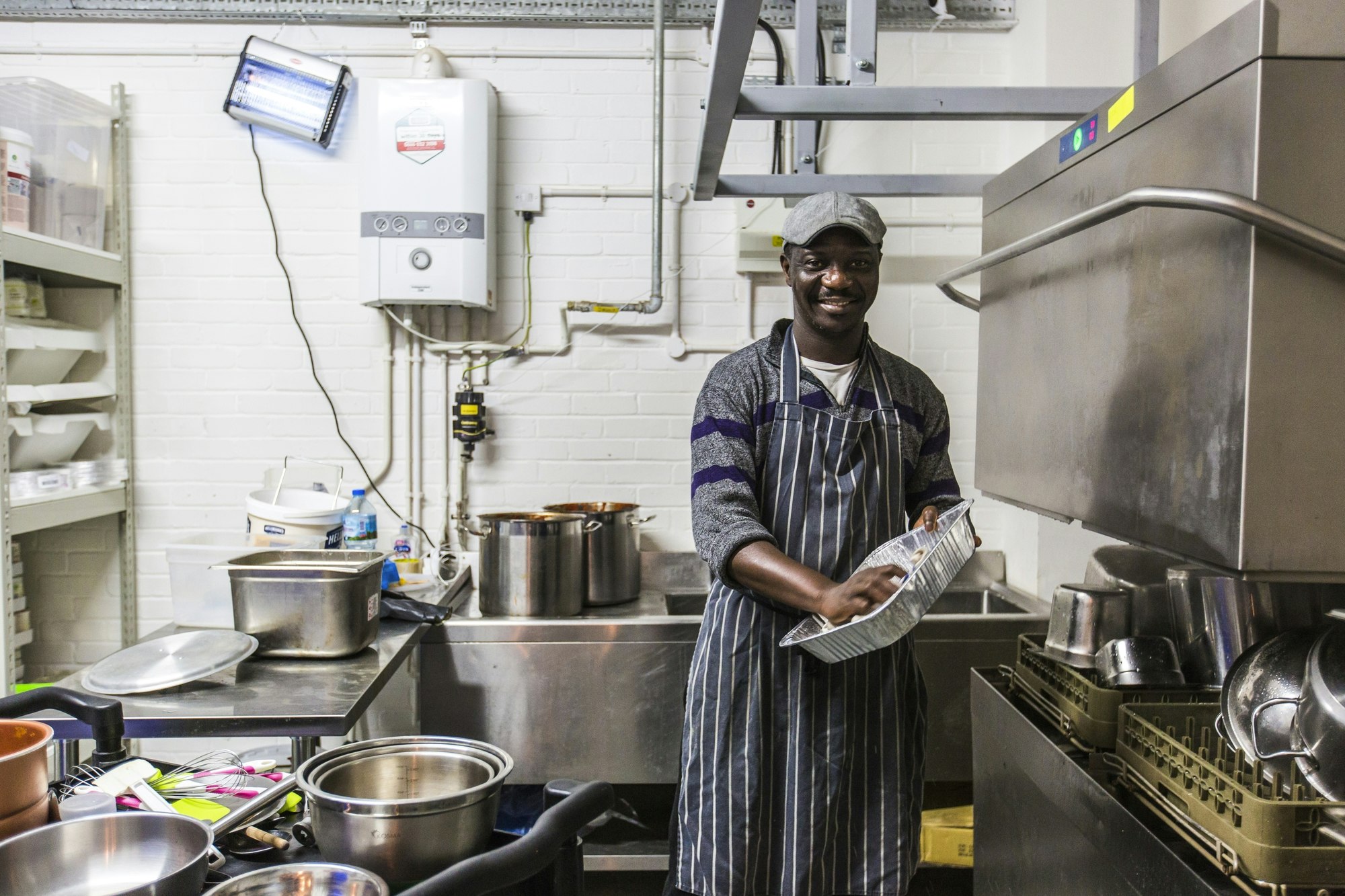 Karma Kitchen has a team of operations managers and kitchen porters to keep the space spick and span and do a deep clean of kitchens in-between shifts. It also tries to organise a monthly council inspection and acts as the main point of contact for all tenants. 
Karma Kitchen is also creating jobs in the area, directly and indirectly. Aside from the people employed by Karma Kitchen's tenants, the company also runs a six-week paid youth training programme for locals. Trainees are placed with tenants or local businesses. 
Karma is currently raising a Series A round to fund further sites in London and is considering further expansion in the UK and Europe, with candidates including Glasgow, Birmingham, Paris and Madrid. "These are burgeoning delivery markets as well and quite underserved by kitchen space," said Newton.