It's been a busy few weeks for Europe's food delivery companies.
Just Eat and Takeaway.com, the two veterans of the market, agreed a merger valuing the combined company at a whopping £9bn. Uber Eats announced plans to start delivering grocery items. Deliveroo told customers it would be pulling out of Germany, while announcing plans to boost its tech team and to acquire a Scottish software startup. And rumours swirled that both Uber and Deliveroo were eyeing up Spanish delivery startup Glovo for acquisition.
The battle over Europe's stomachs is only just beginning, it seems.
So, ahead of further delivery drama, Sifted dives into the data to lay out the state of play.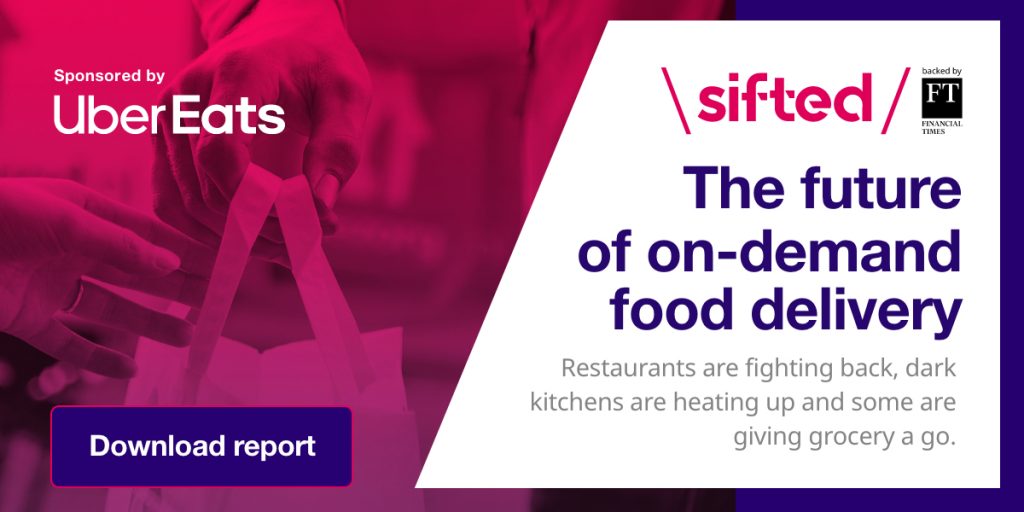 Who's who?
Are they worth it?
Delivery companies have attracted a whole load of venture capital — some more than others.
Most notably, if Amazon's investment into Deliveroo's latest funding round is cleared by the UK's competition regulator, the six-year-old company will have raised €1.34bn in total. But that's not great news for Deliveroo's investors, some say. Its valuation is rumoured to be between £2bn and £4bn; that suggests a less efficient deployment of capital as, say, Takeaway.com, which has raised €940m to date, and is valued at €5bn.
Most delivery firms still have more loss-making markets than profitable ones. Deliveroo has said it is profitable in London and Paris, but won't comment on the other 500 towns and cities it operates in. Takeaway.com says it has an "industry-leading" EBITDA margin of 50% in the Netherlands, its home turf, but admits that " as we prioritise growth over profit, most other markets (Germany, Poland, Austria etc) are still loss-making".
Meanwhile, Delivery Hero CEO Niklas Östberg has previously spoken about how challenging it is to make a profit from running delivery operations. In contrast, its marketplace model involves far fewer costs.
Betting on dark kitchens
It's still early days, but both Deliveroo and Uber Eats have bet on dark kitchens — overflow food preparation spaces to rent out to restaurants which need extra kitchen capacity. Deliveroo has 16 "Editions" (as its kitchen sites are known) in the UK, one site in the Netherlands, two sites in France and two sites in Spain. 140 restaurants use these 21 sites. In a bid to bring onboard even more restaurants, Deliveroo has recently formed a "Restaurant Rescue Team" which will offer struggling businesses space at its kitchen sites.
Glovo has also opened two dark kitchens in Europe (in Madrid and Barcelona), and plans to open more in Milan, Tbilisi and Kiev. Bolt, the ride-hailing challenger to Uber, which is launching its own food delivery service this year, says it also plans to open dark kitchens in the Baltics. "Globally, it's the next big thing," says Dmitri Luchin, who heads up Bolt's push into food in the Baltics.
There are also several dark kitchen startups, notably Taster in France and Keatz in Germany. These companies develop entirely new online-only food brands, designed to meet gaps in the food offering in a local market. (No sushi bar in town but plenty of customers searching for sushi? Start a sushi takeaway from a dark kitchen!)

There are also cost savings to be made by preparing food on cheaper real estate and, argue the likes of Taster, founded in 2017 by a former Deliveroo employee, specialising in food designed for delivery, rather than for eating in, leads to a better takeaway experience for customers.
Keatz, founded in 2016 in Berlin, raised $12m in March to expand across Europe. It currently has 10 dark kitchens in Berlin, Amsterdam, Barcelona, Munich and Madrid — and sells its food via the delivery platforms.
Deliveroo has also recently announced plans to supply ingredients to its restaurant partners (the sell being that it can use its scale to cut prices for smaller businesses) and to develop more software products for both restaurants and couriers, following on from its acquisition of Edinburgh-based software startup Cultivate. That could include tools to help restaurants forecast and manage cash flow, and financial products to help couriers save and manage their money.
Some startups, such as Ghent-based Deliverect, are specialising in new software to help restaurants meet the demand of the new delivery market dynamic.
Getting into grocery
Meanwhile Deliveroo, Glovo, Delivery Hero and now, Uber Eats, are looking closely at the grocery delivery market.
Uber Eats has recently announced a move into grocery and convenience store items, and has been running trials with supermarkets in several markets.
Deliveroo is also currently running a pizza-delivery trial with the large UK supermarket chain Sainsbury's, and says it's open to exploring grocery further. It's a way for Deliveroo and Uber Eats to further expand the selection of food they offer on their apps, and so increase the volume of orders they get from customers who already use the service. It's also, potentially, a way to attract new customers to the app and then convert them to ordering hot food too, a spokesperson for Deliveroo told Sifted.
Delivery Hero also delivers groceries in some markets outside of Europe.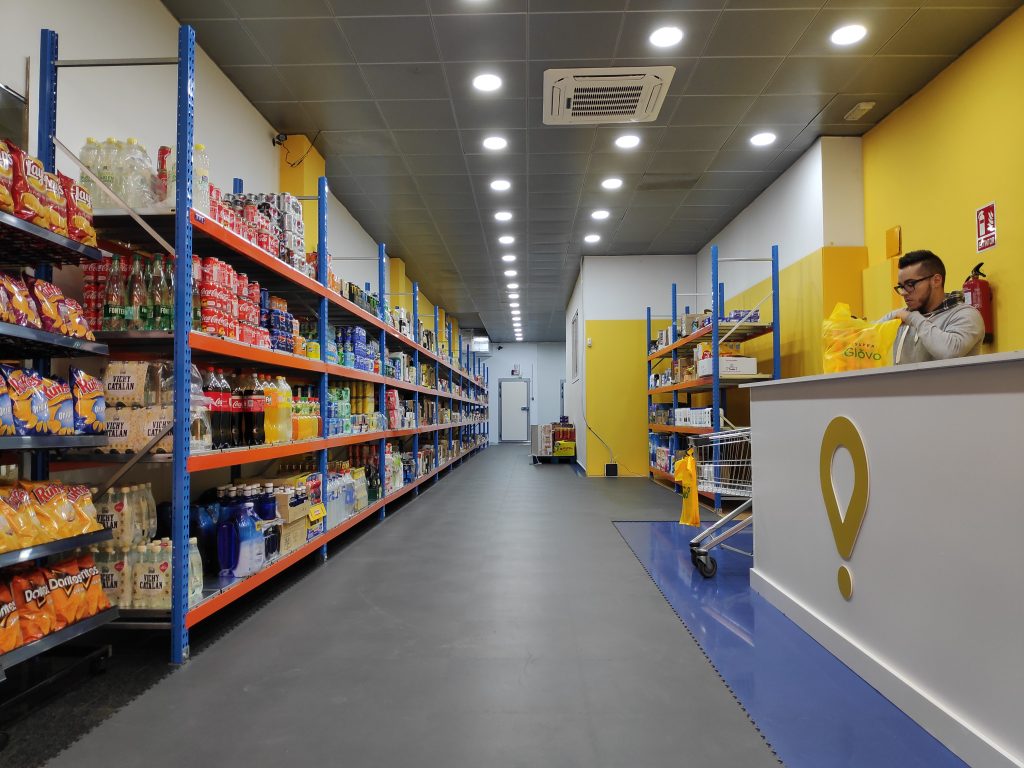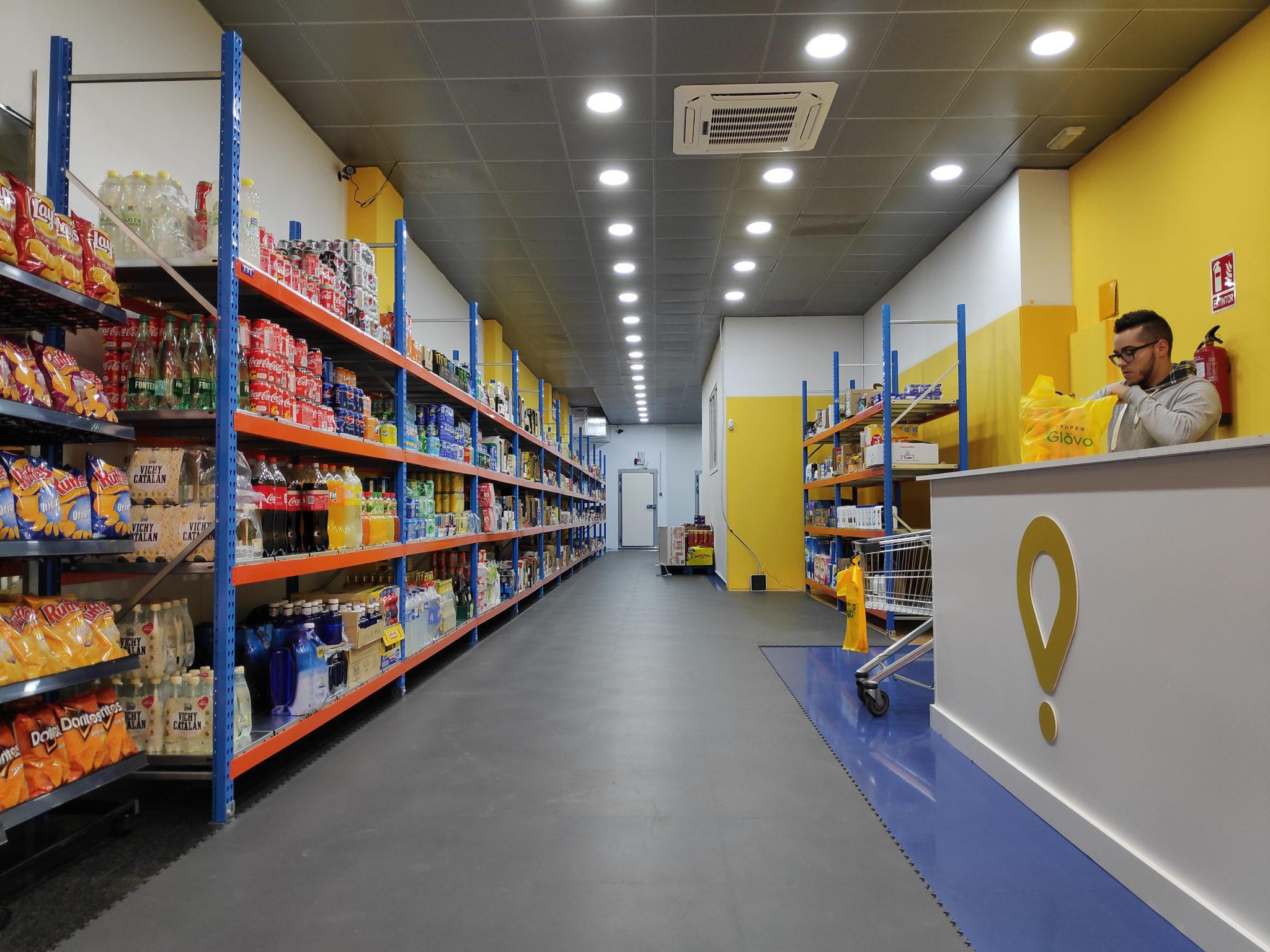 Glovo has taken things a step further. It already runs two "dark supermarkets" (after finding that working with supermarkets in Spain was more hassle than help) — and has plans to open several more across Europe and Latin America. It's proving popular with customers who want to get things like soft drinks, alcohol and snacks. Further down the line, Glovo hopes to sell its own-brand supermarket good too, founder Oscar Pierre told Sifted.
Be big or be bought
Acquisition is the name of the game in food delivery; the largest players in the market have been buying up smaller players for years already. And now, the two oldest — Takeaway.com and Just Eat, are merging to form the largest food delivery company outside of China.
Takeaway.com, founded in 1999 in the Netherlands, has conquered the continent by acquiring rivals.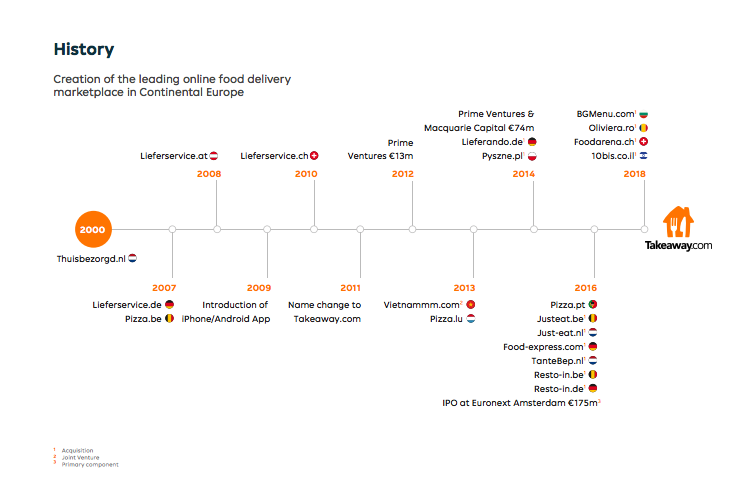 Berlin-based Delivery Hero, founded in 2011, has also snapped up many rival brands over the years in its home market and further afield. Crunchbase lists 21 acquisitions, including: Hungryhouse (UK, 2013), Foodora (Germany, 2015), Foodpanda (Germany, 2016), Deliveras (Greece, 2018) and most recently, Hungrig (Sweden, 2019).
According to Crunchbase, UK-based Just Eat has bought 28 other companies, including rivals such as Hungryhouse (previously owned by Delivery Hero) and, most recently, corporate catering startup City Pantry.
The largest food delivery players have also been trading subsidiaries; in 2018, Delivery Hero sold its Swiss operations (under the Foodarena brand) to Takeaway.com, and later in the same year sold its German operations to Takeaway.com too (ironically, Delivery Hero remains headquartered in Berlin).
Where to conquer next?
Between them, Europe's food delivery firms have neatly divvied up the continent. Deliveroo has focused on eight (soon to be seven) markets in western Europe, while Delivery Hero has, through acquisitions, expanded into much of eastern Europe. It sold off many of its operations in more hotly contested western European markets (such as Germany, France, Italy and the Netherlands) in 2018.
Relative latecomers Glovo and Wolt have strategically avoided markets where their competitors already have a stronghold; Wolt focusing on the Nordics and the Baltics, and Glovo on southern and eastern Europe.
Glovo founder Oscar Pierre told Sifted last year that he won't enter a market which already has two dominant players. "If we went to the UK today it would be super tough or impossible to become one of the main food delivery companies. It's a snowball effect; as you don't have the volume, you don't reach the top chains or restaurants, which doesn't give you the growth," he said.
That philosophy hasn't stopped ride-hailing firms from vying for a bit of the pie, however. Uber Eats, the food delivery service from Uber, launched in Europe in 2016, going head-to-head with Deliveroo in its strongest cities, Paris and London. And now Bolt, the Tallinn-based competitor to Uber, is preparing to launch its own food delivery offering later this year, first in Estonia, Latvia and Lithuania, where it will compete with Wolt.
Bolt is hoping to transfer what it has learned delivering people to delivering food — and use some of its taxis drivers as food couriers.
To employ, or not to employ?
It's the big question hovering over many food delivery firms; are delivery couriers contractors — or should they be employees?
This "gig economy" debate has kicked off across the continent.
As contractors, delivery drivers aren't entitled to many of the benefits that come with full-time employment, including (in some countries) a minimum wage. Laws do vary between European countries, however the argument against employing couriers is consistent between the delivery firms; they argue that most couriers appreciate the flexibility that comes with the job, and treat it as a way to earn extra cash, rather than a salary.
The debate is far from settled.
In July, a court in Madrid ruled that Deliveroo couriers in Spain are company employees, not freelancers — and as a result, should be given formal contracts and benefits.
Meanwhile in the UK, in December 2018 the High Court denied Deliveroo drivers collective bargaining rights over pay, hours and holidays.
In Sweden, Delivery Hero has avoided the courts by employing drivers for subsidiary brands such as Foodora, Hungrig and Onlinepizza. In Denmark, Just Eat employs couriers directly, whereas in the UK it works with self-employed independent contractors.
Takeaway.com has "close to zero contractors". The company told Sifted: "Our couriers are properly employed, insured, and provided with e-bikes in most cities. Takeaway.com pays a decent hourly wage — how much exactly differs per country but on average the hourly costs are €14-15, including taxes, social security etc."
If more European countries decided that delivery firms need to treat couriers as employees rather than freelancers, it could significantly increase the (already high) operational costs of running a food delivery business. Glovo and Deliveroo would be most affected by such legislative changes, given they work with significantly more couriers than Takeaway.com and Just Eat.