Last time Sifted met Oscar Pierre, the 20-something founder of Spanish delivery startup sensation Glovo, he had just returned from a field trip to Madrid to visit the company's first mini-supermarket, "SuperGlovo". He was pretty excited about Glovo delivering groceries from its own tiny warehouses, rather than relying on supermarket partners.
Now, just six months later, there are four SuperGlovos (two in Madrid, two in Barcelona) and by the end of the year Pierre hopes there will be around 10 in total: one in Milan, two in Latin America, and a few more in eastern Europe.
Glovo's expansion has seen the launch of seven dark kitchens, in Madrid, Barcelona, Buenos Aires, Lima, Milan and Kiev. Local restaurant partners, which have reached peak capacity in their own kitchens, can rent these "Cook Rooms" to produce even more takeaway grub for Glovo's couriers to carry to customers hungry for more.
That's speedy growth — and entirely characteristic of the four-year-old startup, which now operates in 124 cities across 21 markets (18 of which launched in 2018).
Such quick operational expansion only comes from a steady flow of VC cash. This week, Glovo closed a €150m raise, nine months after raising its last round of $134m, yet will immediately be hunting for more. "To be honest, we just closed the round, but next week I'm going to start working on the next one," Pierre says.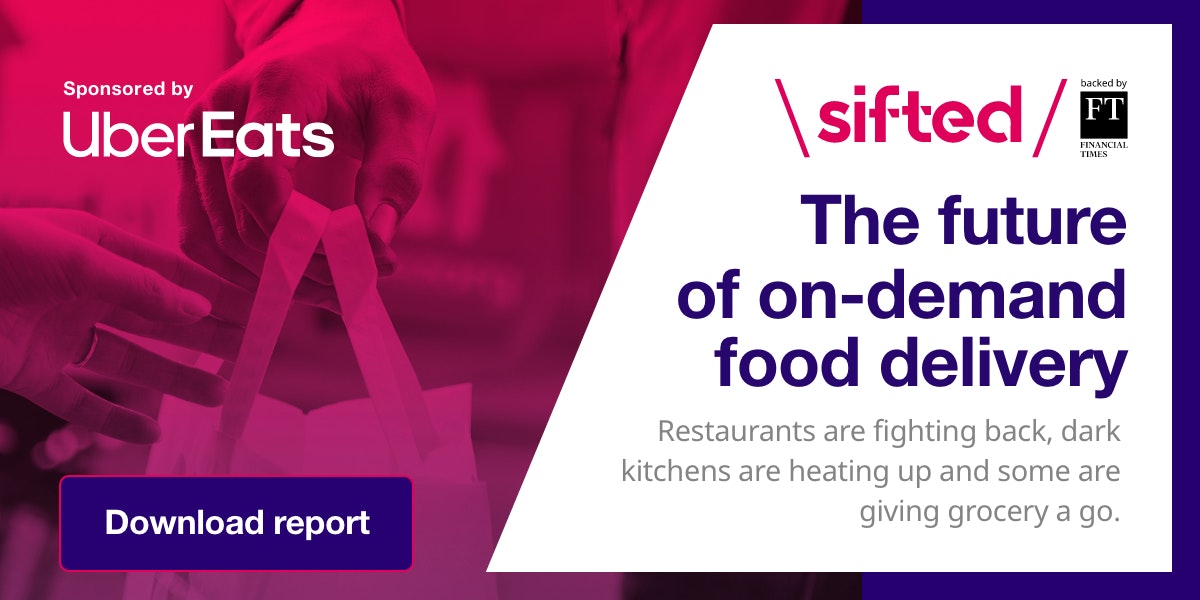 This constant hunt for funding isn't due to the absence of a viable business model though, he says (in contrast to many of the best-funded tech firms). Glovo's operations in Spain and Italy now have "really pretty positive margins" and the playbook for how to get other markets into the black is clear. "We're starting to get to a volume where profitability is very clear; if fundraising dries up we can take the company to profitability."
Instead, it's funding for growth. "We know all the categories we want to launch, and all the countries, and we're still far from saturating our growth channels."
We caught up with Pierre to talk about dark kitchens and supermarkets, raising mega rounds, and answering employees' tricky questions.
When we met before, you'd just seen the first SuperGlovo. What's happened since then?
Delivery times have dropped quite a lot — now, on average, they're 22 minutes. In Spain, online delivery for groceries has never been that fast. And we know we can go a lot lower; it all depends on capillarity. After a certain volume, [we know we need to] launch a new store.
The inspiration is a McDonald's Drive Thro, where the picking time is so fast that when the courier gets there, to the window, they don't need to wait.
We've built tech for the picker, they have a tablet, so they know more or less where things are. It takes them less time to pick the items than it takes the courier to get there.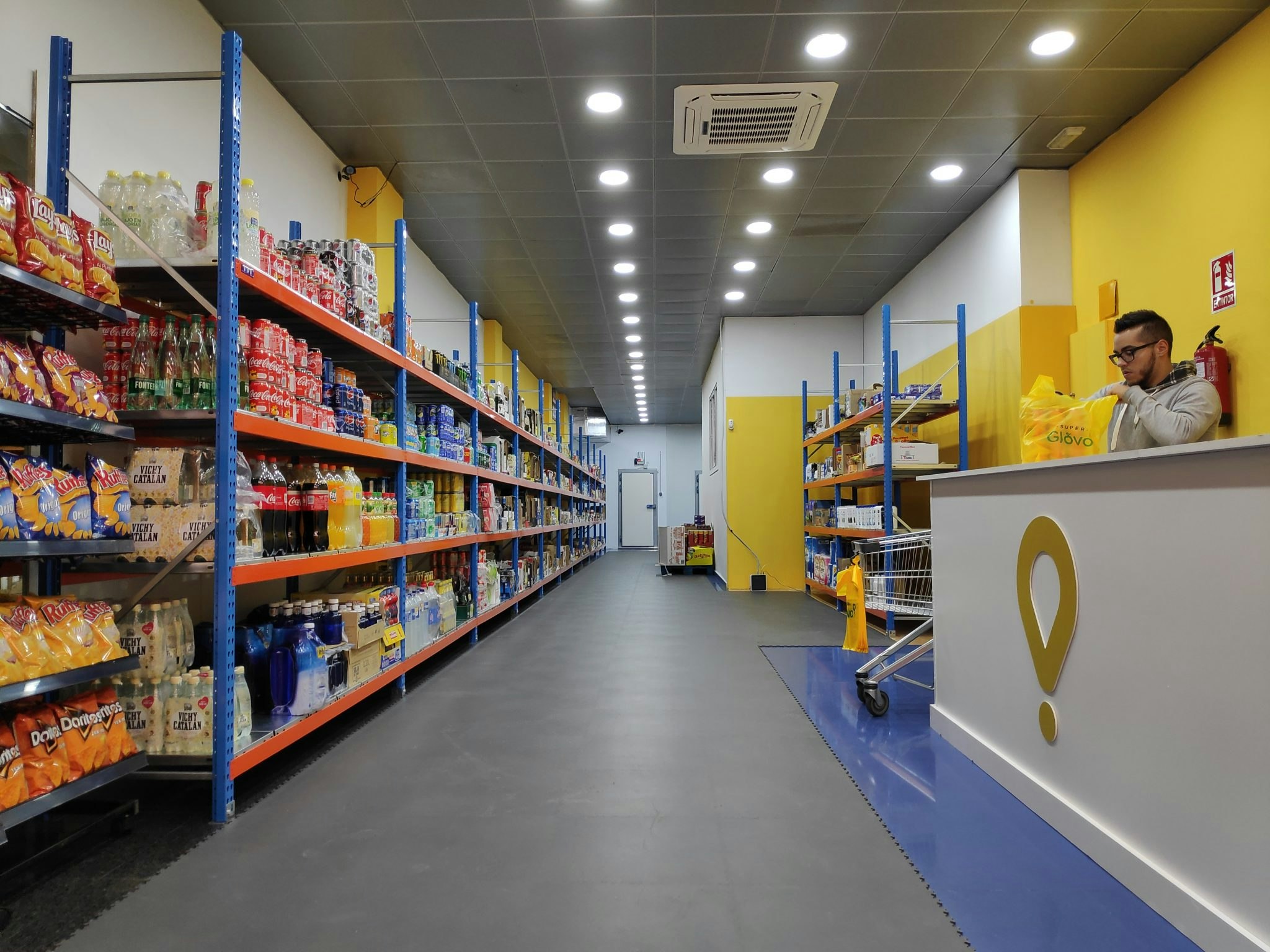 We have around 1,000 SKUs — but we're actually thinking about reducing it, more than growing it. Most of the orders go for the same products — quite boring things that people need urgently, like bread, milk, cereal, which they then top up with more random items. They also order a lot of drinks: we're 24 hours and, depending on the area, we can deliver alcohol.
At some point, we're going to get to a second stage where we think about going to big baskets. The long-term vision is eventually to become a retailer, with own-brand water, own-brand cereals.
And what's happening with dark kitchens?
It's running! As we grow, some of our [restaurant] partners are having issues with scaling — their kitchens are not growing as fast as us. Many are thinking of building their own dark kitchens, but some can't afford to — they can rent the space [from us].
They bring everything they need to cook, and we offer them some shared services — we take care of drinks for them, freezers.
Would Glovo move into making its own food?
That's a tricky one. In five years time, yes for sure. Not only Glovo, but other food delivery brands, with our knowledge and data, will be able to create our own food and cover the gaps in the city.
There's a lot of growth for everyone .
Would you work with the likes of Berlin-based dark restaurant startup Keatz?
That for now I don't know. It could be that we do both.
It's not always been easy for you to raise cash. How does it feel now that investors want to give it to you?
We were looking for capital. We know all the categories we want to launch, and which countries, but we're still far from saturating our growth channels.
We're starting to get to a volume where profitability is very clear; if fundraising dries up we can take the company to profitability.
To be honest, we just closed the round, but next week I'll start working on the next one.
Now it's different, for sure. [But] it was only in this round that we were starting to feel Glovo having a brand, starting to have some type of hype. In 2018, we launched 18 countries and the coolest thing about Glovo is that the playbook is regionally agnostic. The same playbook is working in Peru, Morocco, Ivory Coast, Ukraine. That's very cool — that repeatability, with that growth curve.
We spoke before about being humble. What have you had to learn, personally, in the last six months?
The toughest thing is that we crossed the 1,000 employees barrier.
I'm a big believer in internal comms, and have been struggling a little bit with it. I'm starting to see that with people super spread out, the message doesn't arrive as well as before.
I'm also dedicating more time to our onboarding process, and checking our core values are reflected in our hiring process. We finally hired a great new VP of people; he's probably the person I work with the most in the company.
One thing we've started — inspired a bit by Mark Zuckerberg — is a biweekly Q&A with the team. Before, there was no need to do this — we were such a small team, people just asked questions. Now, if I don't answer the tricky questions, I see rumours in the corridors start, people gossiping: I have to stand up and answer hard questions. We have a system; people submit questions anonymously, they vote [on them], and we answer the top 10 or 20 questions.
There are a lot about fundraising. When we told people we'd closed the round, that we were going to get more funding, we told them to focus on executing, not on what other [companies are] raising. Different companies, in different verticals and regions, have different cash efficiencies.