Despite fintechs facing a funding freeze and lower revenues, the UK's golden sector is likely to see fewer redundancies than most startups as a result of coronavirus, a new report by research company Beauhurst has found.
The report estimates that around 22% of UK fintech jobs are either under immediate or moderate risk. While concerning, this is a fraction of the 61% of jobs at risk across Beauhurst's database of the UK's 28,000 most ambitious startups. It's also better than the 40.7% of jobs at risk across other early-stage tech firms.
Relative job security for fintech employees is in part due to the reduced risk of these companies collapsing during this difficult period. Just 3% of UK fintechs are believed to be at 'high risk' from the coronavirus pandemic according to Beauhurst, whereas that number sits at 17% for the wider UK startup ecosystem.
That's because most UK fintechs are back-end infrastructure financial services companies: 72% of those in the Beauhurst report are classed as business-to-business (B2B) companies, including funding-broker Swoop and open-banking company Truelayer.
Generally, B2B fintechs benefit from long-standing client bases, meaning they're expected to fare better than their consumer-facing peers in the neo-bank, lending and brokerage space, which are already making headlines for tough staff cuts.
Although B2B fintechs face slower sales cycles amid lockdown, they are better insulated than the mobility and leisure sectors for instance, which are currently almost completely paralysed.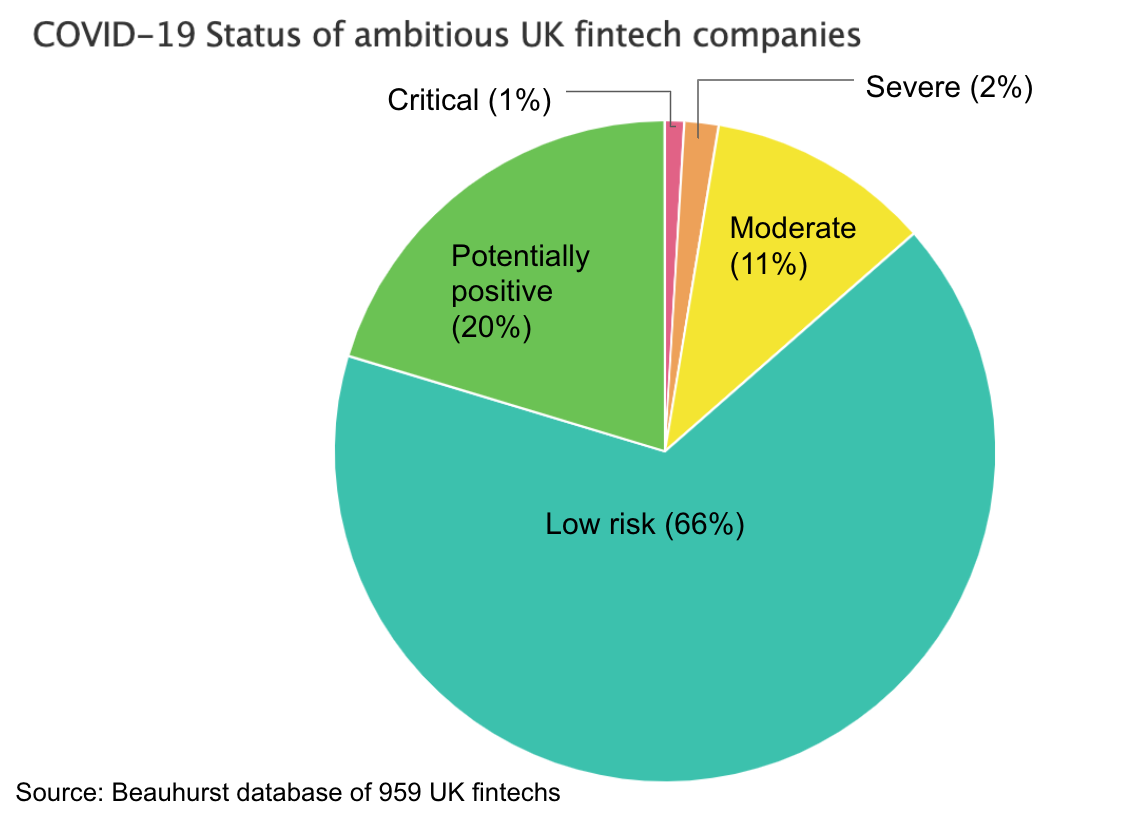 A digital sector
The fintech sector may also be better protected because it doesn't — broadly speaking — require face-to-face contact. Startups that cater to large financial institutions can deliver streamlined lending, credit-analysis, or deliver customer-insights from afar. Meanwhile, although payment volumes have dropped overall as a result of the lockdown, a large bulk of transactions can continue online.
"Aside from some of the lenders... I'd expect the sector as a whole to be much more resilient than the wider economy. The benefits of agile, cloud-native services have never been clearer," said Ed Lascelles, fintech partner at Albion VC.
"We are already hearing of transformational projects being prioritised throughout the whole sector, and so long as we avoid a financial crisis we expect this momentum to increase."
Perhaps as a result of these 'projects', a large chunk of fintechs (20%) have reported 'a surge of demand' and are predicted to be positively impacted by Covid-19.
"The vast majority [of fintechs] seeing a surge in demand specialise in AI, automation and digital ID services," the report noted.
Reuters also reported positive news for fintech employees on the whole.
"Those working in IT and fintech are going to continue to enjoy a robust job market," one analyst told reporters. "Institutions continue to recruit business-critical vacancies, whilst at the same time ramping up their remote team systems and practice."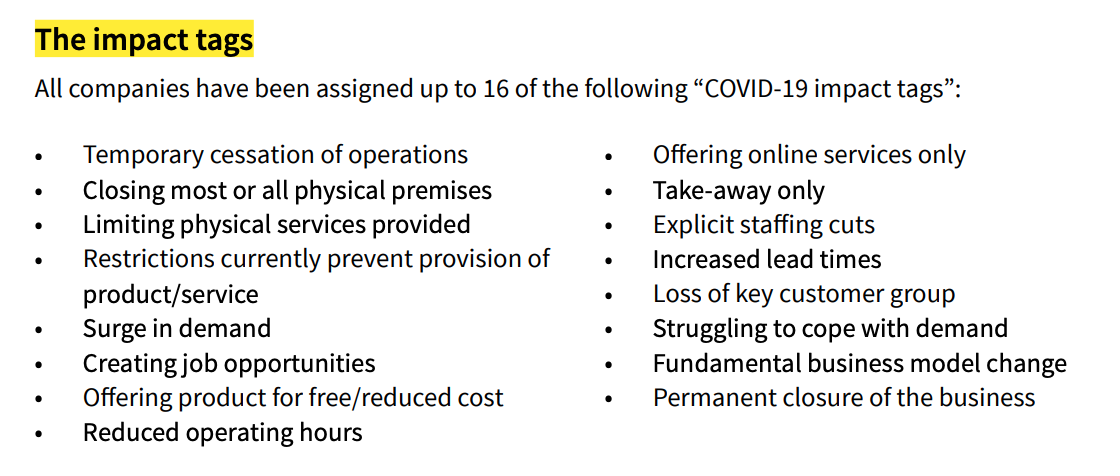 Overall, Beauhurst estimates that only 2% of fintech jobs are under immediate threat (versus 22% of jobs in the wider high-growth economy) and that 20% of fintech jobs are deemed 'moderately' at risk (versus 39% in the broader study). Meanwhile, one national study estimates that nearly 7m jobs could be lost in the UK if lockdown continues.
Furlough risk
Nonetheless, while fintechs look to be in a better position than the wider startup sector, the report may be overly optimistic in its estimated number of "moderately" or "low-risk" companies.
Beauhurst confirmed that it has not taken into account furloughing as a metric for measuring impact (instead only measuring for redundancies), thereby omitting the fact a large number of fintechs have temporarily cut staff.
Two analysts Sifted spoke to estimate that at least half of the UK's 1,600+ fintechs will furlough staff. This is supported by a survey by ProSapient, which showed that 50% of London fintechs had used the furlough scheme, while the London Co-Investment Fund told Sifted 70% of its fintech portfolio had furloughed staff and Albion VC confirmed over 40% of its fintech portfolio had.
Crucially, many of those currently on furlough won't be temporary layoffs; thousands of jobs are likely to be lost once the UK furlough scheme ends, which could inflate the fintech employees at risk.
The form below documents large, "growth" fintechs that Sifted has confirmed have applied for the furlough scheme.
Email isabel@sifted.eu if there's anyone we should add to the list
Finally, the 'low' risk tag is given as the default option where no information on the firms could be found. Given 66% of fintech firms in this report are marked as "low risk", it's possible far more are in fact privately experiencing a serious impact.