Instagram account @Balancetastartup has only been going for just over two months, but it's already amassed 180k followers — and caused a stir in the French tech scene. 
The account collects and shares anonymous testimonies of employees working in startups across the country. So far, some of the country's best-known startups have been featured, such as healthtech Doctolib, fintechs Lydia and Swile, photo agency Meero and online employment platform Iziwork.
Balance's central aim: to bring more accountability to the startup world and allow struggling employees to speak out, because, as the account puts it, "table football is cool, but labour law is even better."
There are now more than 1.2k testimonies on the page. Now, every French startup is waiting for their turn — and not everyone is looking forward to it.
Women in the workplace
Balance began as a means to share women's experience of their workplaces. #Balancetonporc — which means 'denounce your aggressor' — is a hashtag used in France at the time of the #MeToo movement. 
The person behind the account is anonymous, but, speaking to Les Echos, said she's in her thirties and has worked in many startups, where she either witnessed or was the target of a lot of inappropriate behaviour.
However, she's keen to stress that Balance accepts both positive and negative testimonies. To try and verify stories, Balance asks for proof of employment at the startup in question — either an employment contract or LinkedIn profile, and sometimes an identity card.
"The facts described in the testimonials are not verified one by one: this is simply impossible," a post on the account explains. "This is why it is important to also look at the number of testimonials received in relation to the size of the company."
Alongside Balancetastartup, there's also @Balancetonagency, which aims to bring transparency to the advertising and publicity sector, and @Balancetonstage, which wants to do the same for intern positions across French companies. 
Balancetastartup isn't all about testimonies, it also features weekly videos from an employment lawyer, who talks through the basics of labour law and employee rights.
Do online testimonies work?
"In the age of #balancetastartup, Glassdoor and social media, whistleblowers and disgruntled employees can damage a brand with Covid-like virality," writes Laetitia Vitaud on French employment site Welcome to the Jungle. 
"It's becoming increasingly difficult to distinguish the employer brand from the user brand because one increasingly influences the other."
There are instances where posts online have indeed made a big difference to companies. Susan Fowler, for example, a former employee of Uber wrote a blog post condemning sexism within the organisation — a move that led to the resignation of CEO Travis Kalanick. 
Still, Vitaud cautions against unquestioningly using the internet as a "popular court", warning that testimonies could easily be manipulated by competitors. 
Hyojeung Kim, founder of NomadHer, a startup based in Paris, says she thinks @Balancetastartup could help the French startup scene. 
The page provides knowledge, then it's the decision of employers and founders about what they do with

it.
"The Instagram page shows that we should never forget the rights and the basics of our employee rights and team culture," she says. "The right to know is important and I guess the page provides knowledge, then it's the decision of employers and founders about what they do with it."
Elisha Sore, a product manager at startup Immoscore agrees. "Balancetastartup provides an essential education for anyone wishing to join startup world. It would not change my mind about a startup but it rather prepares me for what to expect."
For Caroline Ramade, founder of 50inTech, a community for female tech workers, the Instagram serves as an "electroshock for founders, managers and investors."
"Tech can no longer afford this kind of

behaviour."
"Tech can no longer afford this kind of behaviour," she says. "Whether or not what was said about these companies is true or not is, for me, at odds with the real issue at hand: how are we going to make tech healthy and inclusive to avoid these kinds of instances that we have all heard about and even been victimised by?"
And investors have taken note of the page too, says Josué Louis-Alexandre, a fellow at Included VC. "It's the beginning of an evolution for the ecosystem where employees will be more valued for their contribution.," he says. "Investors have taken notice around this subject."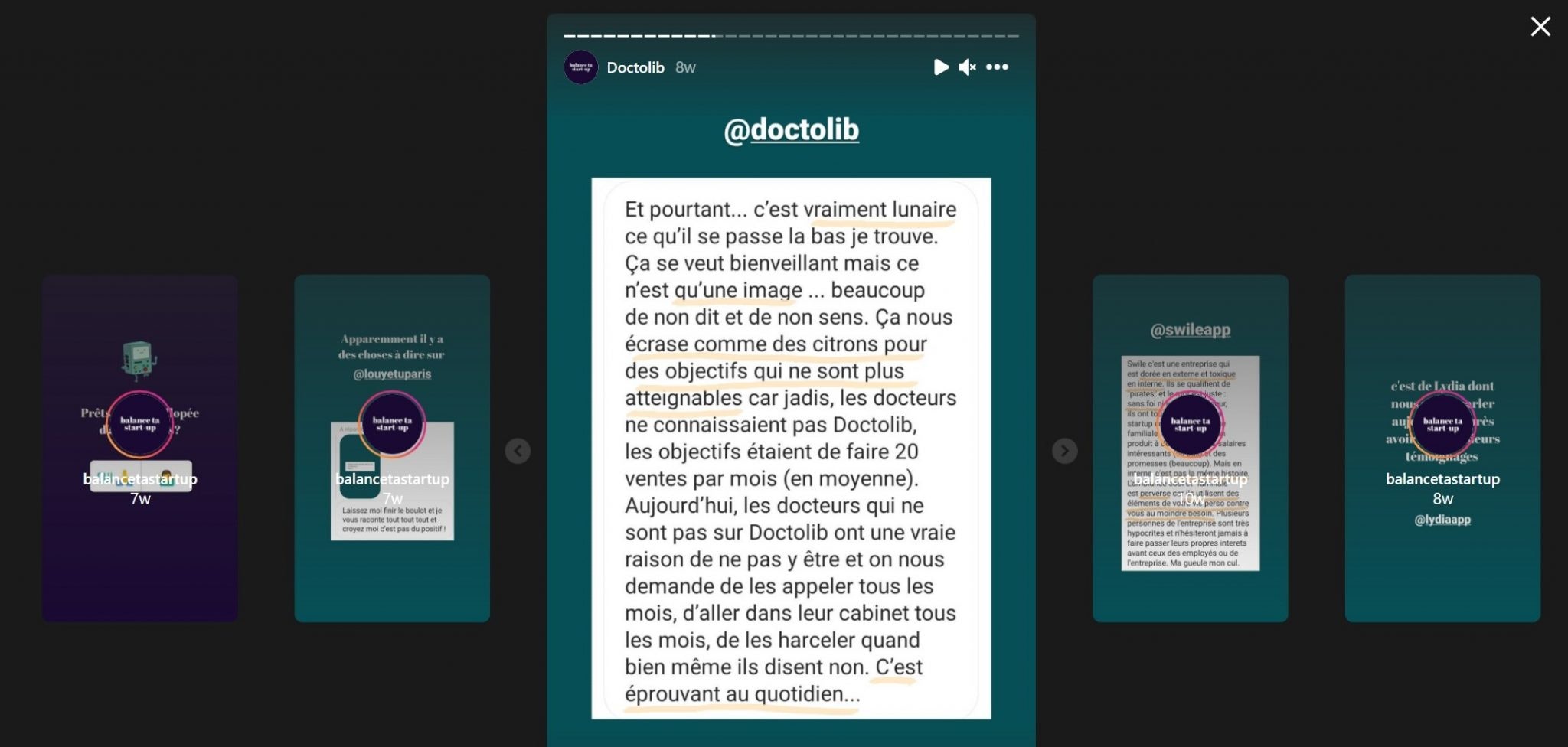 So how are some of France's most famous startups faring?
Doctolib
Online medical booking and video consultation platform Doctolib is Europe's second largest healthtech startup based on the amount of funding it's raised. In the past year it's seen a surge in users. 
The company currently employs 1.4k people, split largely between Paris and Nantes but with some staff in other places around France and in Berlin. Last year, Doctolib announced plans to hire 3k additional staff across the next four years. 
Main criticisms on Balance:
Sales targets: A number of complaints refer to the sales targets workers at the startup are expected to achieve. "We are asked to make sales at any cost," says one post. "It makes people do things that turn into harassment, people contact doctors on other channels, like their personal social media accounts."
Women don't come back from maternity leave, because it's impossible to have a personal and a professional life at this

job.
Burnout culture: A number of posts refer to a tough culture at the startup. "Women don't come back from maternity leave," says one post, "because it's impossible to have a personal and a professional life at this job."
Managerial style: Posts allege that managers don't listen to staff when they try to voice their problems or concerns.  "I never really trusted them because as soon as you dare to say something that goes against what they want, it will be said to someone in a higher position and you will get shot down and it'll have an impact on your projects and your promotion chances."
"The CEO is a demigod":  A number of posts also refer to a culture of nepotism around promotion at the startup. "Employees worship the CEO and fight to be promoted to managers, it's an ultra political place," says one post.
Wages: "The lowest wages on the market," says one post.
Doctolib declined to comment. 
Iziwork
Paris-based startup Iziwork offers a digital platform for temporary workers. The platform, currently available in France and Italy, gets job seekers to upload their CVs and indicate their availability, after which the system analyses their skills and matches them with available jobs. In 2020, the number of workers on the platform quadrupled. 
Iziwork currently has 250 employees. 
Main accusations on Balance: 
Burnout culture: One post alleges that people were frequently in tears or depressed at the company. Another said that bosses don't respect working hours and contact employees at any time of day, expecting a reply.
Office space: A post on Balance also says that 70 staff were made to work in an office space intended for 35 people.
Dismissals: Several posts allege that there was a high turnover rate, with one user saying there are around 80 dismissals a year. They also report that staff were asked to go onto self employed contracts rather than have the benefits of full time employment.
"We worked on weekends without extra pay, there were instances of unfair dismissal — including dismissal of those who refused to become self-employed — and threats and intimidation were commonplace," reads one post. 
What Iziwork say:
A representative for Iziwork said that the company had grown from zero to 250 employees in two and a half years, which has "induced several challenges in our own internal resources management." They said the Instagram posts deserve their full attention. 
"We are running a full audit to listen to each employee through workshops with HR business partners and an anonymous and secure employee survey run on a quarterly basis."
Plans include increased training for managers, the signature of an ethics charter and partnering with an external organisation specialised in psychological support. 
Lydia
Lydia, founded in 2011, is one of France's best known fintechs. Its central aim is to increase the ease of sending reimbursement payments between friends. In 2020, the app reached 4.5m users, up 50% across the year and secured a $131m Series D round, the largest fintech round in France's history. 
The company has 247 employees based at its office in Paris. 
Main criticisms:
Contracts: Contracts at the firm are alleged to be 42 hours per week. "The contracts are, for the most part, 42 hours, it's not obligatory, but it's "appreciated," reads one post.
Turnover: Numerous users complain that the turnover rates high. "Turnover became a daily topic of conversation," says one testimony.
The micromanagement is better than the sexist remarks and discrimination that goes along with

it.
Sexism in the office: "The micromanagement is better than the sexist remarks and discrimination that goes along with it," wrote one user. Another said that when a female colleague arrived in the office, male staff made bets on who would be first to kiss her.
Cameras: Posts on the Instagram page allege that the office is equipped with cameras, in the workspace and in the kitchen, and that they were also used to record conversations.
Lydia declined to comment.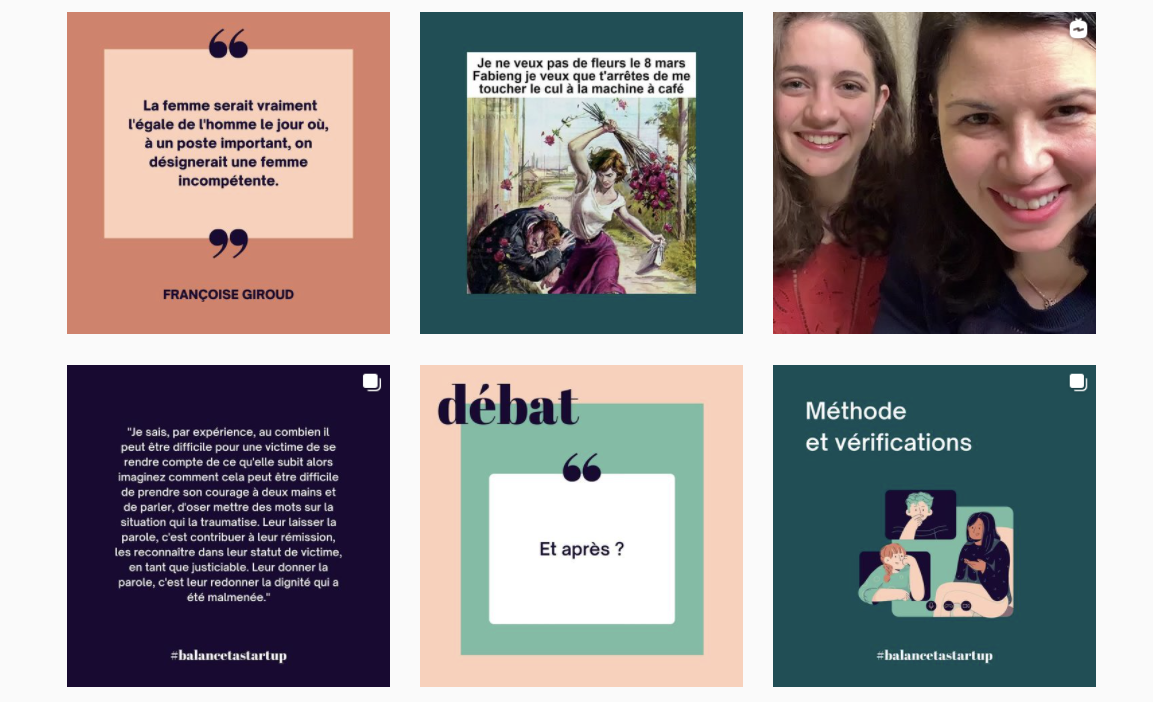 Meero 
Meero is an on-demand photography startup headquartered in Paris. Sifted chatted with CEO Thomas Rebaud, here. The company has 1,062 employees, according to Dealroom. 
What Balance says:
Nepotism: Posts allege that a worker had a relationship with a member of management and was then given a promotion. Others report that promotions are given out to people who are friends with the management.
Wages: "At one time a team was being paid less than the minimum wage, not very legal is it?" says one post. 
Contracts: "During the restructuring in 2018, they didn't hesitate to use contract breaches on people for completely false reasons, and they also didn't hesitate to lie to an employment inspector," says another post. 
They regularly asked us to post positive reviews on Glassdoor to improve their

image.
Glassdoor: "They regularly asked us to post positive reviews on Glassdoor to improve their image," says one post. 
Meero declined to comment. 
Swile
Swile is a fintech based in Montpellier, in the south of France, but with employees also based in Paris. The company offers an app and card that helps employers give out things like meal tickets to employees, which they can use at restaurants and supermarkets around the country. 
Swile currently has 204 employees, according to Dealroom. 
What the testimonies say:
The culture: "For several months, it was normal to hear inappropriate jokes about Jewish people, gay people and black people without anyone being bothered. Sexist comments were made everyday by some people," says one post. "When you open your mouth, you suffer the consequences. It's a political place," says another.
A lack of work-life balance: "They totally mix your personal and private lives," says one post. "There are extended hours without compensation."
"I did a quick stint at Swile in June 2020 and it was hell.  Externally, the company gives off a cool image, but we were subjected to bad conditions internally, with the pressure to work late in the evening and at weekends," says another. 
Swile declined to comment.