The bad news: Europe's tech scene has a well-known diversity problem.
The good news: over the past few years, a host of new initiatives — from accelerator programmes to support networks, grant schemes to events — have sprung up to boost the numbers of women, ethnic minorities, people with disabilities and LGBTQ people starting and growing companies across the continent.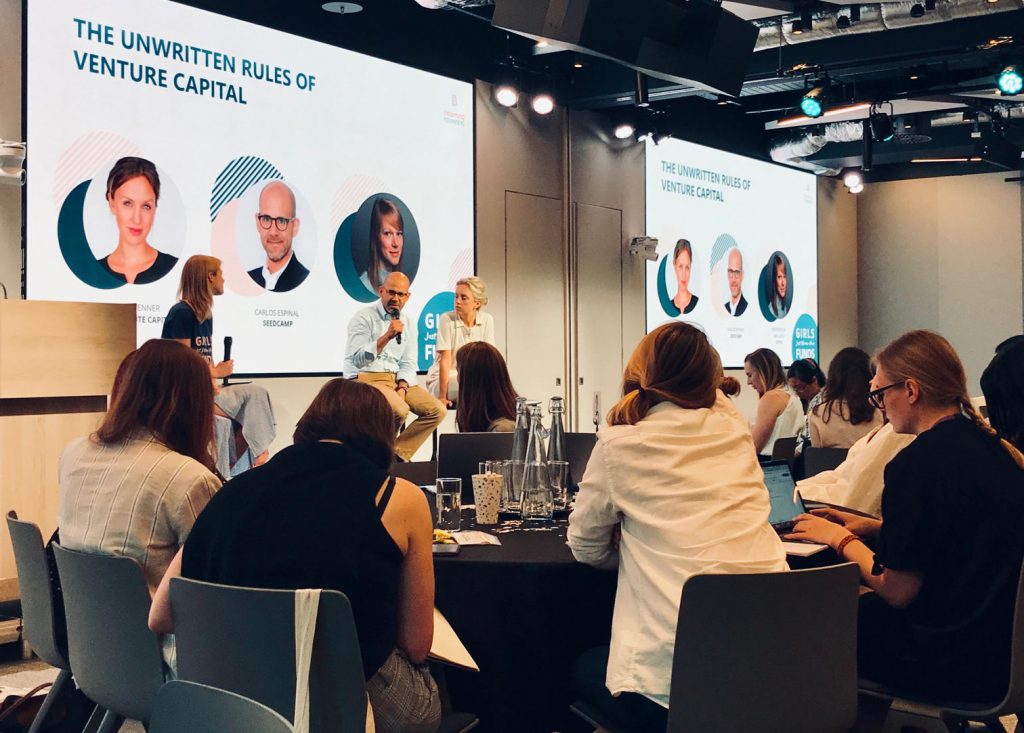 Here is a living list of those initiatives. Let us know who we've missed and we'll add them.
Advertisment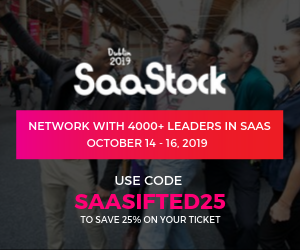 Europewide diversity initiatives
Events hosting speeches coming from top innovators and leaders. Has offshoots all over Europe (e.g. TEDxAmsterdamWomen and TEDxLondonWomen).
Get the Sifted Newsletter
A friendly, welcoming and collaborative community of women in UX, with a growing number of local groups based in cities worldwide (including 12 across Europe).
An international mentorship group with a focus on helping more women become active participants and leaders in the Python open-source community. They have a series of Meetups and/or a Facebook group for most countries in Europe (as well as elsewhere across the world).
A global community of ambitious entrepreneurs, investors and executives that has created its own fund to help close the gap on female funding.
A new platform which aims to support women in tech — through educational podcasts, networking and working with industry stakeholders — and reach an equal gender balance in tech by 2050.
A non-profit that aims to increase diversity in tech by making female role models in tech more visible.
A community of senior women investors from across Europe (Managing Partners, founders of VC funds and Business Angels). Their mission is to strengthen the presence of women in the VC industry in Europe. 
A community-driven initiative bringing empowerment, knowledge and active collaboration via education, research, events (across Europe and beyond), and blogging.Their mission is to increase female representation and participation in AI. 
Femstreet began as a newsletter for female founders and investors, and has grown into a global community, with events in the US and Europe, and an invite-only Slack community for active newsletter readers. 
Non-profit dedicated to educating, equipping and empowering women and girls with the necessary skills to succeed in STEM career fields. Their work includes education in schools as well as mentoring, incubation and acceleration camps, networking events and research. Events are located across Europe.
This group is a big community (50,000+ including allies) based in the US that is expanding to Europe. They host lots of summits and events and have a coding scholarship programme. 
Volunteer run organization hosting hundreds of events across Europe and beyond teaching women to build their first web application using HTML, CSS, Python and Django.
EWPN (European Women Payments Network)
A not-for-profit organisation dedicated to building a community for women in cards, fintech and payments in Europe, which organises local networking evenings, workshops, annual events, awards and research.
UK
A community for recent graduates and university students from under-represented groups in tech. 
Since Google's London Campus reopened earlier this year, it has focused on supporting diversity. It regularly hosts #poctech meetups, Black and Good (a community for black social innovators), Womxn, Series Q (a network for LGBTQ people at startups) and YSYS events. 
A collective for BAME women working and interested in STEAM due to the lack of representation, support and progression for underrepresented groups within tech. They host monthly events where create safe spaces to discuss gender and racial issues across London, using human-centred design methodologies.
A for-profit social enterprise working to promote inclusivity in the tech sector, through talks, training and mentorship. 
A new grant scheme from London coworking space and community TechHub. It is offering free membership to 30 founders from underrepresented backgrounds to its business support programme and workspace, along with access to its network of mentors and investors.
An accelerator programme for "underestimated" founders, funded by US investor Arlan Hamilton's firm Backstage Capital. The first cohort took place in London earlier this year, with five companies graduating. Watch this space for future programmes. 
A consultancy, founded in 2016, which works to empower disabled creatives.
A two-day conference on diversity and inclusion, held in Manchester.
WTF stands for Women's Tech Focus. A support network for women working in, or interested in technology. They organise events/workshops in London (…and soon Amsterdam) and are looking to provide a safe place for sharing or getting advice.
An independent organisation aiming to increase the number of people from black and ethnic minority backgrounds working in tech, and founding tech businesses. It offers employer training, university programmes and mentorship. 
Short for 'Your Startup, Your Story', YSYS is a community for founders and others working in tech who are interested in promoting diversity in the ecosystem. It hosts an extremely collaborative Slack community, runs a pre-accelerator to help 18-24 year olds launch businesses and TalentDoor, a series of career-focused workshops for diverse talent.
Started in 2018, Foundervine "helps diverse entrepreneurs build startups from scratch". It runs a startup-building programme, educational masterclasses, festivals and training for corporates around the UK. It is also launching a nine-week scaleup programme for businesses run by black entrepreneurs, which starts in October. Applications are open now.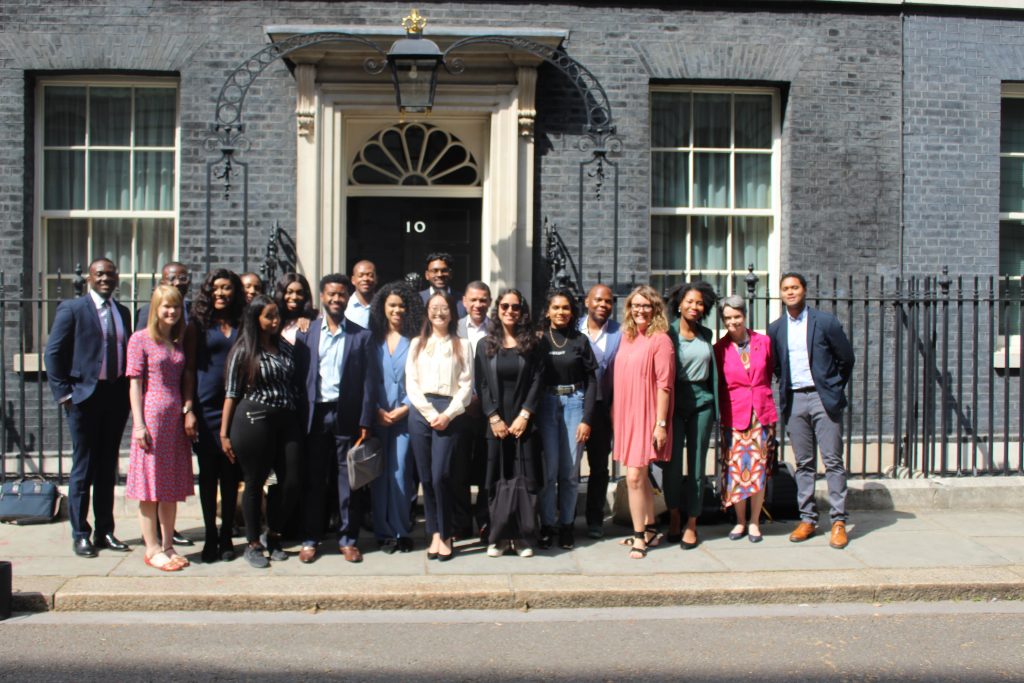 Supports underrepresented founders in London with everything from startup weekends to mentoring and free workspace. 
Hosts events at tech companies (such as Uber and Microsoft) for black and ethnic minority women, and also offers career support, through mentorship and resources.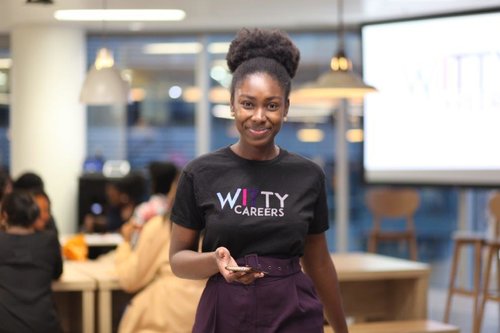 A non-profit organisation founded in 2016 which aims to increase the number of ethnic minorities entering the UK's tech workforce. It runs four programmes, including a pre-accelerator, an internship scheme for university students and a coding event for school students.
A WhatsApp community for black founders and investors which has been growing through word-of-mouth since 2015. 
Dubbed as "LinkedIn for black professionals", BYP holds conferences, hosts a jobs board and runs a networking app, all to help young black professionals meet and support one another. Its annual conference is taking place in London on 3 September.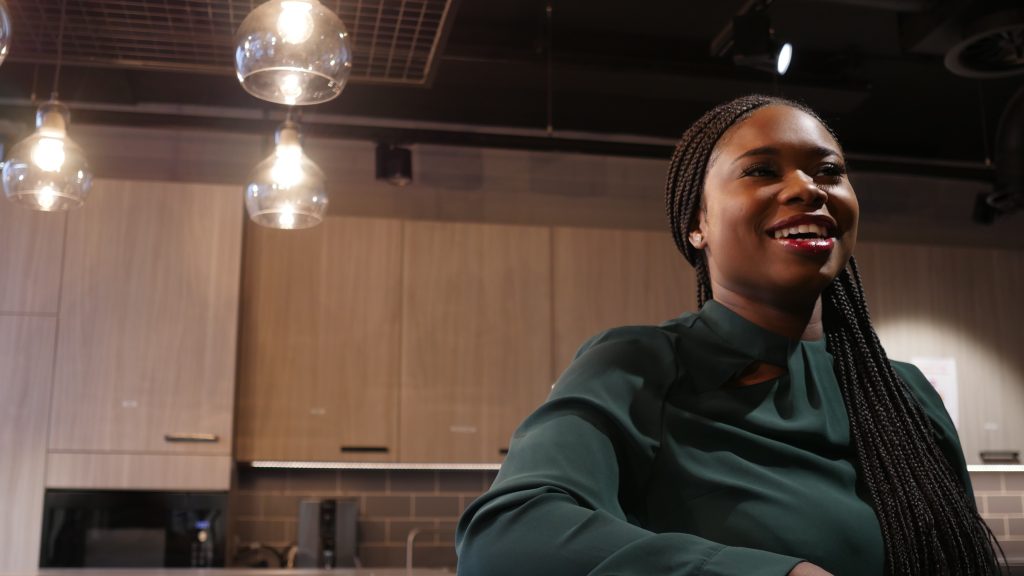 A meetup event for Muslims (and non-Muslims) to discuss, pitch and share ideas.  
An event for people from BAME backgrounds working on side projects. 
"A tech festival by and for black people of African and Caribbean heritage." Held annually, in London.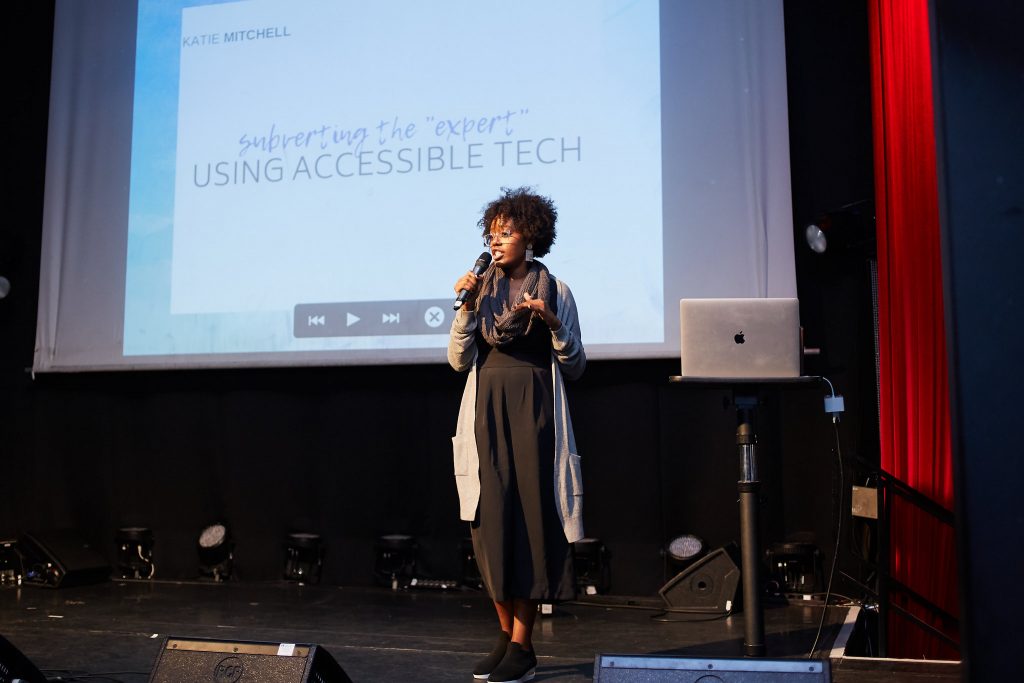 Aims to "dispel certain myths about the tech/STEM industry" and make it as inclusive an industry as possible. 
Inspiring underrepresented teens of colour to pursue careers in tech, through events and workshops. 
An annually updated list showcasing Asian women and men working in the UK tech sector. 
A company which connects ethnic-minority owned businesses with global corporates. Based in Leicester.
A nine-week program primarily designed to scale businesses owned or run by black entrepreneurs.   
An independent engineering consultancy company that specialises in inspiring women to pursue a career in STEM.
A global online community for women in tech, founded in 2013 and run by a team of volunteers in London. Also holds an annual conference.
A community and coworking space for early-stage female founders, which runs regular practical events and workshops, along with an annual conference.
A community for "future female CEOs", founded by serial entrepreneur Sharmadean Reid, which runs ad-hoc events. It also has an active Facebook group where members ask for and give each other business support. 
A coding school for women and non-binary people which runs in-person courses in London and a series of webinars. 
An initiative from Founders Forum which hopes to break down the barriers which prevent women from getting into tech and entrepreneurship. It runs events with high-profile women in tech. 
An advocacy group for better gender balance and equality in tech.
A monthly meetup for women in tech in Manchester.
Helps women in tech gain public speaking experience and skills, to counter the under-representation of women onstage at conferences.
Female Founders Academy from Hatch Enterprise 
Hatch Enterprise has been supporting female founders since 2014; now it's launching two new schemes for 24 female founders from black, Asian and ethnic minority backgrounds. The first, LaunchPad, is to help founders work through ideas and launch a company; the second, Incubator, is for founders already running businesses. Both programmes will start in October; the application deadline is September 1.
France
A free one-year programme for founders of early-stage startups, from underprivileged backgrounds. Run by startup mega campus Station F in Paris.
Applications for the next cohort (starting January 2020) are open until October 21.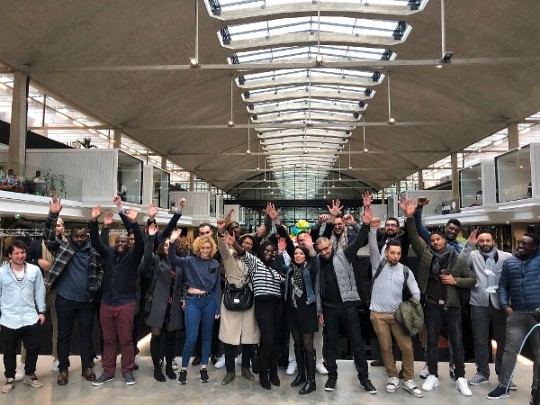 A two-part programme from government-backed organisation La French Tech to support aspiring entrepreneurs from underrepresented groups, in 13 regions. 
The first phase — "Prepa" — helps founders prototype and test their business idea, supported by a €17,000 grant. The second phase, "Incubation", is for early-stage businesses, and includes membership of a partner accelerator, access to financial and business experts, and introductions to investors and stakeholders.
Prepa kicks off in November 2019; applications are open until September 15. 
An organisation promoting social, cultural and ethnic diversity in the digital sphere — through training and mentoring, running events and engaging with economic and political decision makers across France. It's planning a big event in September; stay tuned.
An association formed in 2017 which hopes to inspire a generation of entrepreneurs in the suburbs. It runs mentoring programmes and events.
An annual event, this year held at Station F in Paris, which brings together founders, investors, academics, industry and more to explore business opportunities in Africa's tech ecosystem. 
Founded in 2015, this non-profit organisation offers entrepreneurs in suburban and rural areas training and workshops. 
An organisation which supports refugees by, amongst other things, helping them launch businesses. Active in eight cities across France.
Willa (formerly known as Paris Pionnières)
An incubator for female founders which runs several programmes across France, catering to different business stages and sectors. It also runs programmes for corporates and "intrapreneurs" — those innovating within a business. 
Founded in 2010 by Roxanne Varza (now director of Paris mega campus Station F) and Mounia Rhka, StartHer aims to put a spotlight on women working in the tech sector, through events, content and networks. 
Regular meetups for women in fintech in Paris. 
Group supporting entrepreneurs from Paris' banlieue. It brings together entrepreneurs and investors, promotes role models, demystifies the world of technology and looks for new ways to make the ecosystem more inclusive.
The Netherlands
Community of leaders from around the world who are dedicated to supporting one another via executive coaching, global expeditions, impact accelerators and Personal Boards (groups of women from across sectors who get together to serve as each other's ongoing "Personal Board of Directors"). 
Currently active in Amsterdam, Rotterdam, Delft, Utrecht and Eindhoven, Female Ventures supports women in leadership roles with an online community, one-on-one mentorship and events. It also supports the Fundright initiative.
An intentionally inclusive accelerator for women-led startups that focus on social impact or tech. Provides communication and confidence training as well as giving access to capital and important business tools. 
Amsterdam Creative Entrepreneurs Collective 
A collective of creative entrepreneurs in Amsterdam. Hosts dinners, events and learning experiences. 
A group looking to close the gender gap in code. They host meetups for coders and everyone interested in code (men are welcome too!).
Helps girls and women learn sketching, prototyping, basic programming and get introduced to the world of technology. Rails Girls was born in Finland, but is nowadays a global, non-profit volunteer community.
Organization that aims to empower women by bringing diversity to the technology scene. They host monthly events that bridge the gap between STEM and Entrepreneurship. Here's their Meetup page.
Swedish group supporting women in tech via events and the 'Techionista Academy', which provides one-day Masterclasses week-long Bootcamps or up to 3 months training.
They're looking to provide women with the skills to succeed in the job market. They host a mentorship programme and lots of events in Amsterdam. Here's their Meetup group.
An initiative backed by 25 Dutch VCs to improve both the gender balance within their own workforce and of the companies they invest in. (In 2017, less than 2% of venture capital in the Netherlands went to female founders.) 
Norway
Pushing for gender equality in the workplace. 
"Think" runs workshops and events to encourage women and girls to consider careers in tech.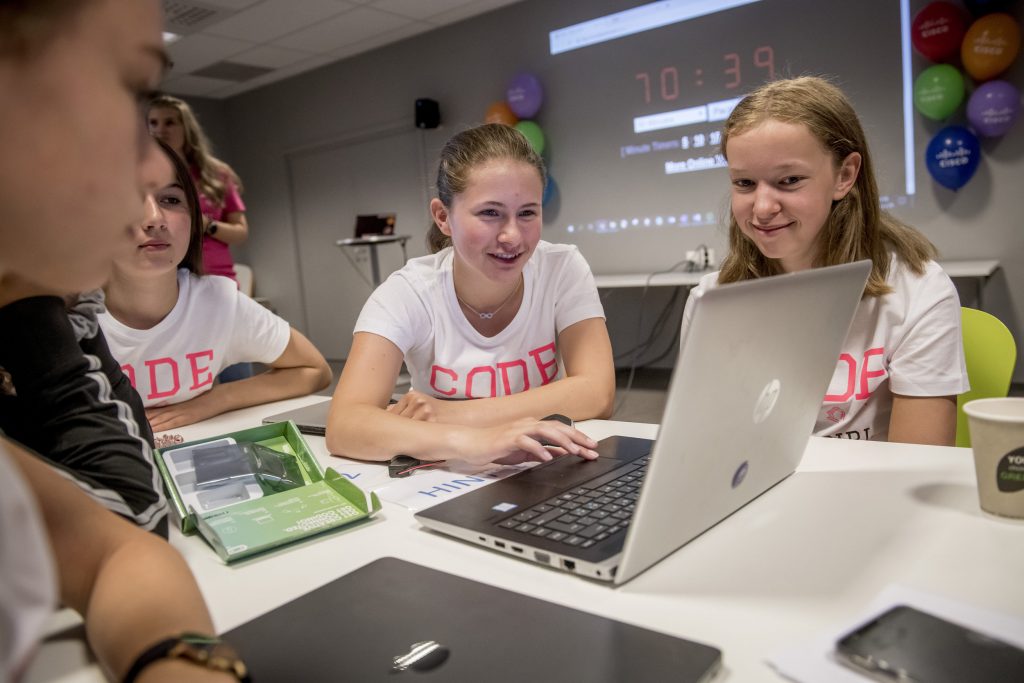 Pangea is an accelerator program and an investment platform that matches African startups with investors. 
Charge is a 12-month startup incubator for first generation immigrants.
Sweden
An initiative by the City of Stockholm to support equal opportunities for women and men. Over 100 tech companies have joined and declared themselves "A Woman's Place", including local unicorns Spotify, Klarna, iZettle and King. Its website has resources for all companies looking to improve their gender equality.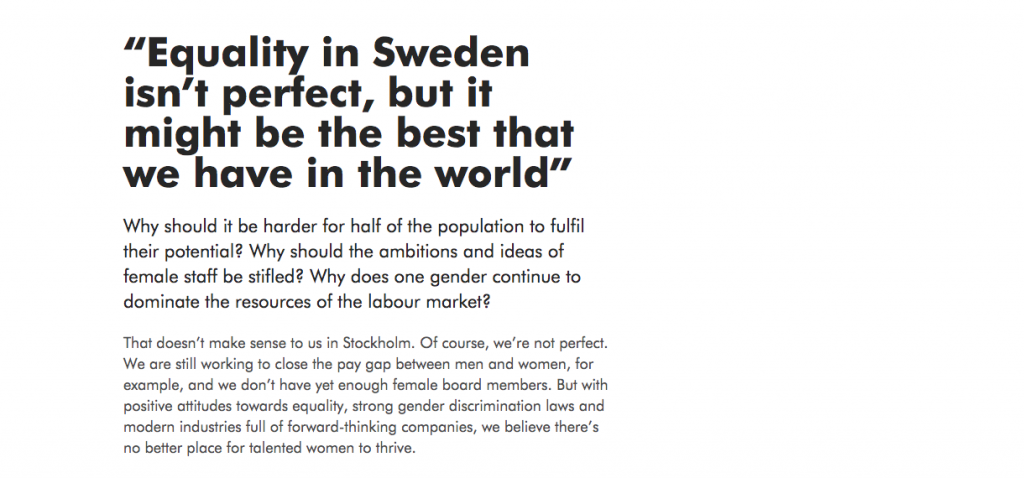 A free, intensive one-week accelerator programme for female founders, set up in 2018 by numerous government organisations.
An event series for female founders to pitch their ideas and, for a successful few, take part in a trip to New York.
Spain
This is an initiative devoted to empowering women as leaders and potential founders. It trains kids, teenagers, and adults.
This Barcelona-based initiative is an AI training campus dedicated to women in tech. It offers Data Science, UX – UI Design, and Product Management courses for women, by women.
A community that is active around the world but also has a home in Spain. It is all about empowering women and promoting female founders in media.
A Spanish Association of Women Executives, CEOs, and Managing Directors, whose goal is to increase the number of women in Senior Management positions as well as in corporates' Boards of Directors.
Founded by three Spanish entrepreneurs, this group provides training in tech skills to kids, teenagers, and young adults in refugee camps, to unlock their digital talent and connect with companies that need these types of skills. 
A programme by Obra Social La Caixa that provides free advice to low-income and low-resource entrepreneurs (for example, people with disabilities, long-term unemployed, youth at risk of exclusion, gender violence victims, immigrants, and former prisoners), and accompanies them through the founding process. They analyse the viability of the project and help find funds.
Switzerland
A business incubator for people with a refugee or migrant background. It also runs workshops and training and mentoring schemes. 
Switzerland's first women-friendly hackathon. Next meetup is in November. (69% of participants to the last event were new to hackathons.)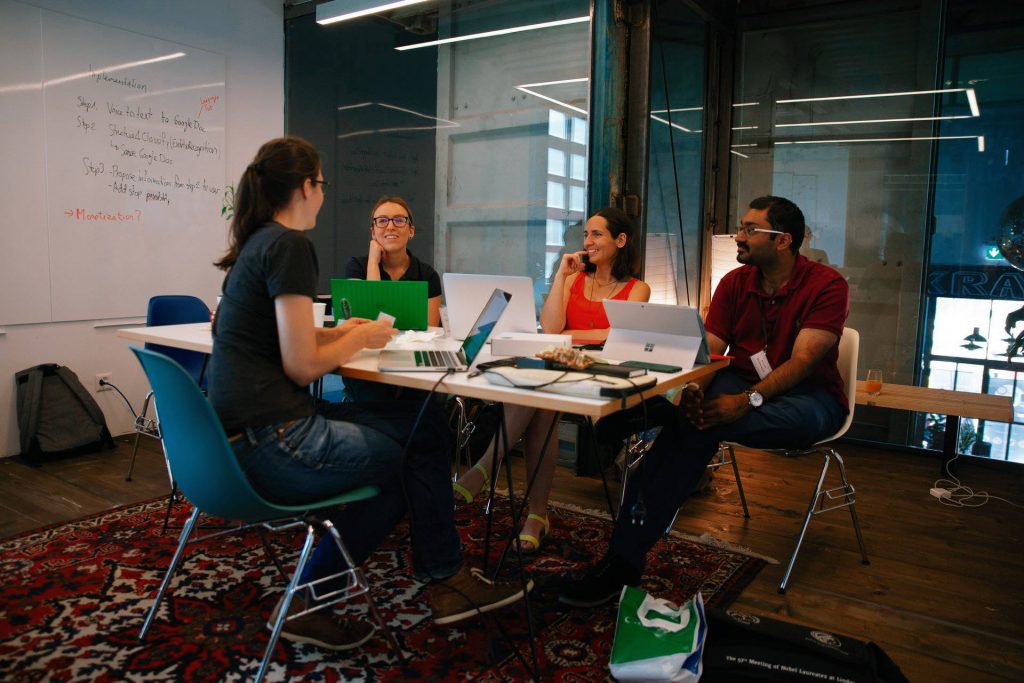 Ireland
A 13-week accelerator programme for early-stage startups, specifically addressing the challenges facing female entrepreneurs. Based in Dublin.  
Austria
A hub for female founders in Vienna, which runs regular events, an accelerator programme for startups from all over Europe and beyond, and a corporate leadership programme.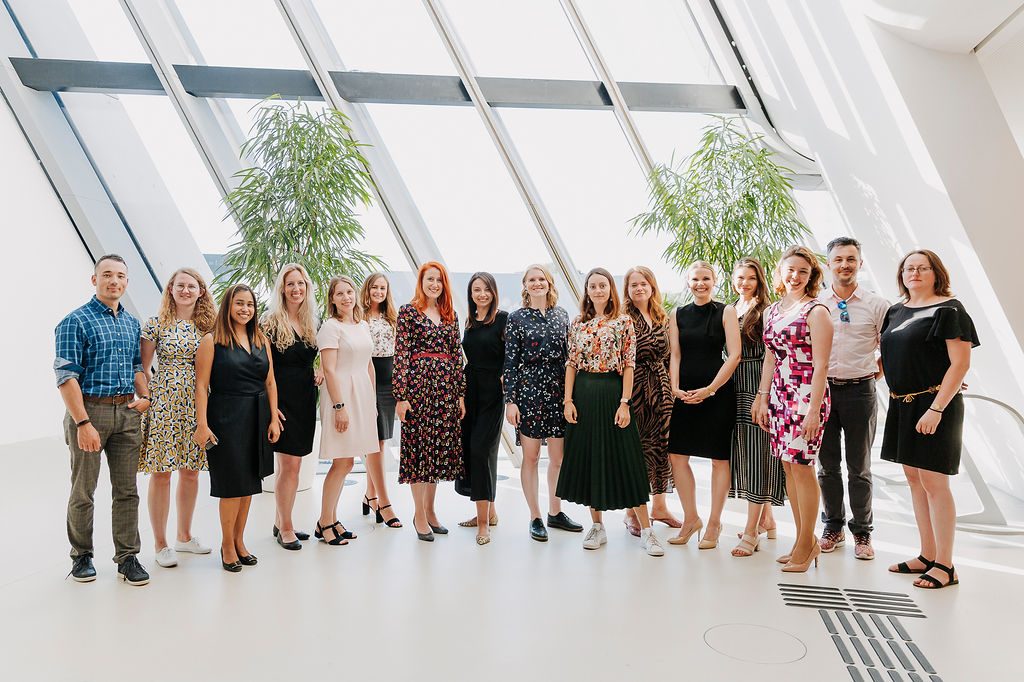 Germany
A networking dinner series, promoting diversity and inclusion in tech. It's active in several countries around the world, including Spain, France, the UK, Portugal and Germany. The first German edition of this dinner series, aimed at empowering women, will take place in September, in Cologne. 
Finland
A movement challenging Finnish fast-growing tech companies to report their diversity data. Their website brings together studies and best practices for improving diversity in business.
This article was last updated on 9 September 2019.
Which other communities and programmes should we add to this list? Let us know.
Get the Sifted Newsletter