Businesses spend thousands, if not millions on driving customers to their websites. But what's the point if lacklustre customer experience (CX) results in a low conversion rate? 
From personalisation to convenient payment solutions, there are a number of steps a business can take to win over customers. 
In our most recent Sifted Talks, we asked our expert panel for their insights on building a stellar CX. Our guests included: 
Antoine Nougué, head of commercial for Europe at payments solutions provider Checkout.com
Vicky Van Asbroeck, chief experience officer at Vestiaire Collective, a marketplace for premium pre-owned fashion
Alex Loizou, cofounder and CEO of Trouva, a platform to buy from  small bricks-and-mortar boutiques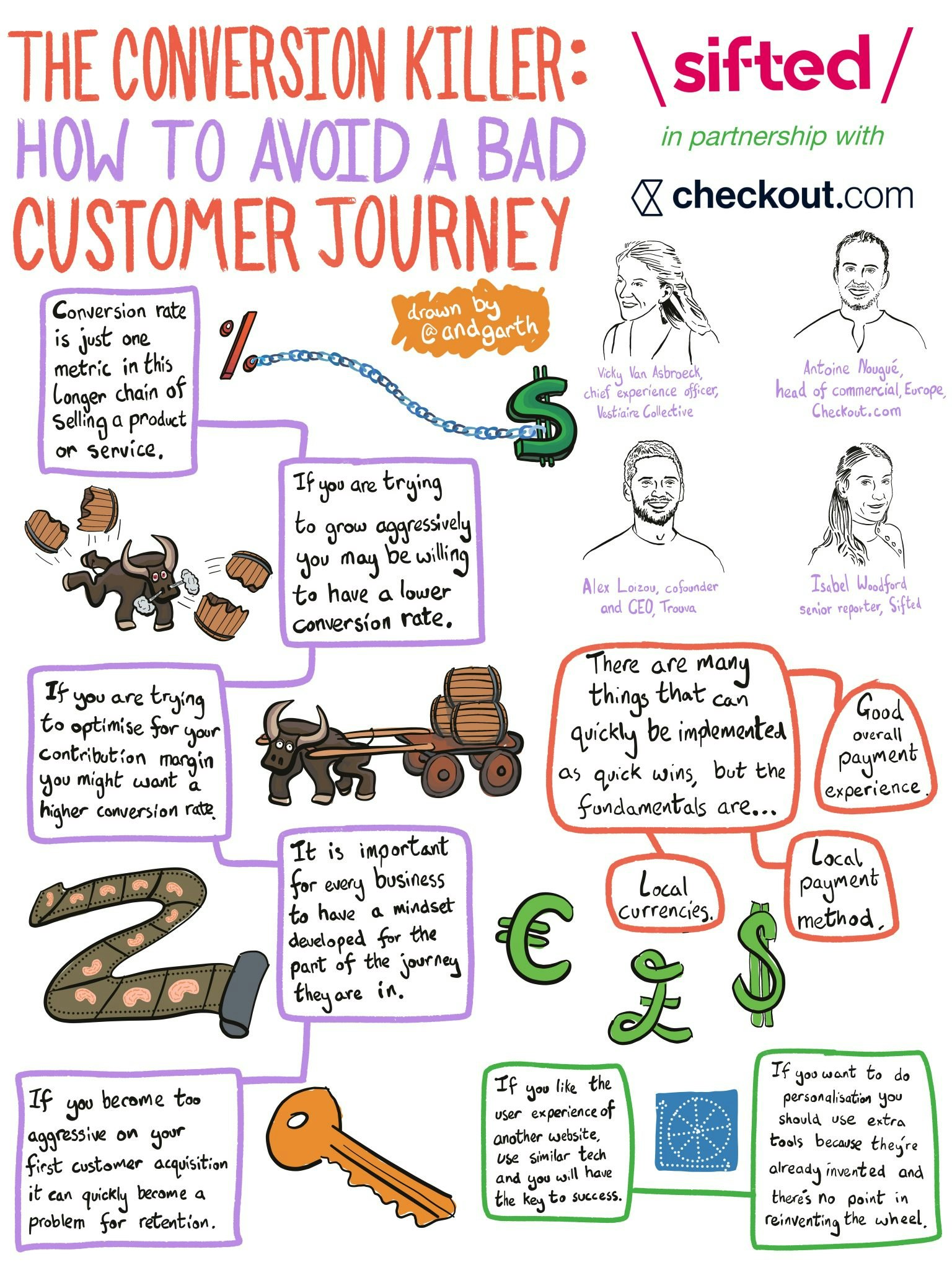 Here's what we learned:
Set realistic conversion rate expectations
There isn't a benchmark figure for how many website visitors convert into customers. 
Loizou says startups should tailor their expectations around the age of the business, the industry, their customer base and their immediate plans for growth. For example, businesses selling cheap consumer products can expect a much higher conversion rate than a B2B SaaS platform. 
If I'm trying to grow aggressively, I may be willing to have a lower conversion rate… It's important for every business to figure out what journey and mindset they're in, and then adjust their conversion rates… rather than just blindly following benchmarks." — Alex Loizou,

Trouva
Focus on the whole customer journey
Loizou also points out that simply looking at conversion rate isn't enough to understand your customer journey. 
Instead, you need to look at your customer journey from start to finish. That way, startups can see if there are certain methods of advertising that are attracting people who are unlikely to convert. 
For example, Loizou points out that customer journeys that start on social media sites such as Pinterest often don't deliver as many sales as other forms of advertising. 
It may sound counterintuitive, but I think one of the biggest mistakes we have done in the past is purely focusing on conversion rate itself. By just making that and using it as a catch all, you're effectively forgetting and ignoring some pretty key characteristics: where has the customer journey started, is the purchase intent high or low?" — Alex Loizou,

Trouva
Track customer behaviours to optimise payments and manage cost
With so many payment options available to consumers, our panel agreed that gaining a better understanding of your customers' habits is crucial to offering the right options. Failing to do so could cost you a sale. 
Van Asbroek said that 20% of Vestiaire Collective's online transactions are completed through buy now pay later service Klarna, as transactions can often exceed €15k. The fashion retailer also uses A/B testing to keep track of other trends in customer behaviour. 
While some of these services may result in a percentage of revenue being lost to third-party providers, businesses have to track and evaluate whether it ultimately helps deliver on sales. 
The question you have to ask is, 'would you have converted without that payment method?' It's fairly easy to measure, and then based on this we can adjust… We need to measure how much it's going to cost versus how much we're going to earn." — Antoine Nougué,

Checkout.com
Use data to offer personalisation
Tracking behaviours can also help startups make more personalised offerings to consumers, which in turn drives higher conversion rates.
Use cookies and track purchasing history to show loyal customers the kind of products they like best — and boost sales. However, with many online platforms now allowing users to checkout as guests, make sure you make it worth your customers' while to give you that data. 
If you know where people have clicked before, you know they're interested in handbags, and not clothes. In the beginning, conversion from a new invite to a member might be lower and you lose a lot of people, but you can convert them better… It's a trade-off you have to pay." — Vicky Van Asbroeck, Vestiaire

Collective
Make things convenient
The Covid-19 pandemic has accelerated the adoption of digital sales. With stores closed, retail in particular has needed to pivot to an online-first model. 
Online retailers will need to follow the example of digital banks like Starling and Monzo, says Nougué, and keep things simple and convenient. 
Organisations have been pushed to update their operations to meet the demands of their consumers… Clearly we've seen a big shift from offline to online… People are taking new habits, and as long as those new habits are more convenient, they'll be here for the long term." — Antoine Nougué,

Checkout.com
To find out more about saving the planet and whether the world is ready for mass electrification, you can watch the full Sifted Talk here: