The coronavirus pandemic has had a widespread global effect on the events industry as countries initiated lockdowns and governments cracked down on group gatherings. Europe's tech sector has seen major events cancelled or postponed.
The events space hasn't stalled completely, however. Startups, investors, community builders and more have moved from physical to digital — hosting discussions and workshops via webinars to help people in the ecosystem navigate their way through these uncertain times.
From discussions on how to manage your cashflow in a downturn and hire new talent, to marketing like a whizz and keeping up on the latest government support — here's a list of the upcoming webinars happening in Europe's startup ecosystem. 
We'll be regularly updating this list: please send any feedback on the events we've listed and tips about upcoming events we should feature to connor@sifted.eu.  
Sifted Talks
More of Sifted's exciting webinars are in the works. Come back soon for updates!
HR and people management
EYnovation workshop: VP Sales roundtable ??  | The coronavirus pandemic has pretty much affected every economy, sector and role — including VPs of Sales. This discussion will offer scaleup VPs solid advice and measures to take to navigate the crisis.
Sign up here | 27 May | 5pm CEST
StartUp People Clinic ?? | A helpful session which gives startups the coaching advice and practical support to make people their strength and competitive advantage.
Book a slot  | Thursdays and Fridays weekly | Times vary 
Funding advice
How to claim cash for your UK startup through R&D tax credits ?? | Join Silicon Roundabout Ventures and learn the criteria for your startup from an expert panel.
Book your place here | 27 May | 5pm BST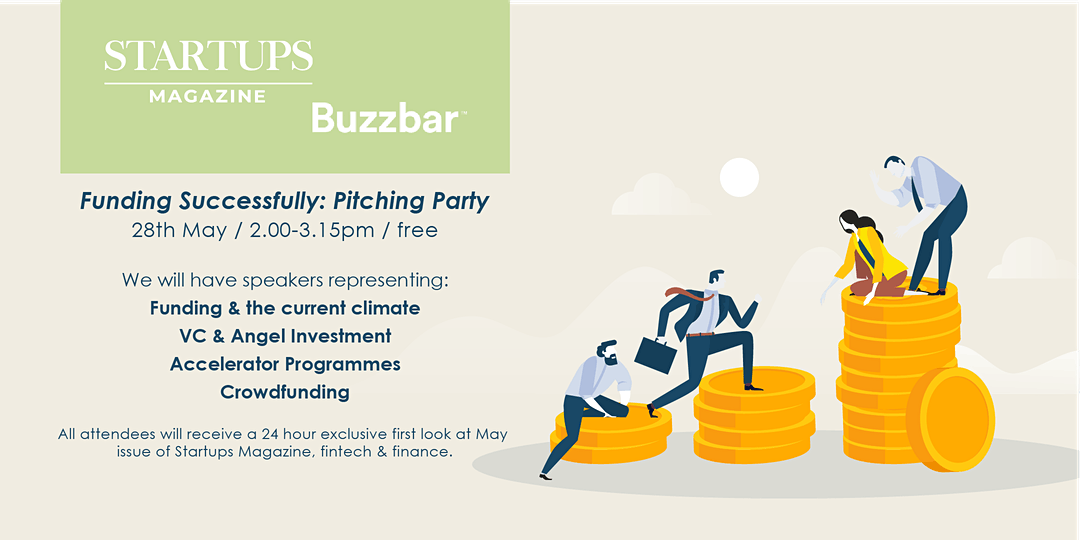 Funding Successfully: Pitching Party ?? | Join Startups Magazine and Buzzbar in a pitching event with a twist. The speakers include funding and climate experts, VCs and angel investment gurus, accelerator and crowdfunding pros. They'll pitch their respective topics to startups attending.
Register here | 28 May | 2pm BST
Women in business
Female Founder Office Hours (Remote Edition) ?? | UK tech female founders, join Playfair Capital, Tech Nation and over 30 investors for mentorship and support, as well as fundraising.
Register here | Thursday 4th June | 10am-1pm & 2pm-5pm BST
How to
Leading a data-driven transformation: How to build the right mindset, skillset and processes to effectively create customer value ?? | It's still rare for companies to effectively manage their data and transform it into customer value. This event from business school INSEAD tackles just that problem.
Join here | Thursday 4 June | 2pm CET
Sustainability
Searching for Sustainability: Turning a business into a force for good ?? |  Join the sustainability digital platform Plan A to learn how to make your companies greener, as leaders from different industries share their insights on how to prosper while taking care of the planet.
Register here | Monday 1 June | 7:30pm CEST
Startups in action
Techstars Lisbon Accelerator ?? | Want to learn about some of the startups making moves in Lisbon? Join this event to see 10 founder company presentations. 
Sign up here | 28 May | 5pm WEST
Legislation
Involve: Digital Services Act ??| Want to help share digital policies in Europe for startups? This event hosted by Berlin's startup community builder Silicon Allee in partnership with Allied for Startups, outlines the opportunities and potential challenges that the forthcoming Digital Services Act presents to the startup community, and an opportunity for startups to get their voice heard to policymakers.
Din't miss out | Thursday 4 June | 1pm CEST
Webinar series
Fintech in the age of uncertainty ?? | Join BrightTALK in their continuing series focused on fintech, discussing the advantages gained and obstacles faced by the sector as a result of the pandemic.
Next edition: 'Alternative lending's big opportunity?' | Thursday 28 May | 11am BST
Covid19: Weekly Startup Summary ?? | Capital Enterprise brings together sector experts, founders, VCs, accelerator partners and more to give early stage founders important perspectives on how the UK startup ecosystem is affected by the coronavirus. This week focuses on how retail and hospitality startups will survive and prosper in this pandemic.
Next edition: 'Covid19: Weekly Startup Summary' | Tuesday 26 May | 5pm BST
Situation Room ?? | A weekly series of themed discussions organised by Nordic VC firm byFounders; recent talks have covered the food sector, fundraising and fending off cyber threats during Covid-19.
Next edition: 'Female Founder Office Hours' | Wednesday 27 May | 3pm CEST
Net Zero Sessions ?? | This three-part series is a collection of virtual gatherings and conversations on how businesses can play roles in the climate emergency. Listen to words of wisdom from business leaders and policymakers on topics from customer engagement to sustainable retail.
Next edition: 'Business Breakfast with Greg Jackson, Founder & CEO, Octopus Energy' | Wednesday 3 June | 8:30am BST
BASE Conference ?? | The Amsterdam-based community builder is gearing up for a three-part webinar series throughout May on the ways that scaleups can respond to factors with the coronavirus outbreak.
Next edition: 'Three Perspectives for Scaleups' | Wednesday 27 May | Time TBC
CREtech Talks ?? | This limited series brings voices from leaders, investors and owners in the proptech space.
Next edition: 'Preparing the world for the new normal: part vii' | Thursday 28 May | 2pm EST (8pm BST)
Virtual South Summit ?? | This series, a collaboration between Madrid-based startup conference South Summit and IE University, aims to increase the visibility and ties of innovation in the ecosystem. A range of topics and sectors will be explored, such as sustainability, education and fintech.
Next edition: 'Sustainability e-challenges' | Thursday 28 May | 3pm CEST
Sector-specific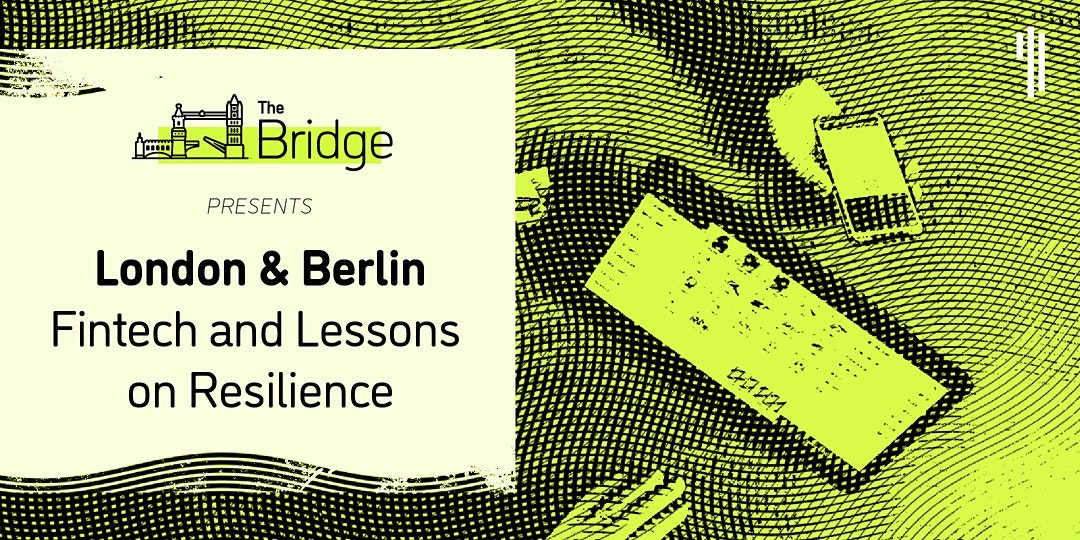 The Bridge Presents: London and Berlin fintech and lessons on resilience ???? | This event, hosted by Silicon Allee x London & Partners, addresses the new consumer problems that fintechs are experiencing, as well as focusing on the importance of identity infrastructure.
Book in now | Wednesday 3 June | 1pm CEST
Futurescoping: with BJSS — What will the tech sector look like post-Covid-19? ?? | In this event with Manchester Digital, listen to words from BJSS, a private IT and business consultancy, sharing anecdotes on their coronavirus experiences and looking into the crystal ball about the future of the UK's tech sector.
Sign up now | Thursday 28 May | 12:30pm BST
Fintech workforce, talent and immigration — through and post-Covid-19 ?? | Regulatory compliance experts highlight the regulatory responses to Covid-19, regulatory developments underway and the opportunities available to fintechs. If this is for you, hop on this webinar with Innovate Finance and Deloitte.
Register here | Thursday 28 May | 2pm BST
Fashion founder Friday ?? | This weekly series gives fashion founders the opportunity to ask their burning business related questions and virtually network with other like minded industry professionals.
Book in here | Friday 29 May | 11:30am BST
Info Session: Become a UX/UI designer with CareerFoundry ?? | Discover more about UX/UI design and figure out if it's a career path for you.
Sign up here | Tuesday May 26 | 5pm BST
VC Hours ?? | Book 30-minute meetings with investors at 17 French VC firms, including Daphni, Elaia and Samaipata. | Book in here
B2B Startups Office Hours ?? | The Barcelona-based VC Caixa Capital Risc invites founders to discuss their business ideas in 30-minute time slots every Friday. This is for startups fully or partly based in Spain or Portugal.
Sign up here | Fridays | From 9:30am CEST
The archive
Great webinars that have been and gone: catch up here.
Sifted Talks: What's happening to the talent market? ?? | Some startups have no choice but to layoff or furlough staff at the moment — while for others, it's a good time to snap up great talent. But what will be the long-term implications of the coronavirus crisis on Europe's startup talent landscape?
Sifted and Microsoft for Startups joined forces alongside a panel of founders and people pros to discuss how they're tackling hiring, firing and managing talent remotely for now — and what they think will happen six months down the line. Catch up on the expert advice here.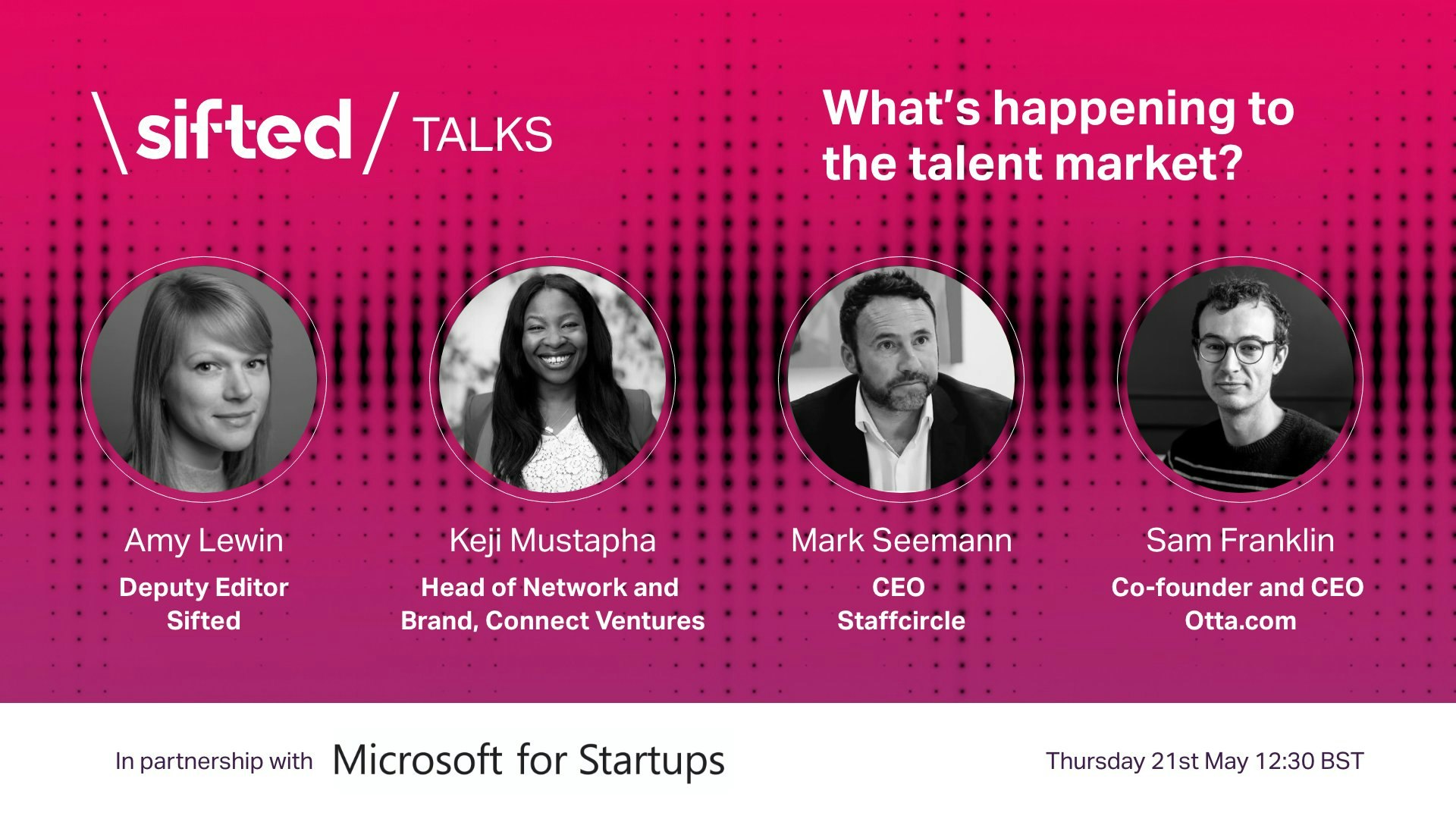 Sifted Talks: How to market in a crisis ??| Companies big and small are pulling back on marketing spend. That means if you do have the cash to spend, now could be a great time to invest it in marketing and pick up some great new clients — so long as you do it right.
Sifted and Microsoft for Startups gathered a panel of experts to discuss how startups can manage their communications when world events take an unexpected turn and months of meticulous planning gets thrown out of the window in a matter of minutes. Read the words of wisdom here.
Sifted Talks: How to manage cashflow in a crisis ?? | The coronavirus pandemic has ruptured many businesses' plans for 2020 and beyond — leaving most to make tough decisions to last out the year.
If there's been one resounding piece of advice for founders from venture capital firms and the tech Twitterati, it's been this: cut your spend and increase your runway.
But how, exactly, should founders be managing their cashflow — now and over the coming months? Read what went down here.
Sifted Talks: How to pivot in a crisis ?? | During these challenging times, many startups are in a vulnerable state — leading many founders to question the validity of their business models in the new world.
As consumers switch focus, we've seen startups across Europe do the same by pivoting their businesses, while others remain unsure about how to do so. But, when everything's in shift, how can founders be sure of the best moves to make? Read the main takeaways here
How can entrepreneurs not just recover from the crisis, but actually rejuvenate the economy? ??| The University of Oxford Saïd Business School discusses the state of startups amid the crisis, and how they can use their innovations to accelerate economic recovery. Watch here.
Scaling Startups: Taking Your Early-Stage Hiring From 0 to 1 | Talking Talent by ACELR8 brings three founders along who have experienced early-stage hiring to give the best tips and tricks. Read the summary here.
How to face the challenges of Covid-19 as a woman entrepreneur ?? | Women entrepreneurs are amongst the many facing pressures in these uncertain times. But it's an extra mountain to climb for women who still experience barriers to entry and a lack of funding compared to men. Femalefounders.global and Techstars share some advice. Watch the replay here.
Breaking into Healthtech ?? | Get up to speed on the healthtech sector in the startup world. Startups Magazine is bringing founders and experts together in the healthtech space to discuss how to break into healthtech in these times. Check it out here.
Go big or go home: How mobility operators are meeting the challenges of Covid-19 ?? | This conference from Mobility Makers highlights the disruption of mobility services and fleet operators during the crisis, which in turn has opened new windows of opportunity. Watch here.
Hiring and onboarding in a pandemic ?? | Learn from hiring managers at the BBC and the Department for Education's Digital Team (DfE Digital), as they advise companies and individuals on how to hire tech talent in these rocky times. Manchester Digital hosts. Check it out here.
How to build a virtual engagement strategy ?? | Building on its webinar from last week about how to build your employer brand from home, London-based recruiter Wiser digs into how to engage with your people remotely, the best way. Watch here.
Lockdown Unlocked ?? | Tech Nation hosted a full morning of panels and discussions — including a debate between Brent Hoberman and Robin Klein about the role VCs and the state play in supporting startups during a crisis. Catch up here.
We're looking for partners to sponsor our Sifted Talks series: if you have a topic you'd like to see discussed in one of webinars, get in touch with helen@sifted.eu.