More of us are taking vitamins than ever before. 
Spurred on by the rise of the wellness industry, the pills' popularity has grown, from Gwyneth Paltrow's subscription vitamin packs — called things like "Madame Ovary" and "High School Genes" — to brands that tailor vitamin regimes to people's blood types. 
It's an industry that's now worth £144bn globally, with surveys suggesting 70% of Americans and 51% of Brits take some form of vitamin regularly. 
And startups in the industry continue to bring in funding. Feel, which is based in London, has just raised £4.5m in a round led by Fuel Ventures.
It follows UK company Heights, which raised $2m in January this year and is focused on 'braincare', and Cuure, a Paris-based vitamin subscription brand, which raised €1.8m at the end of last year.
A lot of the biggest of the new generation vitamin companies, which tend to rely heavily on social media for their marketing strategy, are American.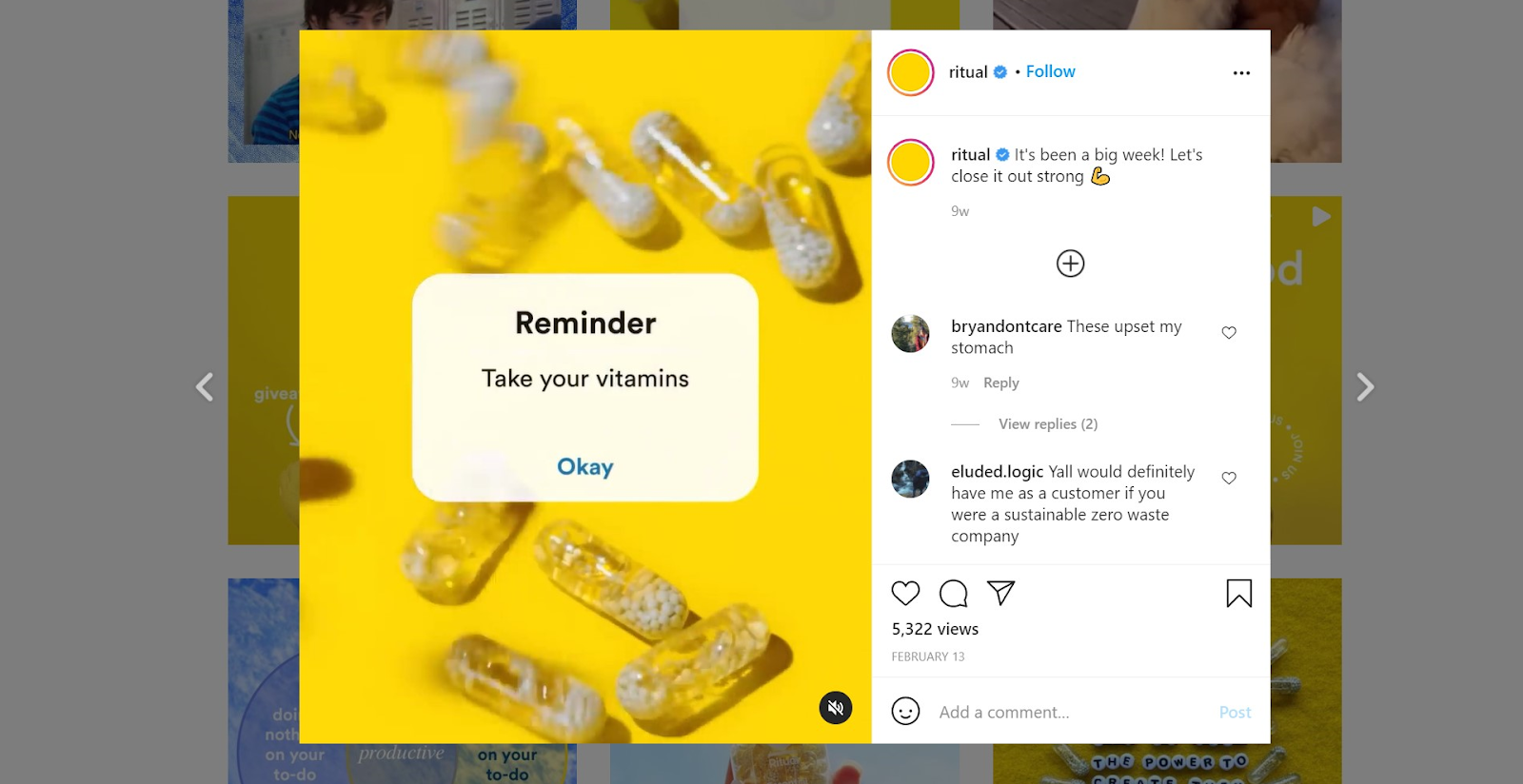 Perhaps the most famous are Ritual and Care/of — they both offer personalised subscription boxes and are often credited with bringing a cool image to the industry through their bright Instagram posts and vitamin memes. 
Feel
Feel, the latest of the European companies to secure funds, launched in 2019 and is focused on producing cleaner vitamins, without the additives that other companies use. 
"Feel was born with the idea of being transparent, without additives, and being something that's safe to take whatever condition you have," explains Boris Hodakel, the company's founder.
Sometimes supplements contain additives that make the manufacturing process easier — caking agents, lube agents and bulking agents — which Feel omits. There are ingredients used that can irritate the stomach or have low absorption rates and require acidity to break them down, Hodakel says, which Feel also steers clear of. 
The company's also focused on making sure everyone can afford vitamins. 
"The supplement industry has enjoyed the so-called 'fat years'," he says, "where they'd charge customers ridiculous amounts, but I don't think we need to be that greedy." Gwyneth Paltrow's vitamin packs, sold through her Goop brand, will set you back around $90 a month, for example.
On pricing, Feel are "bottom mid-shelf or bottom shelf pricing," Hodakel says, with subscriptions for the brand's multivitamin starting from £9.95 a month. 
There are some other vitamin brands focused on cleaner ingredients, but they tend to be more expensive, he says, and Feel prides itself on doing both.
So what should we take?
The jury's still out, though, on what people should be taking. 
Marcela Fiuza, a dietician and member of the British Dietetic Association, says that most people should be able to get what they need from their diet. 
"As a dietitian, I'm very pro trying to get most or all of your nutrients through diet, and I think that's doable," she says. "If you're eating a healthy balanced diet, and having a decent amount of sun exposure, you shouldn't need to take anything."
Vitamins can be really useful however, Fiuza says, for filling in the gaps people have in certain situations. "People go through periods of stress, or pregnancy, or illness, and that's when vitamins and minerals can be really helpful."
Vegans and vegetarians can also require additional help with B12 and iodine, she says.  "But for the general population, the only one I'd say is Vitamin D."
For Feel's Hodakel, vitamins aren't about replacing food, but they're an "insurance policy" and can help people who live busy lives and aren't going to manage to get their fix through food.
Branding the vitamin
The quest for purity in the vitamin market is important, Fiuza says. There's not much regulation and the quality of what you get can vary greatly. Feel tests each batch of vitamins it produces, which Fiuza says is important.
Still, she cautions, "words like clean and pure can be wishy-washy and people need to be aware of the marketing behind companies."
This was highlighted by Quartz recently, which showed the same ingredient marketed by different wellness brands to target their particular audience.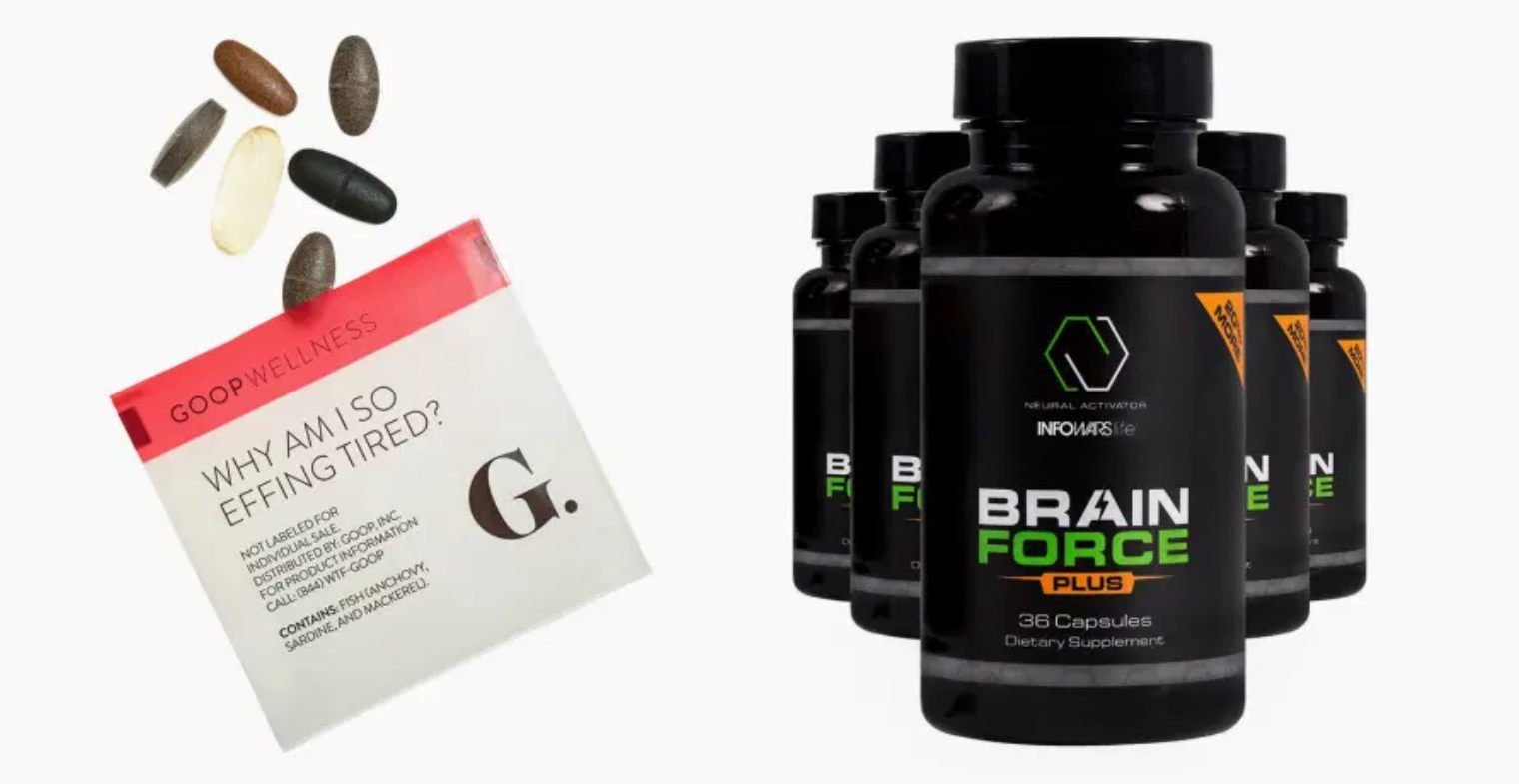 Bacopa, an Ayurvedic herb, is marketed by Paltrow's Goop as "rebalancing an overtaxed system", but on Infowars, a site run by conspiracy theorist Alex Jones, the herb becomes Brain Force, "the next generation of advanced neural activation."
"It's a billion dollar business and there's a lot of marketing involved," says Fiuza, but if people are cautious of the marketing involved, then vitamins can be useful in some cases.
"It's not going to prevent or cure any diseases, but it can fill the gap for some people, and it can be useful for that."