In London and many other European capitals it might seem like the era of the private car is drawing to a close. Most people already take public transport to work and venture capital is flooding into new mobility services — from ride-hailing to e-scooters — aiming to make owning a car irrelevant.
But that's not quite the whole story. Outside big cities the car is still king. In Milton Keynes, a small city near London, 65% of the population drive to work; most of them alone. In other smaller cities across Europe the numbers are similar. 
"So much of the mobility hype is focused on cities," says Sam Ryan, cofounder of Zeelo, a shared transportation startup based in the UK. But 15m people in the UK (out of a working population of 26m) are still driving to work on their own. In France 13.5m people drive to work. And in the UK over 68% of private car journeys occur within five miles of home.
That's a lot of carbon emissions. "From an environmental point of view it's a catastrophe," says Nicolas Brusson, chief executive of French carpooling company BlaBlaCar, which launched a new service for commuters last year called BlaBlaLines with the aim of cutting down on single-person car journeys.
It's also not great for commuters who do not have any other option. In smaller cities local authorities have a tough job making public transport widely available and affordable; they don't have the population density of bigger metropolises (or the government subsidies). 
"In smaller or mid-size cities it's challenging to launch a traditional public transport system that's efficient and attractive to people," says Chris Snyder, chief executive of on-demand transport company ViaVan. As a result, many people across Europe live in public transport 'deserts'; the car is their only option. 
However, this may be changing, as a growing number of new on-demand and shared bus services are springing up across Europe to challenge the dominance of the car.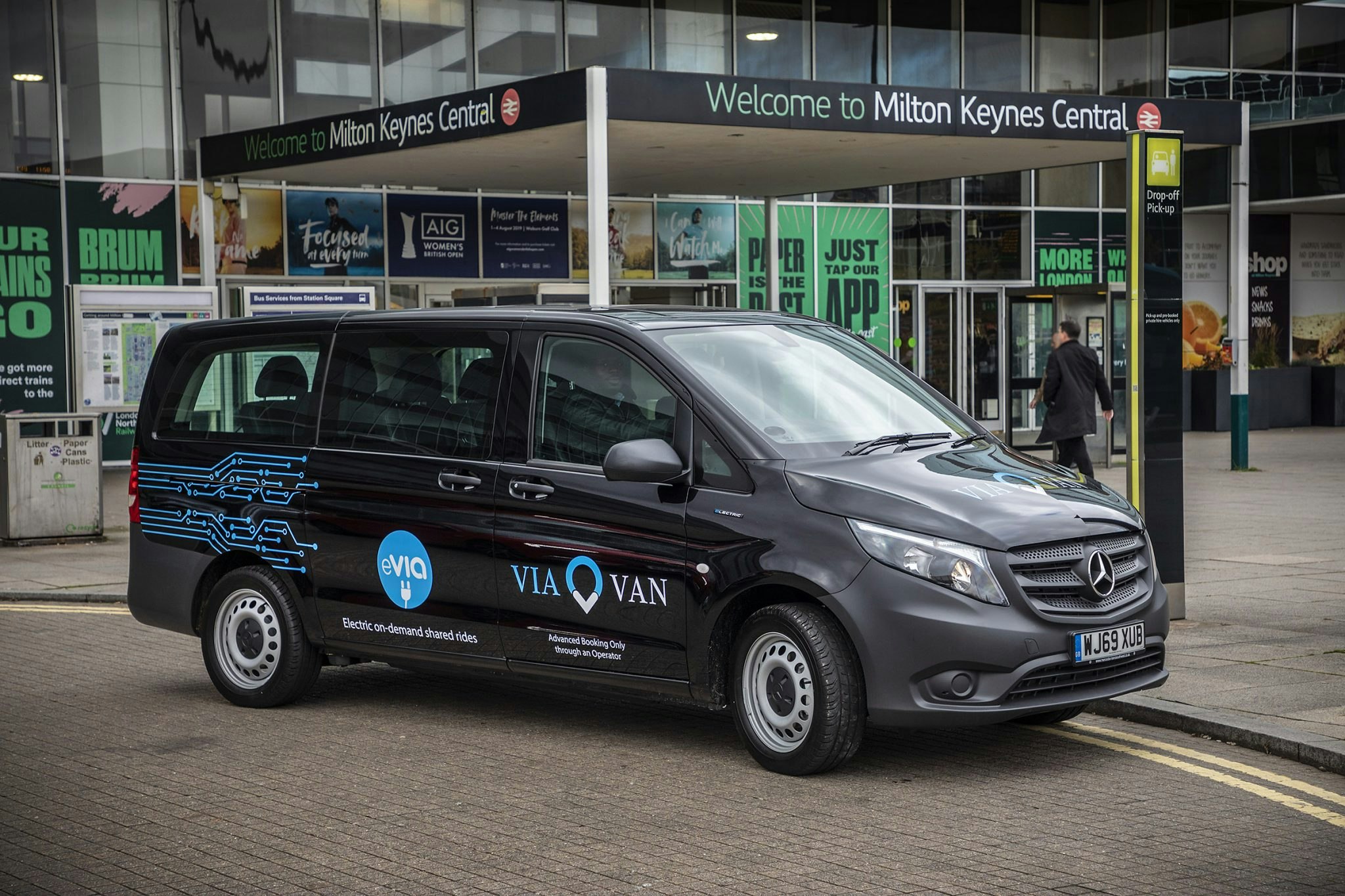 On-demand (electric) buses are go  
Today a small fleet of on-demand electric 'buses' have launched in Milton Keynes — the first service like this in the UK. It will be run by ViaVan, which already has around 10 on-demand (non-electric) vehicles in the city and has transported more than 100,000 people to work, to the station and to the shops over the past year. 
This electric fleet was funded by a £544,000 grant from the UK Department of Transport's Office for Low Emission Vehicles and is soon set to grow — ViaVan hopes to have around 30 electric vehicles on the streets by early 2020. The company says it will share insights and data on mobility patterns with Milton Keynes council (although there is no formal agreement in this instance) to help it plan for the future of the city. 
The city's 250,000 residents can book the seven-seater buses via an app and get picked up a short walk from their homes or workplaces.
"People are willing to walk a street or two," says Snyder. "They're willing to walk to the tube; that's generally a couple of streets away." Rides start from £2.50 and the average wait time is seven to eight minutes. 
Convincing people to take shared transport over their own car is a battle over convenience, not cost. "The most important thing we can provide is reliability," says Snyder. "The marginal cost of jumping in a car appears to be zero; I don't think people make these decisions economically." 
Every second counts
Zeelo, a shared transport startup which runs bus services on commuter routes, to events and school runs in the UK and in South Africa, thinks that dramatically improving the experience of shared transport is key to winning over car users. "People don't just want a run-of-the-mill bus," says cofounder Sam Ryan. 
Book a ride on one of Zeelo's services, step inside and you'll receive a free coffee, find temperature controls, Wifi and USB charging points.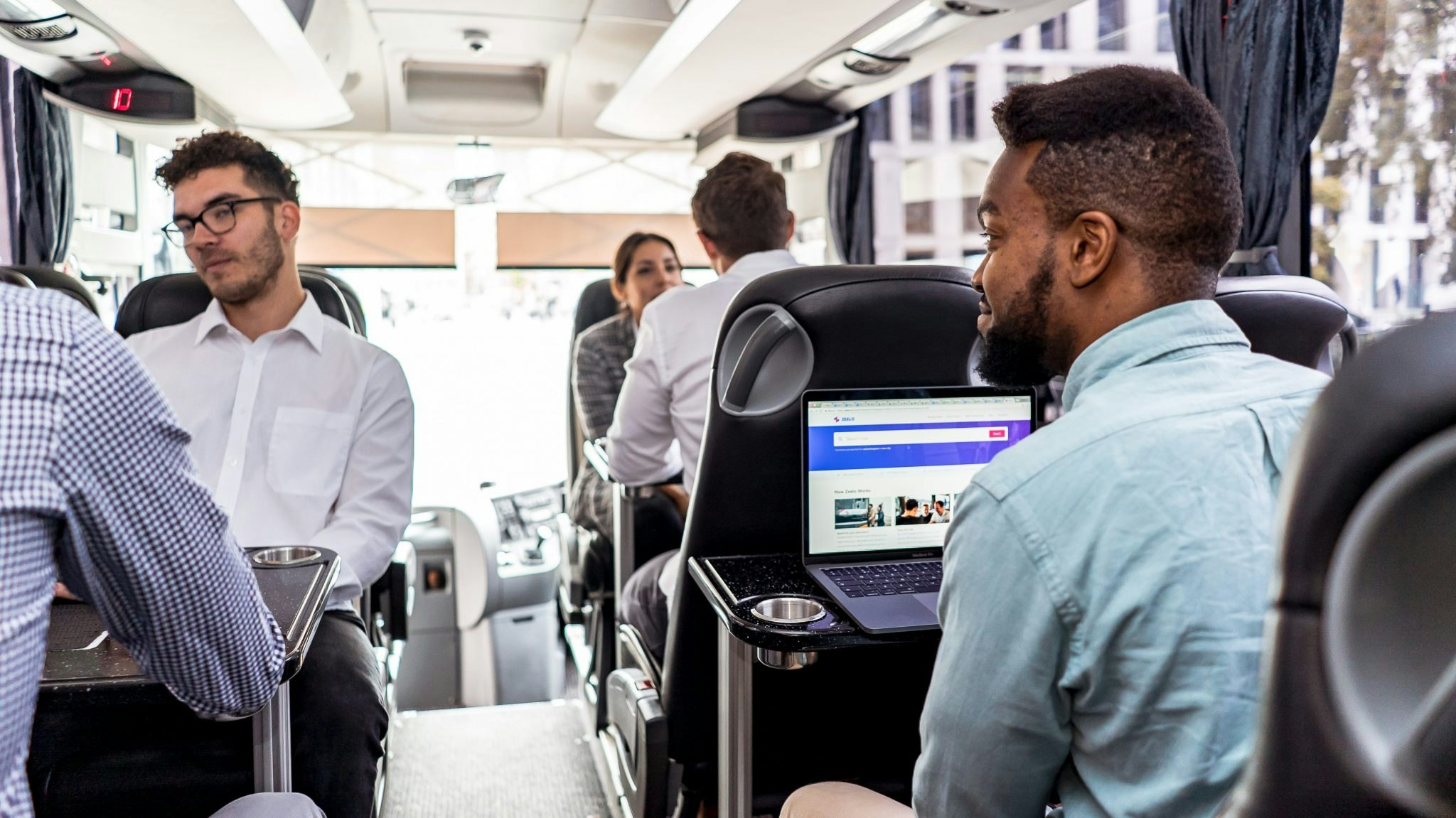 As congestion gets worse in many cities Ryan thinks more and more drivers will also be enticed by how much more productive they can be on a Zeelo ride than in their own car. He points to Annie, a customer who takes a Zeelo to work at the Aston Martin factory in Leamington Spa: "She used to spend an hour in her car. Now she spends the same amount of time in Zeelo — she sleeps, she trolls social media, she speaks to friends and doesn't spend five to ten minutes finding a parking space." 
There's still plenty stopping people from signing up to a service like Zeelo though. "People aren't willing to walk more than 10 minutes, as a rule of thumb," says Ryan. If Zeelo adds more than three to four pickups to a service, people are 10% less likely to use it from the first pickup location. 
Customers are also keen on flexibility. Zeelo has introduced flexible ticketing so people can buy a bundle of tickets and then use them as and when. It's also "over-investing" in the number of services it runs; if a customer is in a meeting that's running late Zeelo wants to give them the option to book onto a service leaving 15 or 30 minutes later, says Ryan.
This means most services operate at 60-70% occupancy on average, with peak time services at 90-95%. 
Employers and housing developers want in
It's not just city authorities like Milton Keynes that are interested in these models. Housing developers, big employers, universities, hospitals and big retailers are all also in conversation with these companies. 
"Companies with large headquarters have their own pain: limited numbers of parking spots and goals around sustainability," says Snyder. "We're starting to have interesting conversations with corporates in the area [Milton Keynes is home to Red Bull, Santander and Daimler] — they want to incorporate the ViaVan offering to their employees."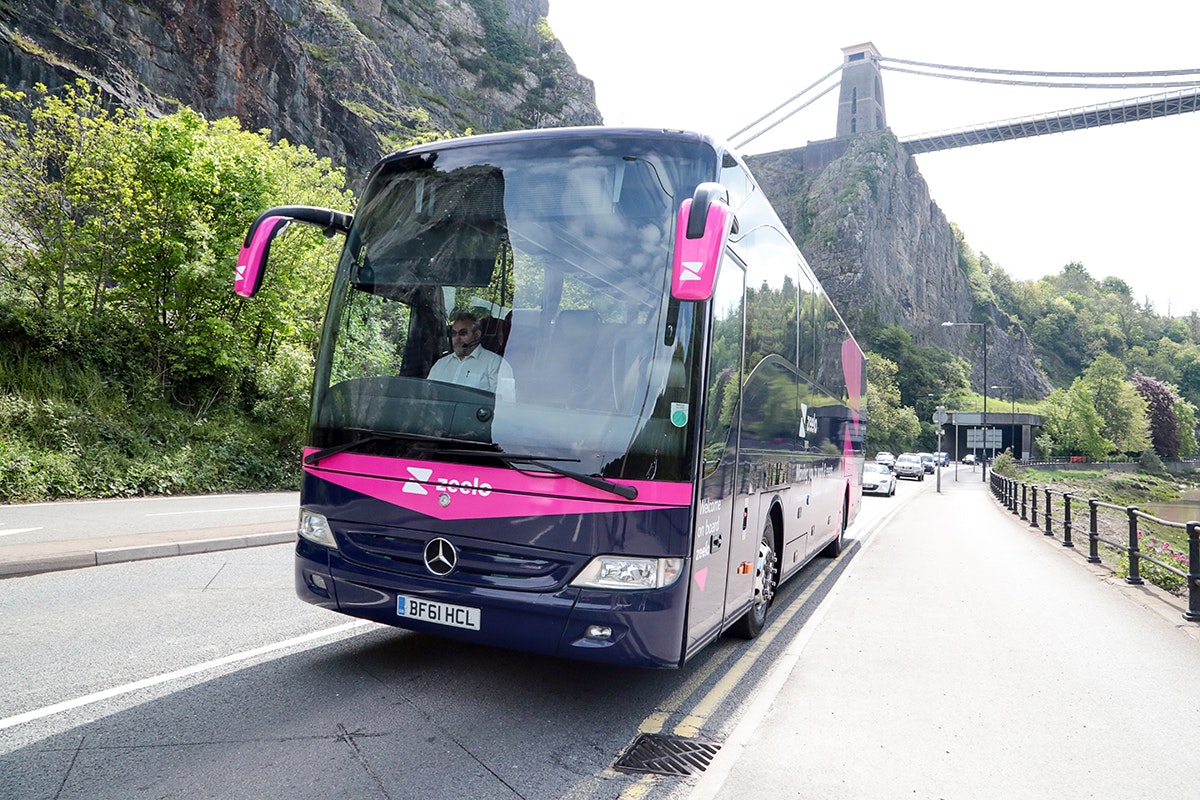 Zeelo is already working with several big employers (including Vodafone, Arsenal FC Academy and Gatwick Airport), some of which subsidise its services for their employees. "For Ocado it's a way of attracting and retaining staff," says Ryan. "For Jaguar Land Rover it's more of a car parking congestion problem. They could spend £3m building a new car park or encourage employees to come by more sustainable means." It has 500 regular customers from Jaguar Land Rover and 200 or so from Ocado.
Housing developers, like employers, are under pressure from authorities to be more green and pairing up with a shared mobility service is one way to win their approval. Neil Sharpe, founder of mobility and city innovation consultancy Fore, says councils are supportive of shared mobility plans and housing developers are showing an interest. "New housing projects are going in, but traditional infrastructure isn't; it can be five to six years before a bus service [connects with them]," says Sharpe.
City versus car
Services like ViaVan and Zeelo aren't alternatives to public transport, they're alternatives to the private car.
In Sutton, a suburban area of London where ViaVan is running a trial on-demand bus service with Transport for London (its first automated bus service) the aim is to offer residents a way to get to the train station or to work without taking their car. The 14-seater vehicles cost £3.50 (£2 more than a 'standard' London bus ride). The same is true in Espoo, a small city outside of Helsinki, where ViaVan's software is powering a service which takes residents to and from the train and metro station. 
"Will anyone sell their car [as a result of this service]?" says Snyder, of the Sutton trial. "I don't know, that's a high bar. But we'd like to see more people opting to take this service instead of choosing to take the car." 
Ryan is also hoping that even if Zeelo's service isn't enough to convince people to ditch the car altogether, they might at least not buy a second one. Plenty of couples and families find it inconvenient to rely on one vehicle (to get to the station, to drop their kids at school and so on). In a survey of staff at Jaguar Land Rover and Aston Martin Zeelo found that 45% of people were reconsidering ownership of a second car. "It's happening step by step," says Ryan.
Hundreds of smaller cities
Milton Keynes is far from the only city keen to cut down on vehicle emissions and provide more sustainable ways for its citizens to move about.
"There's one London in the UK but there are hundreds of cities like Milton Keynes," says Snyder. That means ViaVan and the like have plenty of room to grow.