In recent years, scientists have invented ways to grow meat and cheeses in a lab — but producing an egg without a hen has proven much more tricky.
Now, Finnish startup Onego Bio has developed a way to produce completely animal-free egg whites. Today it's announcing its seed round of €10m, from British VC Agronomics and Finland's Maki VC — before its product has been cleared to be sold.
It's a big deal. "Eggs are the last frontier," says Onego Bio cofounder and CEO Maija Itkonen.
How is it done?
Onego Bio produces the egg white in a precision fermentation process, not unlike making beer or kimchi.
"When you're making beer, you feed the organism a sugar, and then what it gives you is alcohol. It's kind of the same thing here. We feed the organism with sugar and what it gives us is the protein," explains Itkonen.
This is not a substitute. This is not an alternative. This is the real egg

white
The process begins by introducing the genetic code of the actual egg white which then starts to separate. Then it becomes an organism on its own that keeps on separating the protein. At the end of the process, you have a tank filled with the biomass and the protein that you filter out, according to Itkonen.
This protein is then made into bioalbumen powder, which turns into egg white when mixed with water.
"This is not a substitute [for eggs]. This is not an alternative. This is the real egg white and we are just processing it differently."
The market opportunity
This obviously won't work as a replacement for your eggs Benedict at Sunday brunch, however. Onego Bio's egg whites iare designed to be used in chocolate mousse and other recipes that require egg whites. They can also be used as protein for fitness products.
"Because of its unique functional properties like gelling, foaming, binding and emulsifying, the egg white is extremely difficult to replace with alternative ingredients," says Itkonen.
Sifted Newsletters
Sifted Newsletter
3x a week
We tell you what's happening across startup Europe — and why it matters.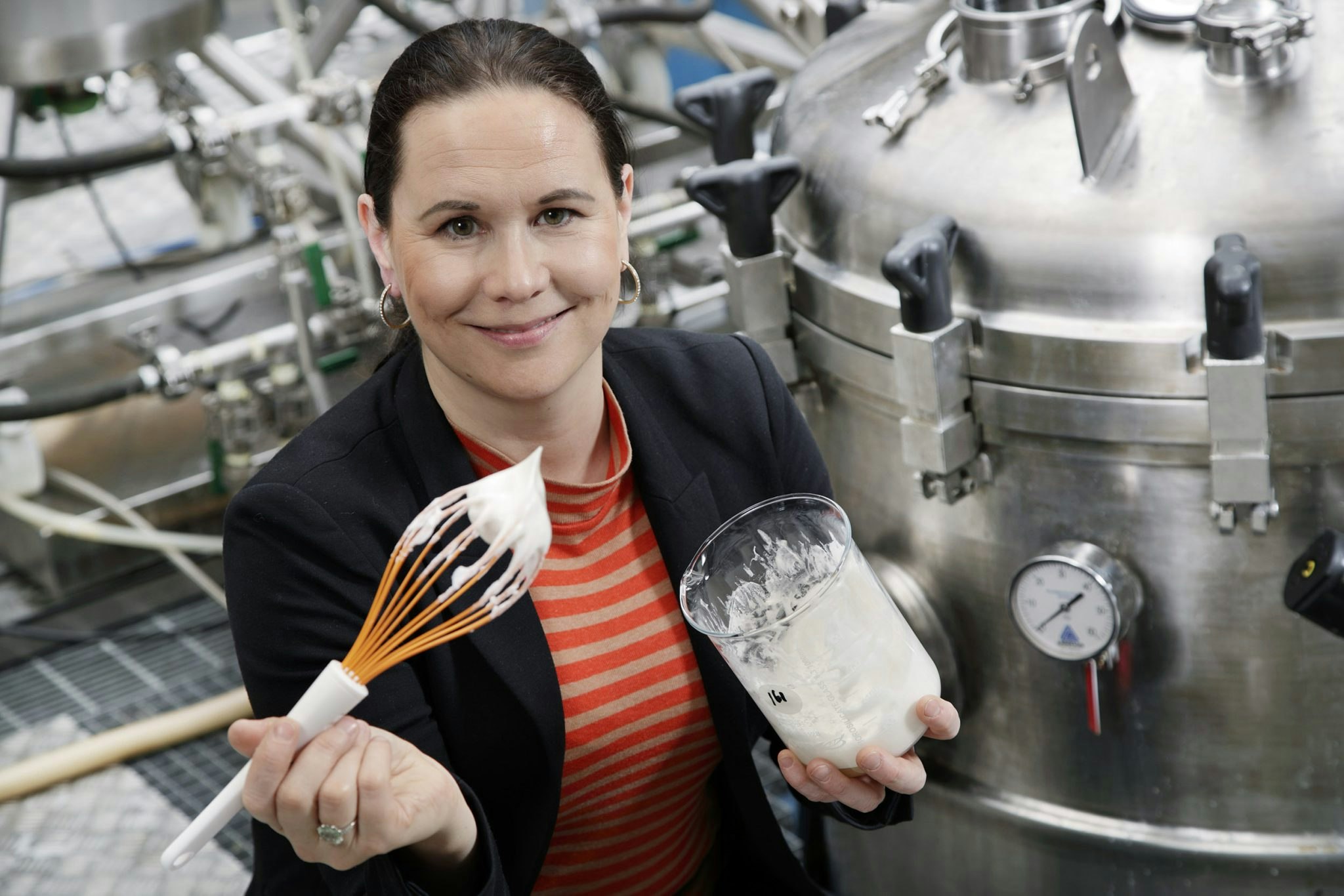 Non-dairy substitutes for cheese and milk have come on leaps and bounds over the last decade and now account for 15% of the market globally.
And although Onego Bio is not the first to come up with an animal-free egg white — the US startup The Every Company launched a similar product late last year — there is room for more.
Global egg production exceeded 86m tonnes in 2020 and is forecast to reach 138m tonnes by 2030. Companies focused on hen-free eggs (including egg substitutes) only have 0.2% of the global egg market, according to Itkonen.
From pulled oats to eggs
Onego Bio is a spinout of the VTT Technical Research Centre in Finland — along with many other Finnish deeptech companies, including quantum computer startup IQM, protein startup Solar Foods and textile startup Infinited Fiber.
Although Onego Bio was set up as a limited company only a few weeks ago, two of its founders have been researching and developing the product for years at the VTT.
Itkonen, however, is new to the business. She's also the cofounder of foodtech startup Green&Gold and was matched with the scientists who developed Onego Bio's fermentation process by VTT to create a commercially viable company.
"Green&Gold does oat-based meat alternatives and has launched in 15 countries so far. It's getting more mature and now it's time to start something new," she says.
"If you go to the shops today and you look at the plant-based selection, [those products] are seen as normal food, not a special diet. But when we founded Gold&Green six years ago, it was so different — am I supposed to eat this? So, I can see similarities — cellular agriculture is just waiting for real products to come to market."
Regulation hurdles
As with all new food products in the EU, Onego Bio's egg white needs to go through the European Food Safety Authority (EFSA) before it can be sold. That process usually takes at least 18 months. In the meantime, Onego Bio has decided to start selling its product in the US, where the regulatory landscape is less of a burden — although it will still need FDA approval. Onego Bio has not begun either of these regulatory processes just yet.
"It's important to get everything right so we want to make sure that there are no mistakes in the application," says Itkonen.
"Once you have the FDA approval, then the process into EFSA is going to be much easier because you have been approved elsewhere. We have very high hopes that the product will be approved next year."
Onego Bio's focus is on building its pilot production site in Finland.