Following a flurry of activity in 2021, the slowdown has tightened its grip around European tech this year. Investment in European startups dipped 27% in 2022 and the number of rounds fell 35% on year.
But the bumpy year holds key lessons for founders, investors and operators — and offers glimpses of what we can expect from tech in 2023.
In our latest edition of Sifted Talks, we reviewed the VC fundraising landscape in 2022 and discussed what comes next. Our speakers were: 
Sarah Drinkwater, angel investor
Catherine Lenson, investor and board director
Ulric Musset, founder and CEO of Vauban, a platform which helps investors raise and manage funds
Zeynep Yavuz, fintech partner at General Catalyst, a VC firm focused on early-stage and growth investments
Here are the key takeaways from the panel: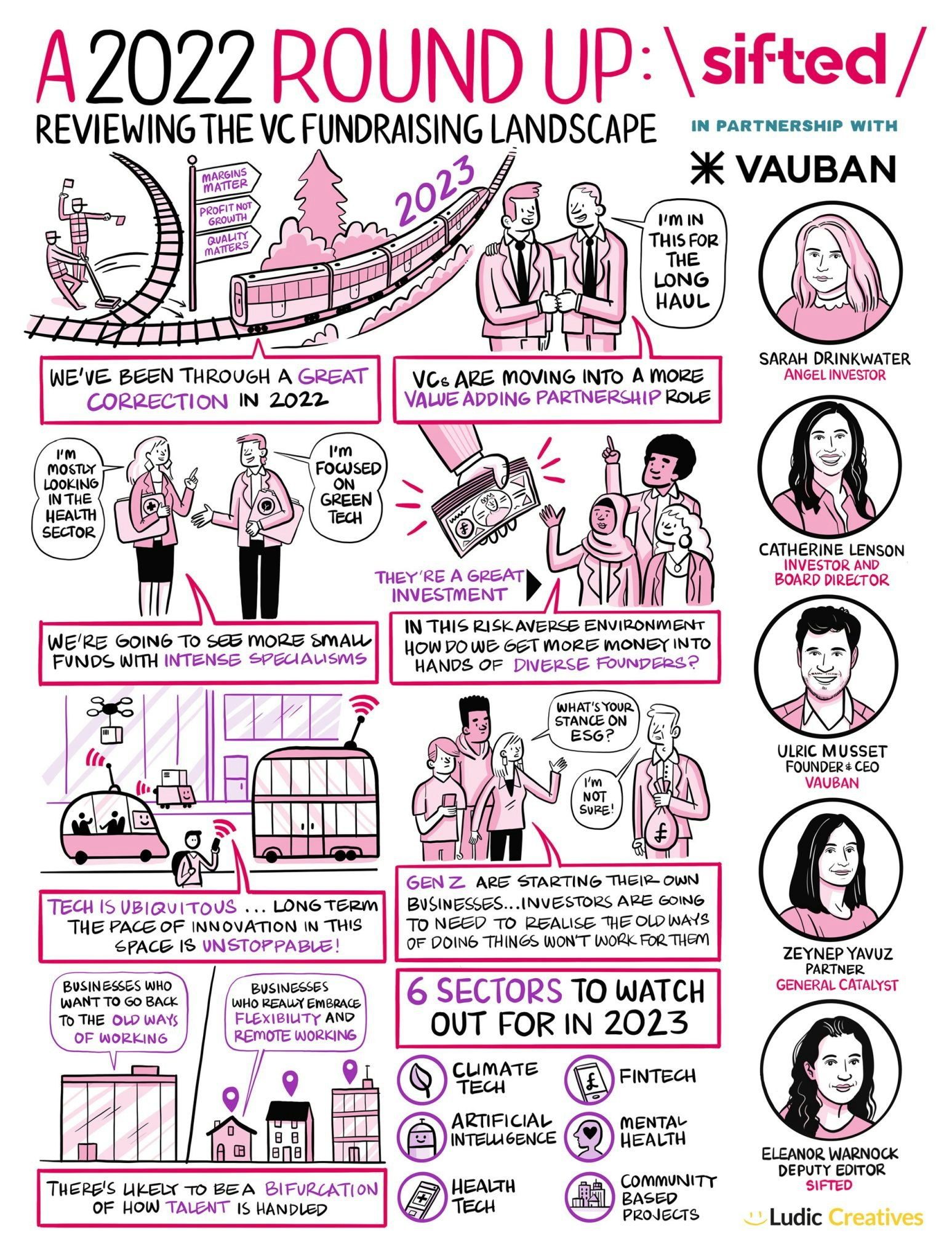 1/ The Great Correction
Panellists alluded to "The Great Correction" that took place in the tech ecosystem in 2022 — a fundamental shift that took place in the second half of the year and the emergence of tight margins within which to fundraise. 
Drinkwater, who focuses on pre-seed and seed investing, said that she was still seeing high-quality founders raise money, and the correction in the market to caring about profitability could be for the better.
Yavuz agreed, saying that there was a growing importance given to "fundamentals, quality of business model and growth matters". She said that startups in later growth stages were being hit harder as they're closer to public markets, but at General Catalyst, since the focus is on early-stage startups, they're yet to see any negative impact. 
Yavuz added that the expectations set by founders for investors had also grown — founders now look for quality partnerships with investors who are true partners and stand by them throughout the growth journey. 
Adding to this, Musset said that it had also been the best time for many VCs to invest as they've had more time to do due diligence and valuations are "more reasonable".
Sifted Newsletters
Up Round
Every Friday
Dive into VC and meet the people holding the purse strings.
"Course correction is not the worst thing in the world — it shouldn't be radical to care about profitability" — Sarah Drinkwater, angel

investor
2/ Tech innovation is now faster than ever
Though valuations and VC activity dropped in 2022, the panellists said that the pace of innovation in tech was now faster than ever before — and it would only keep growing. Lenson said that the slowdown is just a blip in the long run of the tech industry and a slight correction to refocus on the fundamentals, which makes her optimistic as an investor.
Drinkwater said that there's "an awful lot" to be optimistic about, given the growth of tech in Europe and the different kinds of innovation currently taking place in the sector — from generative AI in drug discovery to ChatGPT.
Yavuz added that the current market environment was also driving greater tech adoption, such as greater adoption of embedded finance technologies by non-fintech companies, as companies are increasingly thinking about ways to improve their margins and selectively invest in growth.
"Two things can be true at once: we can be in a choppy downturn, looking at public markets and not really liking what we see, particularly in the growth ends, and at the same time, we can acknowledge that the pace of tech innovation is unstoppable" — Catherine Lenson, investor and board

director
3/ Shifting work cultures
The mass layoffs in the tech industry have created a huge pool of talent available to startups to hire from — which was previously mostly locked in big firms. Lenson said that this could lead to a bifurcation of the tech industry, with firms that will go back to a hard in-person model (like Twitter) on one side and others that have seen the benefits of flexible working and will try and differentiate themselves through creative ways of enabling it. 
Drinkwater agreed, saying that there was also a greater need to ensure employee satisfaction in today's uncertain macroeconomic and political environment.
"Something that we haven't really had time to speak about this year is mental health — of both employees and founders. But that's something I've worried about a lot this year, and I think it is a theme that anyone who partners with founders is going to have to be thinking about next year, too" —

Drinkwater

4/ Opportunity for more specialisation
More GPs and LPs are moving towards specialised fundraising that lets them focus on a particular sector such as healthcare, fintech or climate tech, said Musset, pointing out that there is, however, a dearth of such specialised funds in Europe.
For Yavuz, at General Catalyst, investing has always been sector-specific: Yavuz focuses solely on fintech and crypto startups. This kind of specialised investment is becoming all the more important in Europe's tech ecosystem as it matures, especially given the cultural fragmentation of the continent, she said.
Lenson added that there was quite a lot of investor interest right now in healthtech — particularly in sectors such as women's health and mental health — and climate tech. She also predicted a lot more smaller, specialised funds and solo GPs coming up in 2023 and getting recognised by founders for the particular niches that they invest in.
"AI is everywhere in the media and climate tech is really strong as well, but there are not many funds that focus on these sectors in the UK — so there is a huge opportunity in Europe for this kind of specialised funds" — Ulric Musset,

Vauban
5/ Funding diverse founders
Lenson and Drinkwater were on the same page in saying that there seemed to be a "dissonance" between the work they're doing with diverse founders and investors and the published data on diversity in tech — and that there needs to be diversity at the level of writing cheques. Yavuz agreed, adding that with the new wave of Gen Z founders, pattern recognition is going to get harder, and investors who rely on it will fail to become successful in 2023.
According to Atomico's State of European Tech report, 87% of all VC funding in Europe is still raised by all-male  founding teams, while the proportion of funding raised by women-only teams has dropped from 3% to 1% since 2018.
Musset disagreed, saying that ESG metrics were becoming increasingly pertinent to choosing portfolio companies for investors, and that the downturn wouldn't affect that.
But the rest of the panel said that the slowdown could result in even less funding going to diverse founders as VCs and investors, at large, fall back on pattern recognition, favouring people who look like them or are from similar backgrounds, when there are constraints around how much they can invest.
Lenson added that rather than looking at funding diverse founders as a painful ESG exercise to avoid negative media attention, investors should consider the unique perspectives and great financial returns that diverse founders can bring instead of the archetypal young, t-shirt-wearing male founder.
"If you have a diverse team, you challenge each other on these issues [of diversity], and you have different perspectives — and I think that is the way to secure diversity in founders." — Zeynep Yavuz, General

Catalyst
Like this and want more? Watch the full Sifted Talks here: