UK scaleups have been resilient during the pandemic but the lack of diversity and funding are two challenges ahead. 
Amid the global pandemic, the UK has seen more scaleups breaking through the £10m+ turnover mark, with a 37% jump year-on-year, according to a new report from Beauhurst and Scaleup Institute.
The report, which includes both tech and non-tech scaleups, highlights the resilience of UK high-growth businesses during the pandemic: 14% have created jobs, while none have ceased operations.
It identified 7,474 scaleups (defined as businesses with annual employee or turnover growth of 20% or more); 1,124 of which are tech-based companies, 1.7x more than in 2019.
"This is a very promising and timely report on the performance, growth and motivations of scaleups against the unprecedented backdrop and economic challenge of the global pandemic," says Stephen Welton, chair of VC firm BGF. 
Here's what else you need to know about scaleups in the UK: 
1. Companies securing the largest rounds are in finance, healthtech, energy and delivery

UK scaleups raised £5.32bn in equity in 2019, 1.6x more than the year before. In 2020 so far, the report shows £2.7bn has been invested into scaleups. 
Although 2019 recorded a couple of megadeals (£50m+), it did not beat the 2017 record for total equity investment into scaleups. The largest funding rounds were landed by companies in finance, healthtech, energy and delivery.
B2B banking service company Greensill grabbed the two largest deals of 2019 of £615m and £511m: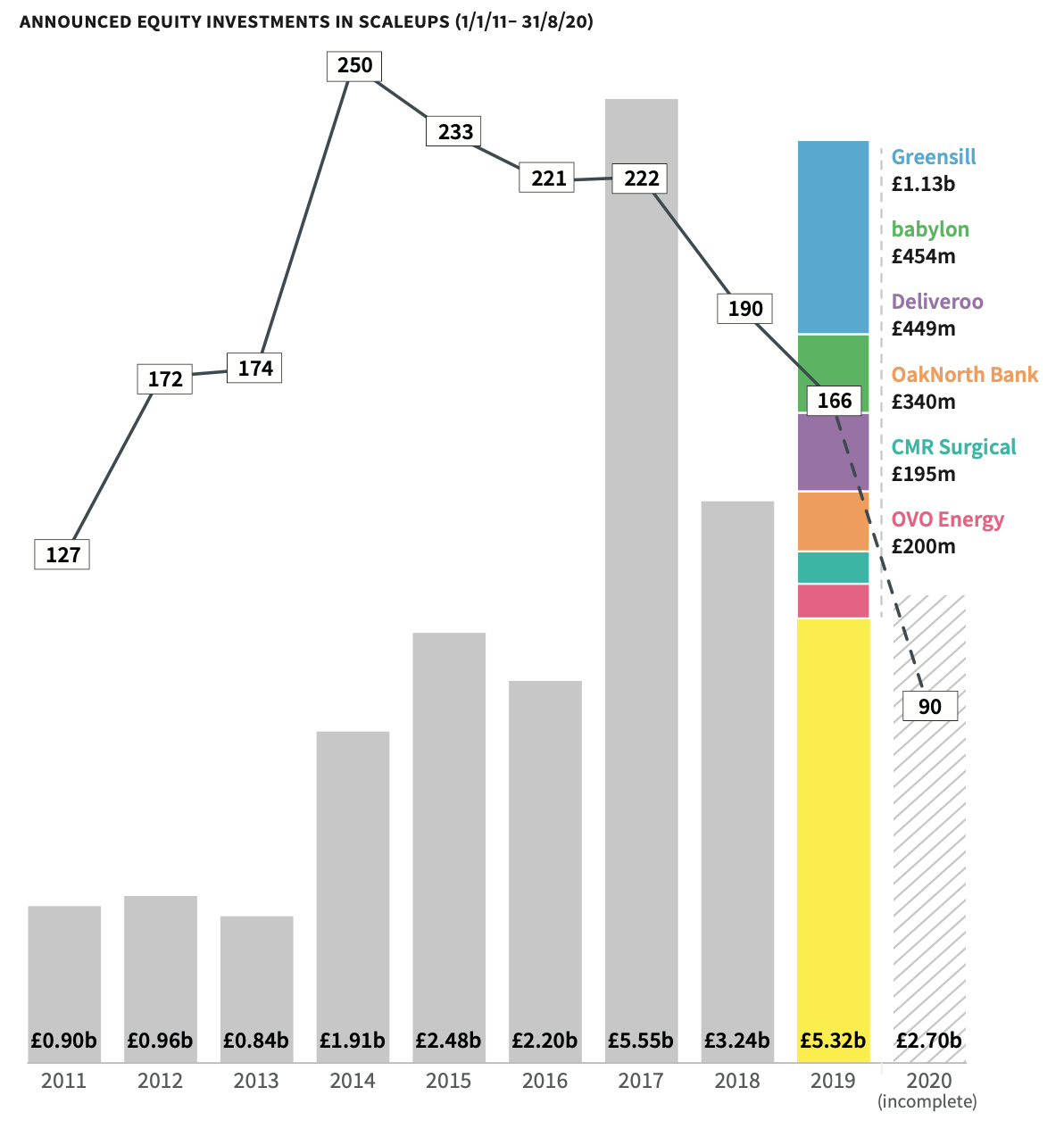 Digital health company Babylon followed in second place, with a £454m round led by Saudi Arabia's public investment fund, while food delivery scaleup Deliveroo raised £449m in a round led by Amazon (which was almost, subsequently, blocked by the competitions authority).
To sustain this level of investment, BGF's Welton says, more later-stage funding is needed: "The UK urgently needs more equity capital if we are to drive the future growth of scaleups at large, and the economy more broadly." 
Judith Hartley, CEO of British Patient Capital, the UK's largest investor into VC firms, agrees: "When we look at Series B+ and compare that to the US, the round sizes are half the size. We need to put extra firepower into this area to help the UK market catch up." 
2. Private equity and VCs are by far leading investments into scaleups 
BGF Growth Capital remains the UK's number one investor by number of deals, while SoftBank grabbed the top spot by amount invested, with £1.85bn spread over four deals (two deals into Greensill and one each into OakNorth and Improbable).
Overall, private equity and VCs are leading investments into scaleups, making 2.5x more deals than business angels and 8x more than corporates.
£286m of grant funding from Innovate UK, the UK's innovation agency, contributed to the growth of businesses in 2019, especially in the manufacturing and engineering, cleantech and automotive sectors.
3. Tech scaleups count for 15% of the total

Ex-British prime minister David Cameron's dream of turning the UK into a Tech Nation could be right on track: the tech sector is now the fourth most-prominent source of high-growth companies.

The report found that SaaS (software-as-a-service) companies lead the pack of tech scaleups. Many software companies have thrived in the pandemic, according to SaaS provider Paddle's founder Christian Owens who told Sifted that Covid has accelerated the growth of the SaaS sector.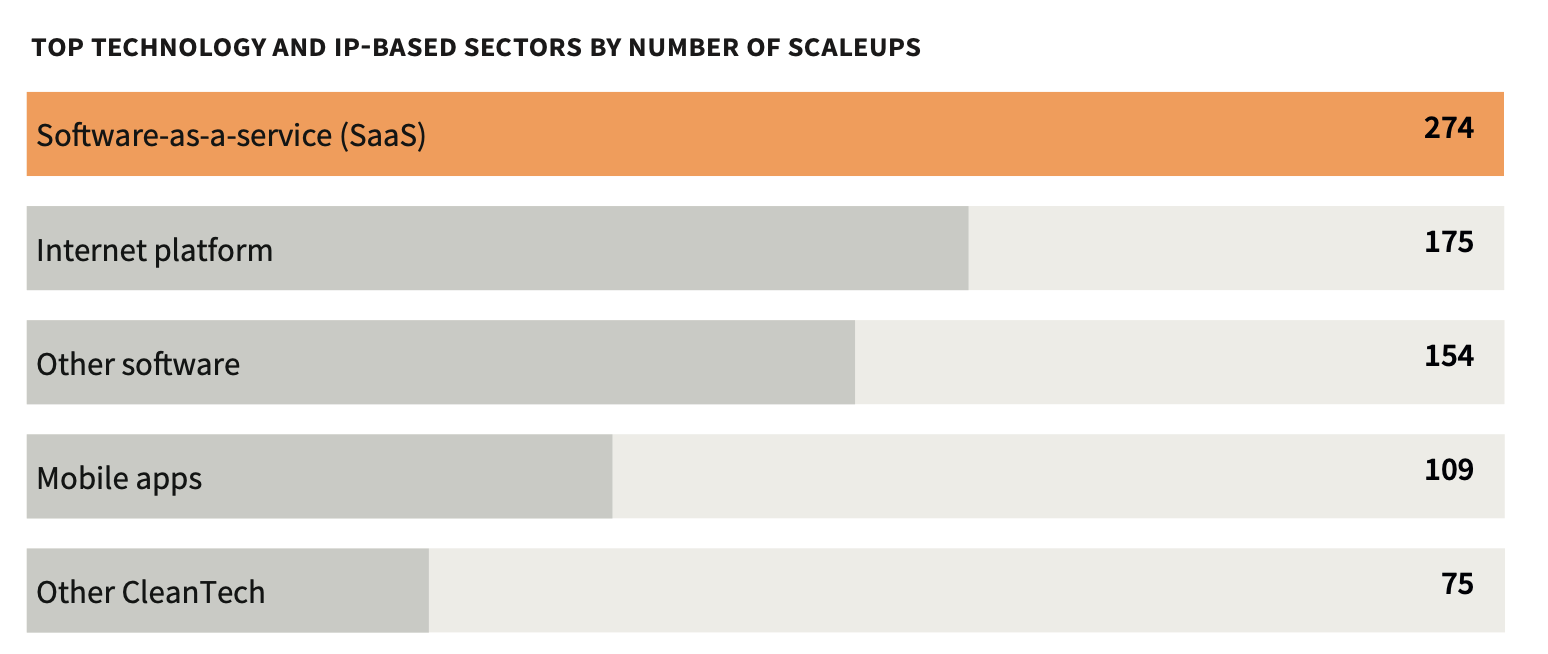 4. Scaling up companies remains in the hands of British men 
Although the number of female-founded scaleups has doubled, only 10% of scaleup founders are women. 
61% of scaleups still operate without a single female director and 48% of scaleup businesses have yet to include women in their executive teams.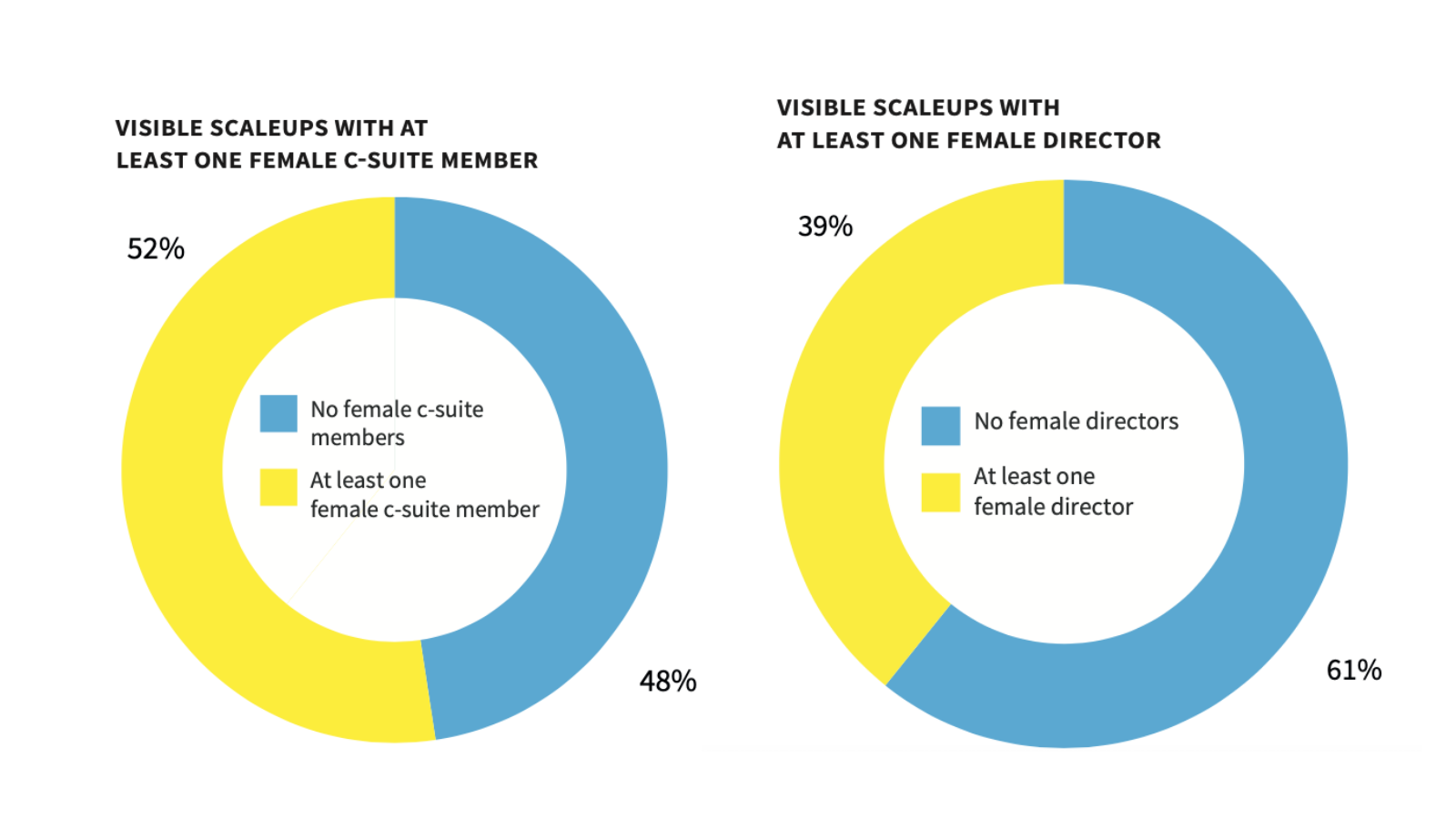 The report identified nine new investors entering its top 20 list for investments into visible scaleups: Octopus Ventures, Notion Capital, Scottish Investment Bank, MMC Ventures, Parkwalk Opportunities EIS Fund, Passion Capital, Archangels, Cambridge Innovation Capital (CIC) and Angel CoFund. 
They all have gender-diverse teams and at least one woman in a leadership role — which is often said to be a catalyst to support more women-founded businesses.
Finally, most scaleups are led by directors from the UK, while 1,793 scaleup directors are from Europe. It remains to be seen whether they will decide to stay in the UK in the post-Brexit world…