Food delivery startups have become firmly entrenched in European's everyday lives — but it's easy to forget that the sector is still young. Deliveroo launched just six years ago, Glovo just four years ago and Uber Eats only entered the market in 2016.
So there's still a whole lot of room for growth, plenty of space for new contenders, appetite for fresh products and hurdles to overcome along the way.
We spoke to Raj Beri, head of Asia Pacific, Europe, Middle East and Africa (EMEA) at Uber Eats, to find out where he thinks the sector is heading.
You've spoken a lot about taking a data-driven approach to food delivery. But what data are you actually looking at?
Our average delivery time across Europe is under 30 minutes. The reason we can do that is because we know how long it takes for a specific menu item to be prepared: that's the data-driven approach. 
When someone orders food, you want to dispatch the delivery partner to get there right when the food is ready to be delivered. If they get there too early they're waiting around and it's not the best experience for them [or the best way to] maximise their earnings. If they get there too late then the food gets cold. The data helps us take input from restaurant partners on how long it takes for dishes to be prepared, but then the data also learns what the actual preparation time is as well. So someone may say, 'This chicken is going to take 15 minutes', but in reality we know it took 11 minutes on average, and we're able to dispatch the courier accordingly.
Someone may say, 'This chicken is going to take 15 minutes', but in reality we know it took 11 minutes on average, and we're able to dispatch the courier

accordingly.
Data [also] really drives us on innovation. So, for example, we work with over 2,000 virtual restaurants in EMEA. When our restaurant partners are thinking about how to utilise their kitchen space to drive more incremental revenue and profit, they'll come to us. We'll provide data to them around popular cuisines or searches in their area, where we're seeing unmet demand, and help them think through brands that they can launch only for delivery and how to best market that. 
Sometimes those are extensions to what a restaurant is already offering, and it's part of their expertise. Then there are pizza places that also want to sell chicken wings, so they'll create a whole new brand that is not associated with their pizza brand that really focuses on chicken. Another example could be someone wanting to sell more desserts, so they'll spin out something selling cupcakes. 
When we've launched virtual restaurants it's really helped increase average sales for those restaurants by up to 50%.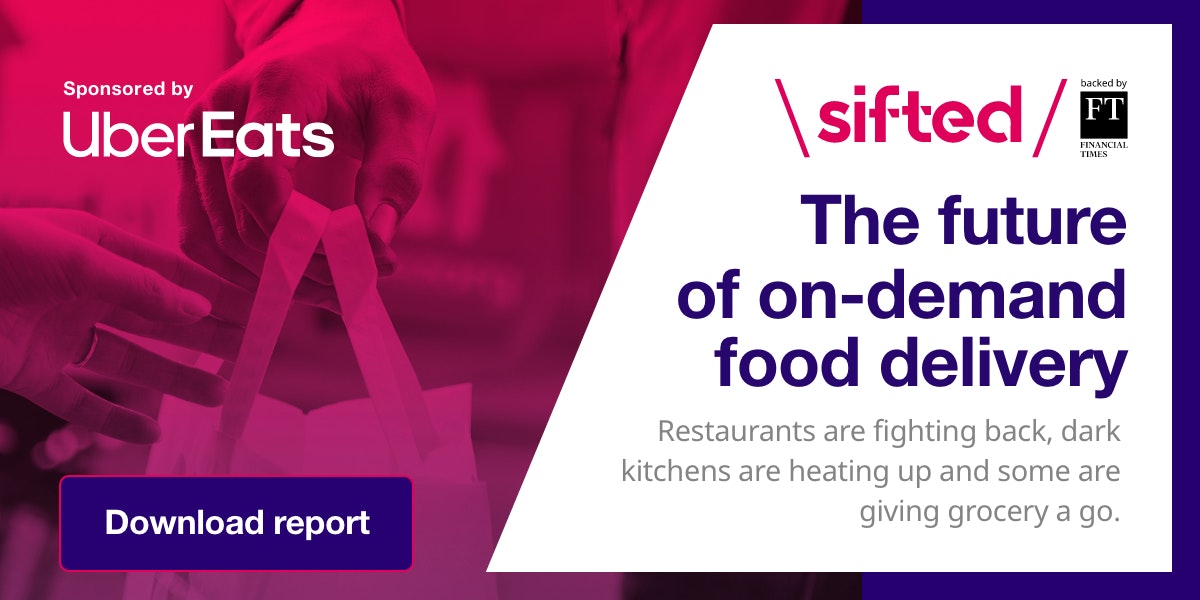 Plenty of your competitors are running shared kitchen spaces for virtual restaurants. Why hasn't Uber Eats taken this approach?
We believe the best approach is partnering with existing restaurants and commercial kitchen owners to launch and have these data-driven meal options. Where we've seen initial success, and where we've seen restaurants really want to work with us, is on these different types of virtual restaurant models. And so that's really where our focus is. 
We want to be kind of an operating system for restaurants. Part of that is doing delivery of meals from their restaurant to the home. But there's a lot of other ways restaurants want to work with us — some on virtual restaurants, some on delivery-only kitchens down the road. 
We've introduced things like dine in and pickup as well; there are a lot of restaurants that want help driving demand to their storefronts. Someone driving home from work in the suburbs might want to pick up some food for the family on the way — or someone at work might want to pick up something because they want to get out of the office. We're seeing really great traction, not only with customers but with restaurants, in just a short time.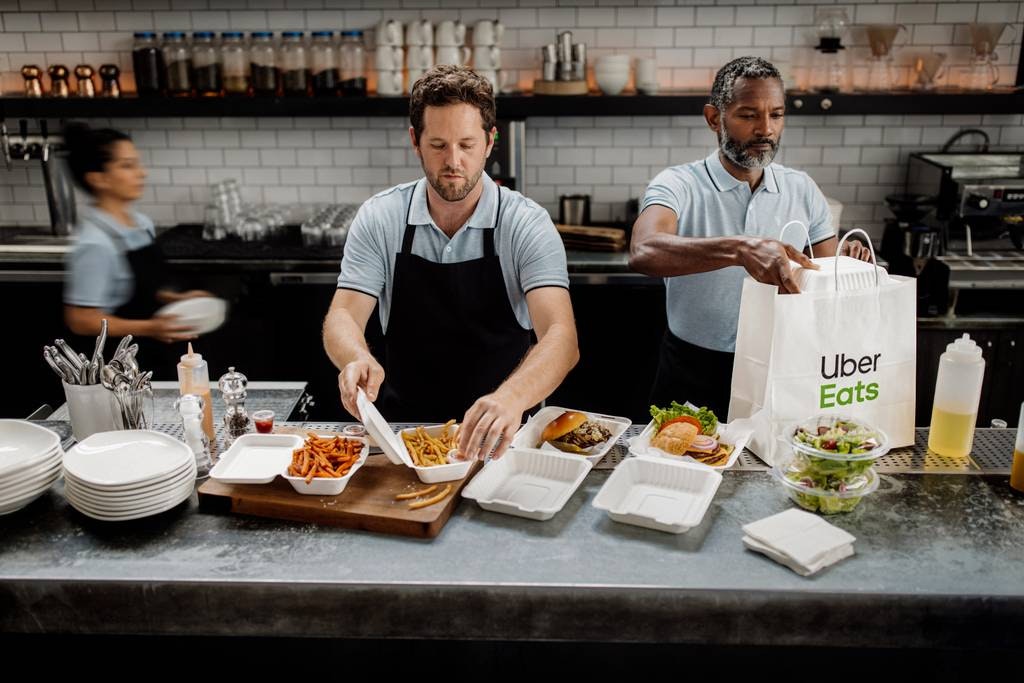 You're moving into grocery now too. What kind of grocery goods does it make sense for Uber Eats to deliver — and is there a limit?
We are starting to work with grocery store chains across the world: we're working with Coles, with Costcutter in the UK and we're starting to work with convenience stores on our platform as well. Earlier in the year we announced a deal with a player called Cornershop, and in 2020 we'll start to build out even more grocery technology. We think grocery will be a large part of what we're doing. 
We're seeing that there are a few different kinds of grocery occasions. One is the stock up: someone is looking for their weekly grocery menu and they come to some of the partners on our platform and order their full grocery compliment for the week.
But what we're actually seeing a lot more of is the top up: people opening it up and ordering things every other day. The power of it is the ability for orders to arrive on demand, which is different from most typical ways grocery chains do their deliveries, which may be scheduled for tomorrow or two days later. What we're seeing is more, 'Hey I'm having dinner tonight, I have this and I need these other items. Can they arrive very quickly for me?' We're seeing that use case across the pilot we're running now across the world.
You're also moving into increasingly smaller cities. How small can you go?
A lot of times people think about food delivery as being something that is really big in metro areas, but maybe not as applicable in smaller cities or suburbs. But suburban areas or non-metro areas are actually even growing faster than metro areas. It's about three times over what it was last year, and it accounts for, in our case, close to 40% of the volume. 
Suburban areas or non-metro areas are actually even growing faster than metro

areas.
We're live in Europe with cities as small as 10,000 people. Some of them are a mix between our platform connecting to courier partners, as well as restaurants that have their own delivery partners.
I expect growth in smaller cities over the next 12 to 18 months to continue to outpace larger cities: there's a big demand for food delivery in small cities.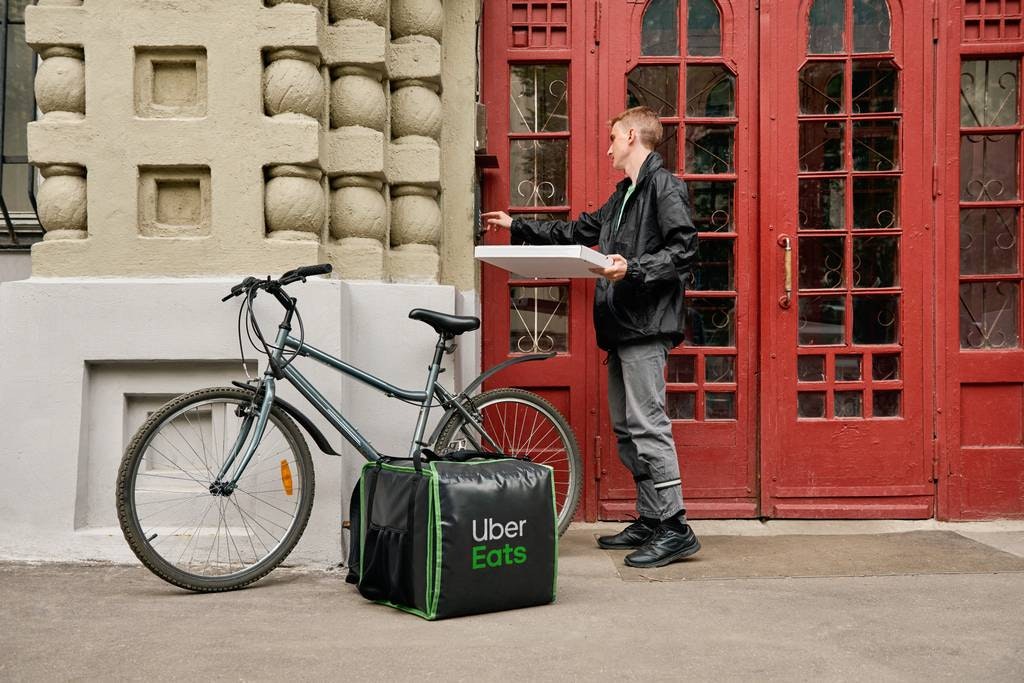 What interesting things can start to happen once all of Uber's services — Rides, Eats, etc. — get more interconnected?
We're probably the only player globally in the food space that is not just a food delivery platform. We have a large rides business, we've started adding things like transit and other modes of transport including scooters and bikes. Uber is becoming that operating system for the city; in hundreds of cities across Europe, you can open up the Uber app and see the Rides, Eats and other options side by side. Globally, we have over 95m monthly active platform consumers and right now around 15m use Eats. 
Let's take an example. You wake up in the morning and you say: 'Hey, I'm going to pick up my coffee for work.' You order your Uber, you see that it's going to get there in seven minutes, and you have it drop you off near your coffee, where you placed the Uber Eats order, you go in and you pick that up and you walk to work. At lunchtime you want to have an order for your office and someone on your admin team does a group corporate order that's delivered to your office. On the way home, you say: 'Hey I'm going to take an Uber to a transit stop.' And on the way home you decide to place a grocery order that arrives when you get home so your family can cook a meal together. 
Being integrated into the everyday life of our customers — there's a lot of opportunity there in Europe.
This interview is published in full in our on-demand food delivery report, sponsored by Uber Eats. Download it here.