Avi Meir, co-founder and CEO of corporate travel booking platform TravelPerk, reckons he spends 60% of his time on hiring. It's either madness – or genius.
"Imagine what my schedule looks like. We're hiring 20 people every month, so I need to speak to 60 people, over 20 working days. That's three hours every day just on interviews, and then there's the debriefing after."
Just how much time founders should dedicate to hiring is open to debate. Some founders Sifted has spoken to recently – notably Johannes Schildt at digital doctor app Kry and Taavet Hinrikus at Transferwise – say they haven't been involved in hiring for a long while. On the flip side, Meir sees it as a key part of his role: "Building the team, scaling and keeping people happy and learning is one of the only few things I have to do well." At its Barcelona HQ, three-year-old TravelPerk has a 10-person team responsible for hiring and people, but Meir still does the final 'culture interview' with every single candidate.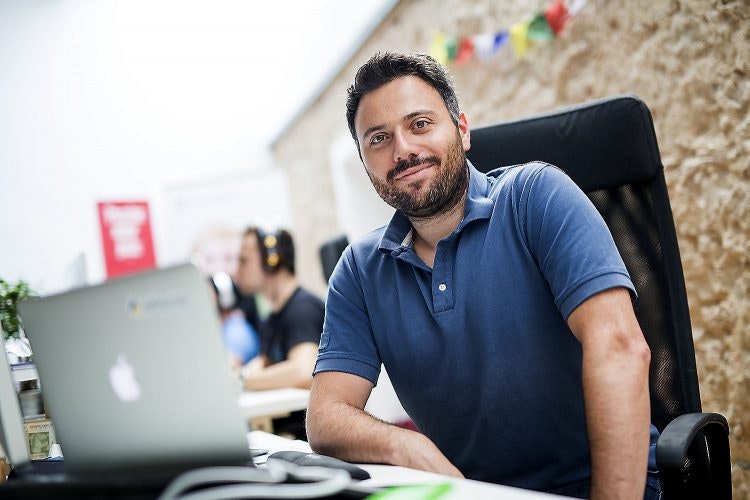 Zoe Jervier, head of talent at European investor EQT Ventures, says the amount of time a founder spends on hiring should vary depending on the stage their company is at (as a rule of thumb, she says seed-stage founders should devote 50% of their week to recruitment) and also the volume at which they are hiring. More than doubling headcount in a year, like TravelPerk, warrants hefty founder involvement.
"I think it makes a tonne of sense," Meir says – while there are still enough hours in the day. At TravelPerk's current headcount of 159, it's still possible; at 1,000 people, it'll be less so. "As long as I can do it, I'll keep doing it. It's the only real way to make sure the culture scales."
Jervier isn't so sure it's the only way: "One of the greatest misconceptions that a lot of companies have is that only the founder can do the true culture test." Instead, she thinks, startups should build a team of "culture champions" to entrust with those hiring decisions. "Ideally you want that to scale; it can't if it's one person's job ultimately."
I don't know how to hire a cultural misfit and make them

fit
It was Meir's advisor, and fellow travel tech CEO Johannes Reck, co-founder of Berlin-based Get Your Guide, who first suggested hiring this way. Both have been stung in the past by hiring smart and experienced people whose values didn't align with their companies, and not letting them go fast enough. "Maybe this method is weird, but I don't know how to hire a cultural misfit and make them fit. If I did, it would be a superpower."
Cultural (mis)fits
Being smart or experienced isn't enough to land a job at TravelPerk. "We don't like assholes around… [or those who] settle for being mediocre," says Meir. "We believe in good people." Separating the good eggs from the bad isn't an exact science, but Meir has a few attributes he looks out for: humility, focus, problem-solving, eagerness to learn and grow, enjoyment in helping others, competitive and collaborative spirit. "Take an engineer. Does she have a spark in her eyes when she's talking about helping somebody else?," he says. "We want people who are proud to provide service."
Sifted Newsletters
Sifted Newsletter
3x a week
We tell you what's happening across startup Europe — and why it matters.
Using a 'culture interview' to check that candidates' values align with the company's is "spot on," says Jervier. However, if companies are running 'culture interviews' to work out whether they'd like to share a beer with potential hires, she says that's a shortcut to building a very mono-cultural team. She adds that it's important to also think about what candidates can bring to the company that it doesn't already have: "You don't want to hire carbon copies of people."
Does she have a spark in her eyes when she's talking about helping somebody

else?
Everyone at TravelPerk has an anecdote at the ready to demonstrate just how far they'll go to provide great customer service. There's the story about the time a customer's wife went into labour while he was stuck in the Netherlands, and the TravelPerk team managed to get him on a flight home in time to see the birth. Then there's the tale about the intern, working a night shift on customer support, who jumped through a series of logistical hurdles to meet one customer's request to find a toy monkey left in their hotel room.
Meir thought that latter one deserved special recognition. "At the end of the week, we always have one star employee," he says. "I got [courier startup] Glovo to find me the biggest monkey it could find. So I gave him this 1.5m tall monkey toy as a gift. I made him the centre of the whole company for 10 minutes to show him how important his contribution is. We celebrate a lot of individual and team successes."
Elisa Llera, content and communications manager, joined TravelPerk a year ago, moving to Barcelona from the US. "We've tripled in the year I've been here," she says. Some things have changed as a result – "now we have to wait in line for the bathroom, and there's a mad dash for the kitchen when the fruit arrives" – but she says the culture "hasn't lost the magic".
Not everything is as easy to adjust to a growing team as the fruit order however. Like many startups more than doubling in size year-on-year, TravelPerk has found that some of its earliest employees were no longer a good fit for their roles. "In leadership, you have to learn a new job every 6 to 12 months. And it's tough, it's not easy to do it. It's one of the most difficult things for fast-growing companies," says Meir. "We had a few cases of this; a few left on good terms, saying 'Hey, this is not what we're looking for anymore'. There were some other cases where we hired on top of existing people… you have to handle this in the right way. The key is very clear communication; not having a [hidden] agenda and trying to manipulate people. That always backfires."
The hiring process 
Before candidates meet Meir, they go through a lengthy hiring process. After one or two HR interviews in-person or more often, via Skype, they are invited to spend a full day at the company. For the 70% or so applicants who are not originally from Spain, this turns the interview into a mini-holiday – and an easy way to persuade them to up sticks and move abroad. "We make sure the interview happens on a Friday or a Monday, they stay the weekend, and the city sells itself," Meir says. "I'm only half joking."
The day consists of three to six interviews, lunch with the team (another opportunity to check cultural fit) and finally, the interview with Meir. Then come references. "We call every single reference," says Meir. "We follow a process from a book I really recommend, Who: The A Method for Hiring by Geoff Smart."
New starters at TravelPerk begin in batches, and go through training together. "It's like joining an institution, like a university, or a sports team; the people who joined at the same time become friends," says Meir, adding that it's a powerful way to break through team boundaries and company hierarchy. It also gives new joiners a support network. Introductions to the whole team happen at the end of week meeting; newbies share where they're from in the world, which team they've joined and something interesting about themselves. One amateur opera singer decided to sing instead.
TravelPerk in numbers
2015 founded
10 employees December 2015
31 employees December 2016
63 employees December 2017
159 employees December 2018
April 2018 raised $21m
October 2018 raised $44m
70% non-Spanish employees
100% of full-time employees get stock options
3 office moves to-date
Notable clients: Transferwise, N26, Typeform, GoCardless, Outfittery
Update: to read more about the culture of working at TravelPerk, read Avi Meir's latest opinion piece on the fallacy of the "hustle" startup culture.