Five years ago, TechBBQ was just a little get together for the Copenhagen startup crowd.
Today it's one of Northern Europe's most visited startup events, with 6,600 attendees last year and even more expected later this year.
At the beginning of the Nordic tech conferencing seasons — with Katapult Future Fest and the un-conference Sweden Demo Day coming up — how the team built TechBBQ provides lessons for those working in the booming startup events industry.
It also provides insights to those trying to build thriving local communities of entrepreneurs in their cities.
What are the lessons? Firstly, events should be created by the local community, preferably founders. They should start informal and cool. Then eventually, once they grow to a certain size, they need to be handed over to professional organisers. Events should ideally be non-profit and the quality of speakers is more valuable than big names.
The Tech BBQ story
In 2012 a handful of Danish tech entrepreneurs decided to create a meeting place where the local startup scene could get together to "celebrate the successes", exchange experiences and connect with people that had not been possible during the year.
Klaus Nyengaard, co-founder of Geniebelt and founder of Nordic Makers
Daniel Laursen, serial entrepreneur and startup advisor
Esben Gadsbøll, serial entrepreneur and investor
Pia Elmegård, co-initiator Nordic.AI and co-founder of Growth Tribe Academy
Martin Bjerregaard, founder of Frokost and co-founder of Rainmaking
[/box]
The event started with a BBQ in Kongens Have, a park in central Copenhagen, where around 150 tech people brought their own food and beer to the meetup. The event was a success and the following year the same crowd organised the first TechBBQ for 300 people at the Stock Exchange in Copenhagen.
By 2015 the event had grown to bordering 1,000 attendees and the original crowd, who had paid for the event out of their own pockets, decided to hand over the responsibility to others. It was then Avnit Singh stepped in.
"They were looking for professionalising the whole event because you really cannot run such a big event with only part-time volunteers," Singh says. "That's where we came in".
[caption id="attachment_2155" align="alignnone" width="1024"]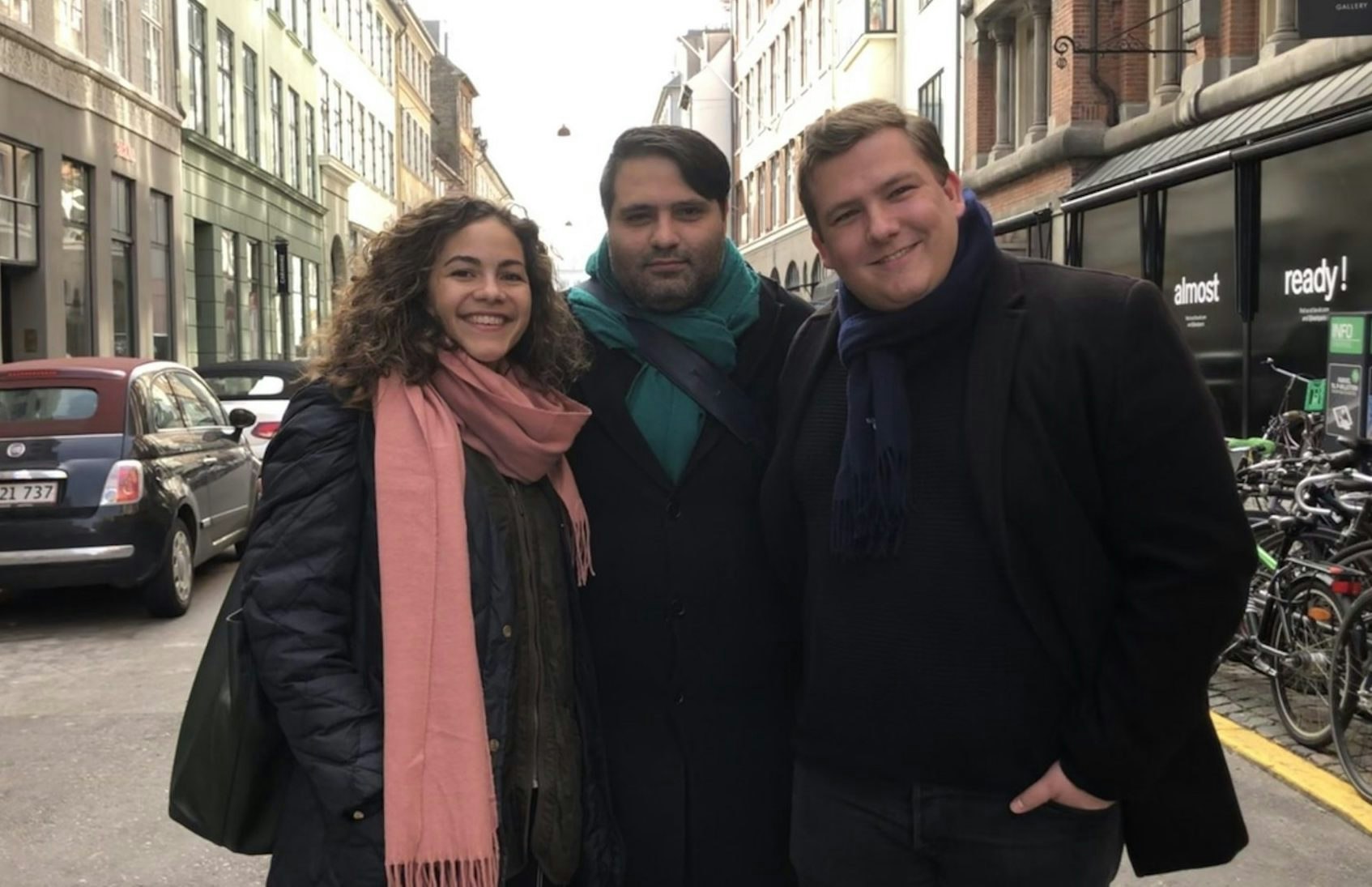 Katrine Arevad, Avnit Singh and Nicolaj Christensen all work full-time for TechBBQ.[/caption]
In the four years that have passed since then, the organisation has grown from 1.5 employees to 10-12 full-time staff all year round. And although Singh and his team are now responsible for the conference, it is backed by a steering board of tech entrepreneurs, such as Nordic.AI's Pia Elmegård, Unity founder David Helgason and the cofounder of GenieBelt Klaus Nyengaard.
"It's not just about getting the local ecosystem together, but it's also about building bridges to Asia and getting ecosystems in India and China more involved. But of course, our main focus is on the Nordics since we feel there is a huge potential there of making sure we meet each other at least once a year."
It is a nice contrast when talking about the fourth industrial revolution, having this tech conference in the middle of the leftovers from the previous

industry
A majority of the speakers at TechBBQ has, not surprisingly, been Danish but the event also attracted partners at the popular seed accelerator Y Combinator based in San Francisco and founders from companies such as Stack Overflow, Hootsuite and Treatwell.  
"We are more focused on the content than who is there to speak. We would rather have people who are used to talking about their subjects than A-listed names. We want to have the content that helps founders scale their business or start their business," says Singh.
Highlighting the difficult questions
The conference has also dealt with some taboo subjects such as mental health.
"The last couple of years we have had these taboo topics that we bring up. In 2017, there were a few founders that had so much pressure on them and didn't get the next round of capital and tried to commit suicide. There are questions in our ecosystem that are taboo but that we feel like we need to highlight."
Last year there was also a big focus on mindfulness.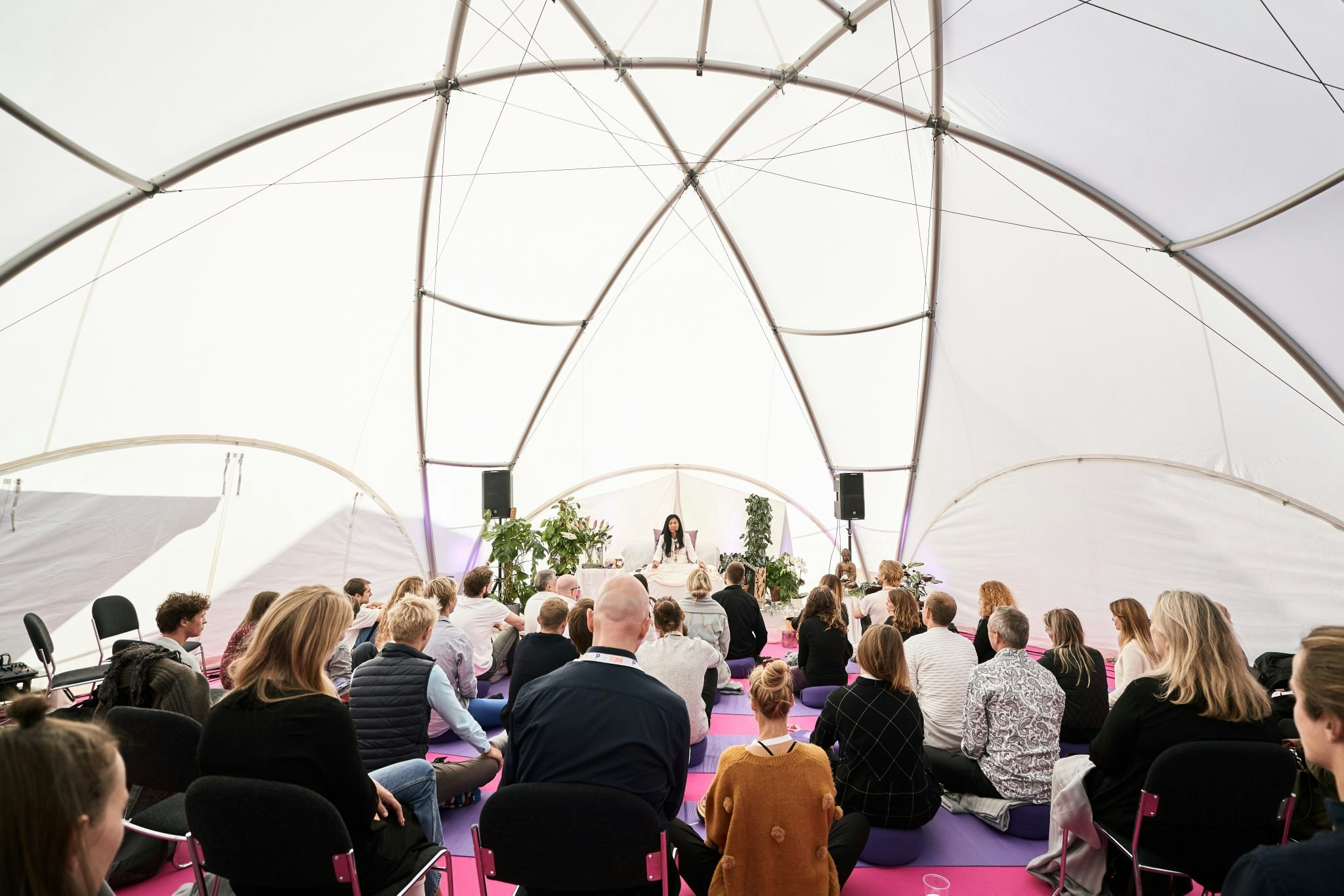 TechBBQ has grown from approximately 4000 attendees in 2017 to 6600 attendees 2018. This year Singh expects to grow further, however, the location they have at the moment have restrictions on how many they can allow in.
"We really don't want to change the venue because this one is so much us", says Singh.
The venue is Øksnehallen, based in Copenhagen's meat-packing district and used for keeping cattle, according to Nicolaj Christensen and Katrine Arevad, who run TechBBQ with Singh.
"It has a very kind of raw vibe to it", says Christensen and Arevad adds: It is a nice contrast to when we are talking about the fourth industrial revolution, having this tech conference in the middle of the leftovers from the previous industry."
TechBBQ has, like many other startup conferences, focused on getting partnerships to keep the ticket prices down.
"The guy who is coding in the garage, he should be able to get a ticket. We don't want to earn money on founders," Singh says.
Similarly to Slush, the biggest tech conference in the Nordics, TechBBQ is a non-for-profit organisation and is heavily dependant on its volunteers.
The top Events in the Nordics, April - September
Sweden Demo Day
, Stockholm, April 4 An un-conference for startups where 600+ companies are presenting themselves with nothing but the signature brown paper pitch. The un-conference, expect to have 3000+ attendees and have no speakers whatsoever. Oh well who knows, a couple of years ago the
Queen of crappy Robots
, Simone Giertz doing a comedy talk for 20 minutes.
Katapult Future Fest
, Oslo, May 14-16 A tech festival with focus on impact and not just on the recent call for addressing the climate changes but also other challenges such as societal, humanitarian, medical, psychological and so on. If impact investment or impact startups or saving the world is your thing – don't miss out.
Malmo Startup Live
, Malmö, May 23Malmö in South Swede, just across the bridge from Copenhagen, has a pretty vibrant startup scene. With the yearly event that is the biggest in South Sweden, the organisers' have managed to get some interesting names involved. Last year one of the Swedish House Maffia, Steve Angello, visited to talk about his many investments in tech startups.  
Arctic 15
, Helsinki, June 5-6When talking about events, Helsinki is mainly known for Slush, however, the city also has events during the less dark months. Arctic 15 is focussed on networking and is bragging about having 5000+ investor meetings, and according to them, 40% lead to deals.
Startup Extreme
, Voss Norway June 23-24Do you like tech and extreme sports? Then this may be for you. The conference that is held in a village near Bergen has teamed up with the world's largest extreme sports festival, Ekstremsportveko. By mixing investment meetings, interesting talks and extreme activities one will at least get a completely different experience.