The European startup ecosystem has been hit hard by furloughs and layoffs, as companies work to keep their businesses afloat by using job retention schemes and keeping costs low. Reports estimate that a staggering 50% of European startups have furloughed some of their staff, while 49% have frozen hiring.
On the optimistic side, it means that there could be an influx of talent waiting to be snapped up by the companies that are still hiring — from developers to marketeers and even some chief executives.
Last week, Sifted teamed up with Microsoft for Startups to map out the talent space. Our panel included Sam Franklin, cofounder and chief executive of recruitment platform Otta, Keji Mustapha, head of network and brand at VC firm Connect Ventures, and Mark Seemann, founder and chief executive of employee engagement platform StaffCircle.
When asking our listeners if they've changed their hiring plans as a result of Covid-19, 12% said they're hiring more, 26% said they're hiring the same, 44% have cut back on hiring and 18% have laid off staff. 
It's clear that the talent landscape is all over the place, so here are the main takeaways from our webinar to keep you in the loop.
1) Talent is accessible and global
The surge in furloughs and layoffs offers a window of opportunity to recruiters and companies with the cash to spend on hiring quality talent.
"There are quality people looking for jobs right now," says Franklin. "Deliveroo was one of the bigger companies in London to have made redundancies or risked redundancies to top talent. So, the companies that raised just prior to coronavirus and are hiring are making fast movements because some of these people are fantastic."
As a startup, being able to pick from anywhere in the world is a fantastic

opportunity.
Talent hasn't only sprung up from your home turf, but from further afield as well. Seemann said international talent is now more open and available due to the increased adoption and acceptance of remote work: "Wherever you are in the world, new systems and communications will drive a greater level of international engagements with employees. There are, of course, some obstacles that tech companies will need to get over such as cross border taxes. As a startup, being able to pick from anywhere in the world is a fantastic opportunity."
2) Hire remotely like a pro
Seemann's company has jumped on remote hiring since the pandemic, and sees a bunch of advantages from it. 
He tells Sifted that he's hiring the best developers across the UK now thanks to remote working.
Mustapha echoes the advantages of snapping up talent remotely. "By being forced to think remotely during these times, you have access to talent who you don't need to move to hire," she says.
"You're going to be able to hire great talent anywhere in the world. No more visa and finance restrictions. You can apply for a great company in the comfort of your own home. You're also getting paid a fair wage, and companies are building diversity-rich teams," she continues.
3) Remote work's best friend is clear structure
It's important to keep productivity high and communication clear when teams are working remotely. So which mediums are best for what? 
"Categorise different channels," says Mustapha. At Connect, "Slack is a 'nice to have' and you don't have to get to it as fast, whereas WhatsApp is more urgent and emails require more thought."
Seemann highlights the systematic approach as successful: "Founders have started to realise that if they put the right systems, processes and consistencies in place, remote working opens a ton of new stuff. You then realise what you're lacking is processes and systems that will allow you to manage those people more effectively remotely and then when you've got that, it opens up more advantages to your organisation."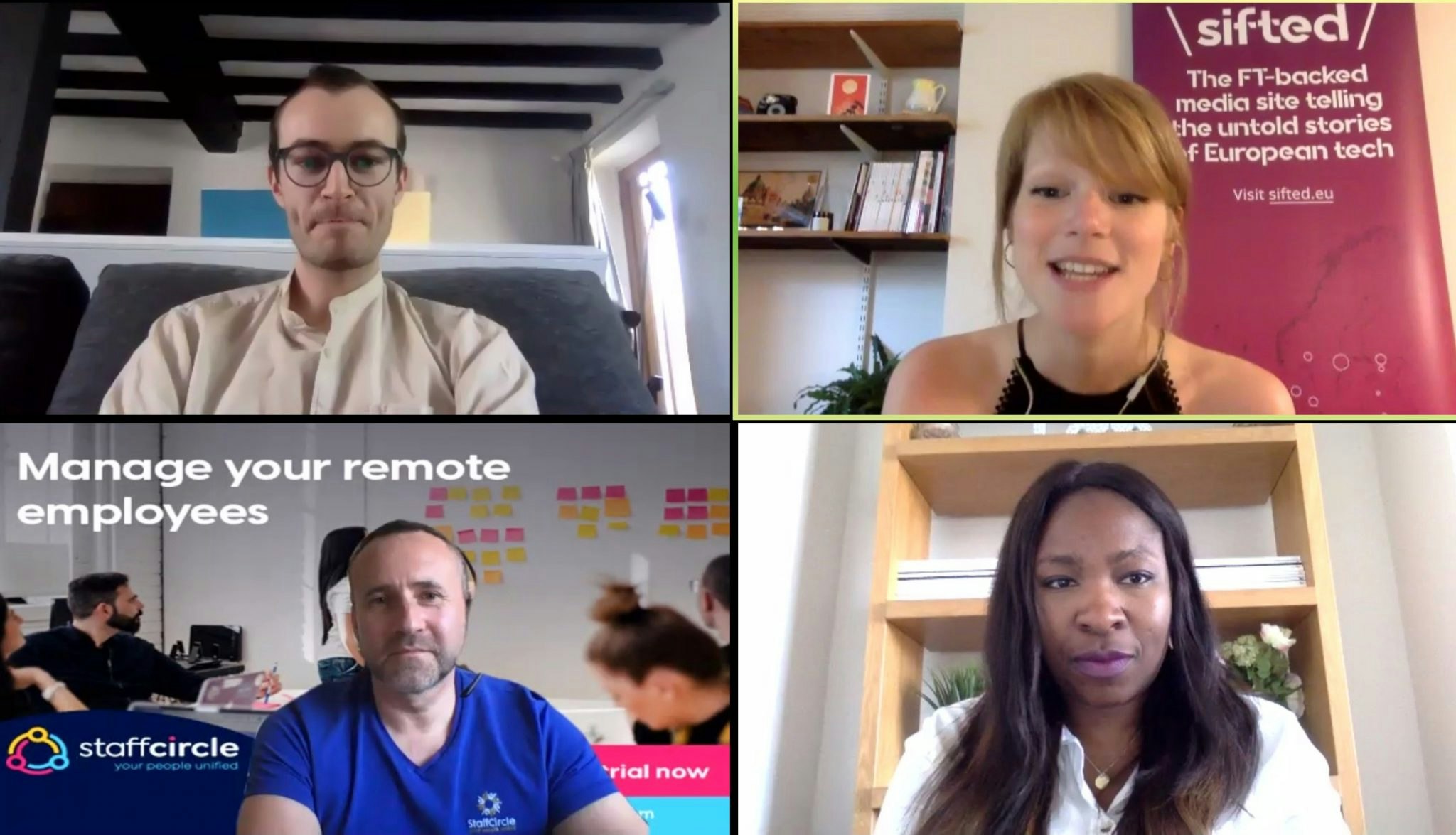 4) To the furloughed, don't stress and take time to reflect
It's tough being furloughed. The uncertainty of what will happen next can be an unsettling thought; however, Franklin has some optimistic words of wisdom for those feeling down.
"This is such a hard time, you don't have to pressure yourself to be productive. When you do have the headspace, think about your 'abilities' — like communication, storytelling, how you handle yourself and how you reflect on your career. Think about the skills that will be valuable [in the future], whether that's being more knowledgeable about new technologies or best practice," he says.
5) To those furloughing, clarity and honesty is key
Make the furloughing process easier by being transparent with your employees, while giving them a voice during their furlough period. "Give people a platform to share their feelings and ask questions, it motivates the team well," says Mustapha.
In a situation where founders are both furloughing and hiring simultaneously, Mustapha offers some solid advice: "Clarify to your colleagues [on furlough] that you need to bring these new roles on board so that you can achieve milestones, which in turn will enable you to bring the team back together. Clear communication and showing empathy is key."
Give people a platform to share their feelings and ask questions, it motivates the team

well.
Adding to Mustapha's point about communication, Seemann highlights the importance of data in facilitating the best moves for companies. "There will be these hard conversations around who will and won't come back [to work], and this type of decision making on good data systems in order to make decisions in the best interest of the organisation," he says. 
6) Graduates, get hustling
Be proactive and hustle, even in these times. Startups will appreciate it. Be crystal clear on how you can add value to companies from day

one.
Franklin stresses the idea that startups hire graduates into a lot of entry-level roles, for example in customer service operations, which have been hit hard. His advice is: "Be proactive and hustle, even in these times. Startups will appreciate it. Be crystal clear on how you can add value to companies from day one."
But, he urges candidates not to smash out too many applications, favouring quality over quantity in these times. "There are too many candidates [from all levels] sending hundreds of applications now. Make fewer but better applications, and show companies why you really care," he advises.
Also, Seemann points out that it's not only full-time work that graduates should be eyeing, but project-based work too: "As software companies like ourselves look towards strengthening our products during this time, we are looking for skill sets that may not be full-time but certainly project-based, and I think it's a great opportunity for startups and graduates to be matched together."
7) It's not all about talent right now
Some startups aren't thinking about hiring right now because they're focusing on more pressing concerns like revenue and customers. Franklin has an idea when hiring and talent may come into play again, however. 
"When people go back to the office, companies will see how their sector is affected. That's when more concrete decisions will be made. Startups are more risk averse now; they may be more positive and aggressive after lockdown," he says.
Startups are more risk averse now; they may be more positive and aggressive after

lockdown.
Mustapha points out that companies are prioritising products and customers: "The main focus right now is not so much on future hiring but it's more about what the current team can build, and how they can focus on the product side of things, making sure that they engage with the customers they already have, and how they can keep picking up new customers."
8) What's next?
So how will Europe's talent market operate in the long term? 
Franklin envisions more flexibility after companies have discovered various advantages to working from home: "I think we'll move to what I call flexible working, where companies are more confident in saying that a few days a week [you can remote work]." 
But will working from home become the new normal forever? He's excited to see what will happen, but he's not convinced there will be a full shift: "I'm a bit sceptical of people saying that we're in the new normal, and everyone's going to be working from home, because I think, as humans, we like that connectivity, we like to be in an office."
There is something quite special about an office

environment.
Seeman offers a slightly different perspective, remaining more certain that remote work is here to stay and will get better over time. "Remote working will continue and improve. Now it's about [employers] starting to improve the facilities and capabilities they offer to homeworkers. I do believe that people will return to some sort of communal work environment — there is something quite special about an office environment."
Many thanks to Microsoft for Startups for sponsoring this virtual event — and thank you very much to our panel.
Microsoft for Startups supports business-to-business (B2B) software startups and scaleups that are looking to grow and scale their business. From technical resources, training, free cloud benefits to selling alongside Microsoft salespeople and partner channels, Microsoft for Startups are here to help you. Check the benefits of their program(s) and eligibility criteria here.
We'd love to continue holding webinars like this in the future. If you'd like to partner with us and sponsor one of our virtual panels, get in touch with helen@sifted.eu.