As the global economic downturn continues, VCs are becoming more cautious with their cash. According to Crunchbase, global investment in startups has decreased by 27% when comparing Q2 of 2022 to the same period in 2021. 
Given this, should startups be prioritising growth with capital harder to find? How do they plan for the next 12 months in light of macroeconomic shifts? And do they need to focus more on a path to profitability? 
We put these questions to an expert panel for our latest Sifted Talks. Our guests were: 
Maria Rotilu, an early-stage investor at Octopus Ventures
Semir Jahic, senior manager, sales engineering and operations for EMEA, at revenue prediction manager Clari
Birce Ciravoǧlu, mergers and acquisition and expansion director for Turkish neobank Papara
Here's what we learnt. 
1/ Startups must re-plan in light of macroeconomic pressures
Current economic uncertainty has changed the playing field for startups and investors. Businesses from pre-seed all the way to Series F will have to address their plans for growth over the next year. 
At Papara, this has resulted in a slowdown in marketing investment, to instead focus on optimising in-house functions and products. Ciravoǧlu said the neobank had also slowed down its recruitment drive — taking a "quality over quantity approach" acquiring new talent in key functions such as customer success. 
If you haven't done any replanning in the last 12 months as a company, you should really reflect on that and get at it right now. The macro environment has changed fundamentally" — Semir Jahic,

Clari
2/ Investors have a higher bar for investment 
Rotilu said there's still an appetite for investing in startups of all stages. She pointed out that times of economic hardship often produce more exciting ideas that offer solutions to pressing issues — but investors have to think about their own financial positions more cautiously. 
Her advice to early-stage businesses is not to invest in growth straight out of the gate. She said businesses that can prove product-market fit at an early stage will garner greater attention from VCs, as there is a clearer path to profitability.  
The bar is higher on both sides. You have to get more traction to raise much less than you did a year ago, for a healthier valuation than a year ago" — Maria Rotilu, Octopus

Ventures
3/ Market fit could help you hoover up talent
Prioritising metrics that prove market fit should be a priority for all startups, said Jahic. For pre-seed businesses, unit economics are the most important. Post-Series A companies, however, should try to improve customer acquisition, renewal rate and retention — and then double down on high performing verticals or segments. 
Jahic also pointed out that big tech scaling back and cutting positions in development teams should lead to a flood of highly qualified talent entering the market. Startups with impressive metrics and a clear share in their market will be well placed to hoover up this talent — allowing them to press on with growth when the market rebounds. 
Today, you will probably interview differently as a candidate, you will grill your founder a bit more. And if they can show the metrics and the traction, you're probably in a much better position joining that company today than you were maybe 12 months ago" —

Jahic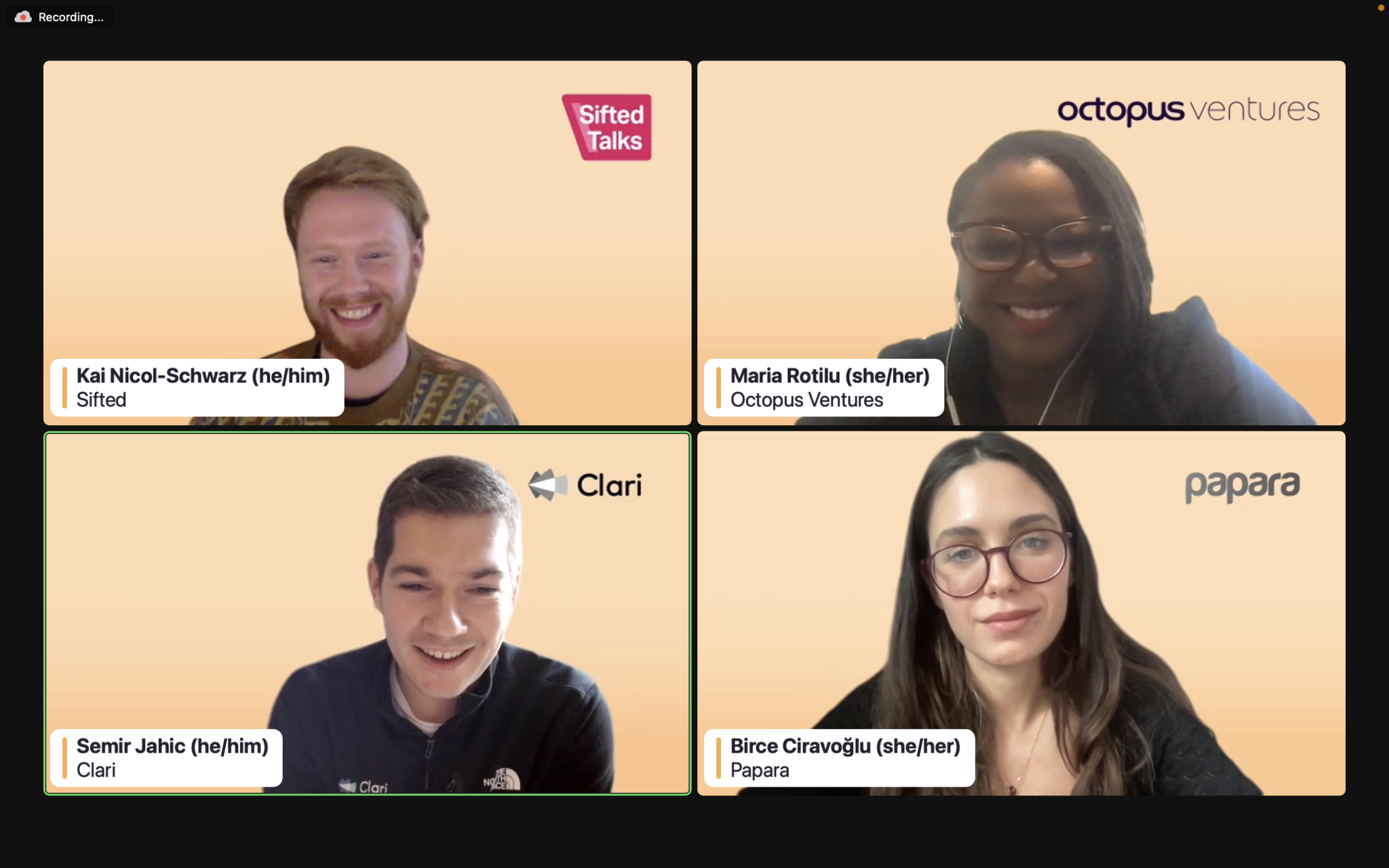 4/ International expansion is still possible, but be cautious
Both Ciravoǧlu and Jahic agreed that even in a slower market, startups can look to expand across borders. 
Jahic said Clari is still looking to expand over the coming year. He suggested startups take a close look at the past 6-12 months of performance data in the countries they work in, doubling down in receptive markets and scaling back in others where returns are minimal. By following this method, startups can prove market fits in different locations, and not spend unnecessarily.
Ciravoǧlu repeated the point that businesses needed to constantly think of optimising — to the point of obsession — as they expand their operations. Particular focus needs to be paid to cash flow and cost optimisation, he added.  
Companies shouldn't just slow down their expansion plans, but should also be more cautious and focus on cash flows, while planning for top line growth and global international expansion" — Birce Ciravoǧlu,

Papara
5/ Be transparent about strategic shifts, both internally and externally
Of course, startups will have to change course, and in their re-planning process, communicate their new strategies both internally and externally. 
The panel said transparency and consistency in both forms of communication is vital.
At Papara, weekly team meetings during its replanning process keeps employees knowledgeable about any change. Jahic agreed, saying that life in a startup is a "rollercoaster ride", and that transparency is the only way to keep colleagues' trust. He also pointed out that your staff will be aware of the macro situation due to media coverage, so staying quiet is pointless.  
Rotilu said that being opaque externally had the same effect on investors. She said there would be reticence about being open about finances, but being overly protective of the business's position will likely be detrimental in the long run. 
We believe in continuous and transparent communication with the team" —

Ciravoǧlu
6/ Runway is important, but don't obsess over it 
The economic situation has understandably put a greater focus on runway. But Rotilu was reluctant to put an exact figure on what investors want to see from startups. 
She said the goal for investors was still to find ambitious companies that can deliver massive growth. So founders shouldn't sacrifice their goals by becoming too frugal — or even paranoid about money in the bank. 
Let's put the macro aside for a second. The entire point of a startup that is looking for venture backed funding is they feel they have an ambitious vision that they need investment to help supercharge" —

Rotilu
Like this and want more? Watch the full Sifted Talks here: