Many of those living with a disability can feel like they are constantly navigating a world that is not designed for them.
According to the World Health Organisation (WHO), 1.3bn people experience significant disability, representing 16% of the world's population, or one in six of us. Add to this the 770m people aged over 65 who either face or will face some kind of impairment, and you have a total addressable market size of some 2bn.
Yet disability tech, or solutions that cater to the needs of people with disabilities, has never been considered a "sexy" sector for many VCs. A recent report suggested they could be missing out on as much as £500m in annual returns as a result.
"[It] has historically been overlooked by VC money, and criticised as niche or fragmented and lacking scalability," says Filippo Falaschi, partner at Spex Capital.
By contrast, Falaschi expects the market for ATs (assistive technologies) to grow as the tech improves and many countries — including in Europe — have to deal with ageing populations.
Here are 12 European startups to watch in the world of disability tech:
Biped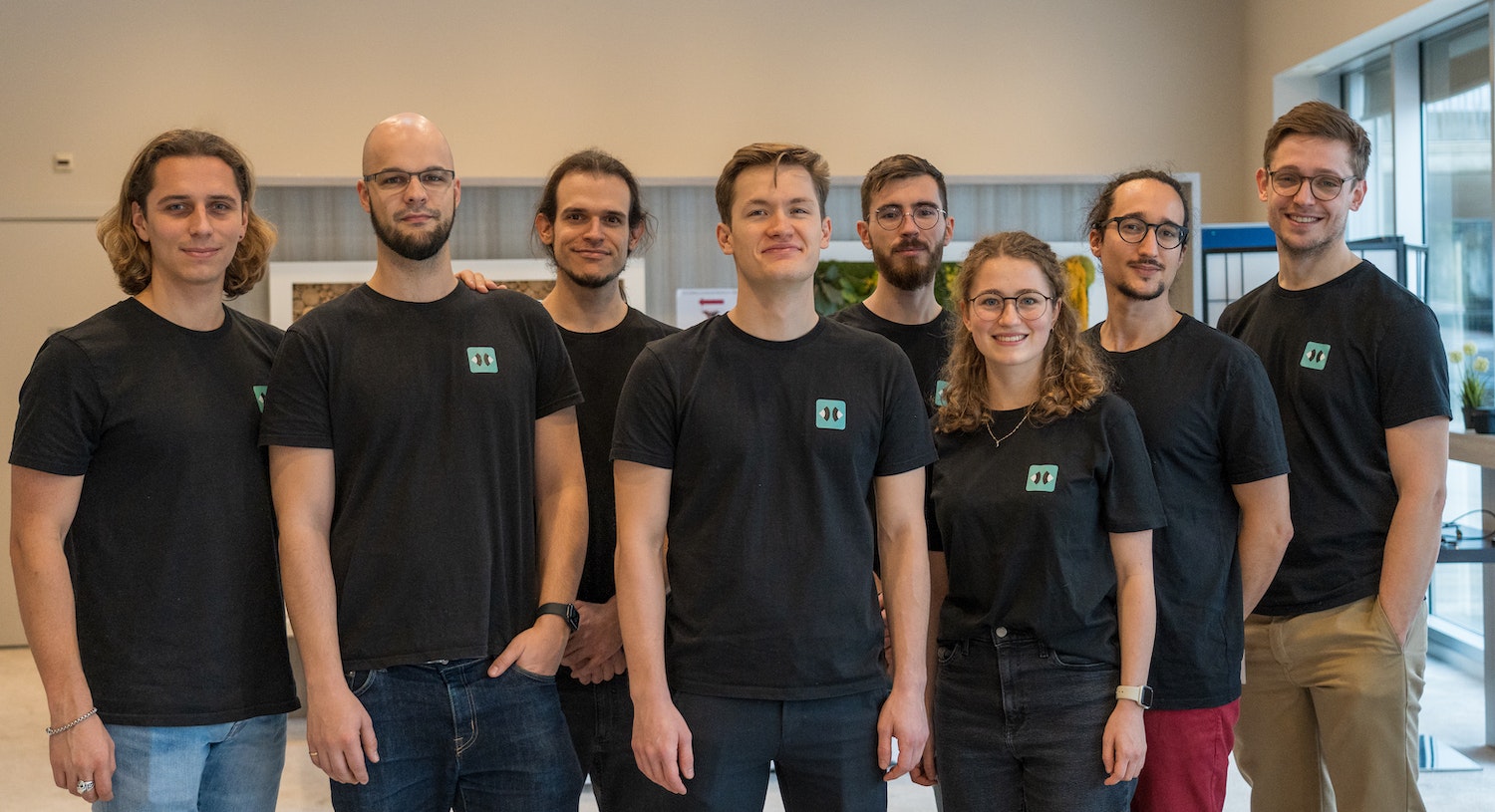 Product/Service: Smart harness that uses self-driving technology to guide blind and visually impaired people
Founder(s): Maël Fabien and Bruno Vollmer
Founding year: 2021
Location(s): Lausanne, Switzerland
Number of employees: 6
Funding to date: CHF 2.2m (€2.3m) (CHF 1.8m equity/CHF 400k grants)
Valuation: Undisclosed
Since the creation of the white cane over a century ago, there haven't been many alternative solutions available for the 350m people who are blind or visually impaired.
During his PhD in artificial intelligence at the EPFL in Switzerland, Maël Fabien posited that if self-driving cars can navigate autonomously in real-time, so can pedestrians.
Biped designed a smart harness that uses cameras to film the surroundings in real-time, tracking obstacles and predicting collision risks by alerting the user with audio feedback — much like the parking assist of a car.
The startup just closed a CHF 1.2M (€1.26m) seed round and has shipped out its first harnesses.
Signapse
Product/Service: Real-time sign language translator software for the deaf and hard of hearing
Founder(s): Prof. Richard Bowden, Ben Saunders and Sally Chalk
Founding year: 2022
Location(s): Guildford, Surrey, UK
Number of employees: 7
Funding to date: £900k (€1m) (£250k equity and £650k grants)
Valuation: £4.3m
Signapse is building AI solutions for clients who want to make their content more accessible by including real-time sign language translation and interpretation using photo-realistic avatars.
The majority of announcements in public spaces, websites and videos are inaccessible to the 7m people who are deaf, as sign language is the first language for most of them.
Signapse's clients include UK train operator LNER, professional services company Cognizant and the Port Authority of New York and New Jersey. Google.org recently awarded the University of Surrey and Signapse (a spinout of the university) a $1.5M grant to advance AI research for real-time sign language translation.
Charco Neurotech
Product/Service: A wearable device for people with Parkinson's to improve movement and balance
Founder(s): Lucy Jung and Floyd Pierres
Founding year: 2019
Location(s): London (Imperial College) and Cambridge (Cambridge Judge Business School)
Number of employees: 34
Funding to date: £7m (€8.1m)
Valuation: Undisclosed
Charco Neurotech was born out of a university research project when the founders started looking into using stimulation to reduce motor symptoms of Parkinson's sufferers.
Charco's first medtech device, the CUE1, uses pulsed cueing and high-frequency focused vibrotactile stimulation to alleviate symptoms like slowness, stiffness, rigidity and freezing of gait.
After a series of testing stages, the team came to the conclusion that placing the device on the patient's chest did not cause any tremor, while maintaining the beneficial effects on stiffness and slowness.
Cofounder Lucy Jung says that there are currently 3,000 people using the device in the UK.
Munevo DRIVE
Product/Service: Powering wheelchairs with head movements
Founder(s): Claudiu Hidas, Aashish Trivedi and Konstantin Madaus
Founding year: 2018
Location(s): Munich and New York
Number of employees: 20
Funding to date: €4.5m (equity)
Valuation: €16m
Munevo has developed smart glasses that translate head movements into commands that power the wheelchair. The medical grade device uses the smart glasses' movement sensors to capture the head motion of the wheelchair user.
Individuals can also use the different features of the smart glasses, paired with Munevo's software, to connect to everything around them, including the computer and phone.
The German startup recently launched its product in the US, setting up an office in New York City, and has partnered with public insurances like Medicaid to cover the cost of the device.
Sociability
Product/Service: App that helps disabled people find accessible places
Founder(s): Matt Pierri
Founding year: 2019
Location(s): London, UK
Number of employees: 10
Funding to date: £1m (€1.2m) (equity)
Valuation: Undisclosed
When founder and CEO Matt Pierri enrolled at the University of Oxford for his graduate studies in 2016 and asked admissions which colleges were wheelchair accessible, he was stunned to discover that there was little to no information on campus accessibility.
This led to the creation of what would eventually become Sociability — an app that helps disabled people find accessible places like restaurants, pubs and bars.
Pierri says that there are almost 8,000 users signed up to date and data for more than 10k, venues on the platform. The team is currently planning its next international city rollout.
Visualfy
Product/Service: Converting sounds into visual alerts
Founder(s): Manel Alcaide and Angel Albiach
Founding year: 2017
Location(s): Benissanó, Valencia
Number of employees: 10
Funding to date: €3.25m (€1.75m equity/ €1.5m grants)
Valuation: €8.4m
Visualfy has developed an AI-based solution for the deaf and hard of hearing that is able to recognise sounds and translate them into visual alerts.
Visualfy Home, for example, detects home sounds like doorbells, telephones, baby cries and fire alarms, and warns users with coloured lights and personalised vibrations.
Individuals can personalise the alerts, choose the devices they want to receive the alerts on and invite other family members to join.
On the B2B side, the B Corp certified startup recently closed a contract with Renfe — Spain's national passenger railway company — to deploy its solution in the city of Madrid, making public transportation more accessible and inclusive.
FACIL'iti
Product/Service: Web accessibility solution
Founder(s): Frédéric Sudraud
Founding year: 2018
Location(s): Limoges, France
Number of employees: 25
Funding to date: Undisclosed
Valuation: Undisclosed
There is a general lack of awareness among website developers, designers and content creators about the importance of web accessibility.
FACIL'iti offers a solution that makes websites more user-friendly and accessible for individuals with disabilities, such as visual impairments, motor disabilities and cognitive struggles.
Users can create their personal filter by selecting their preferences and needs, including font size, colour contrast, line spacing, link spacing, screen reader and features dedicated to dyslexia or Parkinson's disease.
FACIL'iti then uses the user's profile to adapt the presentation and functionalities of the site in real time.
GyroGear
Product/Service: Smart glove for hand tremors.
Founder(s): Dr. Faii Ong
Founding year: 2016
Location(s): London, UK and Boston, US
Number of employees: 18
Funding to date: $12.5m (€11.9m)
Valuation: Undisclosed
Dr. Faii Ong came up with the idea for the GyroGlove when he saw a 103-year-old woman struggle to feed herself because of hand tremors while studying medicine at Imperial College.
Inspired by the gyroscopes used in aviation and electronics, Ong looked into whether the same technology could be applied to stabilise the hands (a gyroscope is a spinning wheel or disk which is used to maintain orientation or stability).
The GyroGlove uses gyroscopes to counteract hand tremors that can stem from Parkinson's disease and Essential tremor disorder, meaning that everyday tasks like eating, drinking and writing can be performed more easily.
Novis Games
Product/Service: Making video games more accessible to the blind and visually impaired
Founder(s): Arianna Ortelli
Founding year: 2019
Location(s): Turin, Italy
Number of employees: 7
Funding to date: €350k (€255k equity/ €95k grants)
Valuation: €1.6k (2021)
Novis Games provides an accessibility solution for the gaming industry that leverages features like precise audio cue positioning, AI-generated voices, screen reader tools and object/map interactions to make gaming a more inclusive experience for blind and visually impaired users.
The Italian startup works directly with game developers and studios to integrate its customisable accessibility features.
Founder Arianna Ortelli says that the first game to be adapted was "The Wardrobe" by CINIC Games in 2023. The startup has also partnered with Microsoft to accelerate scalability and adaptability across various game genres.
Visible
Product/Service: Activity tracking for Long Covid and ME/CFS
Founder(s): Harry Leeming and Luke Martin-Fuller
Founding year: 2022
Location(s): London, UK
Number of employees: 5
Funding to date: $1m (€948k equity)
Valuation: Undisclosed
Cofounder and CEO Harry Leeming decided to launch Visible after a mild Covid infection triggered long Covid with debilitating symptoms.
Not much is known about Long Covid, yet it is estimated that at least 65m individuals worldwide suffer from it, with cases increasing daily.
The Visible app, which is advertised as an activity tracking platform "for illness, not fitness", was launched earlier this year and has more than 30k users, according to Leeming.
By inviting people to track and monitor their vital signs, Visible hopes to bring more visibility and actionable data to invisible conditions like Long Covid and ME/CFS (Myalgic encephalomyelitis/chronic fatigue syndrome).
Scewo
Product/Service: Power wheelchair that is sensor-based and height adjustable
Founder(s): Bernhard Winter, Thomas Gemperle and Pascal Buholzer
Founding year: 2017
Location(s): Winterthur, Switzerland
Number of employees: 50
Funding to date: CHF 15.3m (€16m)
Valuation: Undisclosed
Even though public places often label themselves as "wheelchair accessible", many of them aren't. Whether it's a ramp missing or an extra step that wasn't mentioned, wheelchair users often have to rely on extra help to get around.
Switzerland-based Scewo developed a smart, connected wheelchair that allows people in wheelchairs to climb up and down straight stairs using rubber track wheels. Equipped with sensors that measure the environment around, the wheelchair can be controlled via a smartphone app.
Additionally, users can sip a drink at a bar, have a face-to-face conversation or grab something at the bottom of a bookshelf via the height adjustable option.
WeWALK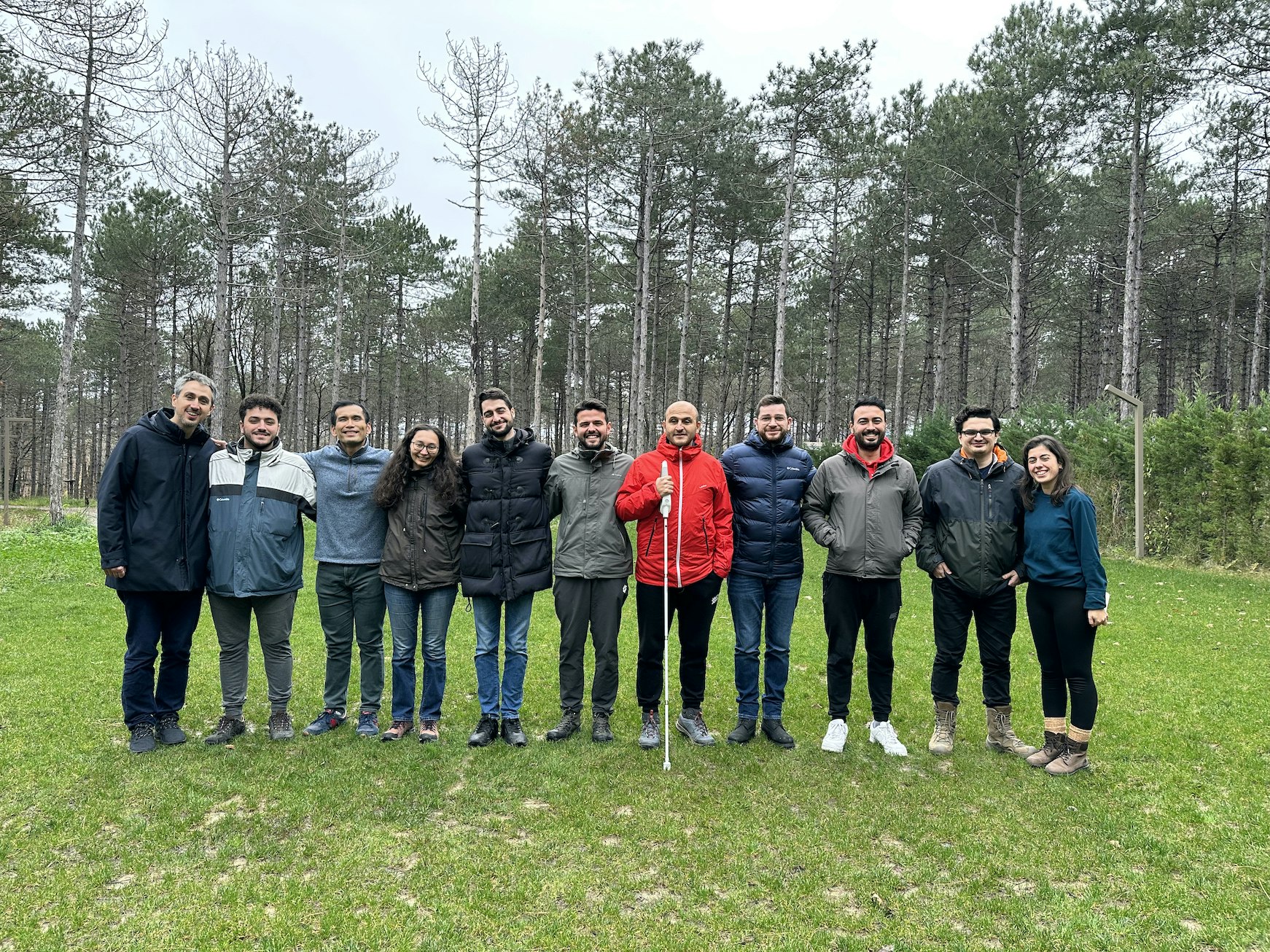 Product/Service: Smart cane for the visually impaired
Founder(s): Gökhan Meriçliler and Kürsat Ceylan
Founding year: 2020
Location(s): London and Istanbul
Number of employees: 16
Funding to date: £2.6m (€3m all equity)
Valuation: Undisclosed
WeWALK was born out of the founders' own lived experiences with visual impairment, prompting them to give the standard white cane an upgrade.
The WeWALK smart cane detects obstacles above waist level in a user's path and provides warnings through haptic feedback while still retaining the ground-level input of the standard white cane.
The cane is paired with a specially designed navigation app that offers turn-by-turn navigation along with other useful features.
The startup recently partnered with Microsoft to build an Artificial Intelligence Mobility (AIM) platform that collects data on users' functional performance, including walking metrics, cane swipes and angles.