Sifted Summit is kicking off tomorrow. Tech founders, operators, investors and the journalists writing about them will descend from all corners of startup Europe to Magazine London, an industrial venue on the banks of the Thames. 
Now in its second flagship edition, the event has a fresh strapline: where startups make headlines. Four stages of content will cover the "new rules" of tech, welcoming over 200 speakers across more than 100 sessions. 
Doors open at 9am and the full agenda of talks, workshops and roundtables kicks off at 10:15am. This year's event also features a newsroom where you can meet the full editorial team, community-led meetups, office hours for women founders and breakfasts for the Sifted Pro community.
Here's how to make the most of your two days at Sifted Summit. Final tickets here. 
Before you go
To save time frantically figuring out what's happening onsite, download the event app before going and establish a plan of attack. 
You can build a tailored plan by adding things to your schedule. The app is also a great way of sifting through the event's 3,000 attendees. If you're savvy, you can plan a month's worth of meetings in these two days. 
Pro tip: roundtable spots are coveted but limited. Plan which discussions you'd like to share your take on — and turn up early — to have the best chance of scoring a seat. 
Topics this year include: how to retain women in venture; the good, bad and ugly of becoming a digital nomad; and whether we can trust AI with our health. In intimate discussions, Chatham House Rules apply and PR speak is left at the door. 
Once through the pink doors 
If you're heading to the event on an empty stomach, breakfast is served at 9am on both days for Sifted Pro subscribers. On the second day of the event, Flanders Investment & Trade is hosting a breakfast for investors, also at 9am.
Coffee is on the house across the two days. By popular demand, Sifted Summit has expanded to five coffee stations this year, sponsored by Twilio Segment and HSBC Innovation Banking. One will transform into an espresso martini bar when content comes to a close on day one. 
Coffee queues played host to many a chat last year. One queue sparked a conversation that led to a sizeable cheque — Lenz Labs founder Carolina Toczycka raised £1m.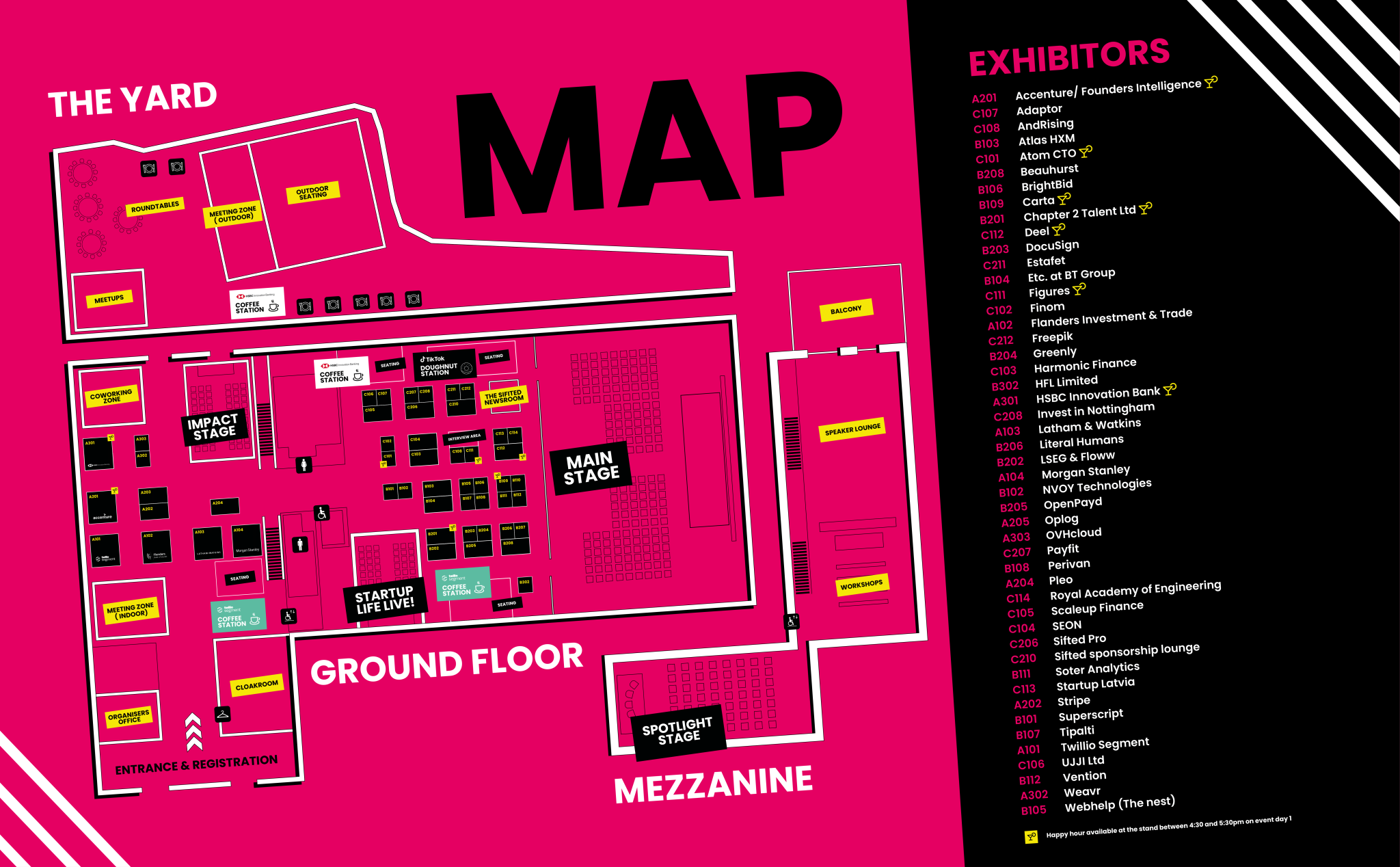 Lights, cameras and action
Once you're well-caffeinated, head towards the main stage, where content starts at 10:15am on both days. Sifted has gone all out on production and booked only the sharpest of speakers. 
Day one opens with a discussion on the new rules of tech, with Passion Capital's founding partner Eileen Burbidge, Wise founder-turned-investor Taavet Hinrikus, Olio founder Tessa Clarke and Latham & Watkins partner Mike Turner in the hot seat. 
Shortly after Sifted founder and editorial director John Thornhill has grilled them, three more stages will open up at 11:20am. New this year is the Startup Life stage, which will dig into all the nuts and bolts of startup building. We'd recommend popping by for the Enfuce's co-CEOs, who will be discussing leadership dynamics at 3:10pm on day one. 
Also pitching up on day one is Mistral, the AI startup that raised €105m four weeks after launching. CEO and cofounder Arthur Mensch will be sharing the story behind the controversial pitch deck that went viral at 11:50am on the main stage. 
The Spotlight and Impact stages are making a return, with sector takeovers across the two-day event. You'll have a full fix of deeptech, healthtech, climate tech and fintech. 
There's so much programmed, but do pop back to the mainstage to catch a rare stage appearance of Stripe cofounder John Collison. He'll be live at 5:10pm on day one.
Yard time
For those with an appetite for street food as well as startup chatter, a curated selection of food trucks await in the yard, including Sen Noods, Chubby Dumplings and Go Canteen. 
Once you've digested your biriyani bowl or ramen, you can make some meaty connections in the meetup space opposite, where communities from all over Europe are hosting mini events. 
Nestled in a snug tent, Included VC is opening day one with office hours at 11:20am. The company's on a mission to change the face of venture and is bringing a bunch of people who've broken into the industry, including a DJ, ex-opera singer and recent mum. 
Later on in the afternoon, Zebras Unite is connecting another community less well-represented in VC: social enterprises. It'll be asking audience members to share their thoughts on whether we need a separate taskforce to 10x tech for good at 4pm, followed by informal chatter.  
Editorial action 
If all those interesting conversations in the yard spark a newsworthy idea, you can skip writing the press release and head back inside towards the newsroom. 
Here, you'll find Sifted's full editorial team manning the desk: drop by, say hi and (possibly) secure a feature. They'll be working shifts — see who you might bump into and when below.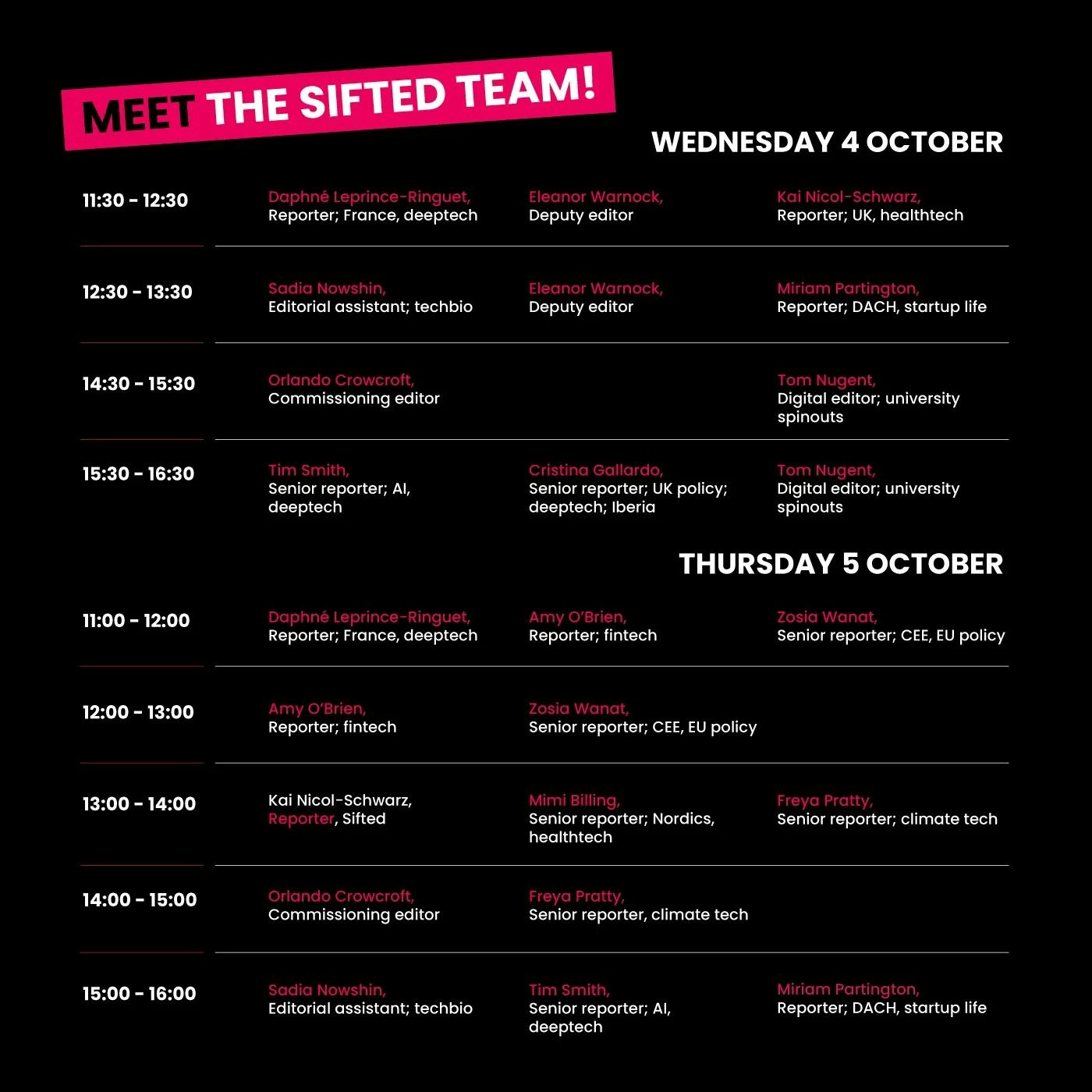 Some pro tips could also help polish your angle. Head up the stairs to the workshop space and catch Amy Lewin, Sifted's editor, diving into the dos and don'ts of press coverage at 3pm on day two. 
For those partial to a party
A slow wander back down the stairs at 4:30pm on day one could score you a drink. Across the expansive hall, seven sponsors are hosting happy hours: Accenture, HSBC Innovation Fund, Atom CTO, Figures, Deel, Carta and Chapter 2 Talent. Stroll through the swathes of stands to find these generous donors.
During the two-day event, over 60 sponsors will be running prize draws, giving away swag and showcasing the latest tools in tech — pop by to say hi. 
As drinks are flowing, the volume of content will slowly simmer to a close. The final act on day one will be the summit DJ, who will take over the exhibition area at 7:45pm. As energy is amped up, you can grab a drink on Sifted. 
For those who want to keep the party going that little bit longer, bars will replace coffee queues as the hotspot for networking. 
Whatever your poison — rum, beer or tequila — it's your call, as long as you're able to make it to those meetings you booked for the next day.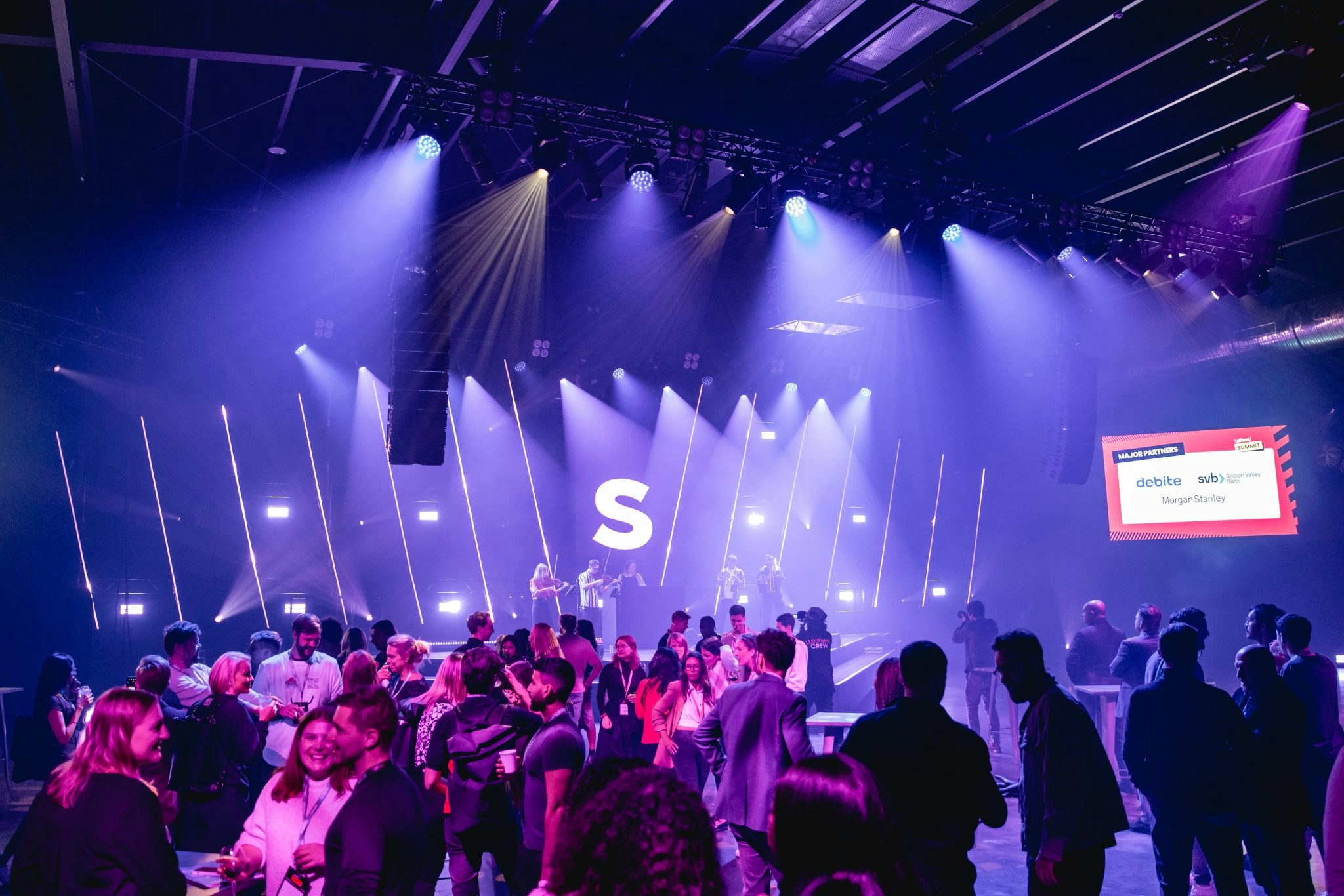 How to get there
The pink gates to Sifted Summit will open at 9am. The closest stations to the venue are Custom House, Canary Wharf and Royal Victoria.
There are rail and tube strikes planned on day one of the Sifted Summit, but the Elizabeth line, London Overground and DLR are not set to be impacted. On day two, the London Underground is running as normal but there may be some delays in the morning.
Sifted is running shuttle buses from key station routes to minimise the impact of this action. Don't worry about getting lost — there will be friendly faces at each station to give you a hand. 
You can see the full transport guidance here.