Europe isn't officially in recession — but the market is very different. Tech companies have started layoffs and VCs are being more careful with where they put their cash. 
It makes sense for founders to be nervous. How can startups find funding and continue to grow in a period of economic uncertainty?
In our recent Sifted Talks, we asked our panel how emerging companies can scale — and thrive — in a slowdown. 
Our experts were: 
Mark Barry, head of EMEA startup and SMB at Stripe, a payment processing platform. 
Lucile Cornet, partner at Eight Roads, a VC firm focused on technology and healthcare. 
Samir El-Alami, founder and CEO of Doctorly, a health tech startup based in Berlin.
Dil Hussain, cofounder and CEO of Dines, a hospitality management platform. 
Here's what we found out.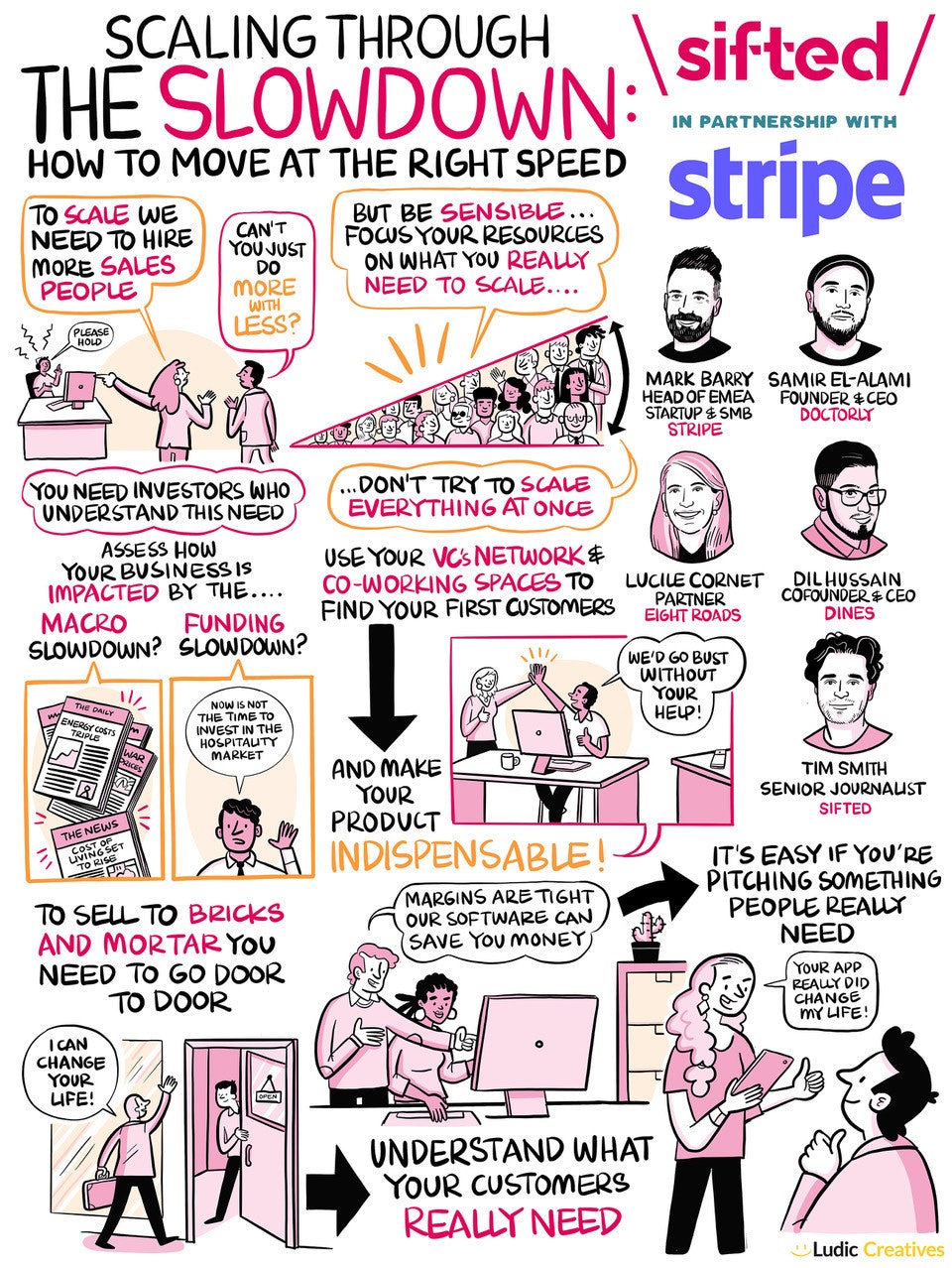 1/ Funding is still there — but it might take longer
There's a perception that VC firms will want to look after their existing companies rather than fund new startups. But that's not always the case. 
Cornet said that there was a lot of dry powder — or money that has been raised by VC funds to invest. She added many new funds have launched in the last couple of years which are ploughing money into European tech startups.
However, Cornet also said that the pace of investment had slowed over the summer and she was no longer seeing startups get funded without a pitch deck or within 24 hours of launching their funding round. Investors are being more diligent and careful.
If I were a founder I would be on the safe side and do things traditionally. Have a bigger pipeline of funds you are talking to, work on your decks, spend a lot of time on the financials and budget for more time than in the past" — Lucile Cornet, Eight

Roads
2/ Do more with less 
Startups can burn through a lot of cash in the early growth stages due to product development and/or hiring staff. That can feel riskier when there's less money on the table.
When money is tight, El-Alami said startups either have to scale quickly or let people go. So founders should become leaner by dropping the projects not making money and focusing on those that generate the most sales.
Hussain added that brick-and-mortar businesses, such as restaurant chains, can't cut costs in the same way as tech companies. But that's an opportunity for the startups targeting them because they can offer services and products that improve their efficiency. However they may not have a big budget to experiment.
We haven't got an option. We have to grow, we have to scale, we have to show a scalable product, that's the stage we're at as an organisation" — Samir El-Alami,

doctorly
3/ Optimise what you have 
Some founders might be tempted to cut their costs by doing everything themselves. But our panel discussed how that is a false economy. 
Barry pointed out that no one spends time on building data centres — everyone outsources it. Founders should look at optimising the resources they already have and should turn to tech for admin and financial tasks.  
There shouldn't be engineers in your business focusing on payments, they should be focusing on building your products. There shouldn't be administrators in your business marking up credit transfers to pay invoices because that is a waste of their administrative time" — Mark Barry,

Stripe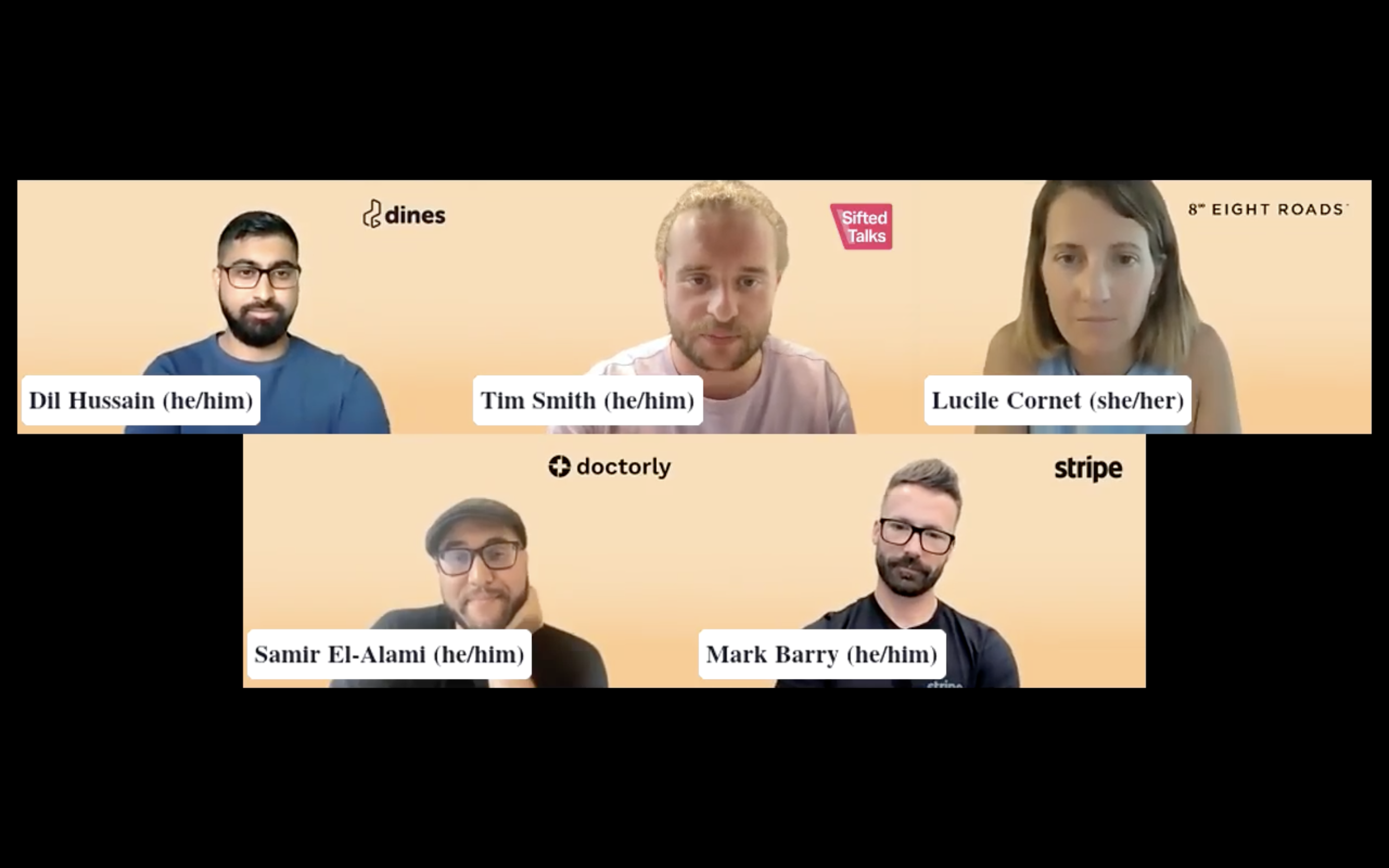 4/ Make your startup indispensable 
When a recession hits, Barry said the first thing customers cut was their discretionary spending. He added that founders needed to make their product indispensable to their customers — to the point where their business would fail without it. 
El-Alami said that he put himself in the shoes of his customers to understand them. He said that his customers were all in the same networks and founders needed to think about how they wanted their customers to talk about the product. If customers all say that the product is good, switching is easy and customer service is excellent, there is a greater chance of growth. 
You have to obsess over those early customers and you do have to listen... If someone tells you there is a particular problem they are facing, we can manufacture the solution. We just have to listen" — Dil Hussain,

Dines
5/ Explore all the options
While many startups seek out help from VCs to get funding, there are other routes founders can take. 
Cornet said there had been a rise in venture debt funds, but she warned that debt needed to be reimbursed and so it may not be suitable for the long term. She said debt funds look at things in different ways to VCs, so founders should have a good chief financial officer if they want to finance this way. 
Hussain said each type of funding has its place and revenue-based finance could be an option if a startup is still growing and wants to experiment. But he added that it's hard to beat the value that a VC can bring, as they provide things other than just the money like access to their networks. 
El-Alami said debt makes little sense for Series A startups, especially if they've not planned for it. He said that if startups bootstrap — and concentrate on building something cool — they should not turn to debt and ignore VCs knocking on their doors. 
If you've gone down this venture journey, I think you're going to end up raising venture capital and then when you reach a certain size, debt becomes part of it. Whenever you hear of these mega rounds, a chunk of it is debt. They are making mega revenue and it makes sense to have a chunk of it as debt" — Samir El-Alami,

doctorly
Like this and want more? Watch the full Sifted Talks here: