While many companies have relied on sales teams to sell their products, SaaS startups are leaning on a freemium model to win customers. 
But does this really work? Sure, the customer gets to know and (hopefully) love your product, but how can startups ensure the customer hands over their cash at the trial's end? In our recent Sifted Talks, our panel discussed the pros and cons of a product-led growth strategy and when it works the best. Our experts were:
Eléonore Crespo, cofounder and co-CEO of Pigment, a French cloud-based forecasting platform that handles business strategy in real time.
Anita Koimur, cofounder and COO of LiveFlow, a finance management platform that syncs real time data with accounting services, banks and payment platforms into a custom report. 
Nichole Mace, VP product growth at Pendo, a product engagement and adoption platform for early stage companies.
Indra Sharma, partner at Peak, a European seed fund by entrepreneurs for entrepreneurs.
Here's what we learned.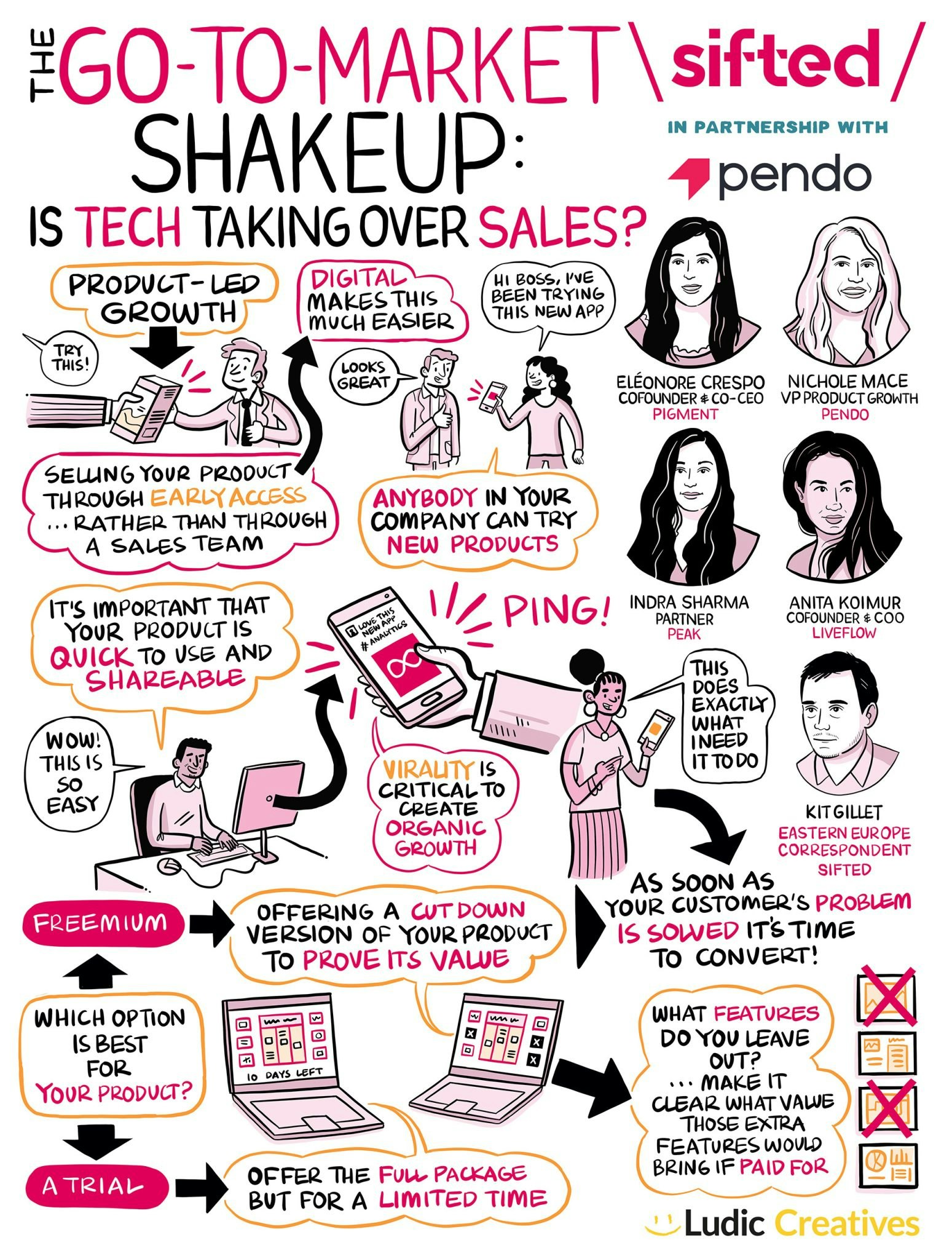 1/ Start with direct sales
Product-led growth is essentially when the product sells itself, with a company using it as a vehicle for everything from customer acquisition to conversion and retention. One example of this is by offering a freemium model — getting people using your product for free and then enticing them to become customers with more features. 
So, should founders launch straight in with product-led growth? 
Koimur said it's sometimes easier for companies to start with growth based on direct sales — so, founder-led sales where you test your product pitch for the first time on different target audiences — before transitioning to a product-led growth model.
But Sharma added that the costs involved in a product-led approach have come down, allowing companies of all sizes to experiment with this method. This means a shift: the competition used to be between large enterprises, but now small startups have a fighting chance by taking advantage of open source software. 
Crespo said that if founders have been using a sales-based approach, they already know their customers and can use this information to decide what works best for them.
It's never too late to think about what product you can put in the hand of your customer. It can be a totally different product from your core platform. You can give a very small subset of features... there are plenty of ways to give a taste of what you do." — Eléonore Crespo,

Pigment
2/ Analyse customer data
If you're going to rely on product-led growth, you'll need to optimise it. The panel discussed how tracking user data can provide valuable insights and help founders engage their customers and improve their products. 
Mace said founders should look at what happens when users first log in. Are they finding the features they need to find? Are they coming back to use the product later? 
But Crespo said that while analytics is important, you should never forget the human on the other end. Get users to fill in surveys and speak to them to really understand who they are and what they need. 
Getting the data and using the right tools from the beginning can be very valuable for any startup. It can be everything from what CRM you are using to what analytics tools you are using. It also creates a mindset to work together with the rest of the company." — Indra Sharma,

Peak
3/ Don't dump your sales team
It might be tempting for founders to fire their sales team altogether in favour of cheaper product-led growth.
But Crespo said this doesn't work for everyone. With some products, freemium versions just aren't possible, and these startups should continue to rely on sales. She added that they can build on these sales by offering free products to existing customers when they want them to pay for new features. 
While LiveFlow adopted a product-led approach, Koimur said the startup actually started with a sales-based model. She sent out cold emails to other startups to get them to sign up — smaller businesses need to work differently to larger ones, she added. Sometimes the best strategy to win customers over is a combination of both sales and freemium products.
You cannot copy and paste and apply the same approach to the big customer that buys your product for $49 a month and someone who buys $5m on a yearly basis. You should understand your customer really well and I think this is the basis of any go-to-market product strategy." — Anita Koimur,

LiveFlow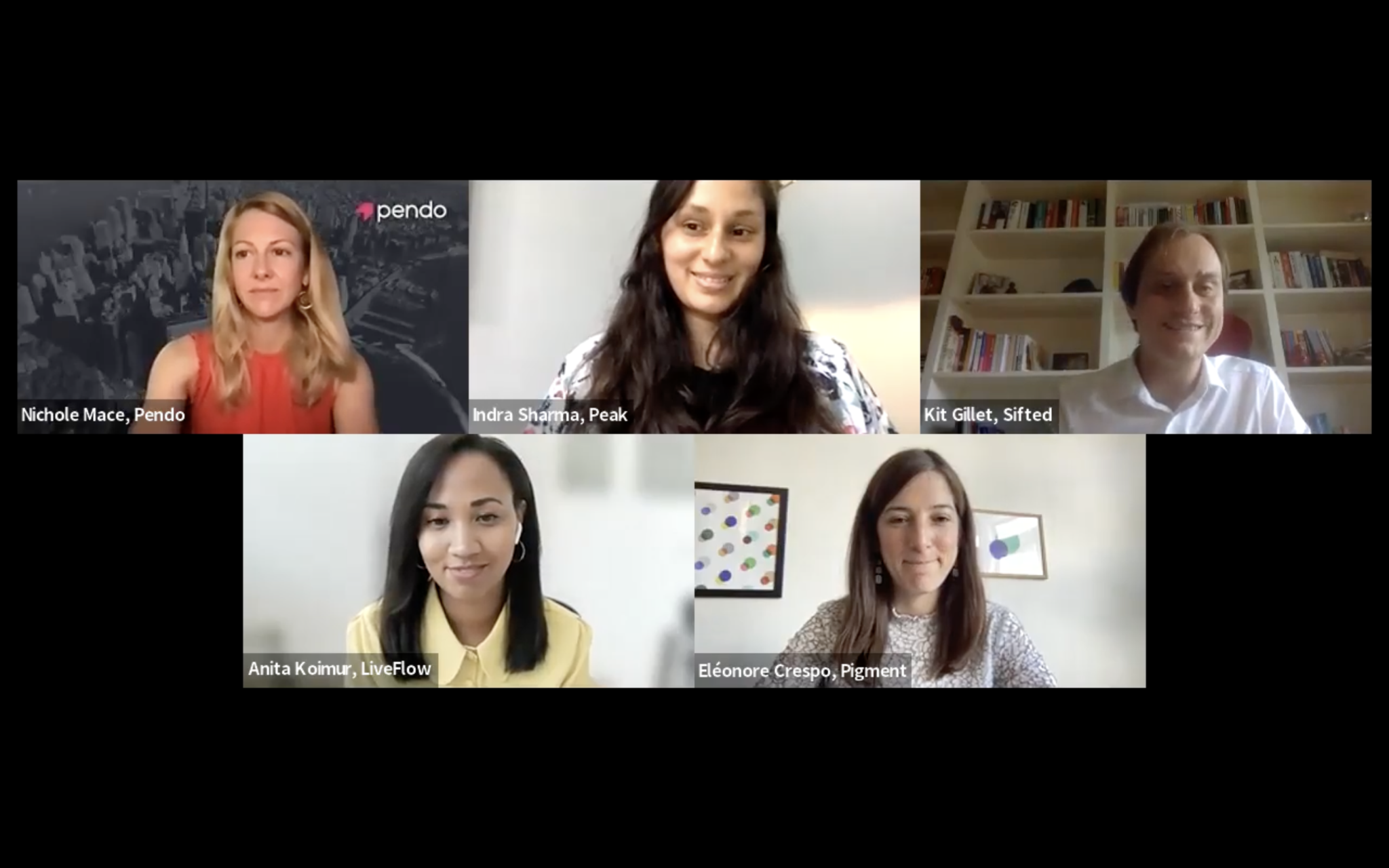 4/ The freemium approach
Since the dawn of the internet, people have been using free services, like email. But how can you make users see your product as one worth paying for? 
Crespo said there are two approaches. The first is giving your customers full access to your platform for a couple of weeks or months so that they understand how it works and how it can solve their problems. The other method, used by companies such as Airtable, is to have a basic free product then charge users for additional features. 
Mace said founders often ask what they need to include in the free product to drive sales. She said founders need to look at what features people who buy the product are using and what impresses them. Those features should be included in a free trial. 
I think the approach is not to give something for free, but understanding how you can show your value to the customer, proving that you are the right tool and then finding the right way to monetise." — Eléonore Crespo,

Pigment
5/ Make your product easy to share
If founders want their product to become popular, they need users to share it with their friends and colleagues. 
Sharma said one of the companies Peak invested in is a communication tool for teams. 95% of its growth is organic. As well as creating a good product, Sharma said it has created a community that has generated viral growth. 
Mace said that some founders forget about virality, but often the best customers are referred by a friend. If users can share their dashboards or other work they have created using the product, it will make it a lot easier to go viral. 
At every junction, you want to think about virality. Any new feature you are putting out you want to think how could I make this viral … You are creating these amazing experiences for people and they are telling everyone they know about it." — Nichole Mace,

Pendo
Like this and want more? Watch the full Sifted Talks here: