Imagine indulging on a creamy dessert, a chocolate chip cookie or a pizza – without gaining weight, rotting your teeth or having your blood sugar spike and crash.
Venture funds are now betting that this is the future of food with $30m being invested into  Swedish food tech startup Lub Foods, owner of the sugar-free brand Nick's which has won a licence for a new type of ice cream that contains a special fat which the body cannot absorb.
It's part of a growing trend of investors pouring money into foodtech, with companies making lab-grown meats, plant-based meat and 3D printed cheese all raising serious amounts of money amid shifting consumer habits.
Other recent examples are Spanish startup Cubiq Foods, which won an investment of €5m to keep developing their so-called Smart Fat, an emulsion of vegetable oil and water that can replace fatty components in processed foods. In November candy giant Mars announced that they would buy the healthy snack maker Kind North America, valuing the company at about $5bn according to The New York Times. 
The fat from Lub Foods is a plant-based oil called Epogee fat, or EPG, that is not absorbed by the body, due to its molecular structure that resists digestive enzyme action. The EPG can cut up to 92% of calories for each unit of fat in products like ice cream, frying oil or baked goods, according to the company. 
So when will this be available in shops in Europe? And what's next for innovation and food?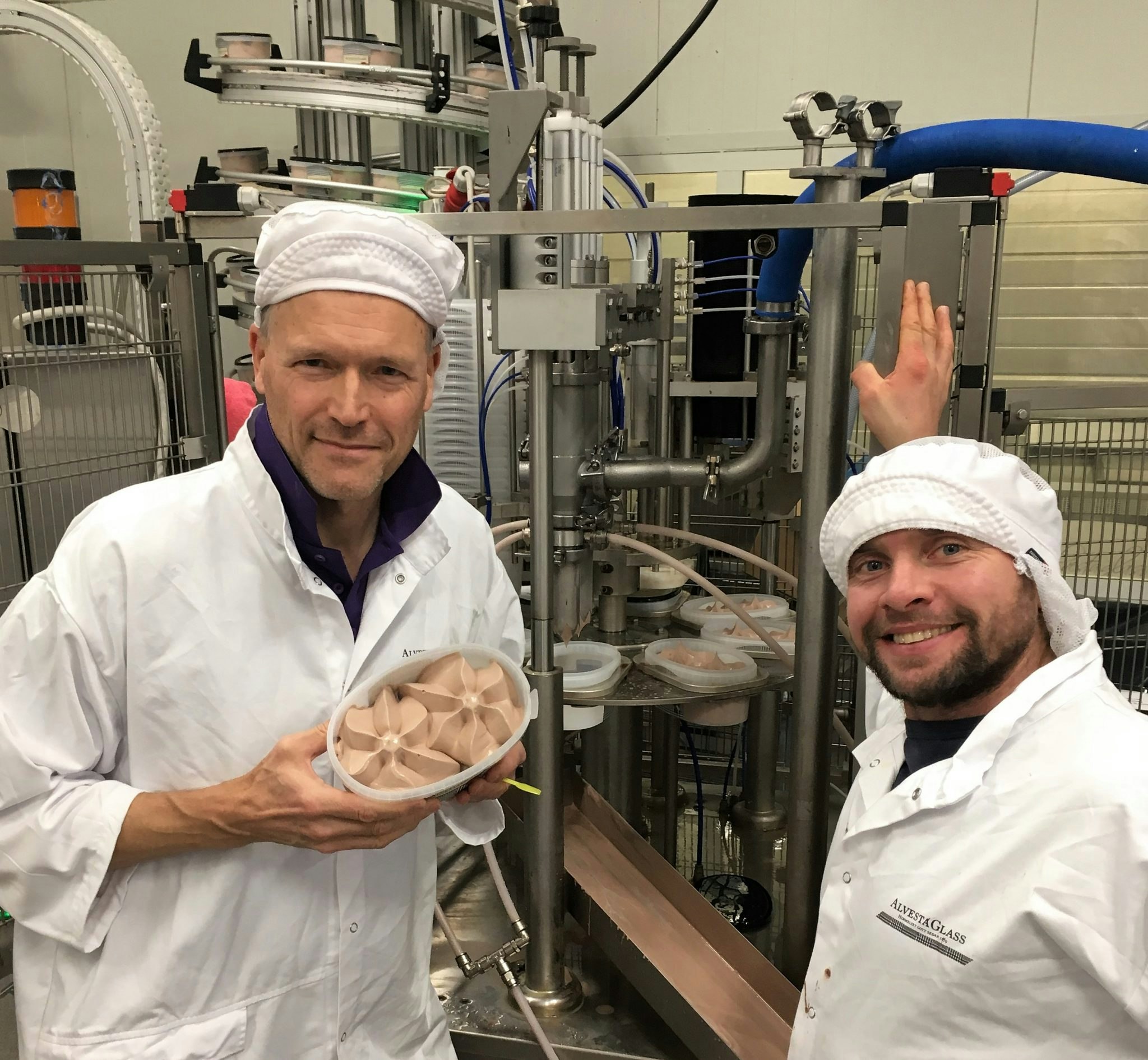 The backstory
Lub Foods was founded just about seven years ago after cofounder Niclas Luthman (hence Nick's) was unable to find any suitable replacements for chocolate after being diagnosed as a pre-diabetic. 
The catalogue now consists of snacks, protein bars, ice cream, powdered drink mixes and sweeteners and are more or less available on 16 markets. 
"I realized that it was possible to change my condition by self-treatment, and switched my diet. That was the start of it all", he tells Sifted from his home in California, where he moved to focus on developing new products and an ongoing US expansion.
This personal experience spoke to a wider trend of low-calorie food which has only accelerated in recent years as consumers become more health-conscious. The market is now worth $10bn a year, according to a report by Business Wire, and set to grow by another $3bn in seven years. As a result, big players like Nestlé have been developing a range of sugar-free alternatives, with one already competing with Nick's on the ice cream market. Niche brands like Halo Top and Rebel are also fighting for a similar space.
Secret weapon
Nick says that he has a secret weapon, being the only company using Epogee fat, which he describes as the "holy grail" of making delicious low-calorie food. 
However, the company has been working hard to get the taste exactly right to appeal to consumers. 
"We failed hundreds of times trying to make a good recipe base", says Erik Lennartsson, global innovation director and the brain behind the ice cream. 
"In one sense, it's a tricky ingredient to use as it has some special traits. A lot of our work has been put in to manoeuvre these, partly by being smart with flavour choices. We've worked closely with a team of flavourists in the US, and today it's 99.5 % perfect", he says.
Lennartsson has a passion for gelato and describes the texture of Nick's pints as creamy, which he believes is a key factor for success. 
"You need to have both texture and taste. Most brands that work in the no added sugar-segment fail on their texture, that is often icy and too hard."
Except for the Epogee fat, Nick's also has a second selling point for the brand which is that they do not use the sweetener maltitol like many of their competitors, according to Lennartsson. 
Maltitol has an effect on blood glucose levels and is, therefore, not the best alternative for diabetics. Nick's strategy is to only use natural sweeteners like xylitol, made of birch sugar, erythritol, that can be found in pears, and allulose, that can be found in dried fruits like figs. 
Startups leading the way
We are living through a huge moment in foodtech with companies reimagining what food is and how we make it. Much of this is hugely technical and done in the lab. 
"If you want to succeed in this market today you have to own your food innovation process, you have to approach it from the scientific perspective. Right now there's a humongous global race going on. And in the big picture we're going through a gigantic turnaround in how we produce food", Luthman says. 
Luthman says that much of this science is being done by startups, rather than the big multinational producers.
"Food tech innovation today is almost 100% driven by startups. Even though it would be logical for bigger companies to do it, there's just too many levels of decision making developing these products", he says. 
One snag
Lub Foods launched the ice cream on the US market 2019. The reception has been so good that they even sold ice cream online during the pandemic, distributing it on dry ice. Last year, the US subsidiary sold products for about $10m, all of it coming from the ice cream. 
However, there's still one obstacle for its success in Europe: EPG has not yet been approved by the European Food Safety Authority, EFSA. 
"I would probably have stayed longer in Europe if these innovations had been approved faster", Niclas Luthman says. "The toolbox for us to use while making new recipes is way bigger here. This might even risk that companies in Europe with global potential, are handicapped in the food innovation race", he continues.  
"While we take baby steps the Americans have already walked miles", Lennartsson says. 
Lub Foods expects EFSA to give its approval within two to three years. In the meantime, the innovation director will focus on upgrading the recipes in its existing portfolio and extending their new manufacturing facility in Macedonia, which will increase their production capacity sevenfold. 
The fresh investment round of $30m was led by the Agtech and food tech dedicated fund Cap Agro, Stockholm-based Gullspång Invest (early investors in Oatly), the H&M heirs' investment company Dig Investment as well as the Chicago-based DNS Capital. 
"But we're gonna need another $30m within a few years. Continuing our launch in the US we will need a lot of fuel to build our distribution. After that, we might be profitable", says Luthman. 
Luthman adds that they are starting to become profitable in Europe, however, and focus will move on growth in the next coming years. 
"What we see now is leading up to an explosion of consumer-driven demand for food innovation. Companies like Beyond Meat and Impossible Foods have been pushing this development, that I truly enjoy being a part of. Soon they will have to rename Silicon Valley to Food Valley", Luthman says.