Berlin-based broking app Trade Republic has attracted talent and capital from around the globe since it was founded in 2015. 
The company has picked up over $1.2bn from VC heavyweights Sequoia, Accel, Project A, Creandum and Peter Thiel's Founders Fund, making it one of Germany's most valuable fintechs.
It's also hired in executives from big companies such as Netflix, YouTube, Uber and Klarna. And spawned its own generation of alumni employees turning to entrepreneurship. 
But who are the people at the top? This is the map of Trade Republic's key power players today: 14 executives, two of whom are women. 
The list was compiled by Sifted and confirmed by the company.
The cofounders

While CEO Christian Hecker is the face of Trade Republic, he has two cofounders, Marco Cancellieri and Thomas Pischke. 
Investors in Trade Republic say Hecker is the company's unofficial chief product officer and is the brains behind the design of the fintech's app. (After publication, Trade Republic contacted Sifted to confirm that Hecker is not the CPO and that it does not have a C-Suite.)
He also runs a tight ship when it comes to employees, they say.
"He couples ambition with the search for excellence in whatever he does and who he works with — and is relentless in everything he does," says an early investor.
There's a lot of people that enjoy that and some people that don't, but in the end, it's a recipe for

success
"For good and for bad, he expects the same of his peers and team members, and that can be tough. There's a lot of people that enjoy that and some people that don't, but in the end, it's a recipe for success."
Hecker is the only cofounder who gives interviews and is seen at events. The other two cofounders stay a bit more in the shadows, former employees tell Sifted. 
Pischke is the brains behind Trade Republic's trading architecture which he built in such a way that trades can be executed "extremely cheaply", adds another early investor.
Trade Republic said that "as the founding engineer, Thomas has been fundamental to the platform's design and its further development."
Marcello Cancellieri, an engineer by trade, contributes to the development of the mobile applications. 
Trade Republic's executives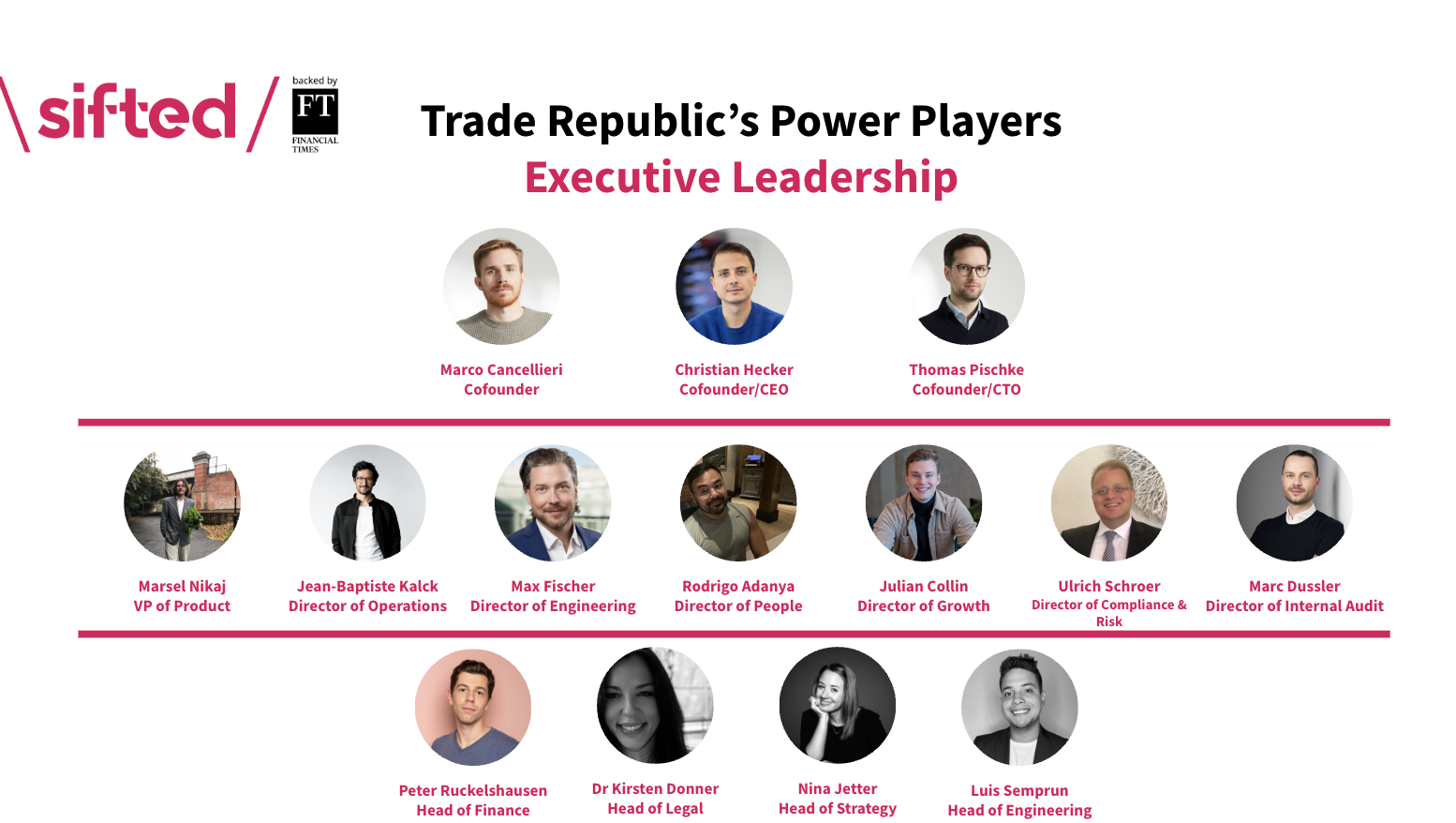 Trade Republic doesn't have a C-suite. The company is represented by two managing directors, and Pischke and Hecker lead different functions underneath them.
The next rung down are Trade Republic's range of directors and "head ofs" that lead functions such as finance, strategy, growth, engineering, as well as critical segments like legal and compliance. 
Many are long-standing Trade Republic employees who have worked their way up to the top table.
Julian Collin, for example, joined Trade Republic as chief of staff in October 2020, after a year working as an associate at Creandum. Now, he's heading up growth at a time when Trade Republic is seeking to scale up in the 11 markets in Europe where it expanded last year, one of the early investors tells Sifted. 
Marsel Nikaj, who was hired as director of product in November 2021 — after nearly three years at Revolut — was promoted to VP of product in March 2023.
And Nina Jetter — another VC hire who was previously a principal at Project A Ventures, an investor in Trade Republic — was promoted to head of strategy in March this year after two years at the company.
Then there's Trade Republic's head of finance, Peter Ruckelshausen, who has one of the longest tenures of the power players at three years, ten months. Like Hecker, Ruckelshausen was an investment banker at Merrill Lynch in Frankfurt and New York for six years. He then went to be VP of finance at Love, Bonito, a women's fashion brand based in Singapore, before joining Trade Republic in 2020.
Also on the power players list are Trade Republic's two engineering executives: Luis Semprun, head of engineering, and Max Fischer, director of engineering. Semprun is a serial entrepreneur and has been CTO at two companies previously. Fischer was formerly VP of engineering at Klarna and has a long history of working in product roles at various banks. 
The fintech currently doesn't have a head of marketing. Its former CMO, Sara Fee Kirschhausen, a former BCG consultant, left the company in April 2022 after nearly four years in office and hasn't yet been replaced.
In the essential compliance roles at Trade Republic, who make sure it's abiding by EU laws on its regulated activities, are Ulrich Schroer, director of compliance and risk, and Marc Dussler, the fintech's director of internal audit.
Also on the power players list is Dr Kirsten Donner, head of legal, who covers regulatory and product-related legal matters. She has over 15 years of experience across several law firms and also sits on SME financing provider Credion AG's board.
The board
Like other German companies, Trade Republic has a two-tier board structure, split into a management board and a shareholder representation board.

Put simply, the management board is responsible for managing the day-to-day company and the shareholder representation board supervises and controls the management board. 

Trade Republic's management board consists of Andreas Torner, an ex-banker at Deutsche Bank, and Gernot Mittendorfer, an ex-banker at Austria's Erste Group. 

Its supervisory board is made up of the following impressive roster of (mostly male) investors:
Douglas Leone, global managing partner of Sequoia Capital
Keith Rabois, general partner at Founders Fund
Johan Brenner, general partner at Creandum
Luca Bocchio, general partner at Accel
Florian Heinemann, general partner at Project A
John Doran, general partner at TCV
Maggie Fanari, senior managing director at Ontario Teachers' Pension Plan
Correction: This piece has been updated to clarify that Trade Republic doesn't have a supervisory board, but a shareholder representation board.