Santander launched PagoFX, its own money transfer rival to TransferWise, this spring, amid the turmoil of the coronavirus pandemic and just as other incumbent banking experiments, such as Royal Bank of Scotland's Bó, were being shut down.
The track record of banks building their own successful ventures is a patchy one. Last year say, JP Morgan Chase shut down its digital banking service Finn, only a year after rolling it out in the US. But Santander is going large with PagoFX, with plans to aggressively push it out to 20 countries within the next four years.
What are the chances that Santander can succeed where peers have failed?
A crowded market
PagoFX comes into a relatively crowded market for money transfer startups, where companies like TransferWise have been building their brands since 2011. Names like WorldRemit, Azimo and Venmo are also well established in this space.
The origins of PagoFX reportedly date back to 2017. TransferWise had reached profitability and it was clear that fintech challengers were in the market to stay. Banks were coming under increased pressure to cut the fees for money transfer. Back in 2015, Santander had invested in the blockchain company Ripple, and now saw the technology as a potential way to cut the cost of money transfer.
The bank dipped its toe in first by creating One Pay FX, a blockchain-based international payments service for existing customers. Then it decided to go out by creating a separate app open for everyone, including new customers.
Despite a proliferation of money transfer startups, Lindsey Argalas, chief digital and innovation officer, felt there was still space for a money transfer app that combined the nippiness (and cheaper pricing) of a startup with the security of a big bank brand.
"What we are trying to do is have the best of both worlds — both the modern new tech coupled with the security of a regulated bank," says Argalas.
"We are targeting a segment of the market that is not well served, even by the major fintechs. We are not going after the early adopters. There is a good proportion of people who are attracted to the value proposition but worried about security."
Sifted Newsletters
Sifted Newsletter
3x a week
We tell you what's happening across startup Europe — and why it matters.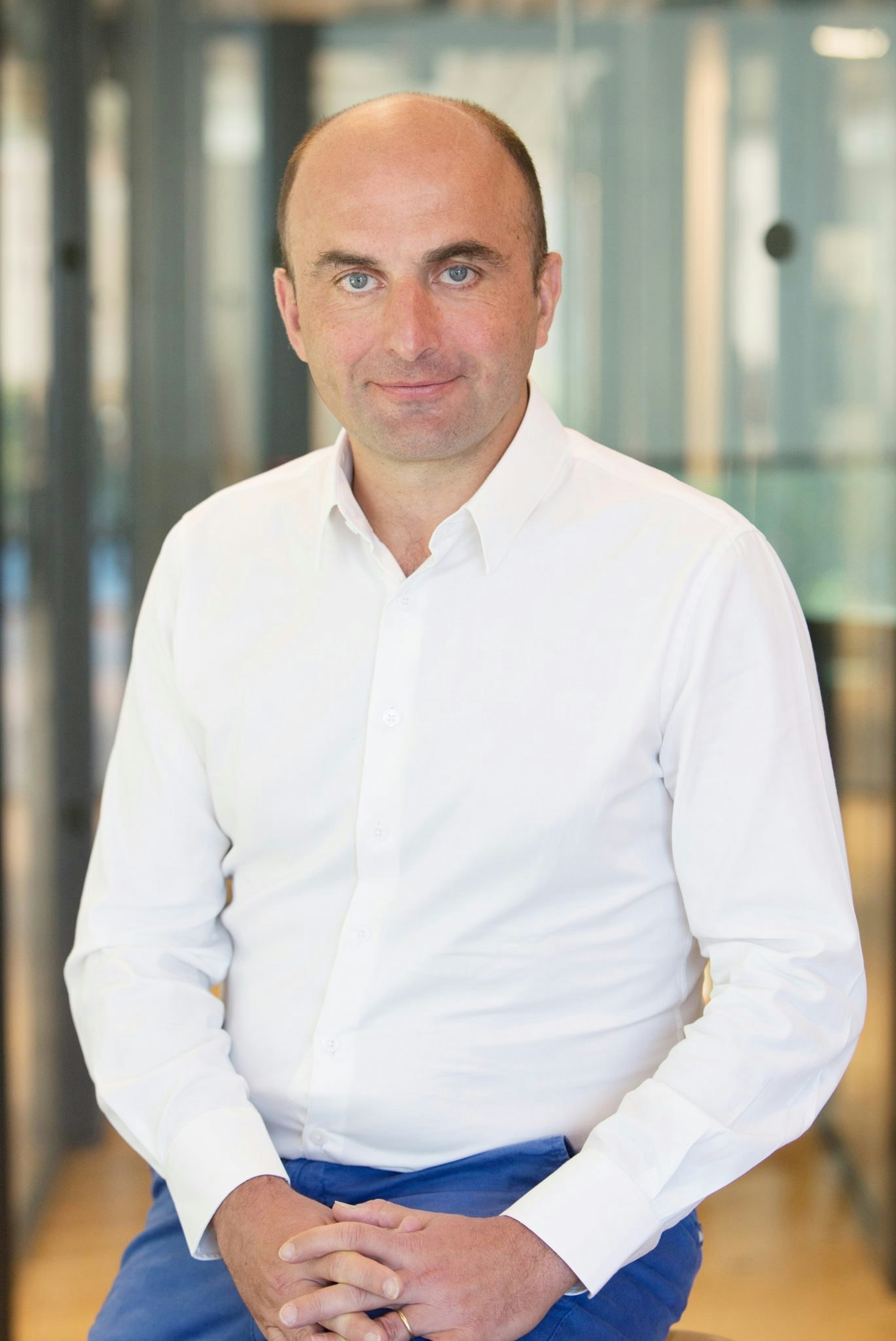 Early indicators
So far, Pago FX still has some way to go in catching up with rivals in downloads. According to App Annie figures from early June, it ranked #125 by daily iPhone downloads of finance apps in the UK. Comparatively, TransferWise ranked #39, WorldRemit ranked #41 and Azimo ranked #105.
However, Cedric Menager, chief executive of PagoFX and a former PayPal director, says he is pleased with early indicators. He's not revealing precise numbers, but early registered customers were in the "thousands" and the average transaction amount is higher than expected.
"People are using Pago FX for sending money back home, for paying for repairs for a holiday apartment and even really big transactions such as sending the deposit for buying a house. They would not do that with a fintech. That is an important proof point for us."
Menager and Argalas are not too worried about cannibalising existing revenues — money transfer accounts for just 1% of revenues. Rather, they are hoping the product will bring in new customers.
"We are optimistic about this being an underserved market and there are opportunities to acquire new customers, especially if PagoFX enters markets where Santander is not present yet," says Argalas.
The bank has more than 140m customers in 10 countries, but could use PagoFX as a first foray into new territories. It is a tactic many incumbents have used; for example, BBVA entered the UK retail banking market earlier this year through Holvi, the Finnish fintech startup it bought in 2016.
PagoFX is also understood to be eyeing the $700bn global remittance market, possibly the lucrative Mexico-US corridor.
And it is expanding to different customer segments, with plans to extend the money transfer service to sole traders as well as retail customers. This is understood to be launching very soon.
Can you really build a startup inside a big corporate?
To give that startup feel to PagoFX, Santander hired in a lot of new talent. More than half of the team of 50 are from the startup world, including Menager, whose PayPal experience and tours of duty as a Techstars and Station F mentor give him bona fide fintech credentials.
"We have been thoughtful about talent, we have hired people with new, modern skills and integrated them with people who know banking," says Argalas, who was a senior executive at San Francisco tech company Intuit before joining Santander.
"A lot of us came from the outside. Cedric was an entrepreneur, I launched businesses when I was with Intuit. We studied intently the way that other companies had incubated startups before and took the elements that we had seen working."
One of the features was to "shield" the PagoFX team from the rest of the Santander business. The team has its own separate offices and its own budget.
"You need to have speed on an ongoing basis, part of the reason we have given the team a lot of autonomy," says Argalas.
Argalas also hired in a small group of external advisors, who were experienced in helping companies set up venture arms. One key job was to educate the senior management team on how to think more like a VC investor when evaluating a new venture like this.
Corporate executives can often become impatient with internal startups, expecting them to start contributing to profits far too early and not understanding the kinds of key performance measures to keep an eye on. A typical VC doesn't expect a return for seven years, while corporate executives will think in quarters. Getting senior management comfortable with a different approach was part of the challenge.
Nevertheless, there was some tension with the levels of regulation and compliance that Santander insisted on.
"It took a little longer to create the product than it might have at a startup — but not egregiously so," says Argalas. The project began in September 2018 and took around 18 months to get to launch.
Why not partner with or buy a startup instead?
Santander invests in a lot of fintech companies through its InnoVentures arm, and at the end of last year bought a majority stake in Ebury, the alternative finance company. Ebury's expertise in the small business space was something that would have taken Santander a long time to build on its own, and the bank has been happy to partner with Ebury when it comes to providing foreign exchange for the SMEs.
But money transfers for retail customers was an area Santander felt it had strength in.
"This was a strategic-enough space for us to be worth building our own. We are an international retail bank. We felt like it was something where we wanted to take it on," says Argalas.
Will Santander just shut this down if it doesn't work?
PagoFX has buy-in from the very top of Santander. Legend has it that Ana Botín, executive chairman, became convinced about the need to create One Pay FX and PagoFX after being shown TransferWise by her son.
"She sets the tone at the top and her support has been visible," says Argalas. Botín gets weekly updates on progress from the team.
There is a certain amount of leeway.
"It needs to be a good return on investment. But the company has taken a leaf from the VC playbook in the way it evaluates return on investment," says Argalas. There are metrics that are looked at every 90 days — uptake, customer satisfaction, net-promoter scores, the unit economics such as the cost of acquiring a customer.
The plan, at least initially, is to spread the service into a large number of markets quickly — having wide coverage is essential for a money transfer business — and then to look at which markets take off the fastest. There could be a considerable amount of shifting and changing in the next year or so, pulling back in some markets that don't work.
Ultimately, though, the business needs to be profitable in the "medium term", says Argalas. By comparison, TransferWise was able to make a profit after six years. But whether there is an absolute cut-off date for Pago FX, Argalas won't say.