On Tuesday, on-demand grocery delivery startup Getir launched in Paris. In May, its German competitor Gorillas launched in New York. And this month JOKR, yet another competitor aiming for global domination,  has launched in Warsaw and Vienna. 
To fund this hypergrowth, Europe's pack of grocery startups are raising money from VCs like nothing we've ever seen before. Earlier this month, Getir raised a $555m funding round and Germany's Flink raised $240m, while Dija and Gorillas are trying to close fundraisings.
Since March, when we last took a look at how the competitors compared, Europe's 10-minute grocery sector has raised over €790m. In total, these companies — most of which launched this year — have raised over €1.5bn. Most companies have also expanded into several new markets and hired hundreds of new employees. 
It's not been easy though. Dija has reportedly been trying to line up buyers as fundraising efforts went downhill (something the company denies). Gorillas was looking to raise $1bn at a $6bn valuation — but our sources say it's now looking at a valuation of far less — while smaller players like Spain's Blok seem to have hardly left the starting blocks.
Here we take a look at the latest state of play. 
Who's (still) in the running?
In 2021 alone, at least eight speedy-grocery startups have launched in Europe: Zapp, GetFaster, Flink, Cajoo, Jiffy, Dija, Blok and Asap. 
Another, JOKR, launched in Europe this month. It's be late to the party, but has an impressive team and backers with deep pockets. Its founder, Ralf Wenzel, was one of the founders of food-delivery company Foodpanda, and is also a former partner at VC firm SoftBank. JOKR's already picked up funding from Tiger Global, HV Capital and SoftBank — although it won't disclose how much — and is live in New York, Mexico City, Lima, Bogotá, Monterrey, Guadelajara and São Paulo.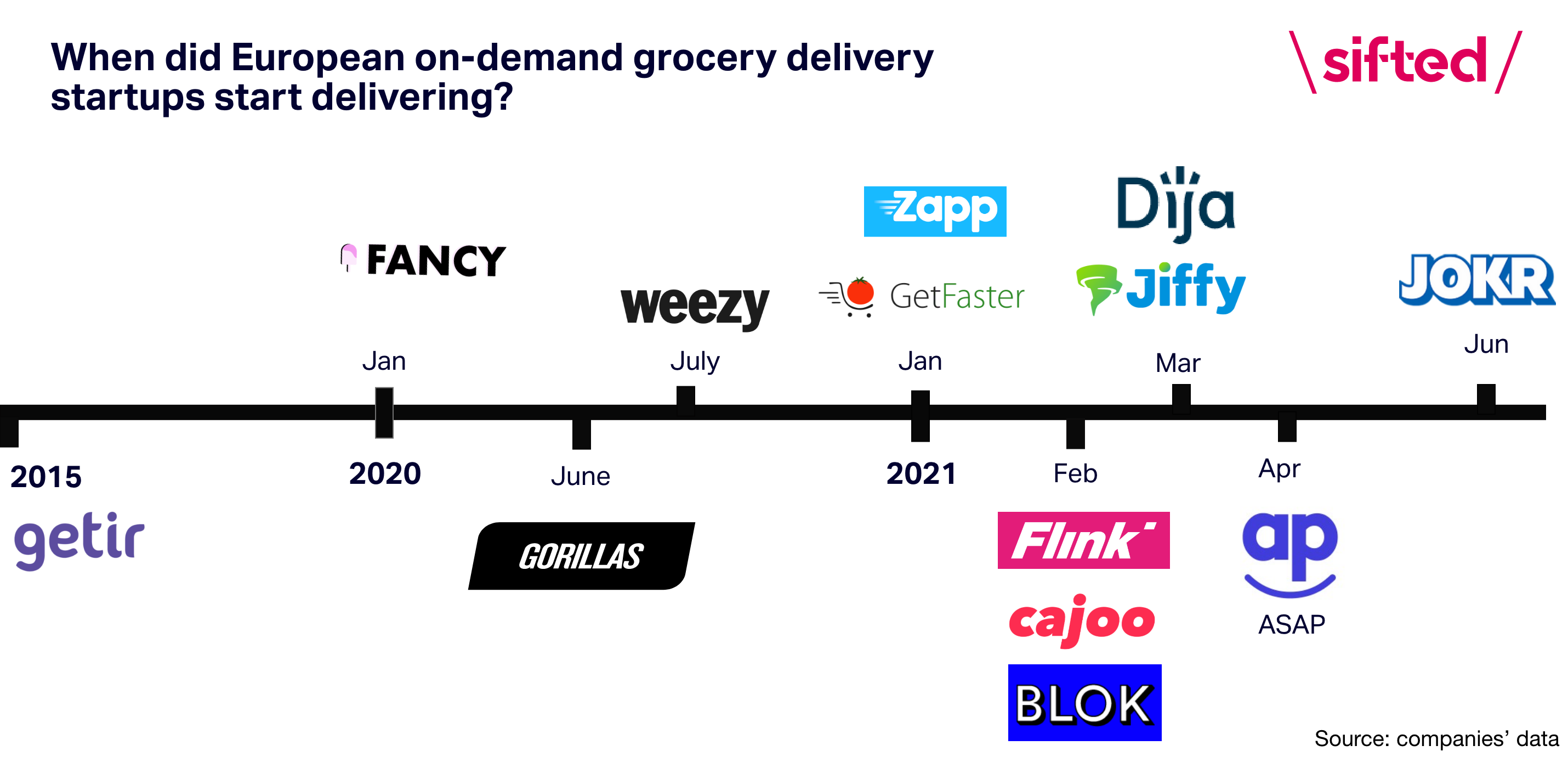 It's highly likely that some of these businesses will be acquired, or start acquiring others, soon. In March, Dija jumped the gun and bought Cambridge-based Genie. And, if this market follows anything like the takeaway-food sector trajectory, there will be dozens more mergers and acquisitions soon. 
Likely acquirers include the takeaway food delivery giants, like Deliveroo or Glovo, looking to dip their toes into this market, or perhaps larger online grocery scaleups.
Sifted Newsletters
Sifted Newsletter
3x a week
We tell you what's happening across startup Europe — and why it matters.
"I anticipate we'll see quite some M&A activity there," says Christian Meermann, partner at Cherry Ventures and an investor in Flink.
Supermarkets could be tempted too — although with a reputation for moving at the speed of a tortoise, that's less likely. We might see more partnerships between the startups and supermarkets instead — like that between Flink and German supermarket giant REWE, as part of which Flink will deliver smaller orders to the supermarket's customers.
Which markets are they fighting for?
London remains the fiercest battlefield, with seven companies vying for customers. Since launching in the city in January, Getir has expanded fast: it now has 28 dark stores across zones 1-3 and claims to serve 45% of Londoners. 
Getir's plan is to have around 90 dark stores across the UK by the end of the year and to launch in Manchester and Birmingham soon. In May, it launched in its third country, the Netherlands, and this week launched in Paris and Berlin. 
In Berlin, it's not alone. The German capital is also a hotly-contested market, with Gorillas and Flink already fighting for space. 
Paris is also hotting up. Cajoo, Dija and Gorillas are live there, while Zapp and Flink are hiring, likely with a launch in mind. 
Over the past months, grocery startups have expanded into several other smaller European markets too; JOKR has launched in Vienna and Warsaw, Blok has launched in Milan and Gorillas has set up shop in Amsterdam.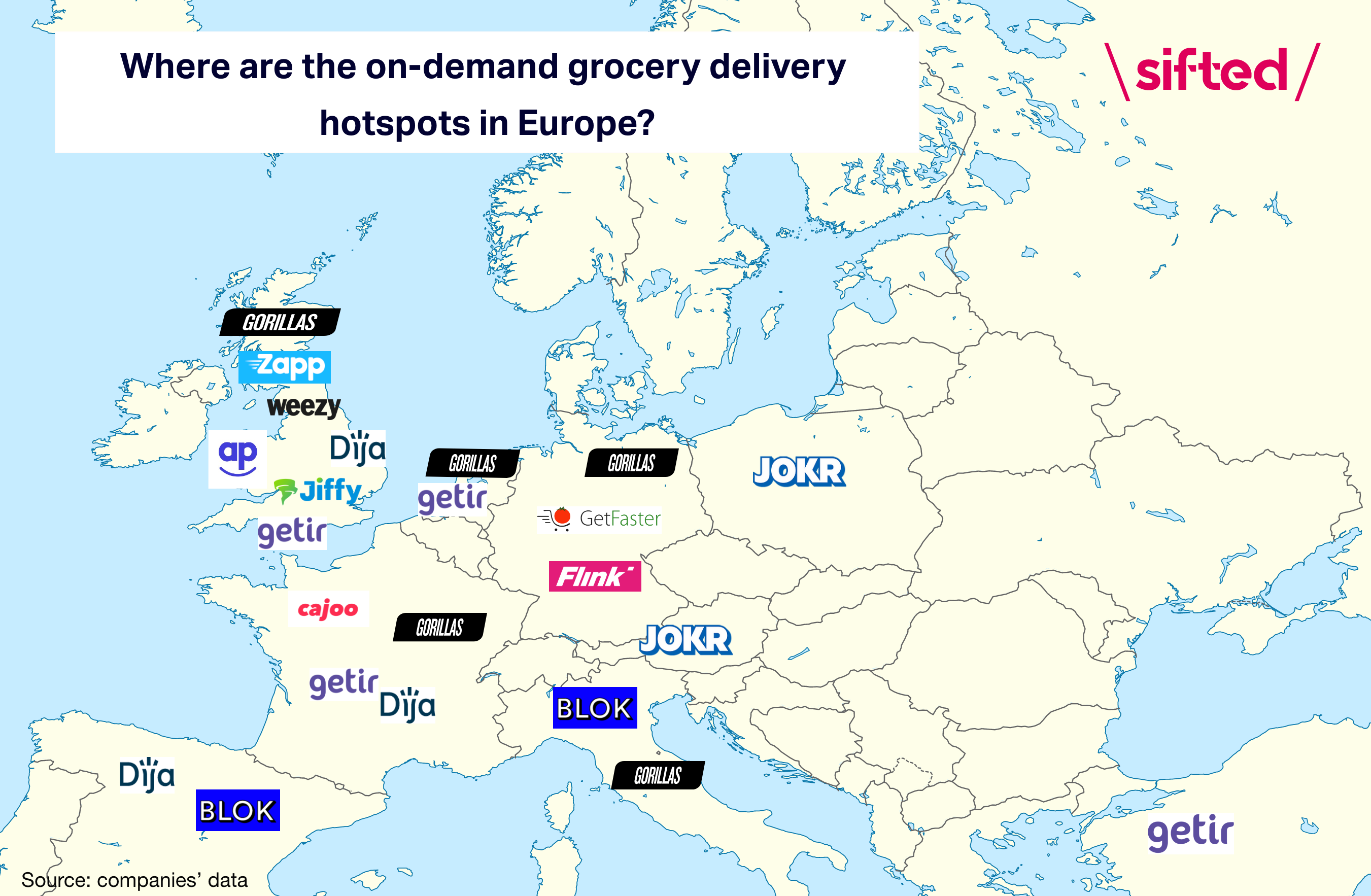 Whether expanding into multiple markets at such an early stage is a good idea remains to be seen. There's a big opportunity to grab market share — but there's also a big chance that many of these companies will overstretch themselves financially. 
What does all this cost?
It costs around €50-100k to open a 'dark store'. On top of that, companies need to wrangle deals with local wholesalers (few wholesalers work across Europe) and recruit local couriers. 
Couriers are paid by the hour — and companies need a lot of them. Getir employs 900 couriers in London alone. In the UK, most are paid around £10-12 per hour. Cajoo pays its couriers in France minimum wage; Gorillas says its riders receive €10.50-11.50 per hour. 
Until they hit scale, most of these companies won't be able to strike especially competitive deals with wholesalers or food brands. Once they hit scale, they will be able to drive down costs and increase their margins. At the moment, around 70% of the cost of goods sold goes directly to the wholesaler. 
Stores don't always work out. "It's very common for us to pause stores or to shut real estate and move to another one," a spokesperson at Dija told Sifted. "As you scale in a neighbourhood, you have to adapt to it." 
Some of the companies are also increasing the number of items they stock. Most started with around 1.5k items (stock-keeping units, or SKUs) on offer. Some, like Dija, are now offering more like 4k SKUs from some stores — similar to the amount stocked by a mini supermarket. 
Most companies charge a delivery fee which ranges from around €1.80 to £3 —  although some, like Getir in London, are waiving the delivery fee for now to acquire new customers. If they can entice customers to order bigger 'baskets', their costs per delivery will decrease. At the moment, the average basket size is around €20-40 for most of the startups.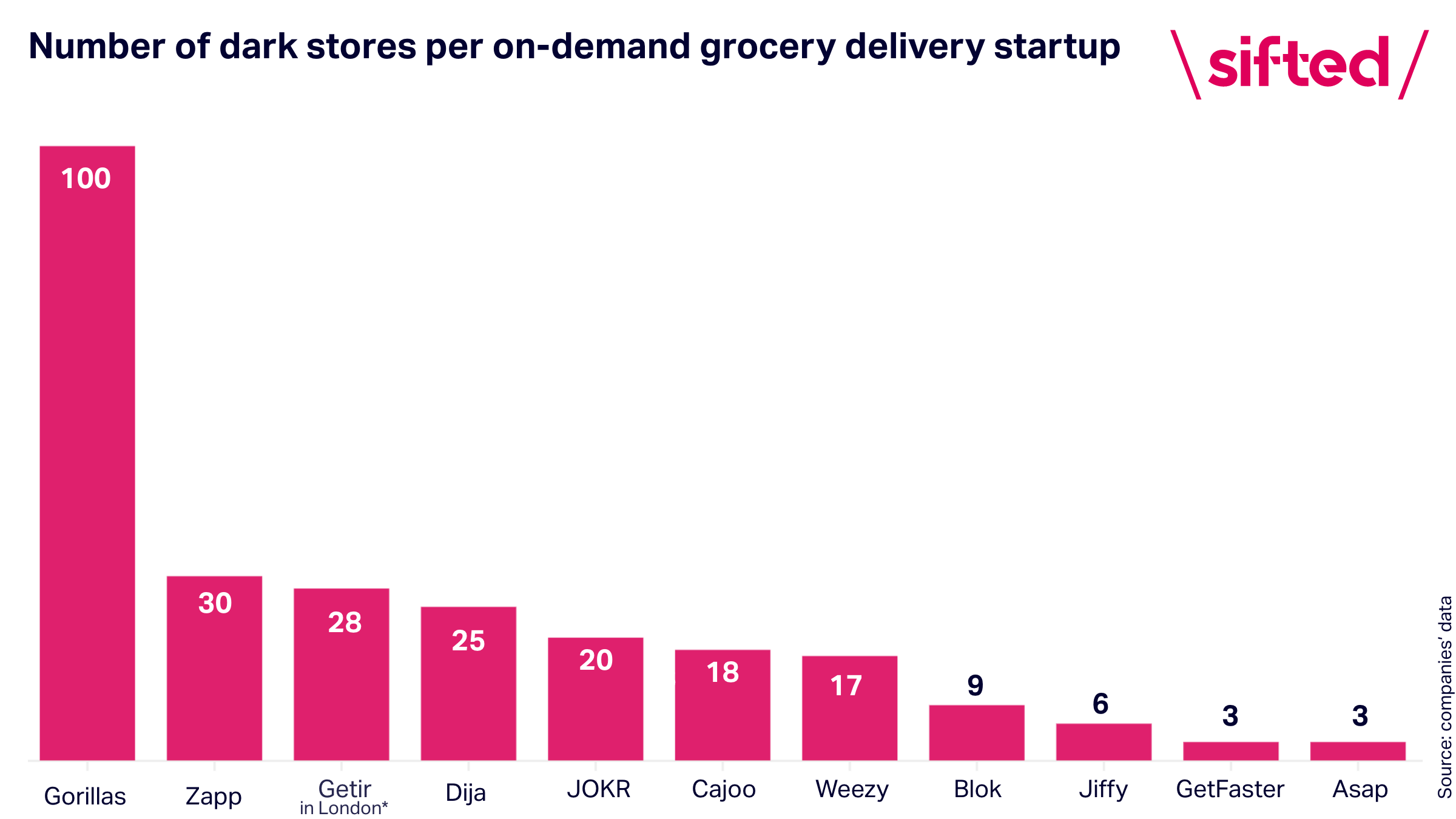 At the moment, Gorillas (which launched in Berlin in 2020) has by far the most dark stores (excluding Getir's stores in Turkey). But whether 'spraying and praying' is a smart strategy is yet to be seen; other companies, like Weezy, Dija and Blok, claim they're focusing on getting their operations right before opening too many stores. 
Gorillas is the only company to have ventured beyond Europe — in May, it launched in New York. Getir plans to expand to the US at the end of this year. 
Which companies are fundraising machines?
Getir, the oldest company in the running, has also raised the most investment. Its investors include the infamous Tiger Global along with Sequoia, Silver Lake and Mubadala. It's raised three funding rounds this year alone. 
If Gorillas (backed by Coatue, DST Global, Tencent and Atlantic Food Labs) can land the $1bn funding round it's aiming for, it will shoot into first place. Flink (backed by Northzone, Cherry, Target Global, Prosus and Mubadala) and Zapp (backed by Atomico and Lightspeed) are the other two competitors to have raised more than $100m so far. 
JOKR hasn't disclosed how much funding it's raised but cofounder Ralf Wenzel told Sifted it's "super well-capitalised".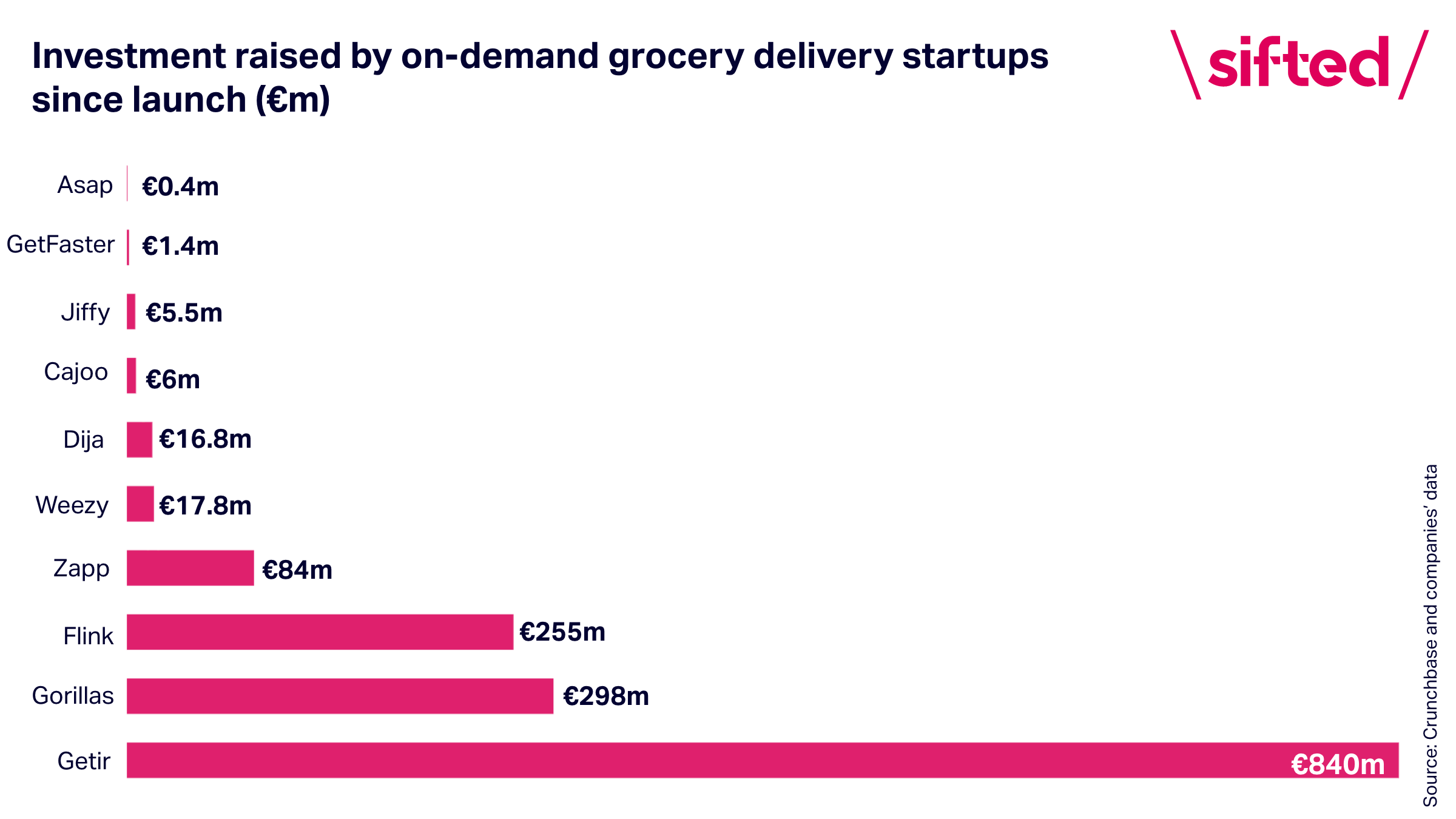 Weezy (backed by Heartcore, Left Lane and DN Capital) has raised a "significant" yet unannounced round in the past few weeks, according to people close to the company.
Dija (backed by Index, Blossom and Creandum) meanwhile hasn't raised recently — not the best of signs in such a cash-flush and competitive market. 
At this stage, with such well-capitalised competitors, the startups with minimal funding raised might struggle to raise more. "We believe that for the smaller companies, that haven't raised more than €50m so far, it will be tougher. They need to show numbers, and the numbers are obviously lower than the ones that have raised significant amounts of capital," says Meermann.
On the flipside though, he adds: "We see that this is a model that is growing really fast and can see good retention rates — and that's obviously helpful in fundraising." 
Other investors might also still invest with a speedy exit strategy in mind — expecting that these smaller companies will be snapped up at a tasty markup in the near future. 
Who's on the team?
Almost any 10-minute grocery startup founder you speak to will tell you that they have a huge advantage in this market having worked for Deliveroo, Delivery Hero or Uber Eats. 
But what might give them a bigger advantage would be hiring top brass from the grocery incumbents: people who know how to negotiate deals with wholesalers and FMCG giants — and can help these businesses get their margins into a healthier place.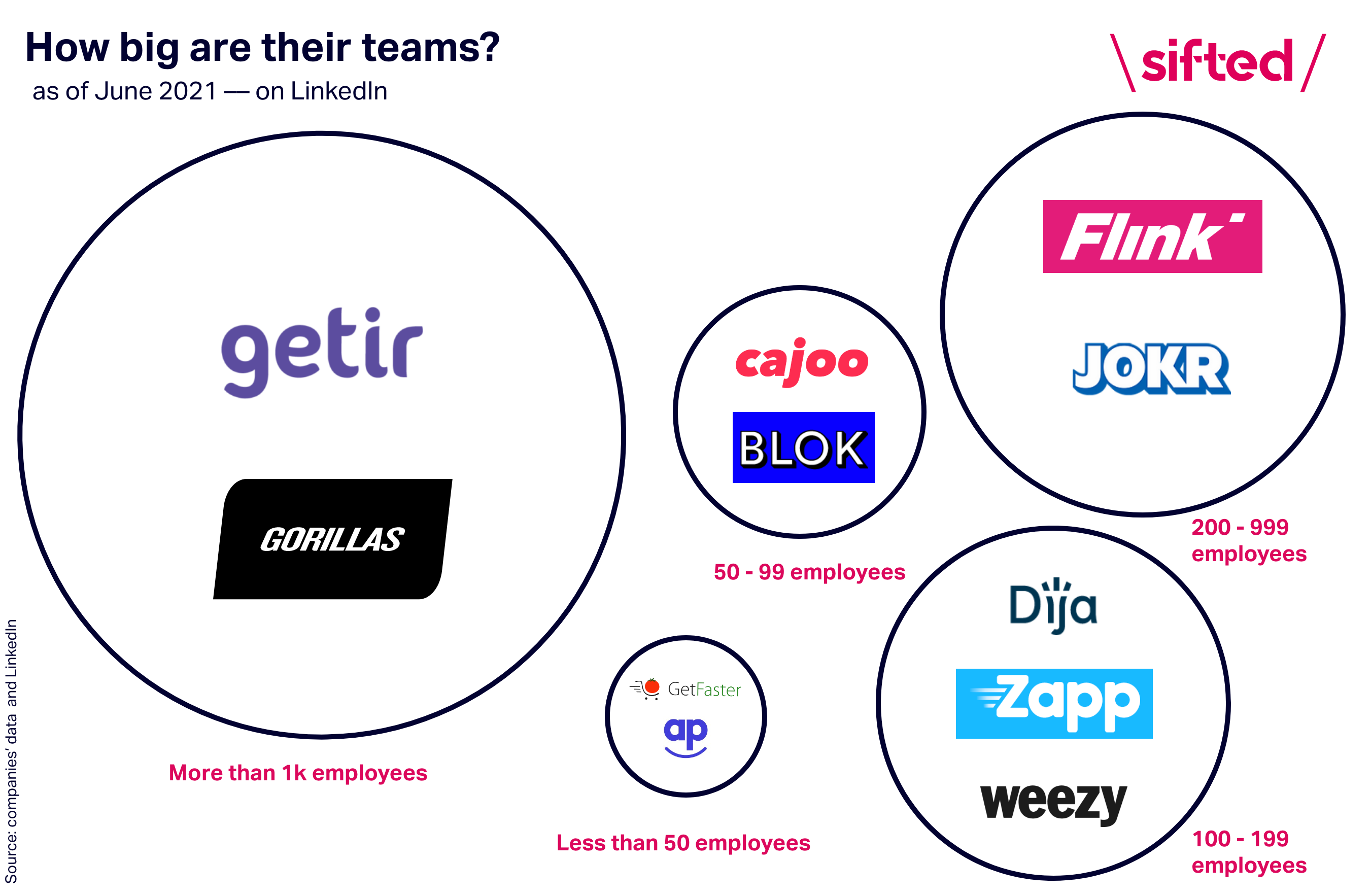 On that front, Getir once again streaks ahead. In recent months it's nabbed buyers from Ocado, Aldi, Marks and Spencer, Waitrose and Farmdrop.
Gorillas has also been on a buyer hiring spree, with people joining from Lidl UK, Lidl Netherlands, Ahold Delhaize, Walmart and Glovo. Dija, meanwhile, says it has a lot of people from Amazon joining, including its head of product. 
Another route would be to launch private label brands in high margin categories like beauty, pet food or ready meals. But that's no easy feat, as anyone who knows their stuff about retail will tell you — and requires customers to have built up strong trust in a brand first.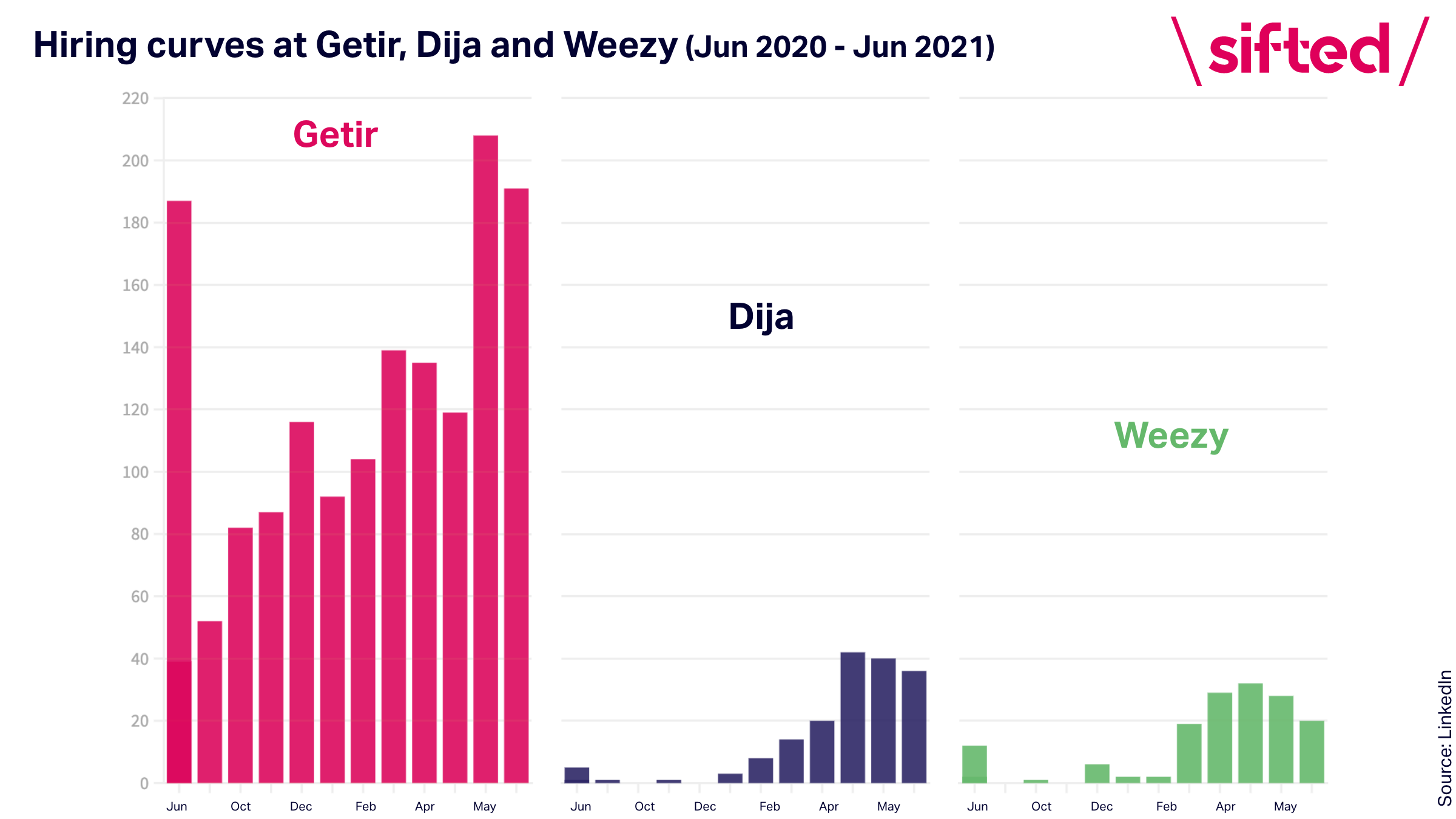 At its HQ, Getir's headcount has been rising at a steady tick.
Dija has slowed hiring this past month as it closes its latest funding round. "That's nothing abnormal," said a spokesperson at the company. "As you approach a fundraise, naturally there's a pause. You take stock of what's working, what's not and go back to the drawing board."
Hiring at Weezy has also tailed off in recent months — although it's picked up again post-funding round, with 65 positions advertised on its site at the moment.
Zapp has a whopping 150 or so roles up on its site, including several in Paris and Amsterdam. JOKR is advertising for 40+ roles in Europe. And Flink, fresh from its funding round, has hundreds of open roles.
When it comes to the people on the ground, Gorillas is facing a courier revolt. Earlier this month, some of its riders staged protests in Berlin after one of their colleagues was fired. The company also has an active workers council, which is pushing for "better working conditions" for warehouse employees.  
How about those operations?
"The key is not about expansion, it's about maintaining operational efficiency," Blok cofounder Vishal Verma told Sifted back in May. He was focusing on "oiling the machine" before expanding into further markets.
Companies can improve their bottom lines in several ways. Picking up customers that order frequently and start ordering more each time is a big priority. 
In London alone, there's a fierce marketing fight going on — as anyone who's downloaded any of these apps and received a hefty discount or walked past a bus stop plastered with ads for Getir, Weezy, Jiffy or Gorillas recently will know. That's not cheap; longer term, it's far better to sell more to customers you already have.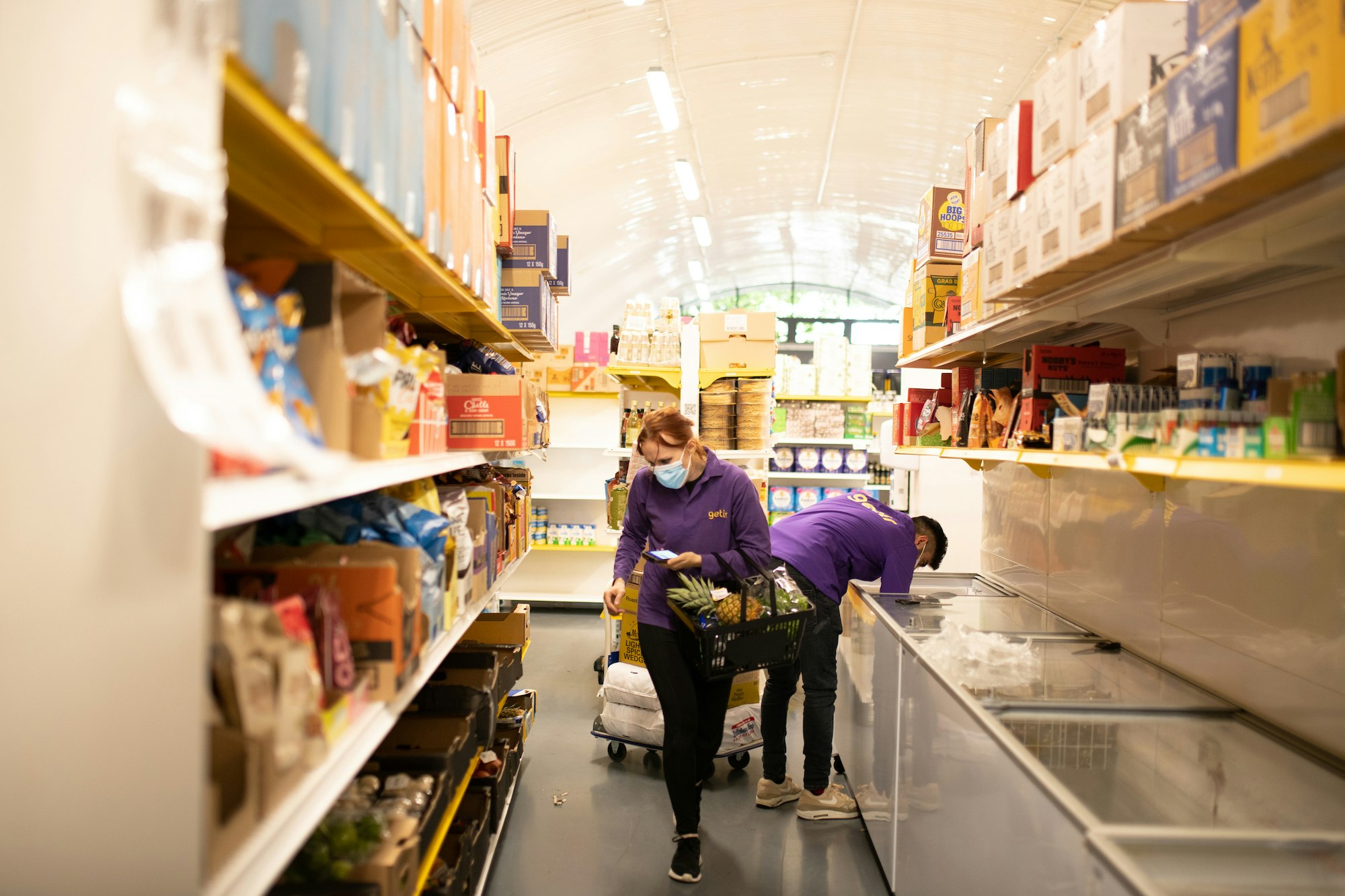 Running their warehouses efficiently is also important. Investors will be looking at what percentage of orders are delivered on time, how many orders a courier can fulfil per hour, how much time couriers (who are paid per hour) are spending idle and how accurate the pickers in the warehouse are. They'll also want to see how well the companies are managing their inventory: can customers always get what they want? Is anything sitting on the shelf for a long time? 
Not all of the companies have strong tech teams — yet. Dija and Jiffy's tech and product teams are just 20 people strong, Cajoo has 10 tech and product people on the job and GetFaster has seven. Weezy says that "tech is a big focus" at the moment.
To get things going, some have been using Excel spreadsheets and Shopify to manage inventory and build their apps. Some, like Asap, have launched with iOS apps only and others, like Flink, say they plan to build as much in-house as possible — but have also been using "established tech from the market".  
What's on offer?
The companies are, broadly, applying two different strategies.
Some, like Weezy, Gorillas and Blok, say they want to kill off the weekly supermarket shop. They're hoping people will start to make big enough orders from them, often enough, that they rarely bother visiting or ordering from a Sainsbury's ever again. 
They're also offering customers 'los genuinos' — unique items that you can't find anywhere else. They're forming partnerships with local bakeries and artisan ice cream brands in a bid to differentiate their apps. 
Gorillas says around 20% of its stock are local products — breweries, coffee roasters, chocolate brands and the like, which would struggle to get stocked in a major grocer but can easily be added to Gorillas' app.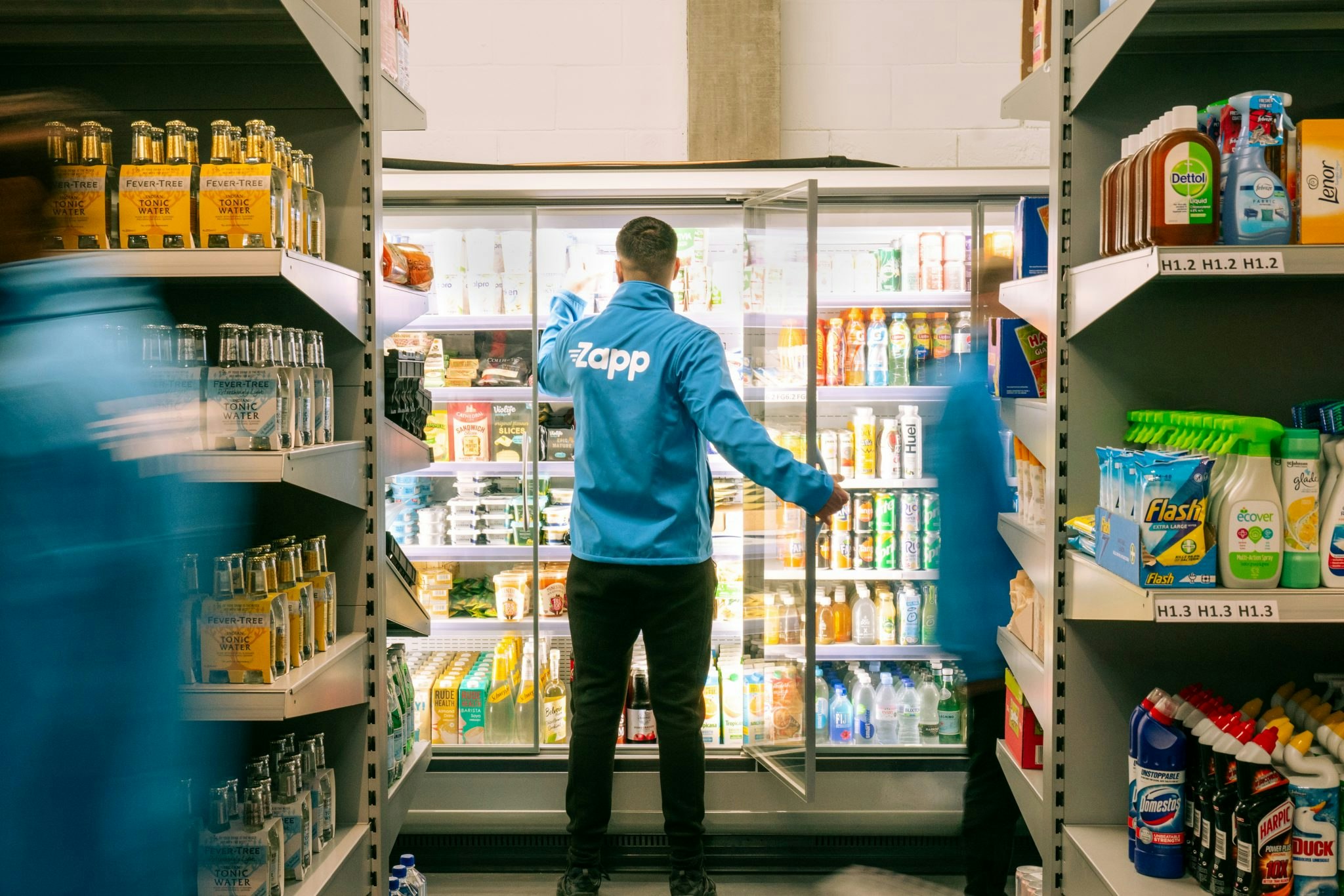 Others, like Zapp, are targeting the 'convenience' customer: people who want alcohol, crisps, cigarettes or medicine delivered as soon as possible. 
Many say their longer term plan is to expand what's on offer into other retail categories — like electronics, beauty products and pharmaceuticals — and take on some big ecommerce incumbents. 
JOKR's cofounder Ralf Wenzel has really big plans for his business. "It's a next gen Amazon," he says. "Ecommerce today is still stuck in the 90s — it's not where user demand and requirements are. It's primarily offline, and if it's online, it's still geared towards browser and desktop ordering." 
(When) will the bubble burst?
Some VCs think this market is insane. Others think it could be enormous. 
If speedy groceries can become something that people who live in European cities rely on — as they have come to rely on takeaway food deliveries from Deliveroo, Glovo and co. — some investors think they'll have hit on a gold mine. 
But that's a big if.