In an era where many of us have more free time than we know what to do with, founders and investors alike have decided that what we really need — and want (even if we don't know it yet) — is for our groceries to arrive 10 minutes after we order them. 
Across the continent, a few dozen startups are racing to build The Next Big Thing: a Q (for quick) commerce giant. 
VCs are piling money into the sector, startups are throwing money at real estate and marketing and hiring, and consumers are (once again) getting treated to a whole lot of discounts in an attempt to win their hearts (and pockets). 
With new funding rounds and launch announcements coming thick and fast, it's hard to keep track of who's who and what's what. So we've spoken to all the major players (so far), quizzed the VCs invested in the nascent industry and unearthed a few contenders in stealth too. 
Note: We published an updated market comparison in June.
Who's in the running?
A dozen startups are already tackling the market — and plenty more are out trying to raise early-stage funding to launch at this very moment.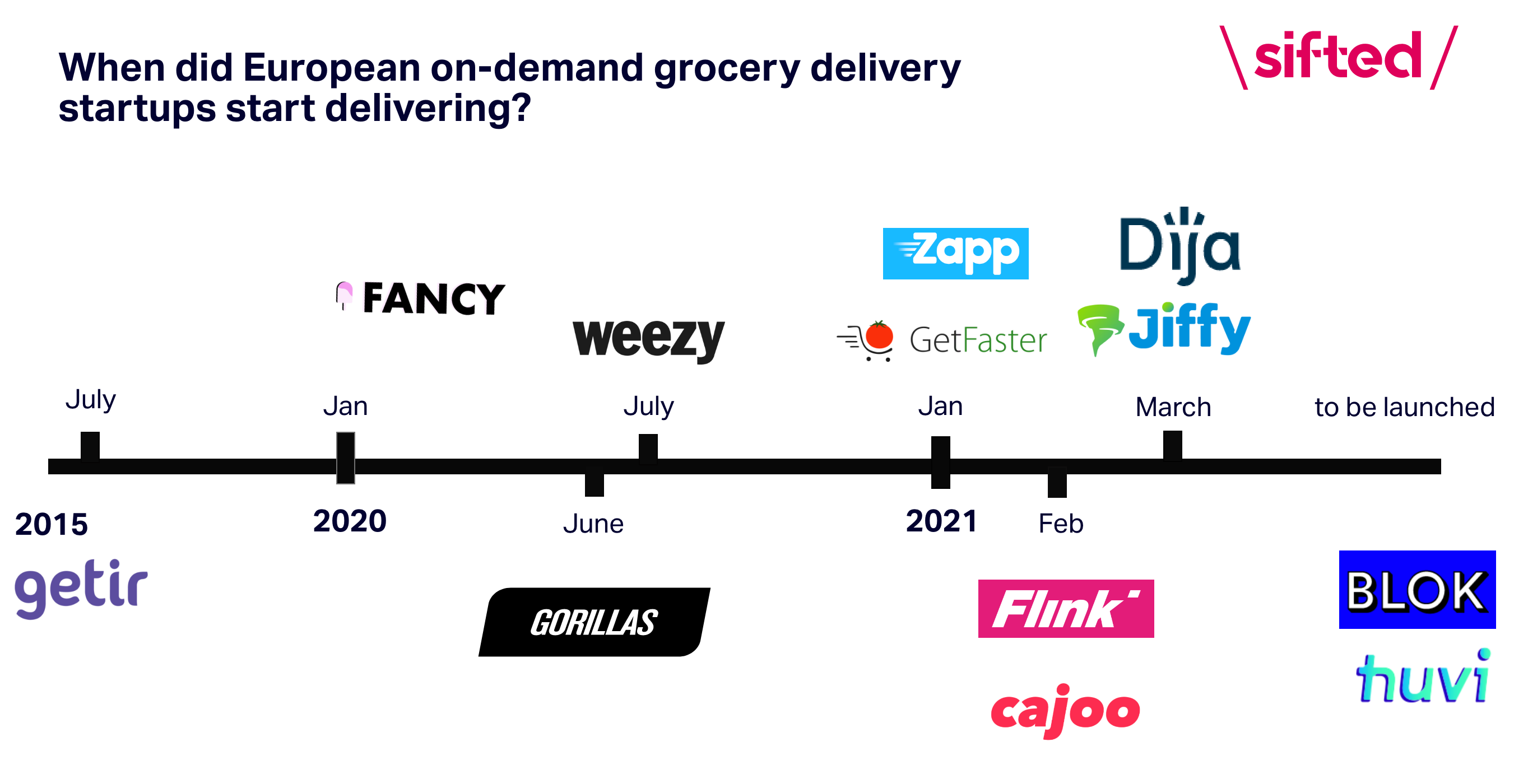 The veteran in the space is Getir, which launched its 10-minute grocery delivery in Turkey in 2015 and now operates in 23 cities in its home country and in London. On Friday, it closed a $300m Series C at a $2.6bn valuation, led by Sequoia and Tiger Global. It is set to enter the German, French and Dutch markets this year. 
Germany's Gorillas, which launched in Berlin in June 2020, also hit the $1bn valuation mark last week after raising €285m — and became Germany's fastest ever unicorn. UK-based Dija has only been operational for one month, but has already started acquiring competitors: it bought Cambridge-based Genie in March.
All are doing more or less the same thing: they offer customers around 1,000-2,000 grocery goods, which can be ordered via an app and will arrive in less than 15 minutes. These goods are stocked in 'dark stores' — mini warehouses in the city centre — and delivered by a fleet of riders, mostly on e-bikes. 
Which markets are they trying to win?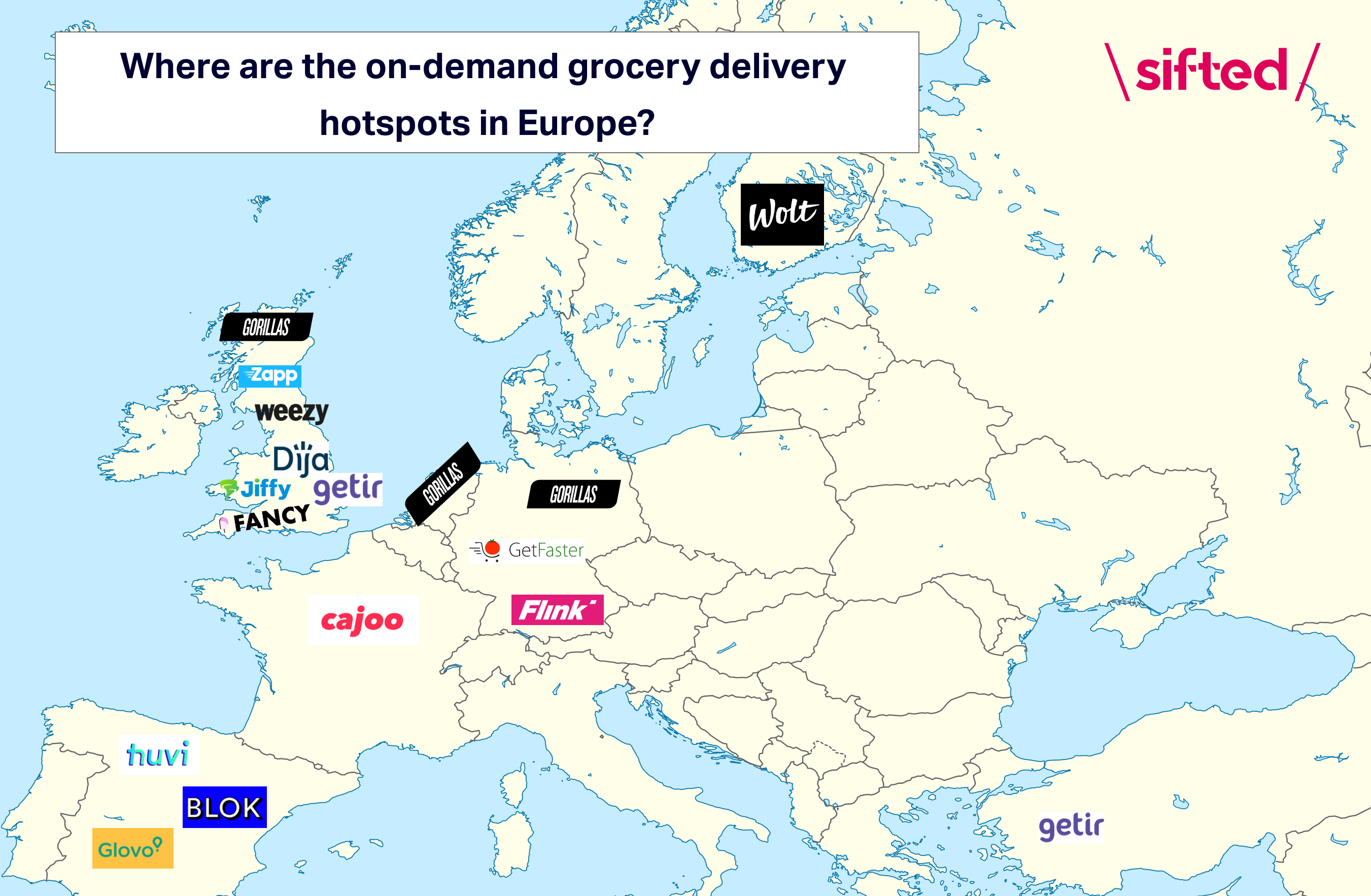 London is the place to watch. Weezy was the first operator to launch in the city, back in July 2020, and has since been joined by Turkey's Getir, which launched in January 2021. Germany's Gorillas launched in March 2021 while fellow UK-based startups Zapp launched in January 2021 and Dija launched in March 2021. Jiffy is about to launch. 
Germany is also seeing a lot of action. Gorillas launched in Berlin in June 2020 (just a month before Weezy in the UK) and was followed by Flink in January 2021. GetFaster launched in Düsseldorf in January 2021, and plans to expand to Berlin soon. 
Gorillas has also expanded to seven other German cities — Hamburg, Cologne, Munich, Stuttgart, Frankfurt, Düsseldorf — along with Amsterdam, Rotterdam, Den Haag and Groningen in the Netherlands. It has 40 dark stores across these three markets. Flink also covers several other cities — Hamburg, Düsseldorf, Cologne, Munich, Wiesbaden, Frankfurt and Nürnberg — and is launching in new locations "on a daily basis", it says. 
Weezy has conquered the most territory in London so far: by April 11, it will have 15 dark stores, and has also recently expanded to Bristol and Brighton. It says it is growing 30% week on week. Getir currently has five dark stores in London, plans to add plenty more — and expand to other major European cities. 
Dija plans to catch up fast, too. At the moment, it has four dark stores in London but plans to open "a new location every five to seven days", according to CEO and cofounder Alberto Menolascina. 
Elsewhere in the UK there's Fancy, which is operational in Birmingham, Bristol, Leeds, Liverpool, Manchester and Newcastle. (It's reported that GoPuff, the US food delivery app which has inspired many of those in Europe, is in talks to acquire Fancy.) France's only player (for now) is Cajoo, which launched in Paris in February 2021, while in Spain there's Huvi and Blok, both gearing up for launch. Investors say there are also pitch decks flying around for players tackling other smaller countries in Europe. 
The jury's still out on whether it's such a good idea for a startup to expand into numerous markets.
From our knowledge of this industry, it's a very country-by-country pain

point.
"From our knowledge of this industry, it's a very country-by-country pain point," says Antoine Nussenbaum, partner at VC firm Felix, which is an investor in several food delivery startups, including Deliveroo, Frichti and HungryPanda. "But [these startups] are all selling a pan-European play." 
It definitely makes sense to expand into numerous cities in one market, says Yacine Ghalim, partner at Heartcore and an investor in Weezy, given that wholesalers work nationally so those relationships are relatively easy to scale. That also brings significant economies of scale. But few wholesalers work across the continent, meaning operators have to build those supplier relationships from scratch in each new market. 
Several markets in Europe are still without a local player — but likely not for long. "In the current market, it's likely you can still get funded for a regional play — to be the DACH player, the Nordic player," says Nussenbaum.
Who's got the most dosh?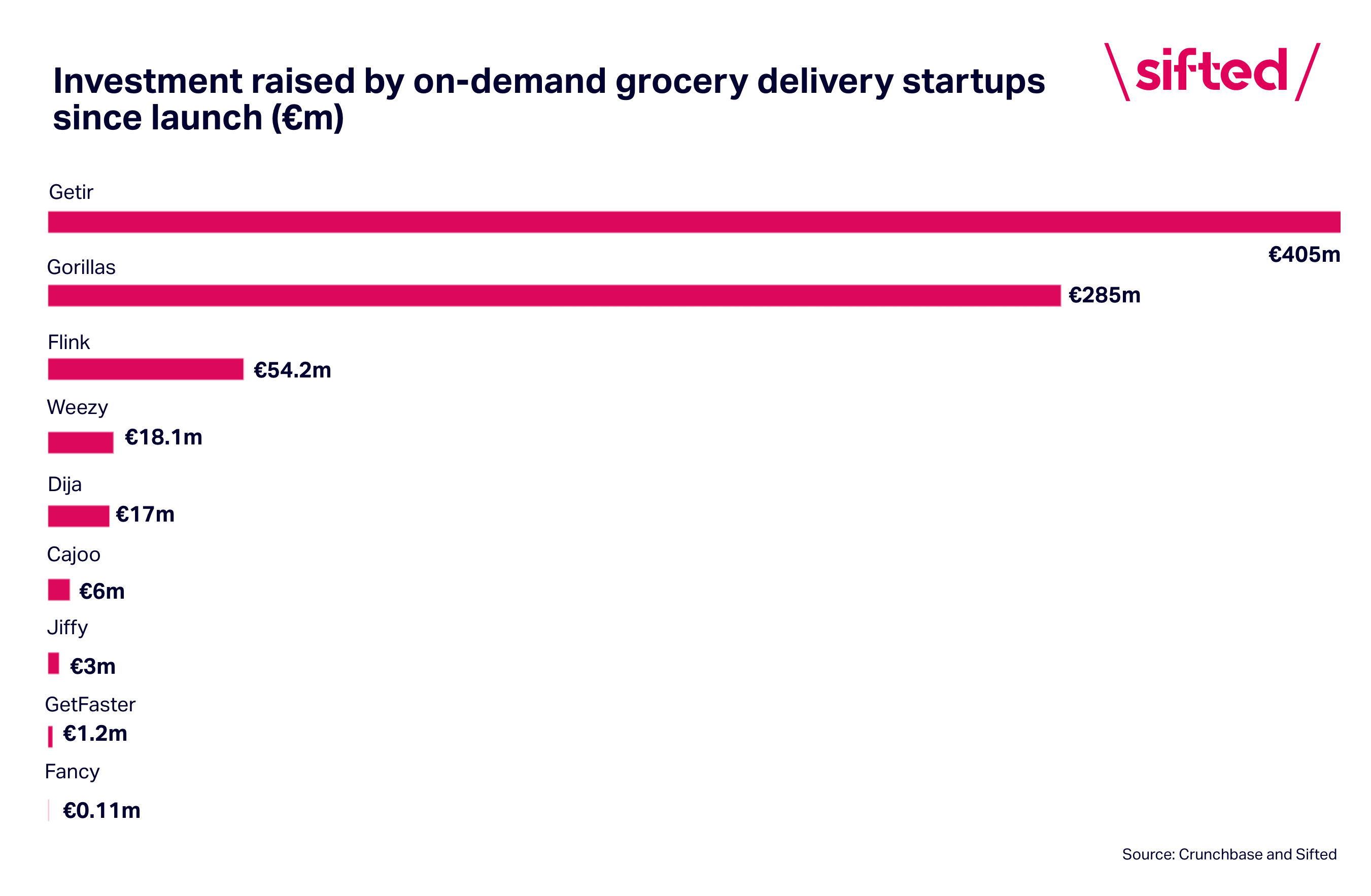 The sector is young, but already counts two unicorn startups.
Getir closed its most recent $300m Series C round just two months after closing its $128m Series B, and became Turkey's fastest ever unicorn.
Meanwhile, Gorillas hit a $1bn valuation just nine months after launch. It's backed by a flock of international investors including US investment manager Coatue, investment firm DST Global and Chinese conglomerate Tencent. 
Flink ranks third in the funding race, with €52m raised from European investors including Northzone, Cherry Ventures and Target Global. 
Many of Europe's prominent investors have backed one of the operators, including Creandum, Index Ventures and Blossom Capital.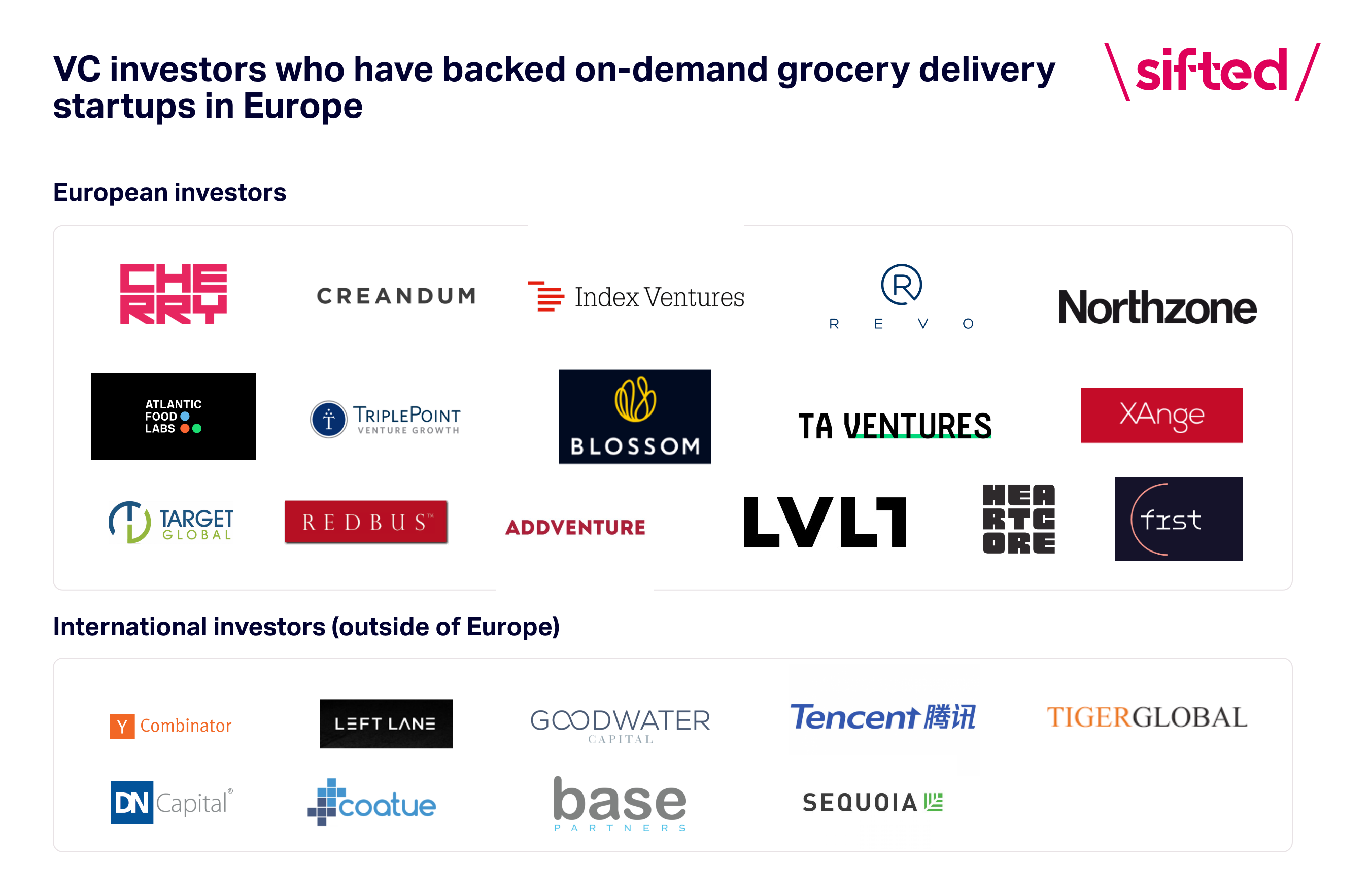 "Every single investor absolutely wants to invest — I've never seen that before," says Ghalim. 
The pace at which the market has taken off has surprised most investors, though. 
"I really didn't think the investor mindset would shift this quickly," says Ghalim. When Heartcore first backed Weezy, he says, other investors questioned the decision: "'Is the model really working? There's already Deliveroo, does it make sense? Isn't labour too expensive in Europe compared to Turkey?'" 
"In the space of three months, it went from investors saying it's probably not going to work to every single VC rushing to make a bet in the category." 
Every single investor absolutely wants to invest — I've never seen that

before.
That has its pros and cons for early investors and the startups they've backed. It's made follow-on fundraising easier, says Ghalim, but it's also attracted competition faster. "There's supply for funding, and demand for companies wanting to grab that funding. It really accelerates things." 
Now, many of the operators are back out fundraising. Weezy, Dija and Flink look likely to raise in the near future. "We're going to get a second, third wave of funding being announced very soon, and that will start scaring a lot of investors," says Nussenbaum, who is yet to place a bet in the sector. 
"Some startups are launching propositions that are very similar. My feeling is that there will be one, two or three winners. But at the moment, there are seven or eight out there raising a lot of capital," he adds. 
"We would rather see how people behave, and pay a price that's much higher — or might not be — with more clarity, rather than artificially picking one. Some investors are picking one because they feel like they have to pick one." 
What's on offer?
More or less every operator promises to deliver in under 15 minutes. Most have small delivery fees (or, not so small, if you consider that the average basket size is around €25). And all stock around 1.5k-2k items in each dark store, which is comparable to the offering at a local convenience store. 
Despite the 10-minute delivery promise being just about the first thing consumers learn about any of the operators, it's not actually so very important, thinks Alec Dent, COO and cofounder of Weezy. 
Ultimately people care more about reliability and choice of

product.
"Speed is the wow thing that attracts someone in," he says. But longer term, it's not what matters. "Ultimately people care more about reliability and choice of product. If I bring you what you don't want extremely quickly, it's not that useful."
"A service that always comes in 25 minutes — which is slow compared to what we're doing — is still better than a service which might come in five minutes or 35 minutes." 
Ghalim agrees that speed is not the be all and end all: "What's important is to limit the percentage of orders where you completely screw up. Those are the ones that kill you from a reputational point of view."
Who's on the team?
Nearly every speedy grocery delivery player has a team bursting with ex-Deliveroo, Uber Eats and Delivery Hero employees. 
It's this 'pedigree' that has attracted many VCs. "For us, it was really the team," says Ophelia Brown, partner at Blossom Capital and an investor in Dija. "It was a no brainer to me."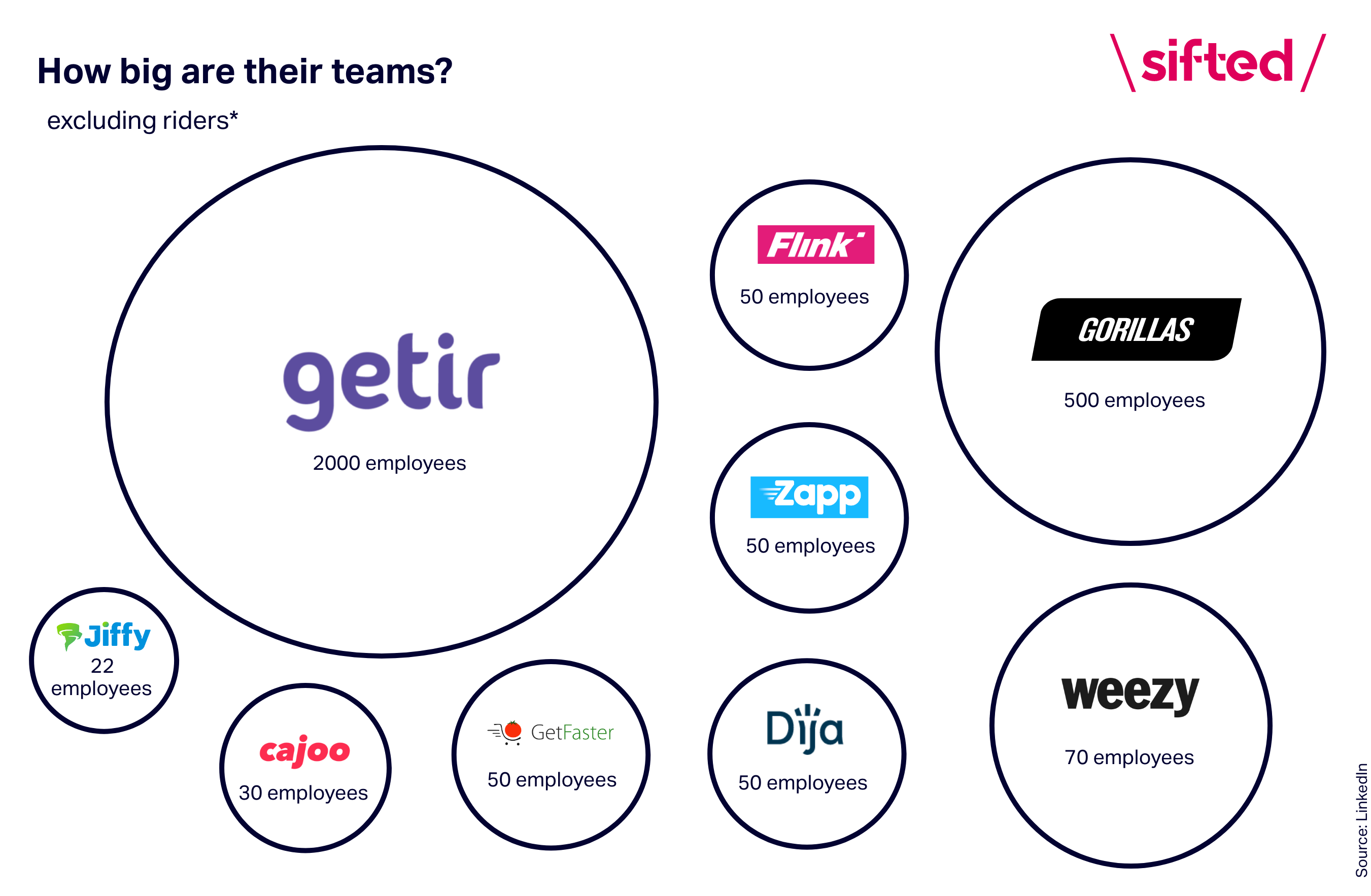 Most are also hiring fast. Gorillas already has a whopping 2k staff, including over 1.2k riders. Cajoo and Weezy say they plan to hire 100+ people this year, and Dija and Flink have around 50 open positions at the moment.
Why are VCs so excited?
"Grocery and supermarket has been the obvious last piece of the food market to be disrupted in Europe," says Brown. "If you know anything about European tech outcomes, food is something Europeans know how to innovate and disrupt. And the consumer spend is significant." 
"Covid-19 showed how broken online supermarkets and grocery shopping is — Ocado couldn't keep up with demand. Inflexible booking slots, substitutions — not a good experience," she adds. 
While consumers' attention might be focused on the surprising speed of these startups at the moment, investors are focused on the enormous and mostly offline market they could take a bite out of. 
They want to fundamentally change the supply and logistics of the way we all order grocery and convenience

items.
"This wasn't a 10-minute convenience item pitch," says Brown. "It was: 'The weekly shop is broken, there's no reason it's done like this.' They want to fundamentally change the supply and logistics of the way we all order grocery and convenience items." 
"People are backing the macro opportunity, and the team," says Nussenbaum. 
But will consumers bite? Brown thinks so: "If you could get just as good produce at a reasonable price, will people buy it? Absolutely." 
Challenges ahead
The winners will be decided on their operational capacities. "It's an execution play," says Ghalim.
"History told us that when it came to meal delivery, dominance is quite important," he adds. "There's significant first mover advantage if you're the first name that pops into people's minds. It's harder to make people switch providers than it is to get them to try a service for the first time." 
On top of that, he says, follow-on investors will be looking at how many dark stores startups have opened — "and the pace at which they're able to stack those stores on top of each other". 
None of them will be profitable in the next two

years.
Then there's the unit economics — although at this early stage, most investors won't be paying all too much attention to them. "None of them will be profitable in the next two years," says Christian Meermann, partner at Cherry Ventures and an investor in Flink. 
Matthieu Vincent, cofounder of strategy consultancy Digital Food Lab, points out that the European players take a much smaller margin compared to US competitor GoPuff: "GoPuff delivers an Oatly milk carton for $6, Weezy does it for $1.80 and and Gorillas for $1.90."
"Moving forwards, it'll be interesting to see whether they'll start taking a higher margin out of each product. Will they use Uber and Deliveroo's model, which requires heavy funding at launch — and once they have a solid customer base, make people pay more because of the unique fast-delivery offer?" he adds.
Retention metrics will also be key. "The story is that these companies are creating a new consumer habit, so they have to show that they're becoming part of people's daily routines, or they're not going to be able to raise money," says Ghalim. 
"The last thing is their ability to hire great people. These companies tend to be magnets for talent." 
The actual technology itself is less important. "It's not a deeptech play," says Ghalim. "It's fairly rudimentary. I don't think it'll be that much of a focus for now." 
Real estate might also become a challenge, if rental prices rise due to the rising competition for dark store spaces.
Those that can't expand as fast as others, or raise as much capital, might be acquired by a bigger player. "There will be some form of consolidation — some will merge, others will go out of business," says Meermann. 
The old kids on the block
There's also some chunky competition in the form of the restaurant food delivery operators. Deliveroo offers fairly fast grocery delivery from partner supermarkets "in as little as 20 minutes" — and its app is already on a whole lot of customers' phones.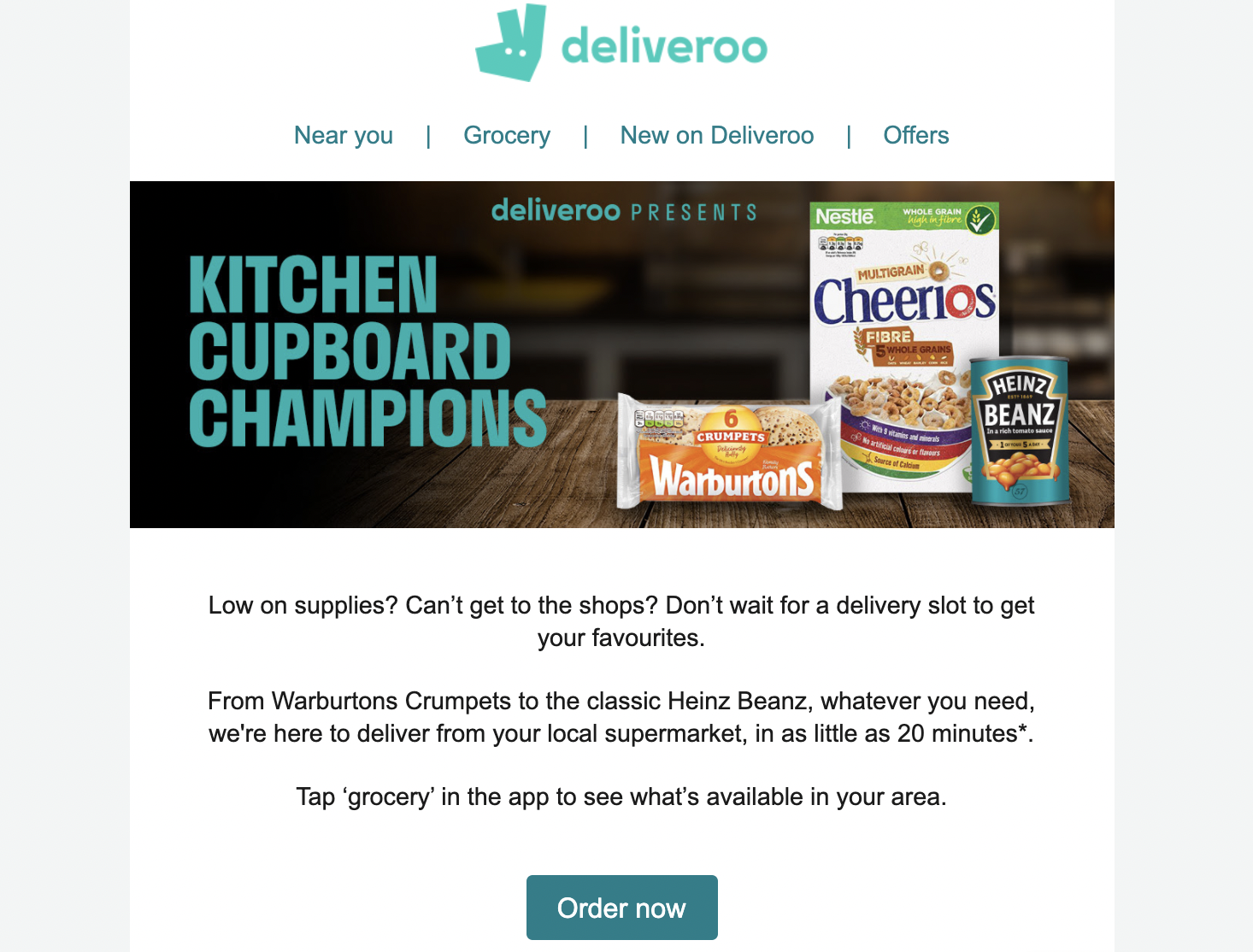 In Finland, food delivery giant Wolt is also dabbling in grocery delivery, operating around 10 dark stores of its own, as well as partnering with over 1.5k retail partners. And in Spain another delivery unicorn, Glovo, plans to open 100 dark stores this year.
Meermann, thinks they're not so scary. "It's not their core business, so the question is, will they really double down? In the end, I wouldn't be too afraid of these guys," he says. 
They might turn out to be very useful for some of the 10-minute grocery delivery upstarts, he adds. "Potentially, later down the line, they might buy a few of these grocery players." 
All to play for
While comparisons with the restaurant food delivery market — and 2019's investment craze, scooters — seem natural, there are some key distinctions.
Scooters and meal delivery were really city-by-city

playbooks.
"Scooters and meal delivery were really city-by-city playbooks," says Ghalim. "You could just launch in a single city, and build a network of drivers or scooters. But in this case, because you have to build relationships with suppliers, it's a tedious thing to do if it's only for one city in a country. My view is that this segment is much more country by country, rather than city by city."
Scooter and meal delivery startups work best when they have as many scooters or restaurants and riders on their platforms as possible; that's the way to guarantee customers get what they want. But on-demand grocery is different: each dark store can fulfil all the needs of the customers less than an eight-minute cycle away. There's less reliance on network effects.
That means each city might be able to hold more than two or three operators, thinks Ghalim. "It's more akin to the offline supermarket world. The market can sustain quite a few." 
That said, Europe has very few pan-European supermarket chains — and the same may turn out to be true for this sector. If there are too many operators in a city, says Meermann, they're likely to fall into a battle to offer customers more and more discounts, which won't work out well for any player. 
But for those that come out on top, the prize will be big, hope these VCs. 
"We'll end up with multiple big outcomes," says Brown. "There's lots to play for across Europe." 
Amy Lewin is Sifted's deputy editor. She covers VC, foodtech and diversity in tech, and tweets from @amyrlewin.
Cecile Bussy is Sifted's social media journalist. She tweets from @CecileBussy