The on-demand grocery delivery sector is as spicy as Nando's hot sauce right now. 
And it's changing every few days, as companies raise money at a record-breaking pace, plow into new markets and hire like wildfire. 
So, to keep you up to date on the latest developments, we've pulled together this cheat sheet. We'll update it as and when we hear of on-demand grocery delivery launches and expansions.
And if you hear of something before we do, please tip us off. Email amy@sifted.eu 
* This article was last updated on October 27. 
Known companies in this space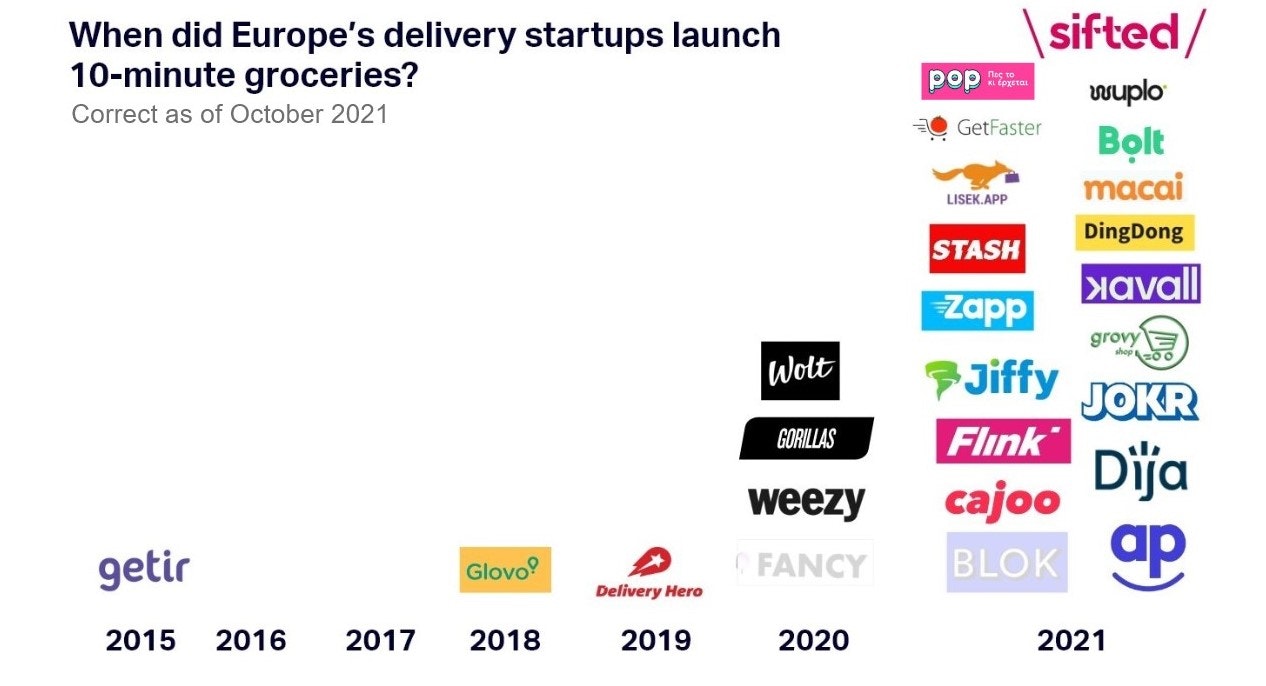 Turkey's Getir was the pioneer of the dark store model in Europe. Launched back in 2015, it's now the leader of the pack in terms of funding raised — and has a shiny $7.5bn valuation. 
France's Frichti, also founded in 2015, delivers groceries in around 15 minutes to customers in France and Belgium (since June this year). It has more than 20 dark stores and offers ready-made meals from partner restaurants as well as groceries.
Barcelona-based Glovo was the first takeaway food delivery platform in Europe to begin experimenting with dark stores in Spain back in 2018. In 2019, Germany's Delivery Hero followed suit, launching dark stores in Turkey. 
Then the pandemic hit — and demand shot up as people saw a real need for an alternative to physically going to a supermarket or convenience store. Berlin-based Gorillas, London-based Weezy and UK-based Fancy all launched in 2020, while Helsinki-based food delivery platform Wolt began experimenting with dark stores too. 
And in 2021 the frenzy truly began, with dozens of on-demand grocery delivery startups launching across Europe. (This is how things looked in March; here's an update from June.)
Glovo landed a €100m real estate partnership in January to help it open up hundreds of dark stores in 2021. Gorillas raised €245m in March, at a $1bn valuation, to move fast into new markets.
At the start of September, French company Cajoo announced it had raised $40m, with supermarket Carrefour as an investor, which it says will give it a strategic edge. Also in September, Jiffy announced it had raised $22m to fund expansion in other parts of the UK beyond London.
In October, Gorillas announced it has raised a $1bn Series C round, valuing the company at $2.1bn. German online takeaway platform Delivery Hero was amongst its backers in the round.
Between them, these businesses have raised over €1.5bn.
Latest market expansions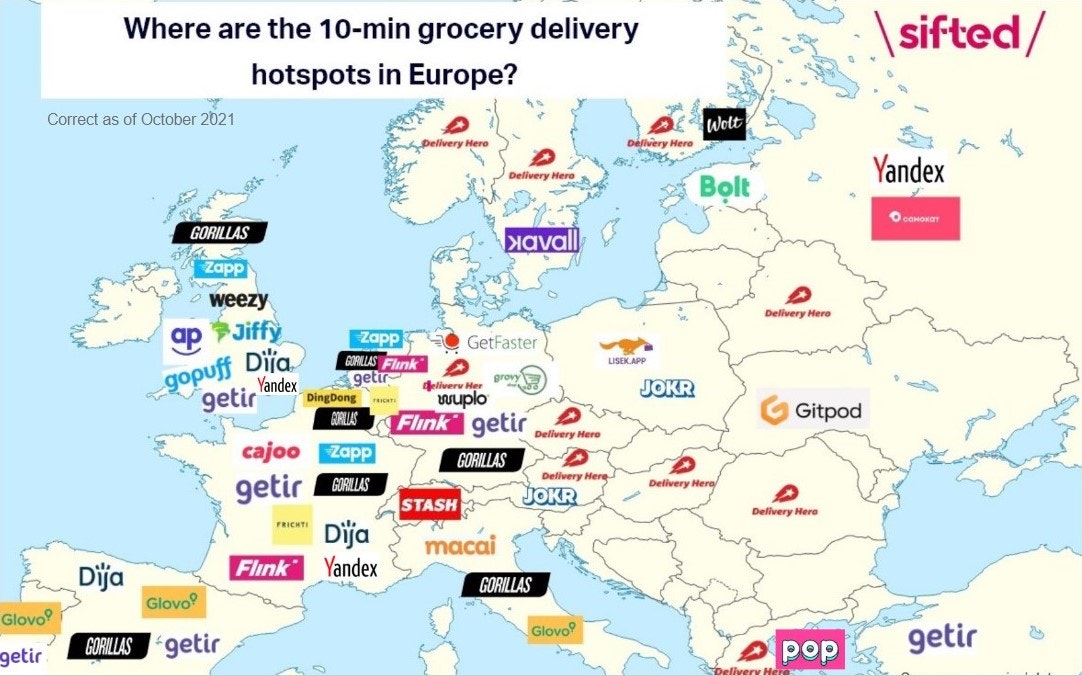 Companies offering 10-15 minute grocery delivery are expanding thick and fast across Europe. 
Berlin-based Flink plans to open 50 stores across France in the coming months.
Getir plans to launch in 15 cities in the UK with 100 stores by the end of 2021. In October, the company announced it had opened operations in Lisbon, making Portugal the 8th country covered by Getir.
In July, London-based Zapp expanded to the Netherlands, its first international market. Also in July, New York-headquartered JOKR launched in Poland.
Weezy is yet to leave the UK but is expanding into new cities within the country. Gorillas is doing the same; it expanded to Nottingham in June. Zapp expanded to Manchester in August.
Russian tech giant Yandex also runs a speedy grocery division, known as Yango Deli. In October, it announced that it's opened operations in the UK, in London. Yango Deli's also available in Israel and France — and Russia.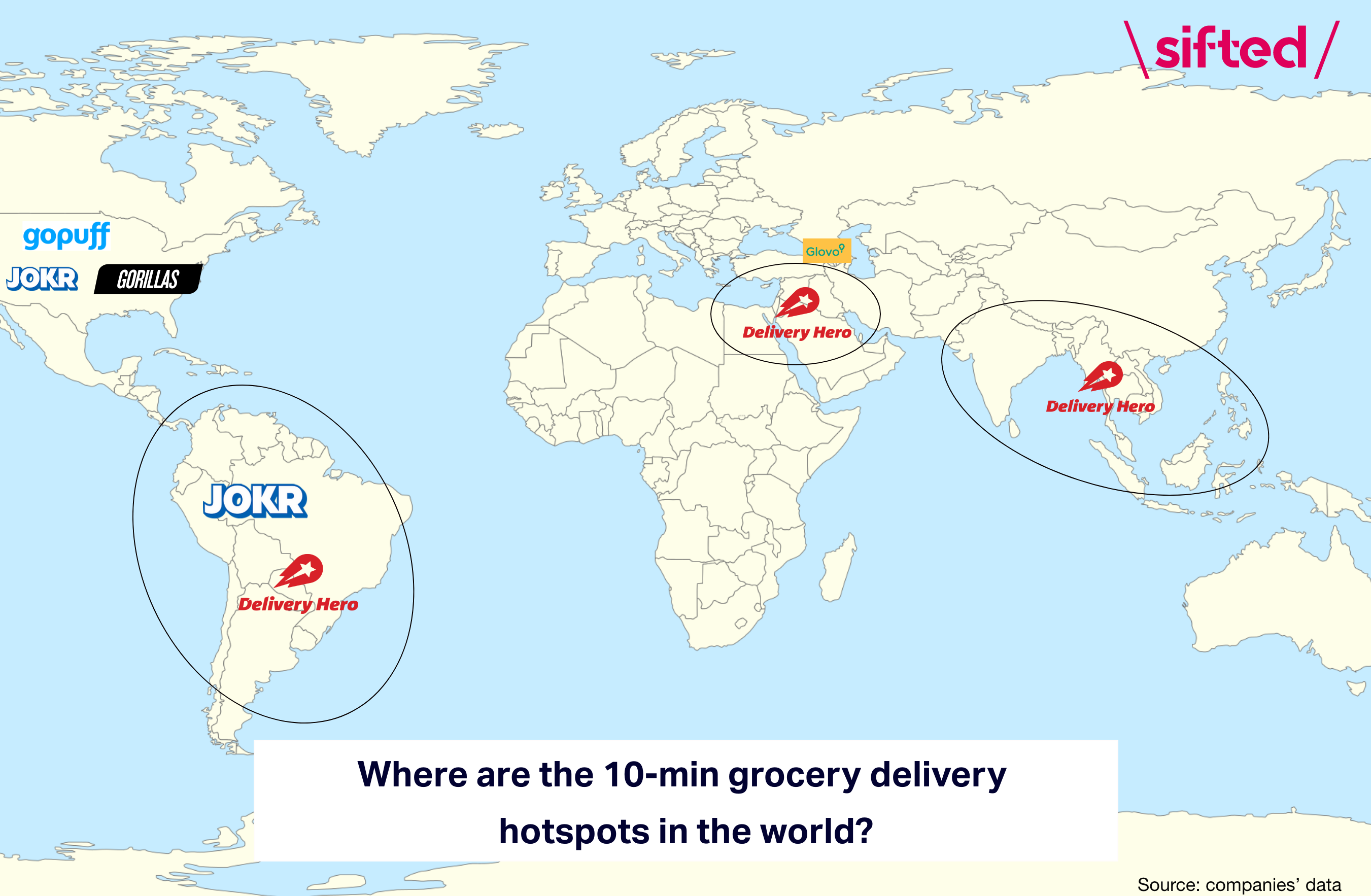 Meanwhile, a few companies are heading into new continents. Delivery Hero has been running dark stores outside of Europe since 2020, when it launched in Latin America.
JOKR launched its first operations in Latin America in April; then Gorillas and JOKR both launched in New York in June.
New on-demand grocery launches
New competitors keep launching too. 
Since March, Stash has been up and running in Switzerland. 
In April, Lisek –– which was founded in 2018 –– re-launched in Warsaw under the new fast grocery model. 
In May, Macai launched in Italy and Kavall in Stockholm. 
In June, Ding Dong started delivering in Ixelles, a district of Brussels.  
In August, Wuplo launched in Berlin.
In October, Pop Market, a Greek speedy grocery, launched in Athens after raising $3.5m in seed funding.
Latest on-demand grocery acquisitions
Consolidation is kicking off. 
In May, US-based Gopuff acquired Fancy. In July, Getir acquired Spain's Blok and in August, Gopuff acquired Dija.
In September, Glovo announced that it had bought two grocery delivery companies: Lola Market and Mercadão. Lola Market, based in Spain, uses personal shoppers to pick up customers' orders from supermarket partners like Lidl and Carrefour, as well as more traditional markets, like Barcelona's La Boquería. Lisbon-based Mercadão, which launched in 2018, is another personal shopping startup.
Further reading
Questions remain around whether these companies can deliver on their lofty valuations. (Getir reached a $7.5bn valuation at its Series fundraise; Sifted analysed whether it is worth it.) 
Pundits are also divided on whether it's good business to back this on-demand grocery sector. (Nicolas Colin thinks the VC funding frenzy around on-demand grocery delivery is warranted.)
Meanwhile, Gorillas is having to deal with increasing rider unrest; it would not be surprising if other on-demand grocery startups face similar HR issues with couriers.