Like many naive startup joiners, Alexander Weber's first day at a startup wasn't exactly what he expected.
It was 2014, and the former Austrian junior national swimming champion was fresh out of business school in his home country. His task: calling up beta testers for a company known then as Papayer and tell them the service was being shut down. 
"The founders were like, well, either you call them or we have to. So please, go ahead," he remembers.
But while that product may have closed, the next was a hit. And the company Papayer became, N26, has gone on to become Germany's most valuable fintech. Weber, who was most recently chief growth officer, is finally stepping down after a nine-year run and is leaving the company for greener pastures — or perhaps just a long rest.
Sifted sat down with Weber to talk about the N26 journey, onboarding employees in hypergrowth, and his plans to start his own venture. 
'Playing a much bigger game'
Weber joined N26 in September 2014 after receiving an offer from founders Valentin Stalf and Maximilian Tayenthal for an entrepreneur-in-residence role five months prior. 
The original idea of Papayer, explains Weber, was a pre-paid card for kids, with an app for parents to monitor their child's spending. But after speaking to its 25 beta testers, who were a mixture of the founders' friends and family, Stalf and Tayenthal realised that the parents weren't giving the card to their kids to use: they were using it themselves.
"Suddenly, these people had a card and an app where their spending showed up on their phones a few seconds later, which wasn't a thing at all in 2014," says Weber. "We realised we were playing a much bigger game of [creating] a modern bank account for everyone, and not just for teenagers." 
That bigger game won N26 100k customers in its first year, many of whom said the product completely transformed their banking experience. With N26, you could open an account online within hours, without having to physically go to a bank to sign papers — a big thing in Germany that has historically shied away from using electronic documents in banking and insurance, preferring to leave a paper trail behind. The added bonus for international users in Germany was that the app was all in English. 
N26's humble beginnings
N26's first-ever office in Berlin pales in comparison to its HQ today, which has space for up to 1,100 of its 1,500 employees in Europe. 
Located near Alexanderplatz, the city's historic marketplace-turned-tourist hub filled with big-name clothing shops and restaurants, the building has floor-to-ceiling glass windows and coffee shops on each storey painted in the colours of N26's cards: light blue, pink, black and green. The large N26 sign that hangs outside the building can be seen by commuters passing by on trains.
In stark contrast, the company's first office wasn't really an office at all — but a small apartment on Unter den Linden, which overlooks the Brandenburg Gate. 
As one of seven employees (including the founders) at N26 at the time, Weber's role was to set up the company's customer service function, including hiring support agents and building out customer support across telephone, email and social media. This was among the richest learning experiences for Weber, given that understanding customer needs involves understanding the business from all angles, he says.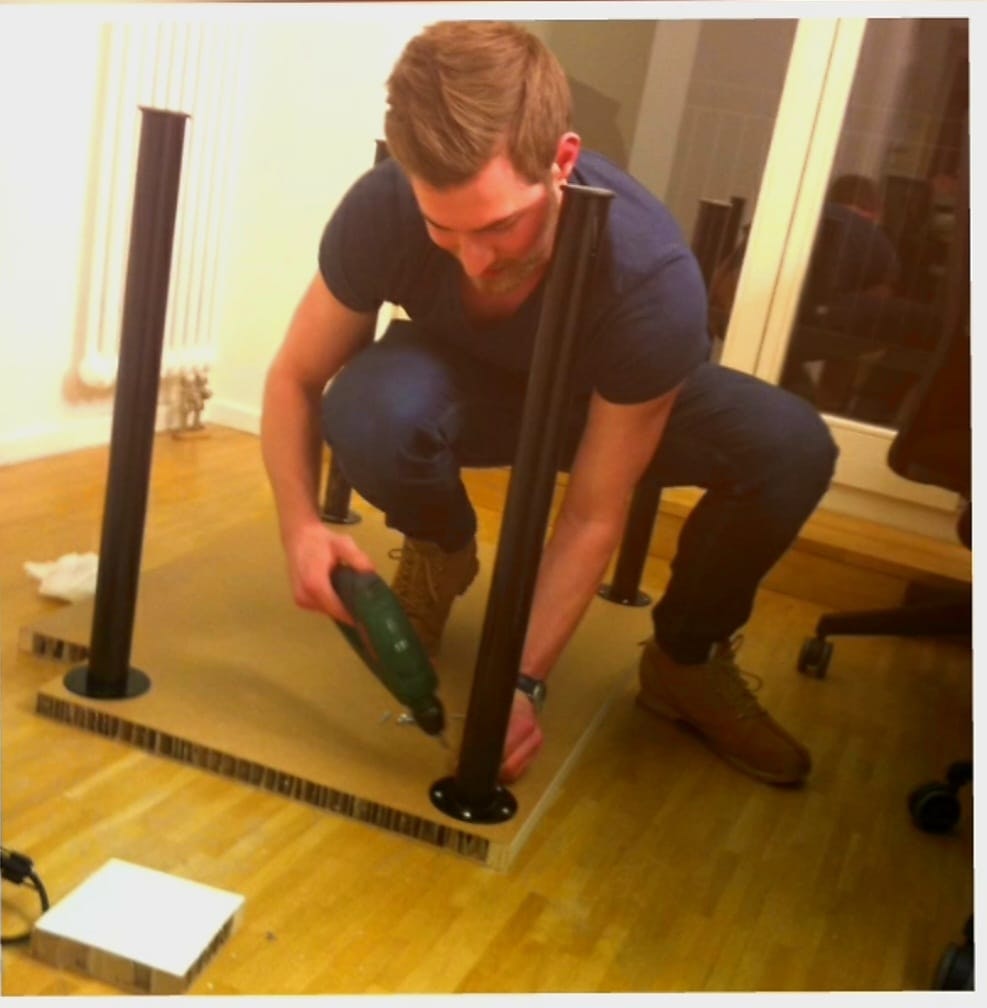 "I remember we had this very small corner in this kind of living room, and then we had to put in a small wall so that I could do my calls without distracting everyone else," says Weber, adding that he even had to cut his desk slightly smaller to make it fit into the corner.
N26 still has the office today, using it for team offsites and leadership meetings — and sometimes even New Year's parties — "for nostalgic reasons", says Weber. He jokes that in 10 years' time, when N26 has reached global notoriety, the apartment will become a museum. 
Living through hypergrowth 
By 2019, N26 was living what many aspiring entrepreneurs would consider to be the hypergrowth dream. In less than a year, N26 went from 500 employees to 1,500, onboarding 80 people or more every two weeks. By summer of that year, N26 had picked up over $600m in funding — $470m of which was raised in 2019 across two rounds. 
Weber, who had just been appointed CGO, was put in charge of global marketing and internationalisation, a team that's 120-odd strong today. He was also often the person giving welcome talks to newbies in halls of people larger than any university lecture theatre he'd seen before. 
"[Hiring that fast] was sort of necessary to reach our growth ambitions, but even though I think we managed it well and had a big HR team, there's only so much that an organisation can digest," says Weber.
But by 2021, people started to leave en masse amid reports of cultural problems — which can be hard to remedy when a company is moving that fast. Speaking in 2022, N26 said that turnover in 2021 was at a higher rate than it would have liked, but that it was working with works' councils to improve stock options and remote work policy.
If Weber were to do it all again, he might have suggested that N26 grew its headcount more steadily. 
"Having (hypergrowth) in 2019 and then having the pandemic a few months later meant that 1,000 people were not yet fully settled in the company — they didn't have the strong history, or belonging, or interaction they needed to feel settled. And then the biggest change we have seen in the last 30 years of how we work together comes along to disrupt everything," says Weber. "That was tough."
The good times
There were moments where he felt like the company "was standing at the edge of a cliff — when everything that could go wrong went wrong" — but he never lost faith. 
Weber says he knew N26 was going to be big when it was awarded a banking licence in July 2016 after 18 months of hustle. At the time, a licence hadn't been issued to a completely new bank in over a decade and no banking licence in Europe had ever been granted to a bank seeking to host their IT in the cloud.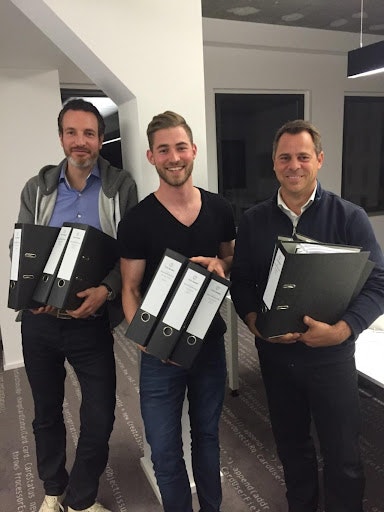 Obtaining the licence meant that N26 could operate a fully fledged bank and itself without relying on another company for its core banking platform — and crucially, it meant it could serve customers all over the EU. The moment marked the start of N26's expansion into new markets.
"The banking licence was pretty much make or break. If it hadn't worked out, or taken a year longer, I'm not sure we could have continued the business with the trajectory that we were on," says Weber. 
"The partner setup was good for proof of markets and things like that, but it wasn't scalable."
The N26 flywheel
Given that few in Europe have Weber's experience of scaling a company at that size, he's been approached many times over the years for CRO, CGO, CMO and CEO roles at scaleups — but he declined every one. 
His real dream is to start his own company — like the 30-plus N26 alumni before him — though he has no idea yet exactly what it will be.
Given that no exit has taken place at N26, Weber, like other ESOP shareholders, hasn't yet landed a payout, he says. He has, however, already been making some investments as a scout for Sequoia Capital over the past year and has been doing some angel investments on the side.
For now, Weber plans to travel, take time to think, and ultimately rest, as helping to run a company at high speed for the best part of a decade has been, as you might imagine, tiring. 
So where does Weber see N26 heading in the next five years?
"I think the outside perspective is always that we are struggling, but I have never felt more optimistic about the future," he says. 
N26's growth has been hamstrung over the last two years due to a cap the German financial regulator BaFin placed on its customer acquisition in 2021. 
But the time, effort and sheer amount of money the company has invested into regulation to lift the cap has "built a super strong foundation" for the company that is bound to give it a competitive edge, says Weber.
"We'll look back in three to five years and think 'wow, that was tough' but that's just what it takes to be a fully regulated bank serving 10m customers."
Update, July 5: This piece has been updated to more accurately reflect the nature of Weber's swimming career; to correct the number of N26 customers after its first year from 10k to 100k and to correct the size of the company's growth team, from 150 to 120.