On the first and fifteenth of every month, a huge pile of laptops appears in the corner of a room at challenger bank N26's Berlin headquarters. Each laptop has a Post-It note on it, with a username and password. There are usually about 50; it means a new starter day is coming.
Fintech "unicorn" N26 is hiring so many people, so fast, that holding these new starter days is the only practical way to "onboard" its new employees. "It's a regimented process," says Will Sorby, the new general manager for N26 in the UK, who joined the company two months ago.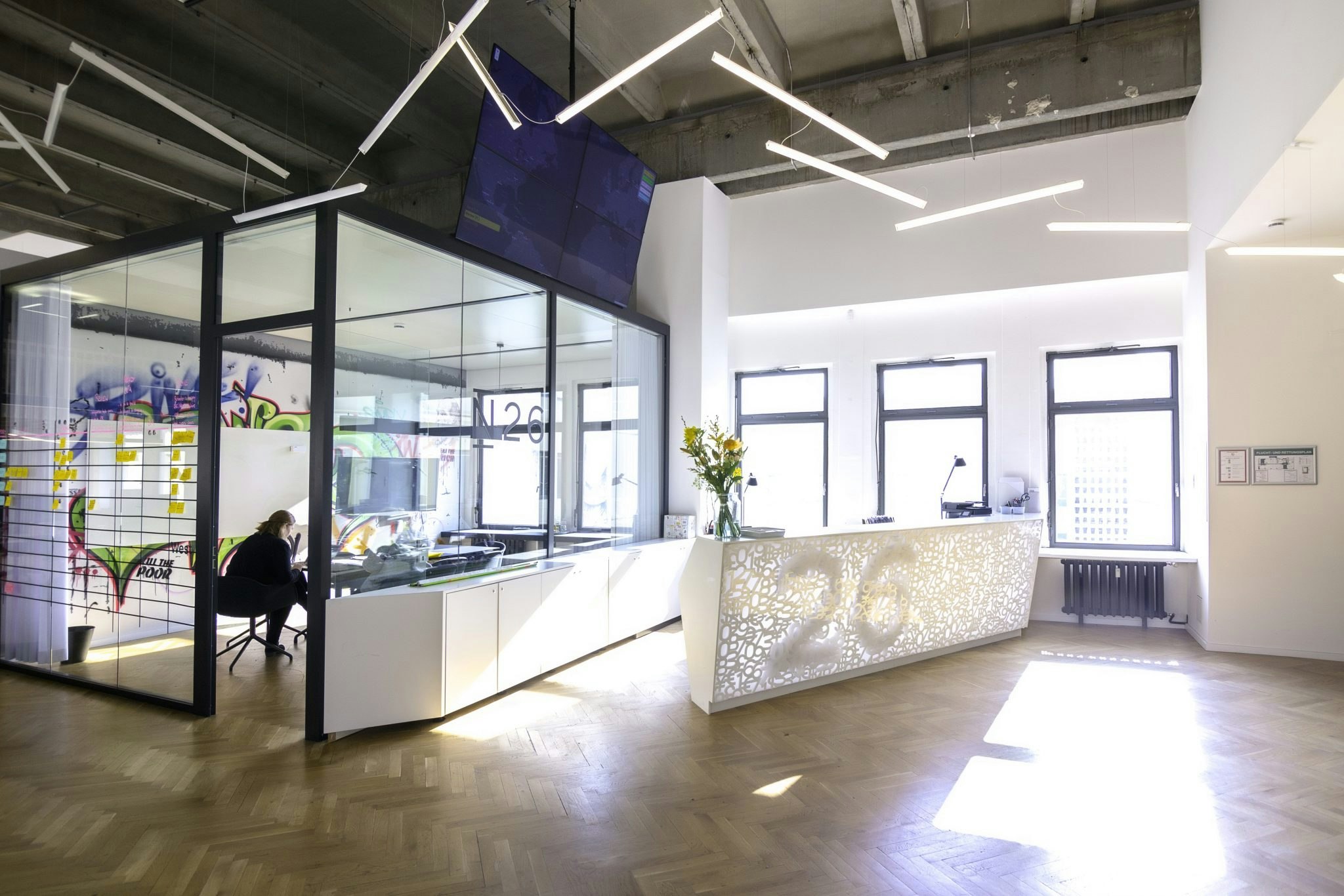 On the day that Sorby started, everyone from new directors through to customer service team members sat through sessions on company history, company culture, IT processes, security and compliance ("an important part of working in a bank").
Each also received a "little book of things you need to know", a map of the toilets, and — because it wouldn't be an induction day without some icebreakers — a bingo card which encouraged them to go find someone who spoke three languages, or had a pet which wasn't a cat or a dog.
Was that a bit… cheesy?
"For sure."
Tasked with translation
As general manager, Sorby's mission at N26 is to prevent the six-year-old company — which has 2.5m customers and is valued at $2.7bn — from striking the wrong note with its UK customers.
"N26 is getting to such a scale that it's seeing a need to localise. So my job is to say, what's required to localise in the UK? What are the different products we need here? What's the tone of voice? The tone of voice in Germany, as you might expect, without wanting to play to stereotypes, is very different to [that in the UK]."
When N26 launched in the UK in October, it used a lot of the customer service messages designed for German customers. They were very "direct" — and didn't go down so well with British customers. The messaging has since been tweaked to meet local customer expectations: "Lots of unnecessary words, very indirect, very overly polite."
The same is true for marketing. N26's slogan is "Banking. But without the bullshit." Last year, it rolled out a #nobullshit advertising campaign in some of the 24 markets it is active in around Europe, with slogans like "Nicht die Bank deines Opas" ("Not your grandad's bank") and "F¥€K Fees".
The in-your-face language was a bit much for some markets: "That was launched in France, where it was really not taken so well," says Sorby. In the UK, it's opted for a more pared back #26reasons campaign on London public transport.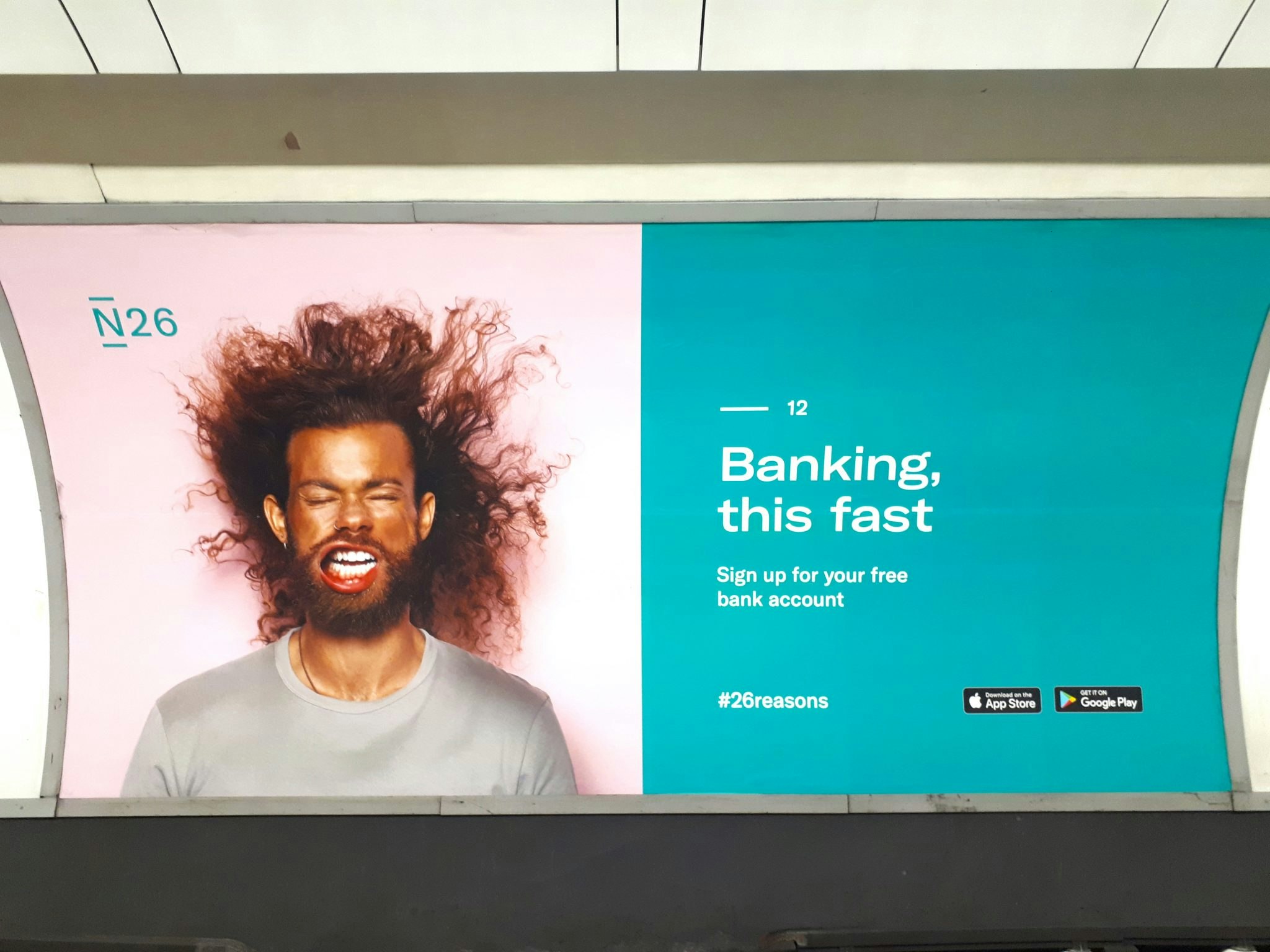 Not just another digital bank
Being a little too direct with customers is far from Sorby's biggest worry, however. The mega task is this: In a market full of fintechs, as a latecomer on the scene, how can N26 standout?
"In Europe, we are the biggest fintech by quite some distance," says Sorby. "So the positioning is: we're transparent, we're no fees, we're mobile, we go everywhere with you. That works really well when you're in a market against lots of big banks who've been around for 50 years."
"It doesn't work so well in the UK, where there are three or four other biggish players who do similar stuff, and the traditional banks are further ahead than on the continent. So we need to really think about what differentiates us here. It's a huge challenge."
Sorby, who spends about half of his time in Berlin, doesn't seem to have figured out this conundrum yet. (But he is just two months into the job.)
On the one hand, he says, being the "biggest player" with the most cash raised gives N26 massive marketing muscle. "When you're trying to build that brand awareness, to some extent, you just need to be marketing."
He also thinks that, over time, N26's focus on design will help it stand out to its target customers, who are "a bit more premium, a little bit older, a bit more mature" than those of its competitors.
But right now, with 200,000 UK customers to Monzo's almost two million, N26 needs more than a hefty advertising campaign and an easy-on-the-eye app.
Why bank with N26 over any other?
Sorby hopes its product offering will help it win over the UK customer — which comes back to the issue of localisation versus globalisation. N26 currently has two premium products; N26 Black and Metal. For a monthly fee, Metal customers get "exclusive" perks from partners, like coworking company WeWork and dry cleaning startup Zipjet, while Black accounts are targeted at globetrotters.
Figuring out what perks work in which markets (ideally, most markets) is part of Sorby's task, while the wider N26 team plots global domination. (It plans to launch in the US and Brazil this year.)
To really reach the scale we want in each individual country, I think we do need to have elements that are

tailored.
"To really reach the scale we want in each individual country, I think we do need to have elements that are tailored," says Sorby. "So the process we're going through at the moment is figuring out which elements can you tailor locally in a way that allows us to become big?"
While many fintechs have proposed the idea of a marketplace, where customers can access other recommended services (like insurance, loans, savings accounts), it's probably not the way N26 will localise, says Sorby. "It's not on our immediate roadmap."
In its early days, N26 had an inbuilt marketplace on investments. "It was one of the cool things about N26," says Sorby, who's been an account holder for years. "It gave me these really cool visualisations of a fan saying, 'In 12 months time, there's an 80% chance your investment will be between here and here, subject to risk, etc.' And people just didn't use it."
There's another problem with the marketplace model too. "It's something you have to do differently in every market, so it's a difficult thing to scale."
Yet, he adds: "As we go more local, it sort of opens the question up again. If we have the capacity to develop these relationships with partners, is it something we want to bring back?"
Team N26 seems very excited about the impending launch of "Shared Spaces", a feature which will enable users to easily set up shared pots of cash (to save for a holiday, for example) without needing to open a joint account. But again, that doesn't quite seem a big enough enticement to snaffle potential customers from Monzo or Revolut.
Sorby's out of answers, and he's keenly aware of it.  
"Why should I bank with N26 versus another one? That's the question that we need to answer, very clearly. That's my biggest challenge."