If the executive team of Monzo were watching social media on the day the digital bank released its annual results — which showed a painful doubling of losses to £115m — they would have had another reason to be worried.
"Heard Monzo might go under so had to quickly transfer the £6.06 I had there into my main bank account," said one user Michael on Twitter. "Shoutout you guys quietly moving funds from Monzo to your other banks," said Joey Blacc. "Are Monzo on the way out?" said Alex Morris.
Media headlines also focused on the report's warning that, looking forward, there was "significant doubt" on its ability to continue as a going concern.
This was in sharp contrast to fellow neobank Starling, which on Thursday said it was set to break even by the end of the year after customers started using its cards again, showing that not all of the digital banks were suffering in the same way.
But the 2019 Monzo annual results weren't a complete disaster. There was some light amid the chaos.
We've broken down some of the key areas to take away, and some silver linings that are quietly hiding.
Good: Customers are storing more funds at the digital bank
One of Monzo's main reason for getting a bank licence was to prompt users to deposit more money with them. Indeed, they launched a campaign to encourage users to move their salaries over to Monzo, instead of simply using it as a spending card.
Although most customers still don't use Monzo as a primary account, 2019 saw the needle shift slightly. On average, Monzo customers deposited £359 at the bank in 2019 (3.9m customers at the close of 2019 across £1.4bn in deposits). In 2018, Monzo customers only deposited an average of £142. Users at its slightly older counterpart Revolut deposited an average of £251.66 at that time.
More deposits ultimately means more trust.
In terms of revenue, it also means more cheap capital to lend out.
To this point, Monzo has also ramped up its lending efforts, which is a positive step in its route to further monetise. Lending operations are typically profitable for banks, and Monzo's loan book expanded from £16m to £124m last year.
Nonetheless, it's still biding its time, with 98% of its £1.4bn in deposits sitting idle in cash at the last official count.
Bad news: still a drop in the water
One thing that the Monzo numbers did show us is that it is still a very small business in the context of the banking sector, and so it will — like any small business — get spun around by the macro-economic winds.
Customer deposits of £1.4bn may be doubled from last year, but they are tiny compared to the UK banking sector.
Virgin Money, one of the previous crop of "challenger" banks has about the same market valuation at Monzo, but has around £64bn in customer deposits and £1.6bn in revenues. Metro Bank, reeling from an accounting blunder, is worth just a fraction of Monzo, but has customer deposits of £14.5bn.
"Monzo's mindshare is huge, but it is not actually that big a business," says Victor Basta, managing director of Magister Advisors, a fundraising and M&A advisory firm.
"Covid is unmasking how small the underlying business is at some of these companies. It's not that Monzo can't become established, perhaps among the second tier of known banks, but it could need another decade of work."
Good news: Not in (total) existential crisis
It was a shock to see Monzo's auditors explicitly warn that there "are material uncertainties that cast significant doubt upon the Group's ability to continue."
Yet several commentators have pointed out that this warning is less dramatic when read in the context of standard "accountant speak".
Indeed, it's normal for companies to put a long section about possible risks to the business, and the Institute of Chartered Accountants in England and Wales (ICAEW) recently put out a note urging greater transparency on Covid-19 related risks to being a "going concern".
As such, Monzo's warning is more about mandatory transparency rather than an immediate threat.
The full comments also finish by noting that while there are serious risks, the directors are confident that Monzo will survive and be a success.
Robert Collings, finance lead at the startup Flux, said of the "going concern" warning: "I don't think it's quite as serious as it's being made out to be. We all know startups that are loss-making and VC-funded are risky."
James Clark at the listed VC Draper Esprit put it another way, writing: "We need a word for: things companies report in public filings because they are (a) prudent, or (b) required to, which are picked up and reported in the most negative way."
Saying that, none of the bigger banks included warnings in such drastic terms in their quarterly results, the FT's Nick Megaw pointed out.
In other words then, the warning is important and should not be ignored. But equally, it's not the existential end that it appeared to be in isolation.
Bad news: will the valuation have to come down further?
Monzo already suffered one down-round and cut to its valuation, raising £60m at a 40% valuation cut last month. But is that likely to be the end of it?
When it comes to startup valuations, the growth trajectory matters, especially if you have a big valuation relative to your actual sales.
"If you are £1bn+ valuation company with £500m revenues, growing at 25% a year, and that gets cut back to 15% it doesn't change the valuation all that much. But if you are a £1bn+ company with £100m in revenues, investors are buying into that on the expectation of 50% growth. The bookings cannot be soft, it really starts to matter," says Basta.
Over the course of 2019, Monzo recorded £67.2m in revenue, a jump from 2018 when it brought in £19.7m.
"You dance with the devil when you get to valuations of £1bn+," Basta adds. "Companies become too expensive to acquire, but an IPO exit becomes difficult because the numbers have to be strong, even one or two years out from listing."
This means that it is beholden on investors continuing, for the time being, to back the company and believe in the vision.
Meanwhile, uncertainty around investor appetite may well be why Monzo issued its survival warning, Jasper Cox from GlobalCapital points out: "[We] wonder if the risk is more about investor appetite to continue funding an unprofitable business than the bank breaching the [capital] requirements in the next few months."
That fundraise is likely to come within the next year, judging by its 2019 burn rate, the potential for customers to withdraw money in fear, and the regulator's pressure to maintain its capital requirements.
To make matters worse, Monzo warned revenue streams have been "significantly impacted by the COVID-19 pandemic and resulting macro-economic uncertainty."
It warned: "This may result in lower forecasted customer numbers and revenues, along with increased costs associated with correcting areas of concern."
The company explicitly noted: "This increases the risk that the Group will not be able to execute its business plan, which could adversely impact its ability to generate a profit or raise sufficient capital to meet future regulatory capital requirements."
Meanwhile, the bank predicted that credit losses could be as high as £20m — meaning it'll have lost 7% of the total lent out (including overdrafts), in the worst-case scenario.
Good news: Popularity pays
Monzo's unit-economics finally entered the green in February 2019, with each customer making £4 a year on average in revenue.
It's still small, but it's a good improvement from the net loss per customer of £15 they recorded in 2018.
Note that Monzo calculates its unit-economics based solely on client servicing costs (meaning the cost of operating the accounts), hence excluding technology costs and marketing costs.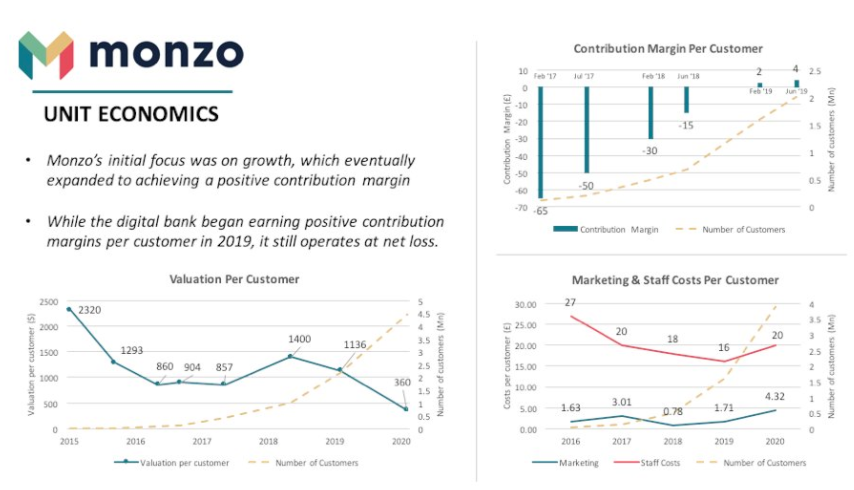 Analysis by PWC associate Sanjeev Kumar also showed that Monzo's CAC (Cost of Acquisition) sits at just £4.32.
Fintech analyst Simon Taylor weighed in that "any high street bank would kill for a CAC that's as low as Monzo's," writing in his weekly newsletter that UK incumbent banks tend to spend around £150 to acquire each user — often due to large sign-up reward bonuses.
Still, it's worth highlighting that Monzo's reliance on organic growth and referrals seems to be slowing, with a 600% increase in marketing spend in 2019. This may impact its efforts to keep acquisition costs low going forward, having already risen year-on-year.
Hard graft ahead
Losing £115m in a year and then suffering the blow of coronavirus has put the bank in a delicate position. It will have to both stem losses quickly and likely raise more debt and equity financing to meet capital requirements.
Yet while the 2019 results have proven disappointing, Monzo is showing signs that the digital bank is maturing.
For instance, Monzo is launching a slew of new products. The bank has opened about 36,000 business accounts since opening in March — which are more profitable than current accounts — and relaunched its £5 a month "Monzo Plus" account earlier this month.
Ali Niknam, chief executive and founder of Bunq, says this shows "Monzo has finally realised that they need to pivot towards a more sustainable business model."
Monzo could therefore have a more diversified revenue base this year, leaving it less vulnerable to giant costs.
As the second half of 2020 dawns, it's clear the next 12 months could be make or break for Monzo.