Last week, digital bank Monzo announced TS Anil — a 48-year-old veteran banker — would be its new chief executive, replacing poster boy cofounder Tom Blomfield.
It was an unexpected move at a rocky time for the bank, which said the reshuffle would allow Blomfield — who will now instead be president — to focus on the bigger picture, rather than the all-consuming, nitty-gritty issue of regulation.
Anil was chosen in large part for his stellar banking credentials, boasting nearly three decades across international corporations like Visa, Standard Chartered and Capital One under his belt.
But according to four former colleagues interviewed by Sifted, Anil is more than just a banking suit. He has a wide range of interests, talents and skills that prompted one ally to liken him to "inspector gadget".
He's even partial to a boogie on the dance floor, according to one ("he's got the wackiest taste in music").
"Anil is not your die-in-the-role sort of banker," says Hal Bosher, Amil's friend of over 20 years and chairman of Wave Money in Myanmar. "He's a very fun guy."
While tales of "dad jokes" and dancing credentials may sound inconsequential for his future chief executive role, colleagues say it's indicative of what Anil can bring to Monzo, a bank which is part "go-getter" startup and part heavily regulated financial institution.
Monzo is one of the leading fintechs in Europe with 4.2m users and at the vanguard of a wave of companies reinventing consumer finance. But it's also heavily loss-making, facing a 40% cut in valuation at its next funding round and seeing turmoil in senior management. 
Sifted Newsletters
Fintech
Every Tuesday
From banks to bitcoin, get all the gossip and analysis in your inbox.
To move forward, Anil will have to skilfully navigate the thrusting culture of a startup with the constraints of a traditional bank. In short, Monzo will need a suit who can dance.
Anil the people person
TS Anil declined to be interviewed for this profile (or Monzo declined on his behalf), so Sifted spoke to four of his friends and colleagues to get a picture of who he is, his management style and what he might bring to the startup beyond banking expertise.
Each of them described him in familiar terms: an expert financial brain but also a smooth operator with a talent for motivating and understanding his staff. 
"Every year at Christmas he gives a present to his team," says Kartik Taneja, who worked with Anil at Standard Chartered Bank in Singapore in the mid-2010s. "It's always a book, and he caters it to each person... He does these really personal touches."
Sifted also interviewed Kelvin WH Tan, Anil's former chief of staff at Standard Chartered, who recalls how Anil showed an interest in him beyond the job at hand.
"He's very interested in your private life. He's taken me out at least twice to talk about my career."
Long-time friend Hal Bosher says that this consideration comes down to Anil being "a people person" and "very genuine". 
He adds: "Anil understands what makes people tick. And he can do that across cultures," having navigated both the quiet-deference of corporate Japan and the bolshy, sharkish US banking scene.
Bosher also says this energy has fostered a "disciple-like" fondness among Anil's former colleagues. This seems to add up, with Taneja describing Anil as "one of the best leaders" he's ever worked for, and Tan telling Sifted: "He is perhaps the only manager I've ever had that, if he told me today to down my tools and come join him, I'd go."
"Anil is not your die-in-the-role sort of

banker"
A strong touch
Anil can also be demanding, however, according to former colleagues. 
"At one point, I knew I was slacking and he said to me, 'you're 10 times smarter than most of the people in this office, but you choose to do the same amount of work'," says Taneja.
"He's not the kind of guy who will yell at you. He's very clear in his feedback."
Former chief of staff Tan also recalls that Anil "doesn't berate you in public". Tan adds that, as a manager, Anil gets deep into the details with "everything you produce" and demands top-quality work, but is not an obsessive micromanager.
Anil is tough but not mean, says Bosher, who credits his friend for being a source of "no bullshit" advice during their years in Asia: "He doesn't need to be aggressive to get people to respect him."
Another of Anil's trademark attributes is his ability to keep his cool under pressure, says Meghan Connolly, now a senior vice president at American Express, who worked under Anil at Standard Chartered.
"Honestly nothing fazes TS," Connolly tells Sifted. "He really can handle high amounts of stress and never shows it. I watched him transform a business and lead through the financial crisis."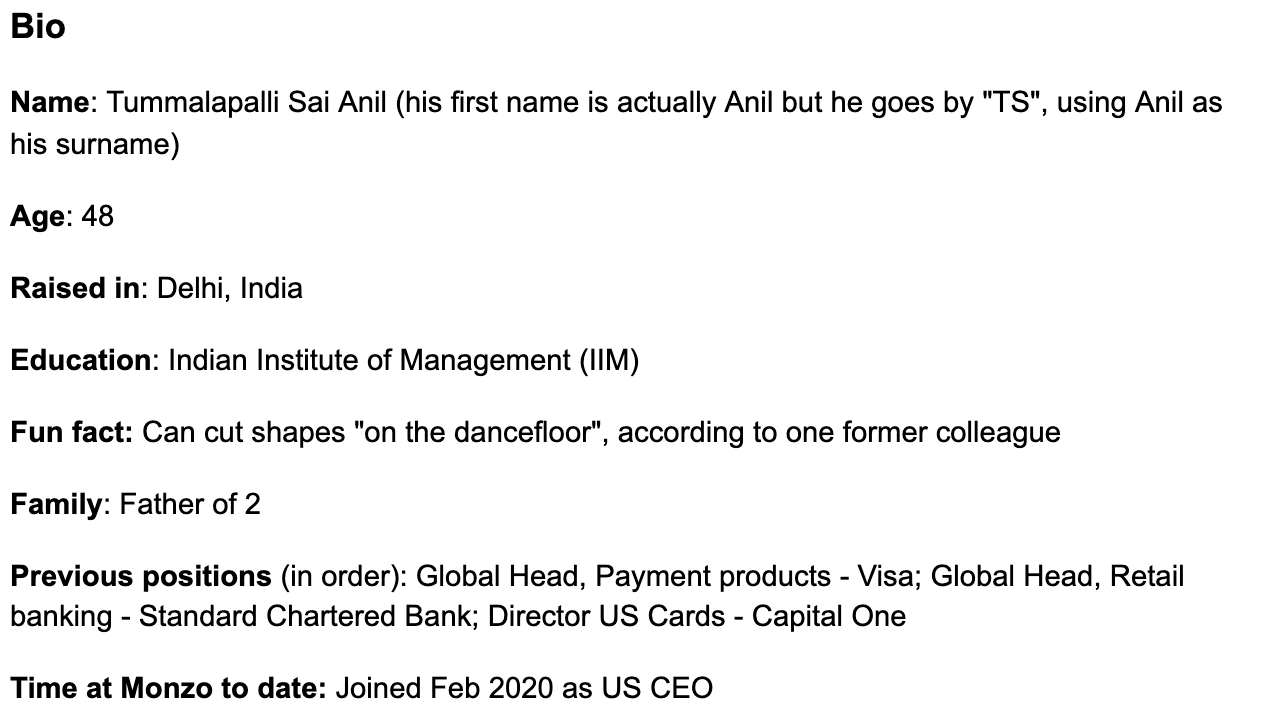 The thinker & risk taker
Among his accolades, Anil is credited for turning around loss-making units of CitiCard in Japan at a difficult time. He was later recognised as a bright talent by Standard Chartered, who snagged him to make him one of its youngest leaders at the age of 42.
This makes sense for a man who is described by his peers as a "big thinker" with a quick, analytical mind. 
"He can probably outthink you. He's like inspector gadget — he can do a lot," Bosher says.
Taneja also recalls Anil's willingness to make bold moves. Anil apparently raised eyebrows at Standard Chartered when he pushed his seniors to support a risky investment in Reliance Jio, a telecoms company now backed by Facebook.
"He was saying 'I would bet my house on this'... [Eventually] he got the [Reliance Jio] CEO behind it, he got the regional [bank] CEO behind it, and the global CEO," he tells Sifted (Anil left before the venture could go through and it was dropped).
Indeed, Bosher describes Anil as more startup than old school at heart. This depiction should be a relief to those who view professional chief executives as mere rule-followers who stifle growth with compliance-fears.
"Anil is not your die-in-the-role sort of banker... He's not trying to climb in the traditional way," he tells Sifted, pointing to the fact he's leaving behind a "much bigger balance sheet at Visa" in order to "challenge" himself.
"I don't think he cares about monetary gain and titles," adds Tan, Anil's former chief of staff.
Challenges ahead
Despite offering only a glimpse into Anil's character, these reports suggest he shares the same delicate blend of confidence and caution that has helped Monzo succeed in recent years, scaling fast without getting tangled up in (too many) controversies. 
Yet there are several big challenges that await Anil.
The first is getting to grips with the competitive UK market. While Anil has had experience working across India, the US and Asia, he's never operated in Europe. UK consumers and regulators will be new to him, as will London's young, testing startup scene (although his former chief of staff says he's at least "mastered the British double-speak").
Perhaps most importantly, Anil will also have to get to grips with a new leadership structure with Blomfield — now president and reportedly still expected to call the shots. Yet Bosher says Anil will want to make an "impact" at Monzo and get "creative" having sacrificed the cocoon of Visa, so Blomfield may need to make room.
The new role will prove a radical readjustment for Anil who initially joined Monzo three months ago as its US chief executive — presumably unaware of the sudden promotion that awaited him. Anil is also yet to make a public statement on the move, which many commented looked "rushed".
Still, Anil is described as somebody who can delicately navigate company politics. What's more, past colleagues also speak of Anil as a unifying force among teams — something that Monzo's recent burst of executive departures suggests it needs.
Mastering Monzo, and getting its staff to dance to the same tune, may well be the challenge Anil is seeking.