Digital bank Monzo saw £114.8m in pre-tax losses* last year according to the company's annual report for 2020–2021, released on Friday.
The company saw a similar loss rate the year prior, and insisted it was now on track to be profitable by 2022. Revenues grew 18% to £66m.
Nonetheless, for the second time, Monzo's accountants said there was "material uncertainty" over the company's future. They raised a "going concern" warning in the 2019 financials too, saying there was "significant doubt" on Monzo's ability to continue.
Monzo's annual report also revealed that it's in the early stages of an investigation by the FCA over its financial crime standards.
It's a challenging update for the company, which has also been rocked by numerous senior exits over the past year, including that of its CEO and founder Tom Blomfield, and a valuation drop amidst the pandemic.
Still, as the UK begins to exit lockdown, the fintech is hoping it can bounce back, revealing it is now seeing 30% revenue growth compared to March 2020.
Other take-aways from the annual report include:
Monzo opted to slow its lending in the wake of Covid. It issued just £104.5m in loans last year compared to £143.9m the year prior. Nonetheless, the lending it did do in 2020 was riskier. Its loan loss reserve as a percentage of lending grew from 13.9% to 16.7%, with £47m of its loans ranked between 'medium' and 'very high' risk.
It is growing its business product offering. It ended 2020 with 77,000 business accounts.
It saw a 124% increase in its deposit base, growing from £1.4bn to £3.1bn
The company provided little update on its progress in America but revealed it had spent over £500,000 there last year, including on its 22 local employees.
Monzo's CEO TS Anil also told the FT it would do another fundraising round in the coming months. It will be interesting to see if the fintech can secure a bump to its £1.2bn valuation.
Meanwhile, COO Sujata Bhatia told Sifted last month that an IPO in the coming years was still on the roadmap.
*This represents Monzo's preferred loss metric, which excludes non-recurring items. However, for transparency, the full pre-tax loss reported by the auditors was £130m.
The battle of the neobanks
Monzo is the latest neobank to release its 2020 financials, with Revolut and Starling both posting updates earlier this month.
The fintechs were all loss-making for the sixth year in a row. Starling was the only one of the three to shrink its losses compared to 2019, while Monzo's grew by 1% and Revolut's losses nearly doubled.
The graph below shows the evolution of the three neobanks' losses and revenues over the past few years. It suggests that Monzo is failing to see 'hockey stick' revenue growth, while Revolut continues to see haemorrhaging losses.
The following table shows a comparison of the very latest results.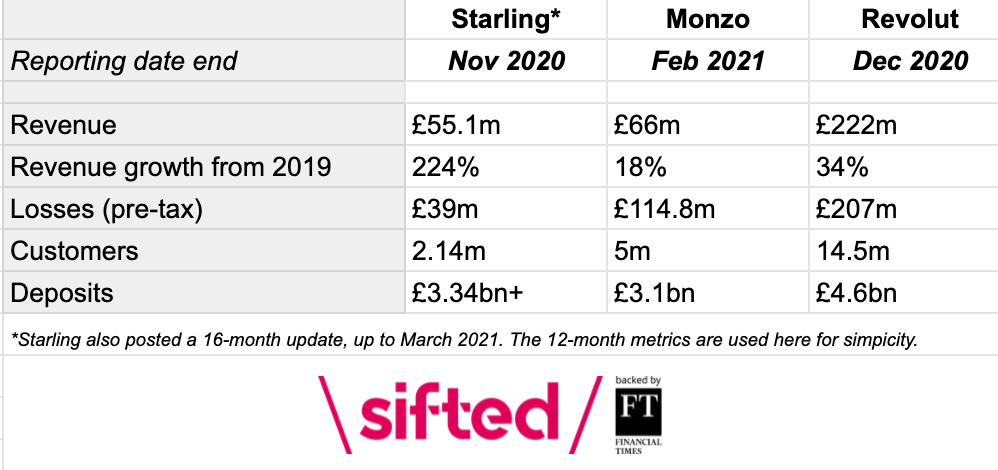 A brighter picture?
Despite a tricky set of results, the neobanks say they are finally edging towards profitability.
Starling and Revolut both say they began to 'break even' at the tail-end of 2020, and expect to post positive revenues for the full year across 2021. Indeed, in the 3 months between May and June 2021, Starling says it generated a £7m profit.
This seems to have won over investors, given Revolut recently raised at a $33bn valuation, making it the most valuable startup in Europe.
Still, the route to profitability may still be compromised for growth, with all three sharing expensive international plans. Revolut and Monzo are both hoping to take America, while Starling has hinted at European expansion.
This approach differs from the second wave of (smaller) challenger banks, which have shown a much greater focus on their unit economics. This has been achieved by raising smaller amounts and charging subscriptions and cross-selling to their niche user bases.