Healthcare, shopping and education are three sectors being visibly shaken up by the coronavirus pandemic.
But, according to a new report by some of Europe's top investors, these are just the obvious areas seeing an accelerated shift to digital.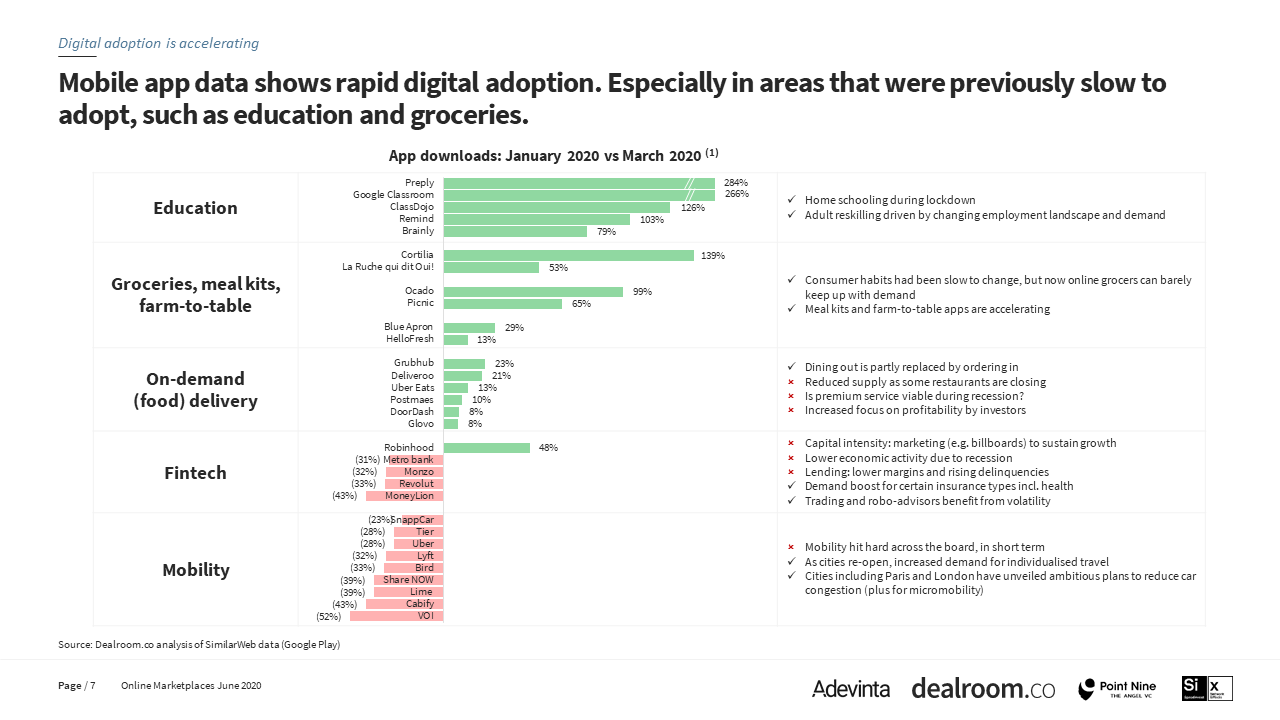 VC firms Speedinvest and Point Nine and marketplace specialist Adevinta are predicting three other sectors will be among those transformed in the post-lockdown era:
Property
Recruitment
And retraining
Sifted talked to the writers of the report, which was written with data provider Dealroom, about these shifts. 
What's happening to online marketplaces in these sectors — and which startups could be winners?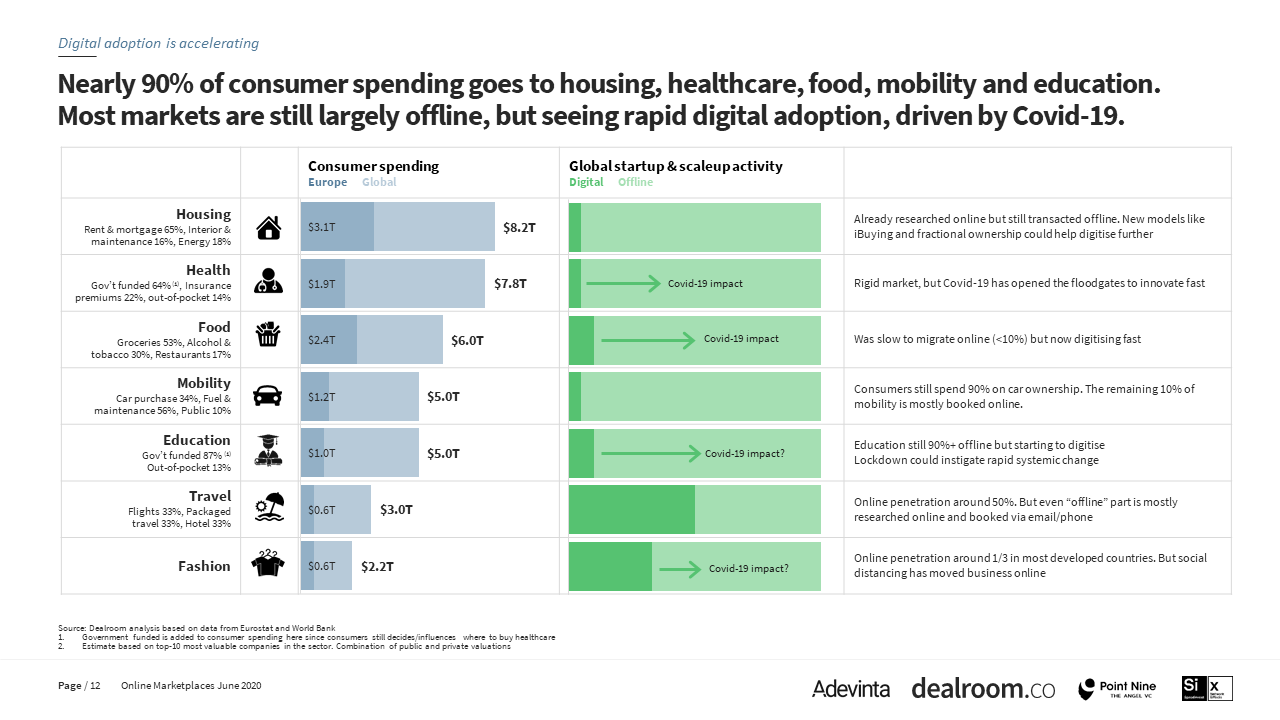 Housing
Nearly 90% of consumer spending in Europe goes to housing, healthcare, food, mobility and education. Of all five categories, housing is the largest — yet has received very little VC investment (just $1.5bn in Europe since 2013, compared to $21bn globally). It also remains mostly offline. 
Startups still haven't quite cracked it. 
In the 2000s, companies like Zoopla in the UK, Leboncoin in France and Hemnet in Sweden began to let people search for new homes online. The next wave of digital housing is still figuring itself out.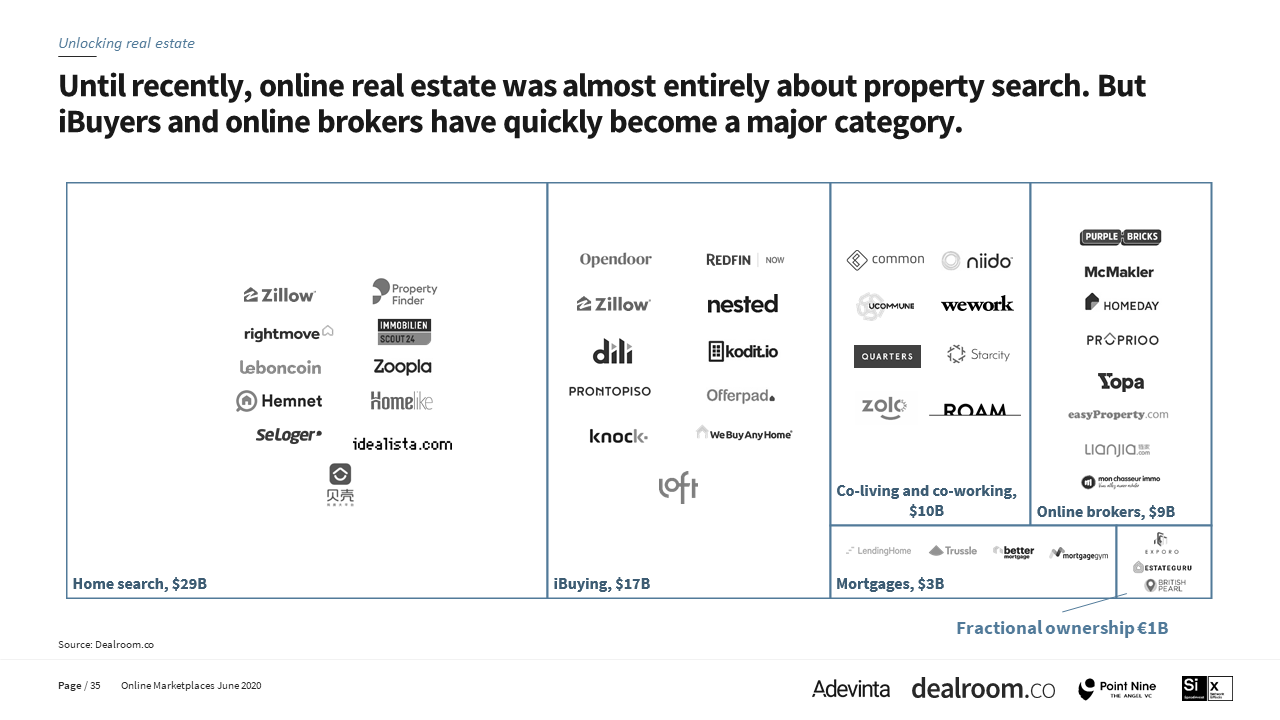 "If you look at trends in housing, [startups] went from less asset heavy to more asset heavy in general," says Mathias Ockenfels, partner at Speedinvest.
These asset-heavy startups, including "i-buyers" like Nested in the UK (which offers customers a cash advance of up to 97% of the sale price of their home) and Kodit.io in Finland (which makes sellers cash offers in 24 hours), have at times struggled to find a business model that works. But Ockenfels reckons that the new economic climate could work out well for them (if they're well capitalised already).
"If you look at it from a consumer point of view, a lot of people under distress will need to move, so there will be a lot of inventory that will come onto the market. If [an i-buyer] has money to buy it can benefit from that," he says — people will want to shift their homes quickly. 
I-buyers like Kodit.io, which focus more on apartments and the more affordable end of the property market, will be best placed to benefit from this trend, says Ockenfels. 
Recruitment
Where people look for jobs, and how employers assess talent, is set for a shakeup, suggests the report.
Online job marketplaces are getting more specialised; generalist job sites like Indeed are facing competition from more specialist platforms for freelancers (like Upwork), healthcare workers (like Medwing) and developers (like Honeypot).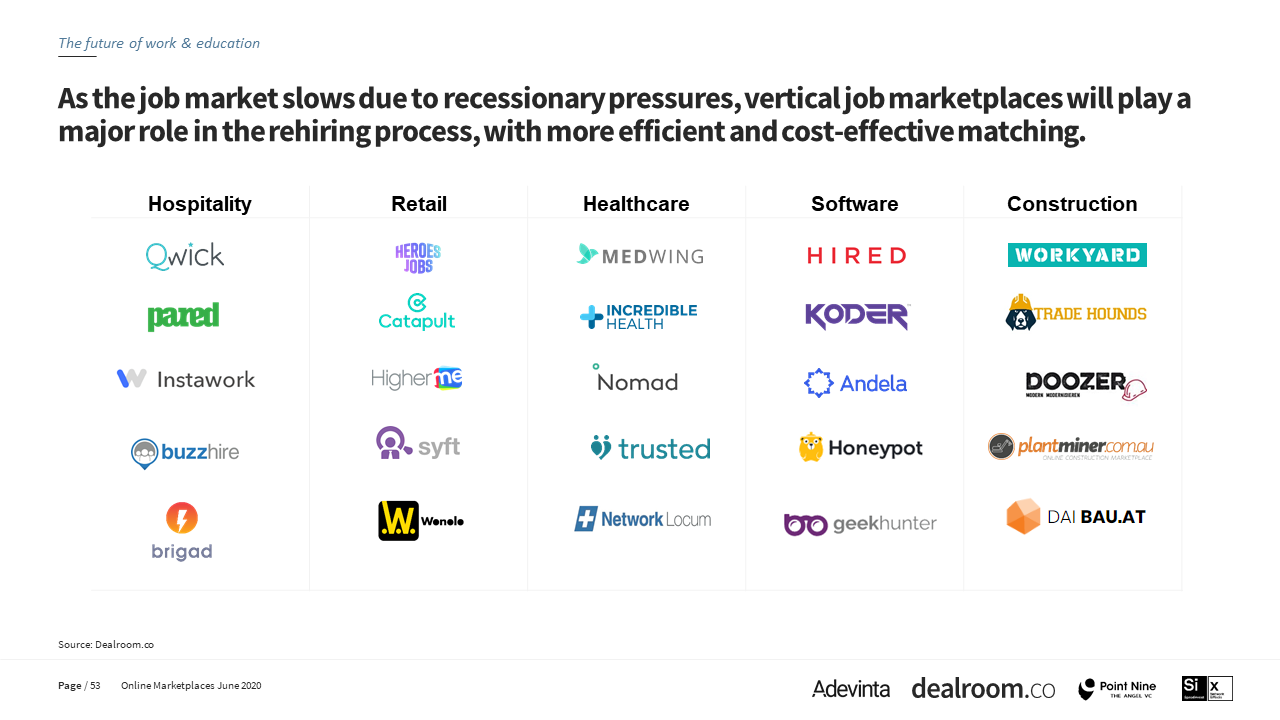 There will be a limit to this specialisation, says Ockenfels: "We probably won't have 10 vertical job apps for blue collar jobs, or gig economy work; there won't be an app just for people working in restaurants."
Instead, he reckons, there will be apps for regulated professions — like healthcare — or roles that require specific training and skill sets — like chefs.
Some vertical job marketplaces — for example those targeting blue-collar workers — are easy to scale, thanks to frequently posted jobs and standardised job descriptions, says Ovidiu Solomonov from the global markets team at Adevinta. Others — for example those targeting professionals — see fewer but more high-paying jobs get posted, meaning that platforms have "better monetisation potential". This is especially interesting where there's a "structural gap in offer/demand", says Solomonov — like in healthcare. 
Recruitment is also ripe for "TikTok-irisation", Ockenfels says — especially in the era of social distancing. "You could hire people over video — a TikTok-style, very short Q&A video." 
This shift to digital recruitment is already happening: in Germany temporary staff app Zenjobs, which matches workers with employers digitally, saw a 100% rise in demand from logistics and food businesses during lockdown.
Education
Recruitment apps could also move beyond searching for jobs; they could offer re-skilling too — and that only makes sense if apps are specialised, says Solomonov. 
With 20-30% of workers facing unemployment as a result of Covid-19, new education platforms focusing on re-skilling people could come into their own.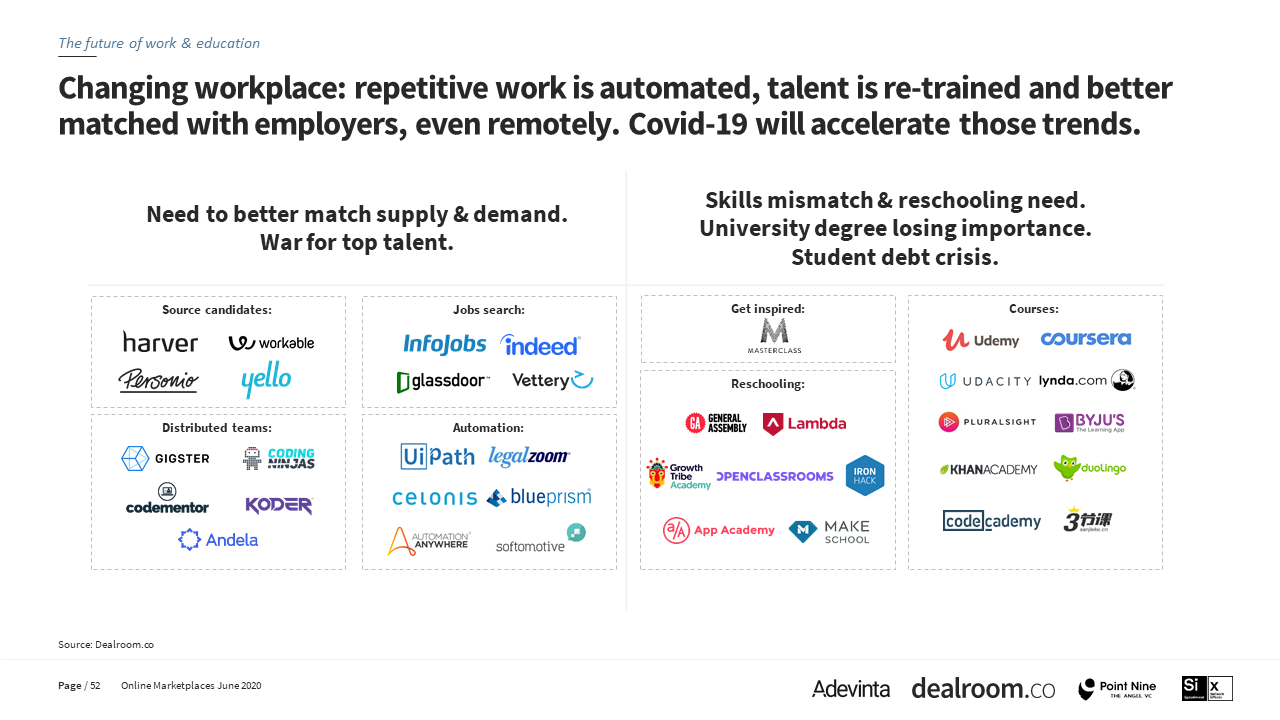 "Companies will try to automate rather than re-hire," says Solomonov. "This makes re-skilling even more important than ever to re-enter the workforce." 
Younger generations could also seriously reconsider the value of university — especially if many of the more social elements of the experience are diminished for the foreseeable future. 
That could accelerate a trend already underway: "the unbundling of traditional degrees." 
Vocational training and skills-based learning could make a come-back, says Solomonov. Coding bootcamps like General Assembly and Le Wagon already offer an attractive alternative to a university course — and that could spread into other areas, such as sales, too. European coding schools have already seen a Covid-induced bump in interest.