During the pandemic, subscription services grew rapidly, with the global subscription box market reaching a value of $18.8bn in 2020. 
The market is now saturated with everything from meal kits to escooters — and if you're trying to add a subscription model to your business offering, it can be difficult to differentiate. 
We asked the experts how to acquire — and keep — new customers in our latest Sifted Talks. Our panellists were:
Afsaneh Parvizi-Wayne, founder of Freda, a subscription service for period products 
Krish Subramanian, cofounder and chief executive of Chargebee, a subscription management platform 
Emilie Vanpoperinghe, cofounder and chief executive of Oddbox, a vegetable and fruit delivery service 
Here's what we learned.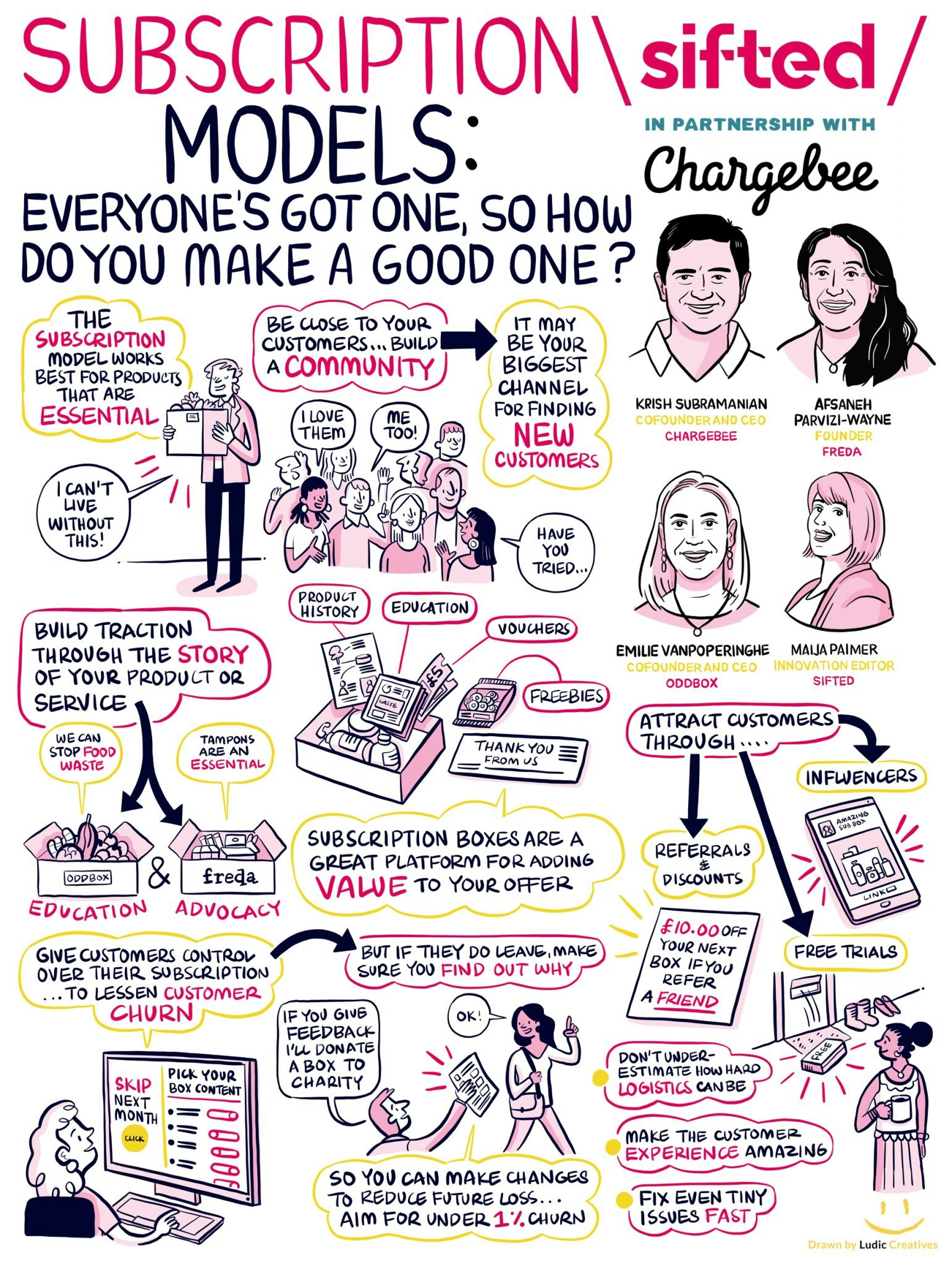 1/ Communicate the story around your product
For Parvizi-Wayne and Vanpoperinghe, educating future customers about your product before selling to them is key. This can create an emotional connection which grabs their attention and builds loyalty. 
For example, fruit and vegetable subscription service Oddbox visited local fairs and distributed leaflets about food waste, while period product subscription service Freda hired an illustrator for Instagram campaigns educating people on period poverty. 
We started off not as a company that was selling, we were more of a nonprofit advocacy startup, and that's how we gained traction" — Afsaneh Parvizi-Wayne,

Freda 
2/ Referral benefits can be a key growth driver
When there's a lot of noise in the market, Subramanian said an effective marketing strategy is using discount codes to get your existing customers to refer other people they know.  
Parvizi-Wayne said "without supporters, Freda wouldn't be here," highlighting the moment when one customer encouraged her office of 3,000 people to sign up to the service. It's a win-win: your customer receives a nice bonus and loyalty incentive, and you receive new customers.
We have a referral scheme where people can refer their friends and we give a discount to both the referee and the person referred. It's all about testing and learning" — Emilie Vanpoperinghe,

Oddbox
3/ "Work backwards" with customer feedback
For Subramanian, it's often best to "work backwards" based on the consumption patterns of your product. He says you can always tweak your service and change up your model later on.
Oddbox, for instance, used to go to people's homes and interview them, as well as sending a weekly email, to understand what was working and what wasn't. Vanpoperinghe said this continuous feedback loop was really important when refining the subscription box. She added that it's good to invest in this at all stages of the business. 
As long as we're students of different [subscription] models, with parts that are in front of us, I think it becomes easier to change the models later based on what we are discovering from the customers" — Krish Subramanian,

Chargebee
4/ Give people control with customisation
Vanpoperinghe said adding an element of customisation had resonated well with their customers. For example, people can add their preferences and dislikes, as well as stop the service when they go on holiday. 
Parvizi-Wayne agreed, noting Freda introduced value packs where customers can personalise their orders completely. 
People being able to escape when they go on holiday, being able to pause, is quite important. Some people are trying to hide the cancel button, but I don't think that's a good strategy in the long term because it means it's less likely for the customer to refer a product to a friend" —

Vanpoperinghe
5/ Free trials aren't always effective
While Vanpoperinghe said sending free boxes to small and large influencers worked well as a marketing strategy for Oddbox, Parvizi-Wayne said free trials aren't effective for all subscriptions. 
In the case of Freda, Parvizi-Wayne decided its money would be better spent on donating feminine hygiene products to people in need rather than giving them away. This, she said, helped with customer retention because it built the brand into a company people wanted to be associated with.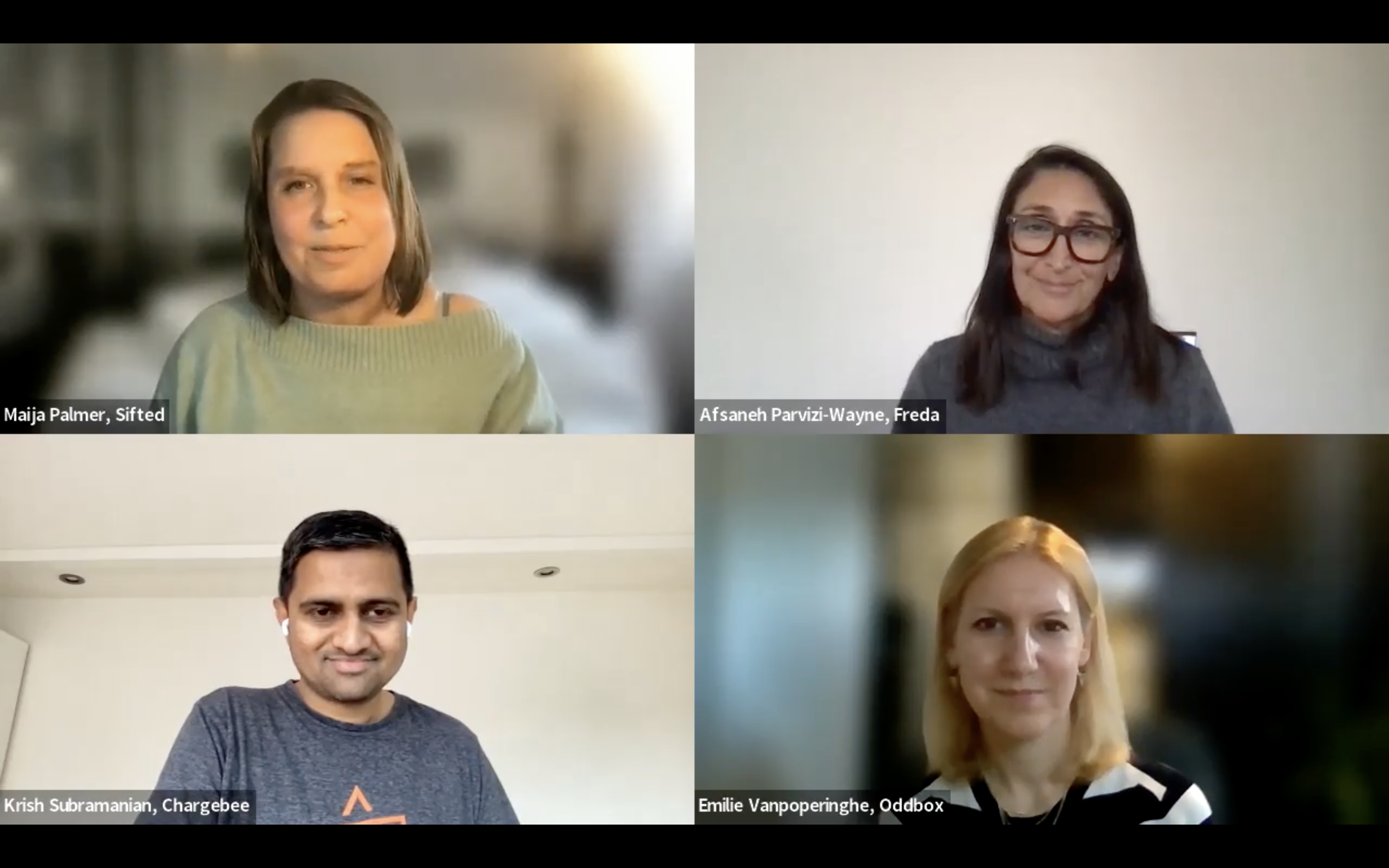 We did some free trials and I would say 70% cancelled even before they got their first box. That just didn't work, so we made the decision that we'd actually say we are not doing free trials and instead will be donating"  —

Parvizi-Wayne
6/ Ask people why they're leaving
Although it can seem counterintuitive, Subramanian said it was key to spend time and money on those leaving your subscription service. He said this provides essential learning before you scale.
Parvizi-Wayne said Freda gets a huge chunk of its feedback from customers that leave in the form of a questionnaire. To encourage people to fill it out the company donates a box for each form that is completed. 
The best way to understand how to build something that will last is talking to even the people who are leaving. Go and talk to them and find out why they are leaving. Is it because of the price? Is it because of a lack of service?" —

Subramanian