It would be hard to come up with a startup that's more zeitgeisty than Lollipop. 
The grocery shopping app's founder wants to use his experience in fintech to do for supermarket shopping what digital banks did for financial management: make it quick(er), easier and perhaps even a little bit fun. If it can pull that off, it might just create an investor's dream. 
"If Monzo did supermarkets, what would that look like?" says Lollipop founder Tom Foster-Carter, the former COO of Curve and Monzo. 
If Monzo did supermarkets, what would that look

like?
His answer: Lollipop, which launches today. The free app helps busy families plan their weekly meals, meet their health goals, find a bit of menu inspiration and save time by automatically sticking all the ingredients needed in a basket — and getting them sent to your door. 
Investors are interested. Foster-Carter has raised a "sizeable pre-seed round" from investors including VC firms JamJar and Speedinvest and angels like Ian Marsh, former CEO of HelloFresh UK, Roger Egan, founder of online grocery RedMart and Kai Hansen, founder of food delivery company Lieferando. 
The next question is: will customers bite? 
Grocery mania
Foster-Carter is far from the only entrepreneur eyeing up the brave — and fairly brutal — new world of digital grocery. Europe is awash with startups offering super-fast grocery delivery, while several more online grocery players like Oda and Rohlik are attracting serious investor attention. Takeaway food delivery giants like Wolt and Glovo are also increasingly pushing into other areas of food ecommerce — and have already built up big brands and customer bases. 
He'd argue that they're not tackling one of the biggest pains about grocery shopping though: the decision making. 
Over 40% of people spend over two hours meal planning and shopping every

week.
"There's so much activity around delivery speed — but that's not the only need out there," says Foster-Carter, who's surveyed over 1,000 UK families about their shopping habits. "Over 40% of people spend over two hours meal planning and shopping every week — and we want to help them get it sorted in record time."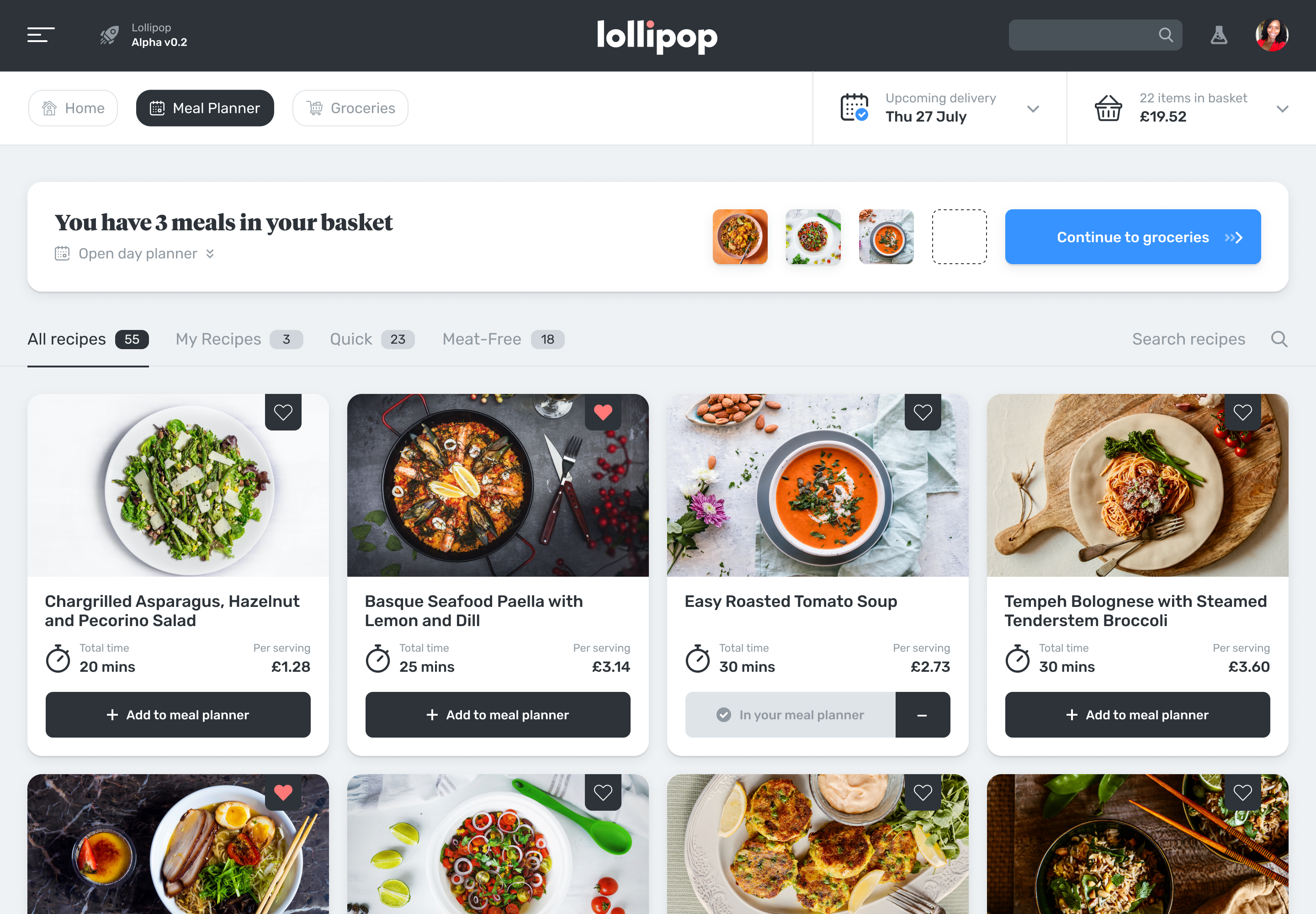 Kitchen companion
With Lollipop, users can set health goals or dietary requirements — 'I want to eat less meat' or 'I'm gluten-intolerant' — and plan meals for the week that fit the bill. Once users have selected recipes, Lollipop automatically fills up their shopping basket with the necessary ingredients. 
Sifted Newsletters
Sifted Newsletter
3x a week
We tell you what's happening across startup Europe — and why it matters.
In the "near future", customers will also be able to personalise their buying and cooking preferences, opting for organic over non-organic veg, the sustainable option or the "lazy option" of pre-chopped ingredients, says Foster-Carter. 
Later on, Lollipop could also help users with a health plan — for example, taking them through a programme to help them turn vegan in three to six months — or help them learn how to cook. Those would likely be premium features, for which customers would pay a monthly subscription.
Lollipop also wants to help customers make sure they always have the basics in stock. Based on past shopping habits, it plans to figure out when you're about to run out of loo roll, for example, and then 'magically' add it to your basket.
Taste the difference
Partnerships will be key to making that all work — and there, Lollipop is off to a good start.
It's signed UK supermarket giant Sainsbury's as its first grocery partner and recipe site BBC Good Food as a recipe partner. Over time, Foster-Carter hopes to partner with plenty of other food businesses, including recipe kit providers and veg boxes. 
"We want to build a marketplace," he says. "We see [online grocers] as partners, as well as the likes of Gousto, HelloFresh and Oddbox. Ultimately, if we get this right, we should be the single place to go for all your shopping needs." 
For now though, all the ingredients ordered via the app come from Sainsbury's. Lollipop takes a platform usage fee — "a small slice" — in return for hooking these grocers up with customers who might not otherwise shop with them. 
One interesting finding from Lollipop's earliest test users is that they seem to "become less price sensitive when looking at meals", rather than ingredients, says Foster-Carter; something that could prove pretty useful for supermarkets in the midst of an ongoing price war with one another.
On the recipe front, Foster-Carter also wants to use smart software design to take away some everyday frustrations, like helping people avoid flicking back and forth between an ingredients list and recipe instructions on a website. 
"It's a UX exercise," he says. "Can we make what happens in the kitchen feel frictionless?"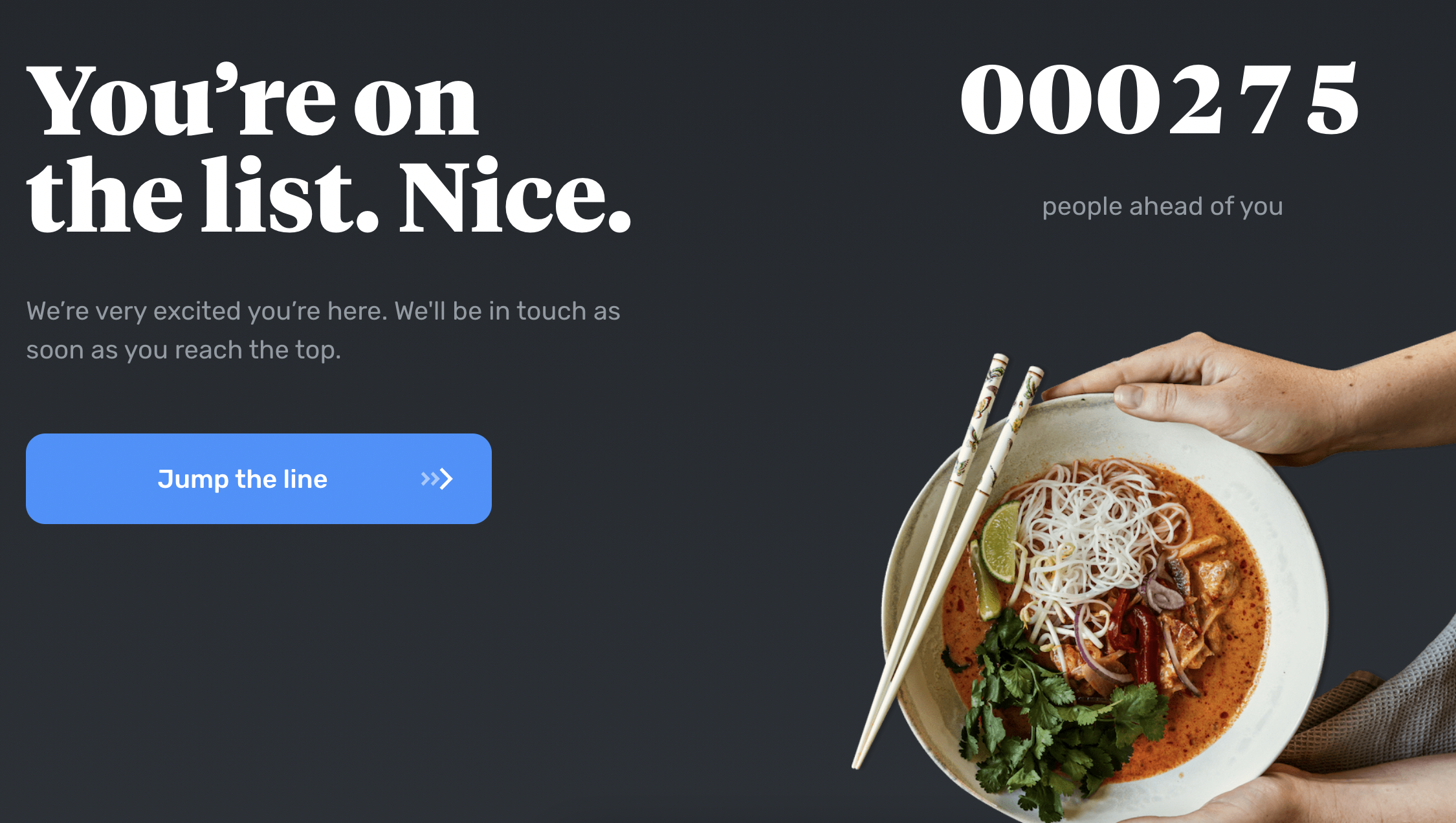 Social shopping
Today, Lollipop is opening up a waitlist to join its beta app — taking more than a healthy dose of inspiration from Monzo, which grew hugely in its early days via its waitlist — and is offering the first 10k people to join access to premium features for life. 
But Monzo isn't the only business Foster-Carter is taking a few ideas from. On the community side, he's looking at Spotify. 
We want you to be able to tell your friends when Magnum ice creams are on

offer.
"We have a feature called playlists, where we group up items to make it faster to add things to your shop," he says. "We want to make that social, so you can pick from your friends' playlists." 
To make that take off, Lollipop will be asking users for access to their phone contacts when they sign up. "We see it as being a core part of the product," he says — and hopes that as a result, the request won't "feel creepy". 
"We want you to be able to tell your friends when Magnum ice creams are on offer."