A couple of years ago Valentinas Civinskas was just another investment banker. Today he's growing baby kale, rocket and coriander in what's set to become Europe's largest vertical farm. 
Civinskas's startup, Leafood, grows 12 kinds of green salad and herbs all year round in a massive warehouse on the industrial outskirts of Vilnius. The farm will become operational this week and when it reaches its full capacity later this year, it's set to harvest a tonne of edible leaves per day — around a tenth of the total demand in Lithuania. 
New vertical farms have been mushrooming around Europe in recent years — but with last year's energy price spikes, high inflation hitting consumers' pockets and the economic recession, many such startups are struggling.
Last year Berlin-based Infarm, which has raised $471m from some of Europe's biggest VCs, was forced to lay off around 500 people — more than half of its workforce. Earlier in 2022 France's Agricool, which had raised €30m, went bankrupt. 
But Civinskas says the size of his farm and the experience of one of its investors, a Taiwanese vertical farms maker YesHealth, puts Leafood in a different league — and he expects the company to be profitable by the end of the year. The startup has raised €6m in equity to date.
"You'll see a lot of bad news around vertical farming companies — because how can they be profitable when they are raising hundreds of millions to build that [small] size farm? The payback is impossible for investors. They're selling a vision, which is very difficult to realise; there is no economics behind it," he says. 
Technology
Leafood uses a variation of the hydroponics technology — which uses water instead of soil to grow plants — popular with many vertical farming companies. Its plants are seeded in floating cubes of gel, made of water and nutrients.
Like other vertical farms, Leafood tries to imitate the optimum natural conditions for an all-year-round harvest: think 30k LED panels for photosynthesis and the right greenhouse-like temperature. Sometimes there's even a classical music playing in the background.  
"We're making the ideal conditions for the plant to grow," says Civinskas. 
The hardware — impressive 14-storey towers with water circulating through the plant beds — as well as the operational software was developed by YesHealth. It's supplied similar farms around the world, including in China, Saudi Arabia and Denmark.
Leafood now employs 35 people — some of whom are Taiwanese engineers who have relocated to Lithuania to train local staff.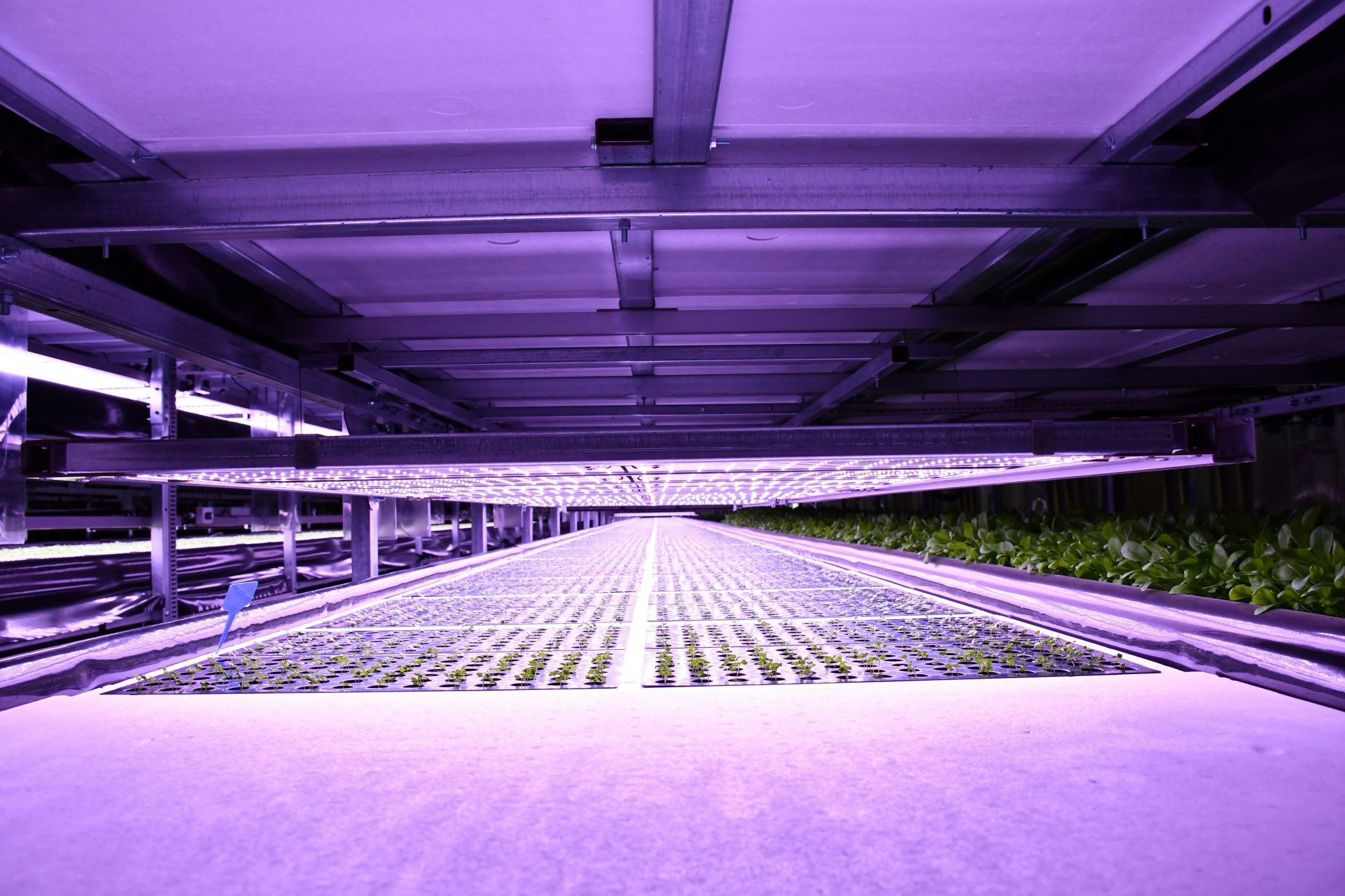 Predictability 
The farm has 12.600 square metre of effective growing area which will produce 15 harvests a year — although, because it's seeded on a daily basis, plant bed by plant bed, it's actually harvested more than 300 times a year, which guarantees customers a regular supply of leaves. 
When it reaches full capacity in the autumn, Leafood hopes to harvest a tonne of leaves daily — enough to feed around 10k people. 
The predictability of harvests is "the main selling point" to local retailers, Civinskas says. As of May, the company will start supplying one of Lithuania's main supermarkets, as well as selling to hotels and restaurants. 
"We can supply them every single day with cool, fresh food. Right now, some of what they get has been in transport for four or five days — and its shelf life is very short," he says. Leafood's salads and herbs stay fresh in the fridge for five to seven days (in comparison to imported products which are normally one to five days). It also doesn't have to be washed before being eaten. 
The longer shelf life comes at a cost, however; Leafood salads will cost around 20-30% more than greenhouse-grown produce. "Slightly more expensive, but affordable for everyone," Civinskas says.
The main challenge for the business at the moment is unpredictable power prices, as electricity bills account for a big chunk of costs. Learning from the price hikes last year, Leafood has all its power contracts on a fixed price, and some unforeseen expenses are already priced into its operations. The farm is run fully on renewable energy. "What could go wrong? Some horrible world energy crisis," he says. "But that would affect the whole sector."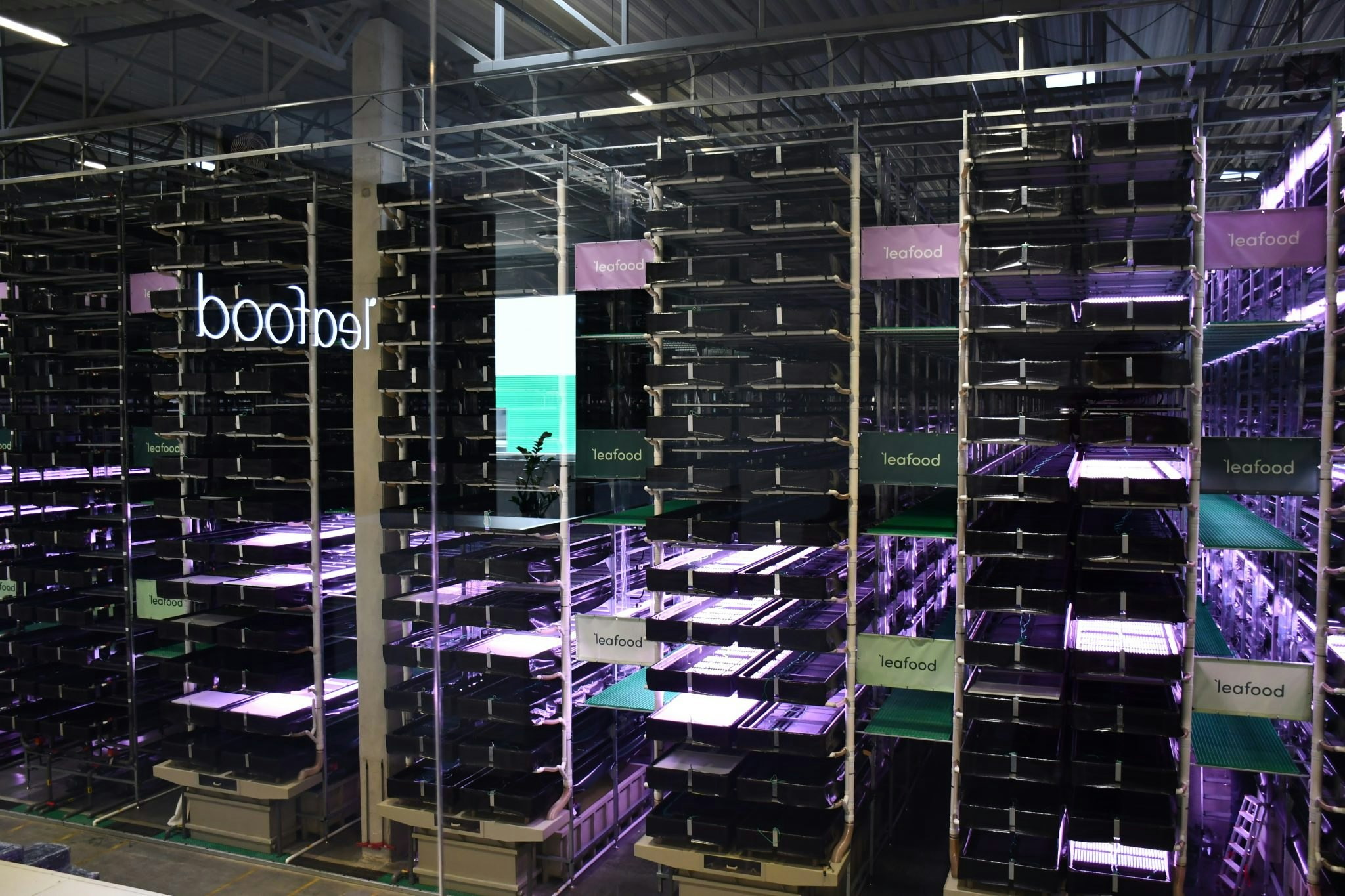 Expansion
Civinskas says he doesn't want to stop at green leaves: in the coming years, he'll look into growing other fruit and vegetables, such as berries — as long as it makes economic sense. 
He also wants to scale the business across the region — central and eastern Europe has traditionally been heavy on conventional agriculture, but the vertical farming trend hasn't really picked up yet there.
He's eyeing neighbouring countries, such as other Baltic states and especially Poland, for further expansion. This would mean building new vertical farms, even bigger than the one in Vilnius, he says. 
"The main idea is to be close to the end consumer. Of course we can export but then we're going against our idea. It has to be close, no long shipments: so it means building local vertical farms in other countries," he says. "In a year, we hope to have a plan for the next country. You'll see such a farm, or maybe two, three times larger in another country."