It was 2008, a global financial crisis was raging, and Matthieu Beucher had quit his job to become an entrepreneur. He had €4,000 in his pocket, and an idea that had come to him at a car parts factory. 
12 years later, Beucher is now the founder of Klaxoon, one of France's 40 most promising startups based on its financial growth and its potential to rise as the next unicorn, in the country that spawned billion-euro brands like Meero and OVH.
Unlike many companies on the Next40 list though, Beucher made a name for Klaxoon not from raising megabucks from investors (€47m in total). 
A year ago, Klaxoon did what most startups around the world fail at: it turned a profit and recorded more than €10m in full-year sales, reaching a monthly rate of return in excess of €1m.
"We were self-financing our expansion for seven years and raised money very late," Beucher tells Sifted in an interview. "That's kept us under the radar in European tech until relatively recently."
The startup sells software and hardware aimed at reinventing meetings at work. It's basically building on the idea of a white board to make meetings more fun and interactive, as well as productive. The company offers a suite of tools to do this, for example through instant polls and feedback.
It's not the only company trying to make corporate meetings less terrible. Worklytics — a company that came out of Y Combinator — or StatusToday have a similar mission. MURAL and Miro offer similar white board concepts.
But Klaxoon has been notching up some successes of late. It was selected as Microsoft's 2020 partner of the year, after its apps — which plug into Microsoft's own — proved popular with remote workers during Covid-19. It had signed a partnership with Dropbox the year before.
Low-tech inspiration
A telecoms engineer who graduated from one of France's top universities, Beucher started out as a developer at carmaker Daimler in Germany. There, he worked on exciting futuristic technology, taking part in early autonomous car experiments a decade before Google took its self-driving vehicles out for a spin.
For Beucher, that tech-focused environment isn't where the magic happened though. It was a traditional industrial setting, years later, that inspired Klaxoon.
"I was 25 and coming from a very techy world of sophisticated research and development," says Beucher. "I get to this factory in Dijon and discover these management methods based on simple visuals that everyone in the workplace can understand, across education levels or expertises."
At the car parts factory in Dijon, the team making basic car starter modules wasn't thinking about futuristic technology, it was fighting to survive amid cut-throat price competition and squeezed margins. Meetings relied a lot on visuals — methods that resemble the Kanban boards that inspired tools like Asana and Trello too.
"We were having seven meetings a day with so many different people from different parts of production, and bottom line: messages had to be understood by everyone and the end-product had to be flawless," he says. "I became obsessed with digitalising these visual management tools. And three years later I launched Klaxoon."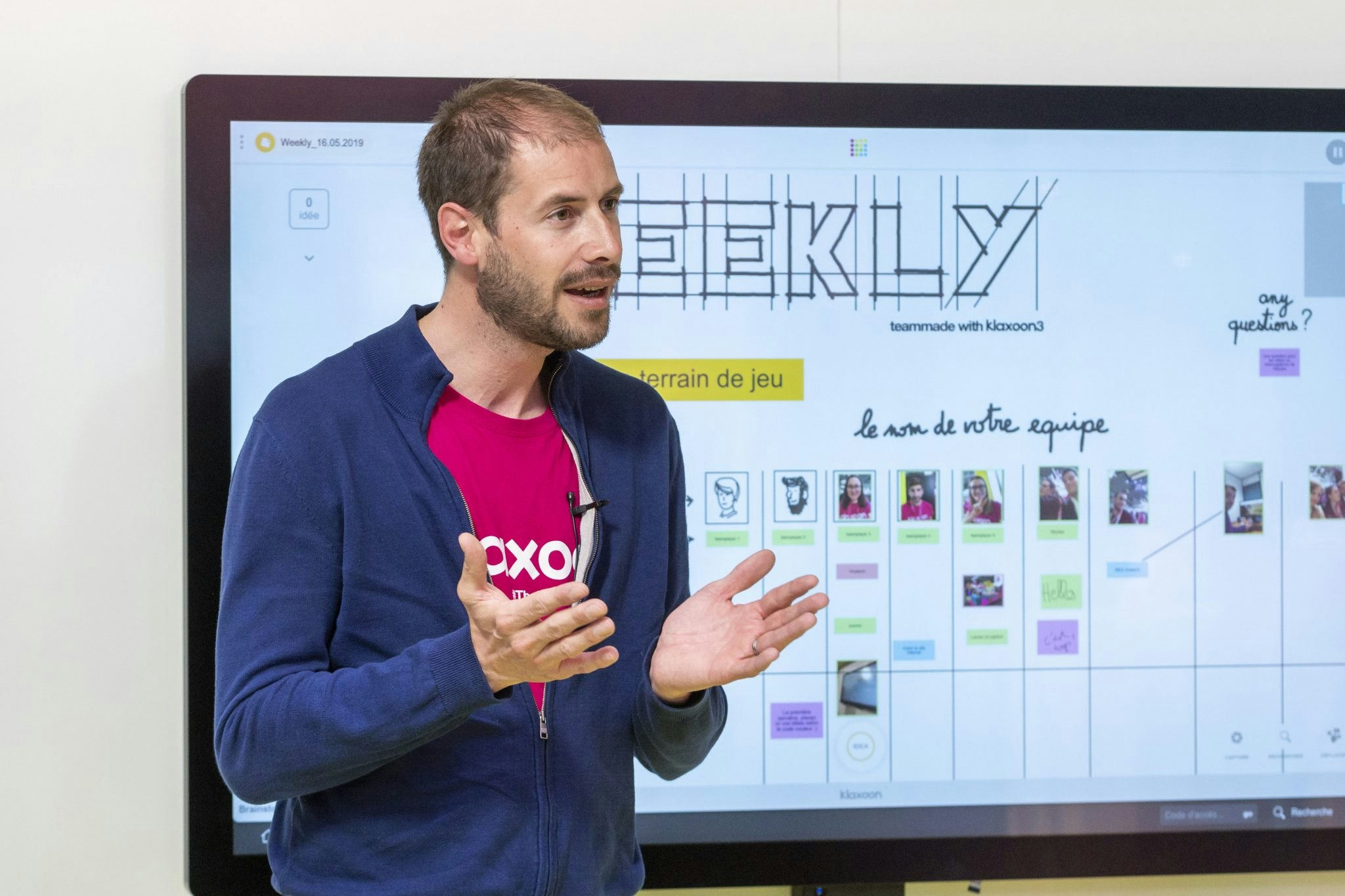 Investors who said 'no'
Getting financiers to back his idea was Beucher's main challenge, at a time when France was more focused on bailing out its banks and hadn't yet woken up to promoting its startups ecosystem.
He pitched first to Oseo, a state-backed investor focused on small businesses that would later merge into today's Bpifrance. Oseo said no. 
Beucher was told he would need €300,000 to build his technology project — and whatever personal savings and work experience he had then just wasn't enough of a guarantee.
"We went for a tailored approach instead, building brick by brick, convincing one customer after another for four years," says Beucher. "We made money off each project and reinvested it, until we had €320,000 and pitched again to Bpifrance."
Klaxoon's auto-financing, profits-focused strategy, coupled with loans from banks generated enough cash for the company to fund two years of research and development worth about €1.5bn. It started testing a working product with existing customers in 2015.
Now, Beucher is planning the next steps: fundraising first, then a stock market listing.
"We need to structure the company first, after a period of intense growth, but it makes sense to think about a fundraising in about two years' time, and an IPO sometime after that," he says. "We have the potential to become the size of Slack."
Competition and Covid
Slack is exactly the kind of thing Beucher should be worried about. Options for workers to connect and collaborate at a distance have multiplied over the years, to do everything from managing projects bit by bit to splitting to-do lists and monitoring how fast tasks are done.
Sure, remote work has had a good year. Coronavirus and lockdown periods around the world forced people to stay at home and work away from the office, accelerating the adoption of videoconferencing tools like Zoom and messaging software like Twilio.
Still, standing out in a crowd of dozens of technology companies that promise to make team work more efficient isn't easy.
Teams can connect to the Klaxoon platform to do just that: work in teams. They can also use Klaxoon hardware, like a physical connected white board, as support for the software during a meeting where some people are in the same room and others are away.
"Yes there's a lot of competition on collaboration tools, but we're alone proposing a live participative meeting — a brainstorming tool," says Beucher. "Having both a physical and digital presence helps us differentiate."
In a typical weekly team meeting using Klaxoon, members share tasks done and ideas to develop on an infinite digital white board. They use shapes, post-its, colors, scribbles, and emoticons. The board plugs into external tools for videoconferencing, calls, sharing files and other such activities.
Klaxoon hosted a meeting for the United Nations recently where 2,500 people logged on to the same virtual board for a one-hour brainstorming session. At the end of it, they exported the context into an Excel sheet with ideas, sorted and prioritized.
"We're really not replacing any other tool, we're bringing something else," says Beucher. "And because of remote work, multi-team projects all over the world, customers are looking for more efficient meetings now — they're ready for us."