Klarna, the buy now pay later fintech, saw its customer base grow faster than any of its European and US rivals last year — putting the company in a strong position ahead of a rumoured public listing.
The Swedish fintech recorded 8m mobile downloads in Europe alone last year, while its closest rival Clearpay got just shy of 1m, according to data from Apptopia.
Klarna also topped the leaderboard in the US in 2020, raking up a further 8.5m downloads after years of struggling stateside.
Mobile app downloads* offer a good proxy for customer adoption in the buy now pay later (BNPL) space, which allows shoppers to defer payments on goods at no cost.
The graphs below illustrate the varying rates of (app) growth across the top providers:
BNPL downloads in Europe, by quarter (2020)
BNPL downloads in the US, by quarter (2020)
* The BNPL apps provide shopping suggestions and repayment reminders for online users, but is not obligatory.
Leading the pack
It's no secret that the last 12 months have been big for BNPL providers, with shoppers flocking online during successive lockdowns. Mobile downloads aside, last year saw Klarna attract a $31bn valuation, while US provider Affirm listed publicly.
A new wave of BNPL startups also gathered momentum, prompting fresh competition. Among Klarna's smaller contenders are Butter, Zilch, Scalapay, Twisto, ViaBill and France's Alma, most of whom have recently announced fresh fundraises.
Meanwhile, Australian-listed firms like Zip, Laybuy and Afterpay (owner of London's Clearpay) have unveiled plans to spread into continental Europe, taking the competition beyond the UK.
Already nearly £4 in every £100 in the UK is spent using BNPL, while 30% of US consumers now have a BNPL account.
Still, Klarna continues to lead the pack, with the last quarter of 2020 proving particularly promising across both continents.
This is a significant increase from previous years, as the graph below shows, plotting Klarna's quarterly growth since 2018. (Note: the graph records new downloads at quarterly intervals rather a cumulative total).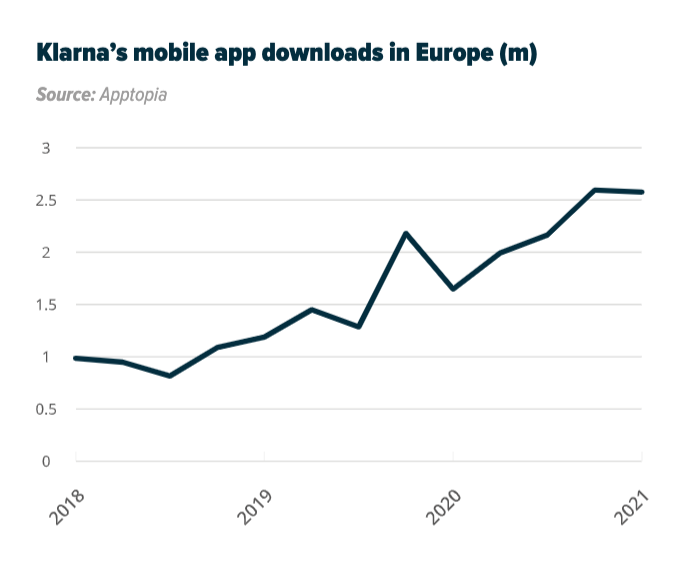 In terms of spending too, Klarna outpaced Afterpay globally last year, recording $53bn in sales compared to Afterpay's $11.1bn.
Klarna is also looking to continue its growth streak. The company told Sifted it plans to launch into four more EU countries this year — including France — as well as doubling down in the US.
It is also looking to double down in the UK, using its war chest to overcome any Brexit barriers and to halt newcomers like Zilch, which recently boasted it had placed number two for downloads in the UK App Store.
Within this, Klarna is betting that younger users will continue showing a preference for BNPL (and installments) over credit cards.
The BNPL long game
Despite Klarna's lead, it will need to stay abreast of key developments in the BNPL space.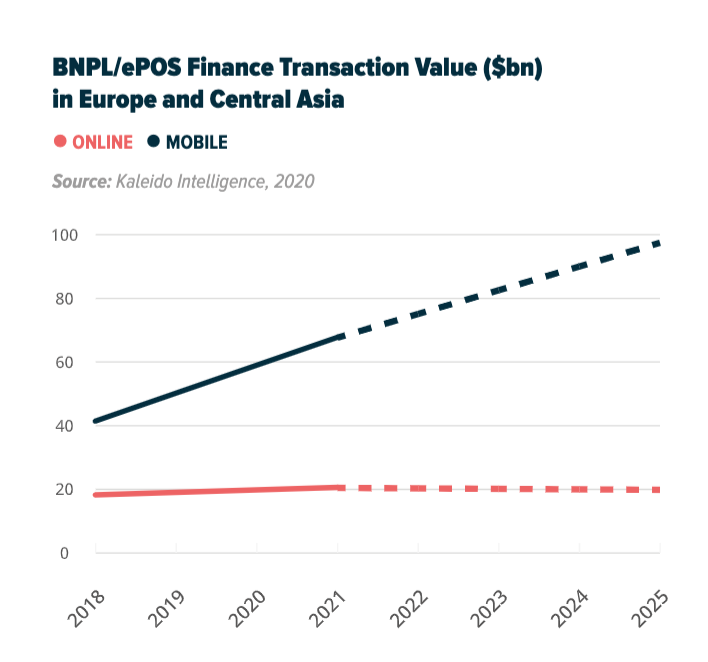 For more on BNPL payments, check out our new

report!