Kavall might be the first homegrown on-demand grocery startup from the Nordics — but it's far from the first in Europe. 
The startup, which launched in May and has just one dark store in Stockholm so far, has just raised 50m SEK (€4.9m) in a round led by VNV Global, the Stockholm-based investment company which was also an early investor in Swedish scooter startup Voi. Swedish investment firm Inbox Capital and serial Swedish founder Fredrik Jung-Abbou also participated.
Like dozens of other startups across Europe, Kavall sells groceries via its app and delivers them to customers in a once mind-bending, now standard, 10 minutes. It has 1-2k items on offer, and charges a 19 SEK (€1.86) delivery fee — on par with its competitors. 
Its goal is to take a chunk of the €30bn Swedish grocery market — and to learn from where its older competitors go wrong. 
You snooze, you lose?
"There's a benefit in coming in a little bit later," says Robin Rendahl, cofounder of Kavall, who has two previous food businesses under his belt: he is cofounder of meal planning site Gastrofy and former CEO of 'shoppable recipe' platform Northfork. His cofounder Peter Simon is a former senior product manager at Spotify.
"We're looking at the international players, taking in what they do best and putting that into one experience." 
But there are downsides too. Some of Kavall's competitors are seriously well capitalised — between them, Turkey's Getir and Germany's Flink raised $800m in one day in June (although neither have expressed plans to expand into the Nordics), while Delivery Hero's dark store grocery operations under the Foodora brand are well underway in Sweden, Finland and Norway.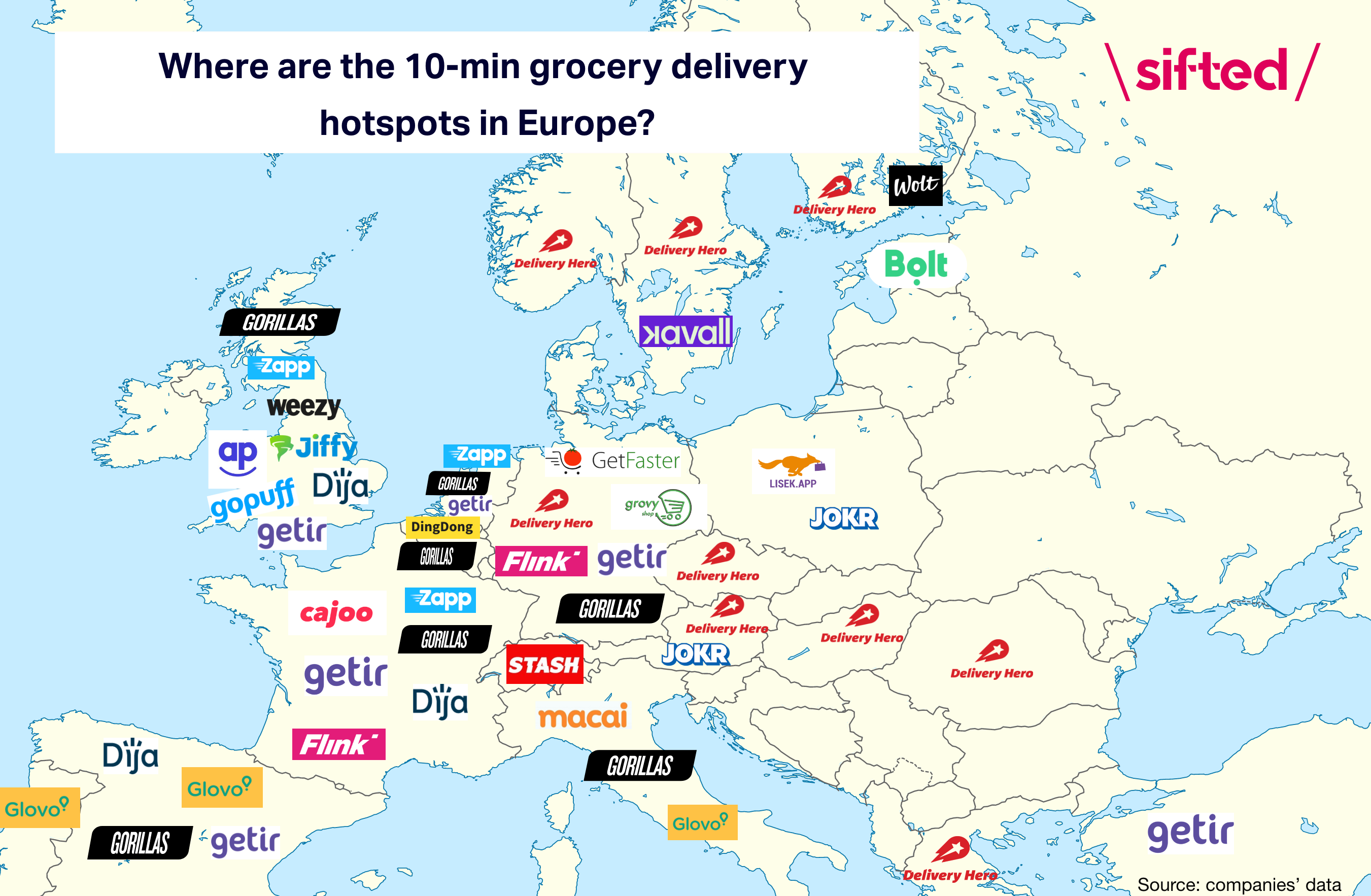 Rendahl claims that he's not rattled, though. "Foodora is the big incumbent — it moved into the dark store model as well — but we really believe that's great. It's helping educate the market." 
"Even in a small country like Sweden, the grocery market is huge. There's room for more companies." 
Investors weren't fazed by how much other on-demand grocery companies already have in their coffers, adds Rendahl. "The macro change happening in grocery is real. It makes sense for a local player to really focus on a market they know and dig deep there — rather than everybody betting on one, two, three players in a global market." 
The plan is not, however, to grow fast and sell quickly to a larger competitor, says Rendahl. (In July, Getir acquired Spanish grocery delivery startup Blok in order to fast-track launching operations in Spain and Italy.) 
"That's definitely not our goal," he says. "We're not closing any doors — but it's not the goal." 
Roadmap
Expanding in Sweden is the number one priority for now, says Rendahl, although he won't disclose how many stores he plans to open by the end of the year. Moving into other Nordic countries is the obvious next step: "We'll have to see what opportunities lay in other Nordic countries." 
"Our main focus is on opening up stores, building out the supply chain and recruiting the right team," he adds. Kavall currently has 50 employees, including a five-person tech team.