On the seventh floor of JP Morgan's London headquarters is an inconspicuous-looking room buried behind the staff canteen and gymnasium. 
Only authorised employees knew that this unusual office — tucked away from the main trading desks — is where JP Morgan has built its secretive UK digital bank project over the last 3 years.
But at last, JP Morgan Chase is ready to unveil its British debut, which will be branded as Chase UK. Sources close to the project tell Sifted the new bank is now set for launch in September, having entered the final stages of its employee pilot and is preparing a "big bang" marketing splash.
Sifted also got an exclusive look at what the app, current accounts and card will look like, courtesy of insiders. 
Chase's launch is a big moment for the UK banking scene and in particular, for fintechs like Monzo and Starling, who are being taken on at their own (digital) game.
While Starling's Anne Boden tells Sifted she's not scared of the competition, Chase UK arguably offers a triple threat. It's planning to offer more wealth-management features than the fintechs, it'll boast a modern tech stack to outpace the incumbents and it's supported by the colossal balance sheet of America's largest bank. 
"This is a very, very serious threat. A multi-product, digital-first strategy that doesn't rely any [fintech] friends...That's a very serious proposition. That's completely different from incumbents just doing offshoot brands," says Victor Basta, managing director of Magister Advisors, a fundraising and M&A advisory firm.
What's more, Chase isn't just going to fight banks on the retail side. One source close to the project told Sifted that they're planning to go after the SME market too, by eventually shipping a business product.
JP Morgan declined to comment for this piece. 
Ahead of the much-anticipated launch, Sifted takes a peek behind Chase UK's frosted walls to find out exactly what to expect from the new digital bank, its ambitions and its prospects of success.
The product
To date, only JP Morgan's inner circle have seen the new digital bank in action. 
But Sifted has secured first-hand access to the Chase UK pilot, offering up early new details.
The card is a dark blue, featuring the Chase logo on the right, and the user's name is printed in silver on the bottom. There is no number printed on the card itself, which is contactless and metallic. 
The app itself mirrors those developed by the first neobanks. It has a slick, clean interface and several key tabs located on the bottom. That includes a transaction ledger and a 'Pay' tab which allows users to easily send money to Chase contacts or recent 'payees.' Notifications pop up after each payment and online shoppers can access their card number via the app.
As promised, Chase will initially only operate as a current account, allowing users to spend and store deposits. Although the plan is to offer a "new take" on current accounts, Sifted saw no signs of any particularly innovative features (some ideas being floated include spending limits, financial wellness scores or in-app subscription management).
Still, JP Morgan has already said Chase UK has a strong product roadmap ahead, looking to add a full body of wealth management and lending services. Its acquisition of robo advisor Nutmeg speaks to this ambition (the plan is for Nutmeg to remain an independent business initially but it's eventually expected to be integrated in some form). 
The acquisition also suggests Chase UK is going after an older, wealthier base than early neobanks, who will use Chase to store their salaries. Indeed, Nutmeg's 140k users are broadly made up of middle-class professionals, with an appetite to borrow in large quantities.
To lure this demographic, JP Morgan says it will offer users a "fast-to-access, personalised service around the clock", delivered by a customer service hub in Edinburgh. It's hoping this will compensate for its branch-free approach.
It's also worth noting that, like Monzo, Chase will be a licenced bank that can store British deposits on its own balance sheet. It will sit under JP Morgan Europe Limited, which has been authorised by the Bank of England for decades and has had its licence upgraded to service retail customers.
Tight-lipped
News first broke that JP Morgan was planning a UK bank last February. Yet the bank took nearly a year to publicly confirm its ambitions here and hasn't spoken publicly about it for months. 
Chase UK also still has no live website or social media.
Indeed, the US giant has gone to extreme lengths to keep Chase UK under wraps. It's kept knowledge of the project (codenamed "Dynamo") to a small pool of insiders and hid the central office on the printing and catering floor.
Chase has also relied heavily on copious non-disclosure agreements, which it's enforced aggressively, to keep the operation discreet.
One example of this involves the case of a headhunting firm that helped Chase to bring in top talent. According to people familiar with the matter, this particular headhunter spoke openly about representing Project Dynamo with prospective candidates, which amounted to a breach of the NDA they had signed with JP Morgan. The headhunter was promptly fired.
Meanwhile, sources say that fintech firms — including Revolut and Raisin — who reached out to discuss partnering with Chase UK were forced to sign NDAs before the company would even admit that Chase existed.
JP Morgan Chase declined to comment.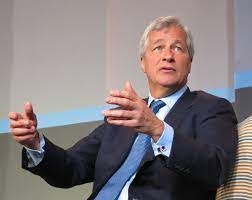 Jamie Dimon's big plan
JP Morgan's entry into the UK marks its first international foray in the consumer space. It's part of a strategy led by chief executive Jamie Dimon to aggressively grow its retail unit.
With US regulators getting stricter on banking acquisitions, overseas expansion has become a necessary growth tool for banks like JP Morgan (Goldman Sachs did the same in 2018, launching Marcus in the UK and bringing on over 500,000 users).
JP Morgan's expansion in the UK has also been tipped as a foothold for its entry into wider Europe (Dimon recently met with the French President, Macron).
As a result, the US giant is clearly taking its assault on the UK seriously.
The acquisition of robo-advice platform Nutmeg alone cost £560-600m. On top of that, one person close to the bank told Sifted that it has already spent north of £100m building Dynamo itself, with a staff base of over 400 employees and counting (a long list of vacancies can be seen here). 
JP Morgan has also invested in building an entirely separate cloud infrastructure for Chase, reportedly using 10X — the core banking tech provider.
The decision to use the Chase name rather than creating a "flanker brand" also signals that the project has support from the bank's very top echelons.
In addition, Chase UK has committed to bringing on several banking heavyweights to sit on the board. Regulatory filings show that the former Financial Conduct Authority director, Clive Adamson, has been appointed Chairman, and that he will be joined on the board by former Lloyds and Citibank chief Win Bischoff.
Now, it's up to Chase UK's core leadership team to take the ship forward. The following chart showcases some of the key individuals, based off public records and Sifted's own sourcing: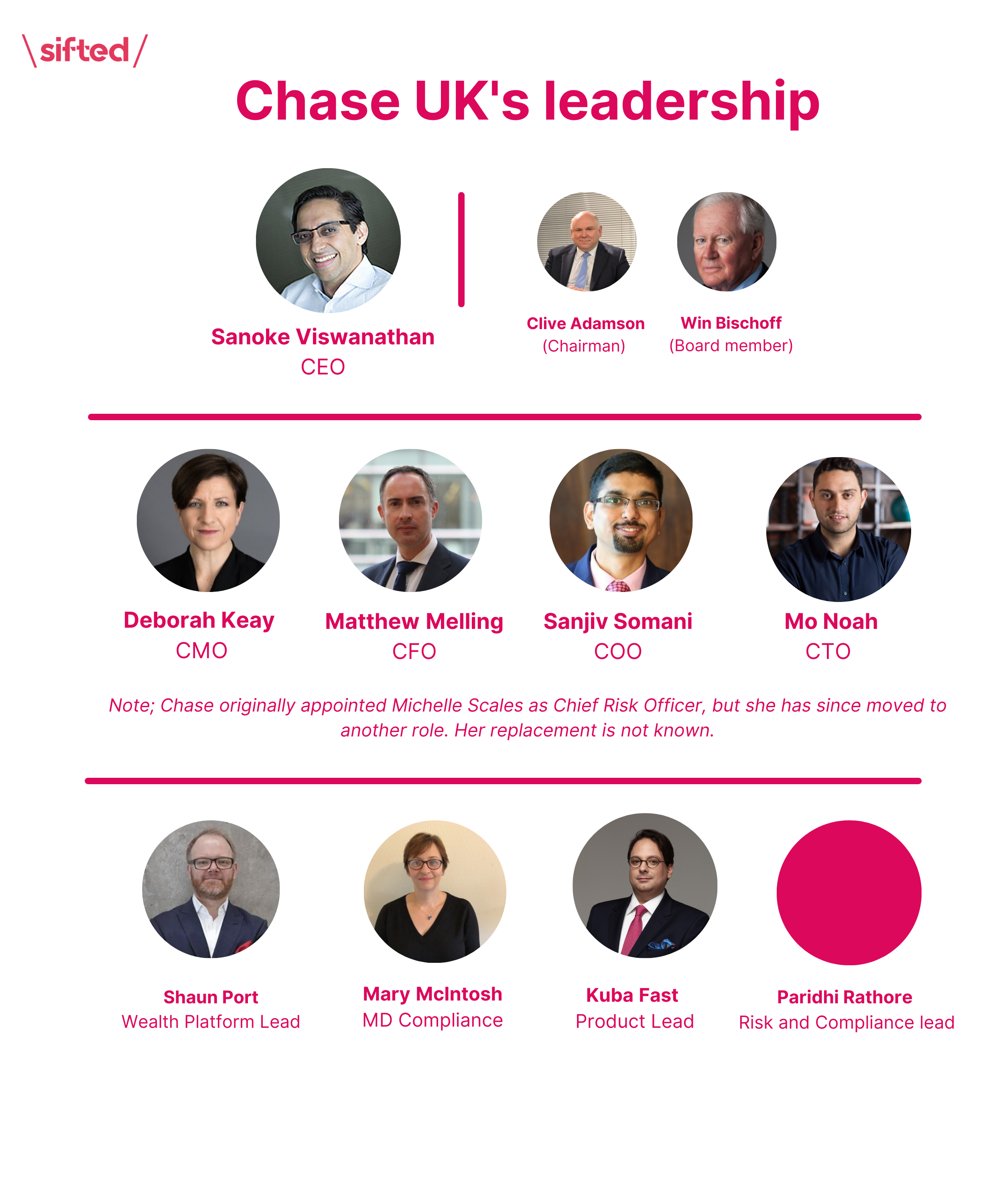 Given the stakes, the team is taking no chances. Chase UK was initially rumoured to launch in Q1 but the bank took its time to complete the testing phase, according to insiders. Two senior sources also told Sifted that the fallout from the football super league (which JP Morgan sponsored) "did not help" hopes of an earlier launch.
Fintech's worst nightmare?
The question now is whether Chase can wrestle the market away from native giants like Barclays, as well as upstarts like Monzo and Starling?
It won't be easy for Chase; big banks have a reputation for digital mishaps. JP Morgan folded its US digital bank project Finn within a year, while other closures include RBS' Bo bank, Nationwide's SME-banking venture, Barlcay's Pingit and Santander's online business bank, Asto.
JP Morgan is also an outsider in the UK, which — coupled with user inertia — could play to local banks' advantage.
Nonetheless, Chase is not like any bank project we've seen, boasting an unrivalled budget, political will and modern technology.
Victor Basta argues Chase therefore poses an unprecedented risk to neobanks, particularly those light on features:
"[Chase are saying], 'I can offer you 5 products out of the bag.'...Also, in terms of marketing spend, they could spend more per month than Monzo could ever raise," Basta tells Sifted.
"[Big] fintechs have an awful lot to lose in terms of valuation. Growth is everything, and if your growth drops, you're not going to raise at 2x in your next round."
He added:  "You're never going to out-agile Monzo. But if you can get close enough, you can bring all the other benefits to bear."
Christian Faes, chairman of LendInvest, agrees that Chase UK "can't be great news" for neobanks, especially those "struggling to find any sort of business model." 
"JPM has the balance sheet, comparatively near-infinite equity capital and arguably the most important part of the equation which is a huge lending franchise to ensure that deposits can be put to good use," Faes added. 
Customer battles aside, Chase also poses a talent threat. It's already lured engineers from startups such as Revolut, Starling, Monzo, Mettle and Solarisbank according to the FT. Chase's chief marketing officer Deborah Keay even acted as Starling's CMO in 2018.
The neobanks, however, insist they aren't concerned.
Anne Boden, the founder of Starling Bank, told Sifted: "I don't want to sound arrogant but it doesn't really matter to us."
If anything, she's happy that Chase's entry supports her business case: "This a huge endorsement that the current account market, currently residing with the big banks in the UK, is up for the taking."
For context, Starling now boasts over two million customers, and The Times even reported last November that JP Morgan initially looked at snapping the neobank up as part of Project Dynamo.
Meanwhile, Atul Choudrie, chief commercial officer at Monese — the London-based neobank — warned that the UK retail market is "notoriously overserved", making it increasingly tough for new entrants to stand out. To his point, the UK already has an estimated 12.1m digital bank accounts, and that's set to grow to 19.5m by 2024. While that leaves room for new entrants, it's evidently a competitive market.
Still, Chase is no ordinary new player, Choudrie admits.
"Chase has serious capability to compete at scale, a powerful brand, global presence and is well respected at the top end of the UK market," he acknowledged.
The countdown to September begins.
Isabel Woodford is Sifted's fintech correspondent. She tweets from @i_woodford.