Not every French startup is gutsy — or naive — enough to expand to the US. But France's tech scene is having a moment, as is the grocery market — and Paris-based food shopping app Jow is going full steam ahead with an end-of-year soft launch in the land of deep-pan pizza. 
"The US is kind of the same market as France, but it's five times bigger and growing super fast," says Jacques-Edouard Sabatier, cofounder and CEO of Jow (pronounced 'Joe'). Today he's announcing a $20m Series A led by Eurazeo, with participation from Headline, DST Global and Stride. 
Jow's been helping speed up — and spice up — people's weekly supermarket shops in France since 2018 with its service combining recipes, recommendations and online grocery ordering. It has partnerships with the six biggest grocers in the country, is available across 4000 stores and is on track to do €150m in GMV [gross merchandise value] this year. 
It's a bit of a leap of faith as a

CEO.
Sabatier hopes to emulate that success in the US, although "it's a bit of a leap of faith as a CEO", he admits. French citizens are currently not allowed to travel to the US, and "we do not yet have mac and cheese on the app" — but he's confident that Jow's app offers something lots of Americans want and are missing. 
Shoppable recipes
Jow works by plugging into the ecommerce capabilities grocers already have — but offering a much more user-friendly 'shopping' experience.
On Jow's app, customers shop by recipes rather than by shopping aisles. Baskets get filled up with ingredients for fajitas, dahl and caponata, rather than with vegetables, followed by dairy, followed by tins. 
It's this that Sabatier thinks will set Jow apart from the grocery upstarts already dominant in the US, like Instacart.
"There are two problems in the market. There's the last mile; it's extremely complicated to pick and pack orders. If you map the market, Instacart, Go and Picnic are all logisticians, they're all about the last mile. But their UX is not personalised, they've not disrupted the user experience," he says. 
Instacart, which has raised $2.7bn since launching in 2012, lets users order groceries from multiple local stores, which are then picked up by "shoppers" who deliver them to the doorstep (or meet customers at a pickup location). The actual shopping interface, however, looks very similar to that of an online grocer like Ocado, with goods sorted into categories like beverages, snacks and household items.
It's always a good signal when you have copycats

emerging.
"When you take the second problem, the first mile, there are only three companies in the world that are trying to crack the user experience of e-grocery: Jow, Lollipop and another copycat, Anycart," says Sabatier. (He's missed one — Germany's Kitchenful, which launched this summer after taking part in Y Combinator, and has backers including N26 founder Valentin Stalf and Highsnobiety's David Fischer.) 
Lollipop, a British competitor which launched earlier this year, has a similar mission to Jow and Kitchenful: make the weekly grocery shop faster and a whole lot more enjoyable, while inspiring customers to try new recipes and ingredients. 
Like Jow, Lollipop users plug in their preferences — for example, no pork or no microwave — which helps the app recommend recipes to them. 
"It's always a good signal when you have copycats emerging," Sabatier says.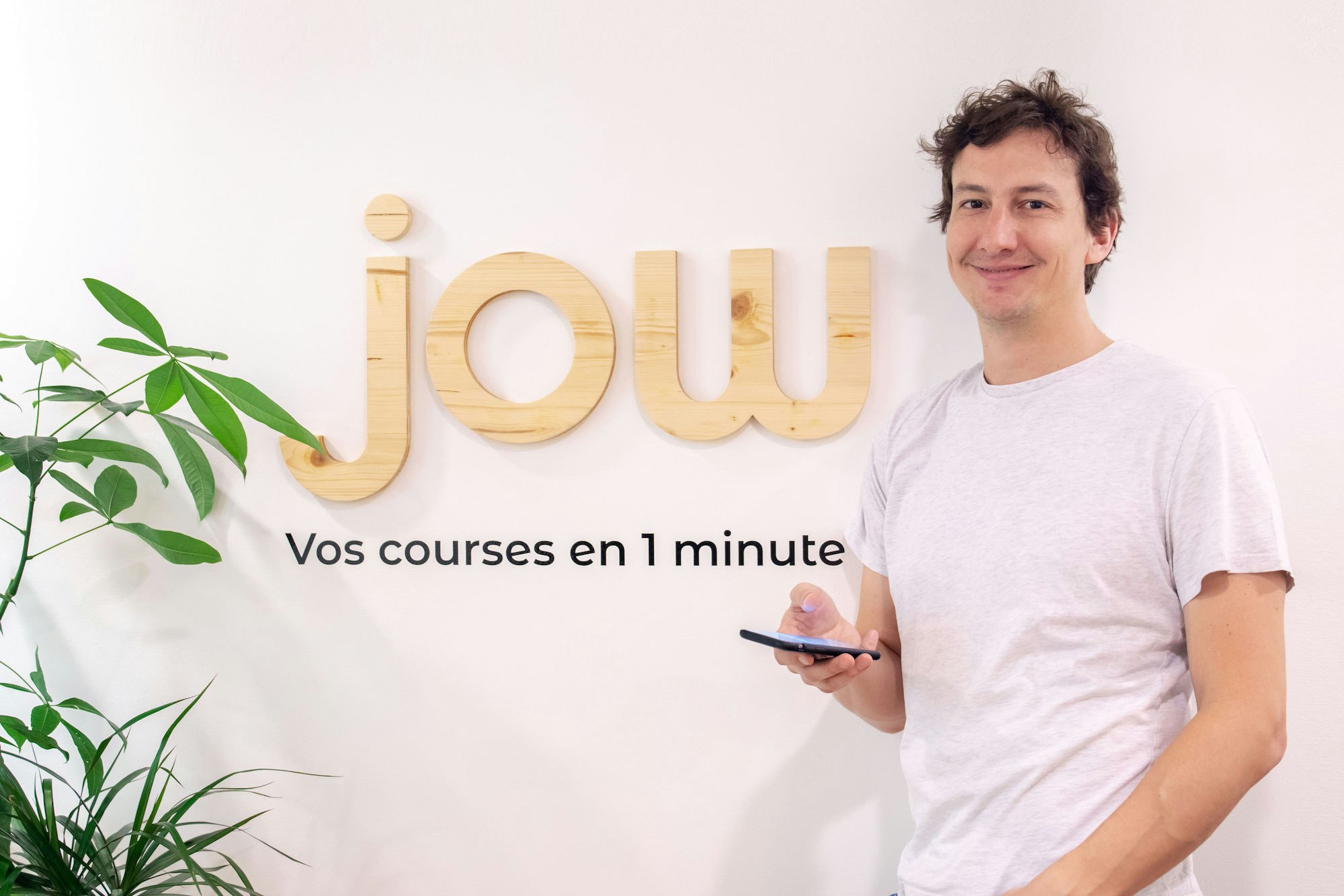 Everyone's a winner
Jow hopes to soft launch in the US by the end of 2021, "with at least two, ideally three, big grocers," Sabatier says. He's still in discussions with supermarkets but says "it's going very well".
It's win-win for both parties, he argues: Jow gets a commission from supermarket partners for bringing onboard new customers and increasing orders, while helping improve profit margins. 
In physical stores, grocers have one main way to tempt customers to try new things: discounts. But that's bad for supermarkets (reducing their already slim margins) and bad for the goods brands whose products are getting discounted ("it degrades their brand image"). 
If people eat rice or pasta with butter or ketchup at home, it's not because they like it; it's because they're lacking

inspiration.
Jow's app can instead entice customers to try out a new brand of pasta or variety of bean as part of a recipe, without eating into the supermarkets' margins. It can also easily replace items if they're out of stock or suggest a similar, alternative recipe — say, if everyone's been panic buying pasta. 
"If people eat rice or pasta with butter or ketchup at home, it's not because they like it; it's because they're lacking inspiration," Sabatier says. 
Jow also works with (and is sponsored by) brands like Old El Paso to promote their product ranges in the app and via shoppable recipe videos. 
These are designed to be simple, not cheffy. "They're all shot in the same way, using basic kitchen appliances that everyone has," Sabatier says. "A Jow recipe is not a chef recipe, it's not a 'creative' recipe, it's a basic recipe that you're able to cook after a long day of work."
Winning American hearts and bellies
The main challenge ahead, Sabatier thinks, will be tweaking Jow's offering to American tastes and cooking habits (for example, relying more on frozen and pre-prepared food): "Will we be able to adapt our offer fast enough to the market?" 
Wider customer behaviour looks promising, though. "In the US, more people are working from home and eating more at home. There's a huge demand for meal kits — and we're a better version [of that]; we're at supermarket prices, we solve all the meals per week and customers can shop for everything else they need on the same platform."